Winters are here and so is the time to try different cowls! Here are 25 best Crochet Infinity Scarf Patterns ideas you must check out!
Wrap your neck with a beautiful scarf that is warm as well as trendy! Have a look at these 25 easy and free Crochet Infinity Scarf Patterns that can work as a perfect winter style statement and are easy for novice crocheters to work upon.
---
1. Crochet Infinity Scarf Free Pattern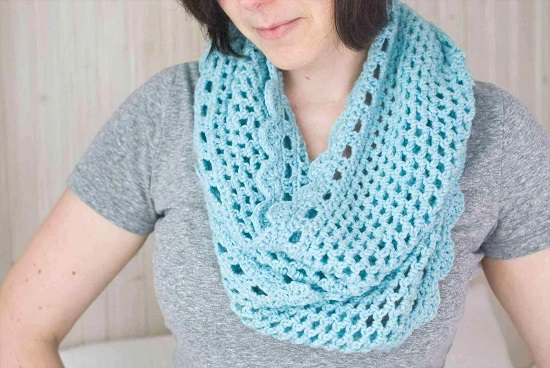 Apart from giving warmth, this scarf adds a bit of glam to the wearer. Crocheter advises here to create more loops, and start with a longer starting chain for making a long scarf or to use small starting chains for a shorter one.
2. Mesh Infinity Cowl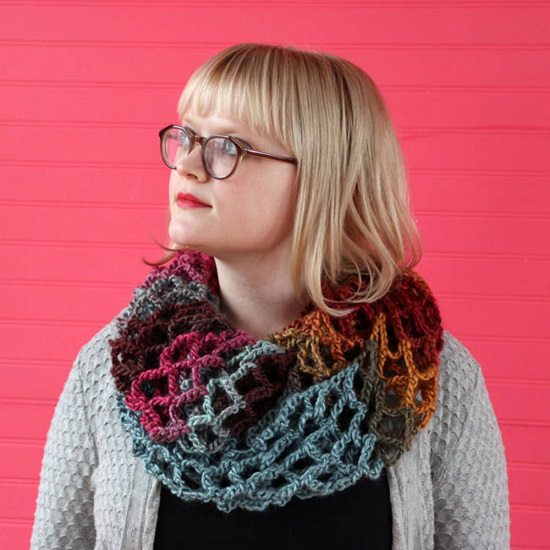 Shake off the monotonous plain colored scarf by crocheting a colorful cowl for yourself. One of the best perks of this scarf is that it can pair well with any outfit. It is one of the best Crochet Infinity Scarf Patterns in the list!
3. Seashells Infinity Scarf Free Crochet Pattern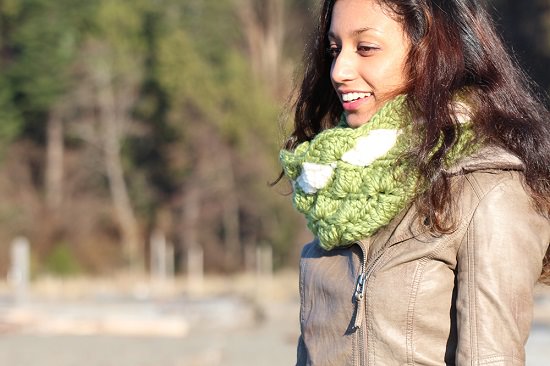 For crocheting this fluffy scarf, you will need 2-skeins of green, and 1-skein of cream-colored Loops & Threads Cozy Wool Yarn. This beginner-friendly tutorial will help you in making it.
4. Chunky Fringe Infinity Scarf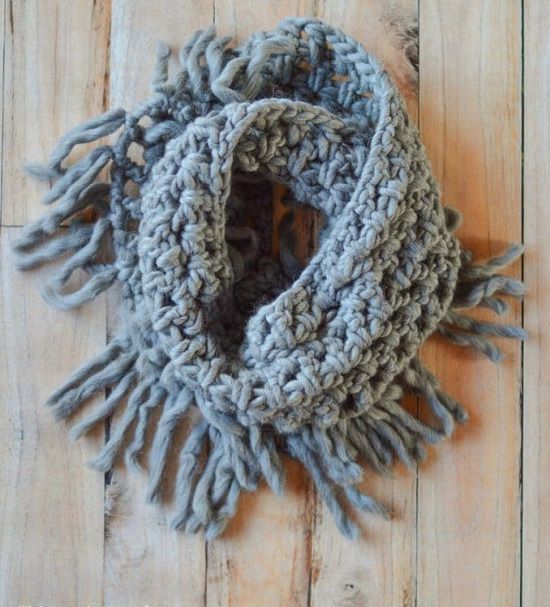 This chunky infinity scarf with a row of fringes at the bottom will offer instant gratification while covering your neck. For crocheting this, select 2-balls of bold colored bulky weight yarn and let the crochet hook play its magic.
5. Cherries In Bloom Infinity Scarf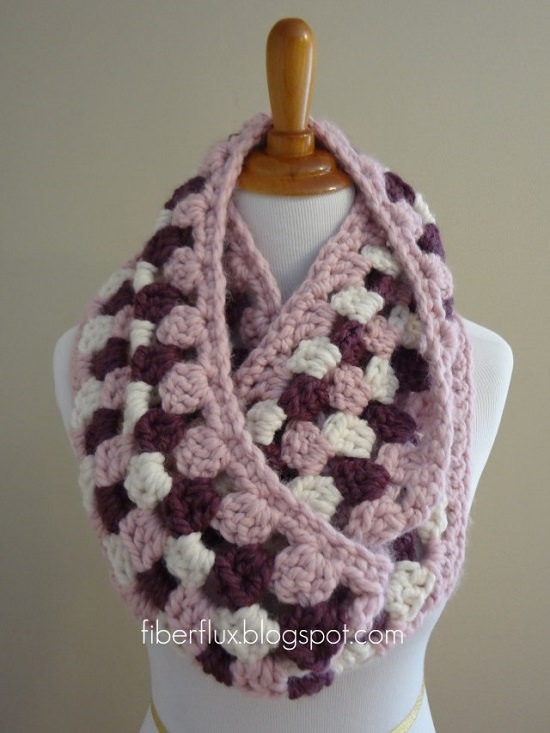 This pattern has a pale pink color blended with dark shades, which is giving off a spring season feel. This scarf is worked in one color per row pattern, starting with the light pink yarn.
6. Double Layered Braided Cowl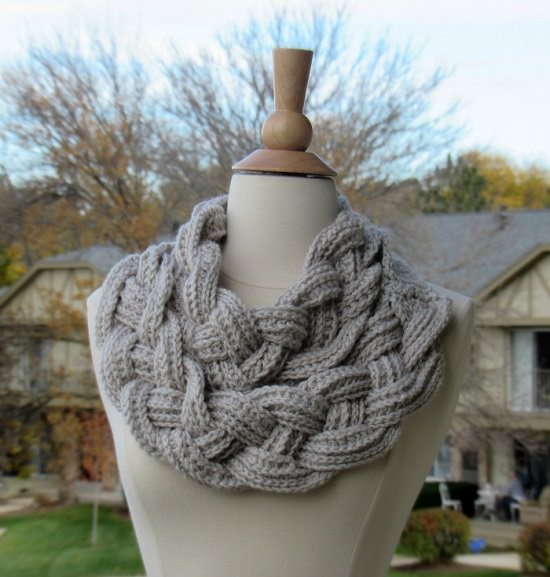 If you are a big fan of a braided cowl then learn how to crochet an infinity scarf like this one. In this tutorial, two braids, each comprising of four bands (made from linen yarn) are assembled together.
7. Hairpin Lace Infinity Scarf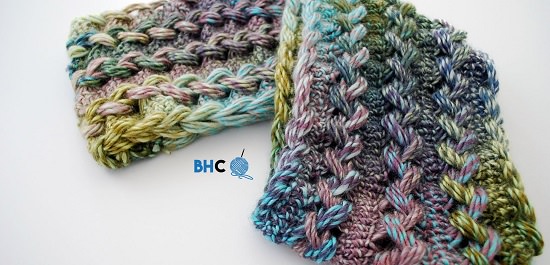 For crocheting it, create 4-strips of hairpin lace using a single crochet stitch for 230 loops. Then finally, join them using a braided stitch. This is one Crochet Infinity Scarf Patterns you should definitely try!
Note: Even the left-handed crocheter can prepare it using this tutorial.
8. Crochet Infinity Scarf Tutorial
Stylize your neck by crocheting a cozy infinity scarf for yourself. Watch this video tutorial for directions.
9. Thread and Beads Infinity Scarf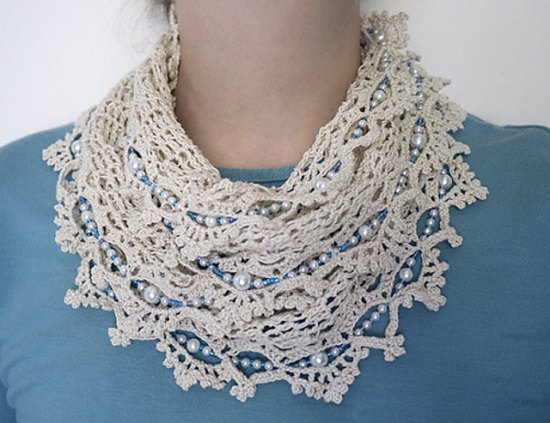 Enhance your winter dressing with the addition of this infinity scarf, scalloped with striking beads. Its main body is crocheted in rows while the edging is worked in round patterns, offering it a graceful nudge.
10. Crochet Chain Link Scarf Pattern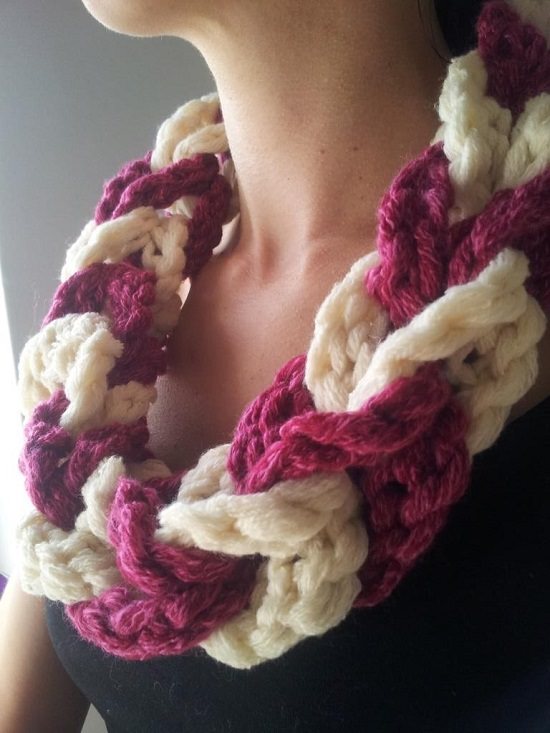 This scarf tops the list as its contrast combo yarns, forming a bracelet-like pattern, give off a tailored look. Here, the blogger has utilized Sirdar denim super chunky wool of dark pink and cream shades.
11. Chunky Crochet Infinity Scarf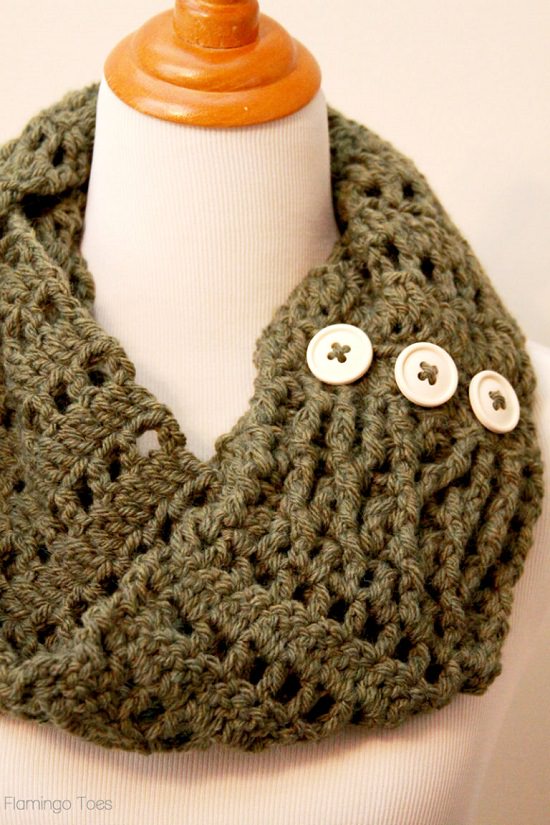 Girls who love the simple and rustic look, this scarf with vintage-looking buttons will match their choice. A bold colored chunky wool, one large needle, and some crocheting skills are all you will need to weave it.
12. Crochet Frosted Berry Infinity Scarf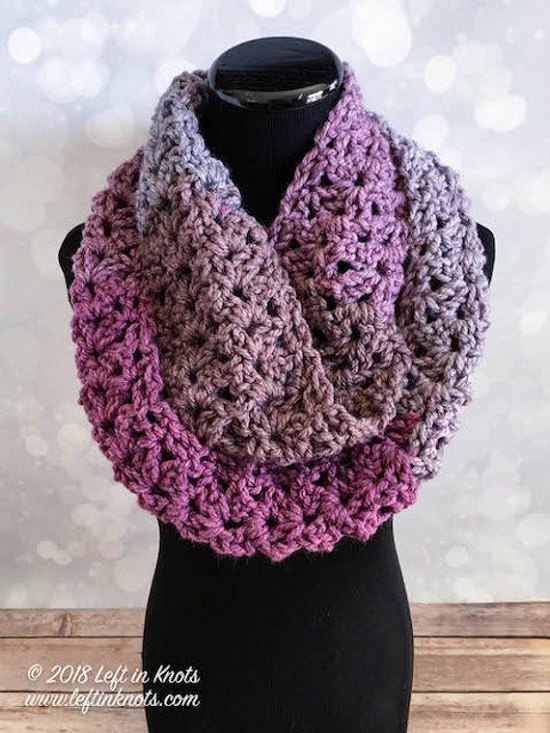 This scarf with a blend of winterberry and silver shades can make a bold statement while muffling your neck. The Blogger has emphasized to use caron tea cakes yarn for creating a similar look.
13. Four Hour Infinity Scarf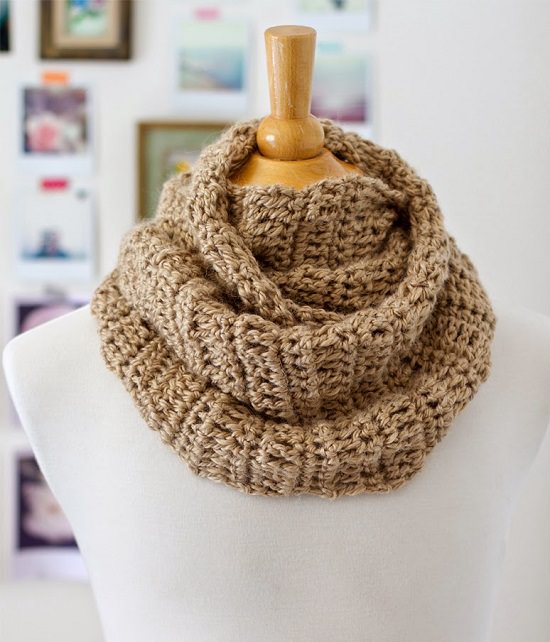 Enhance your winter appearance by crocheting a classic scarf that will pair best with a light hue outfit. Apart from protecting your neck from the snowy winter, this scarf will give you snuggly vibes.
14. Broomstick Lace Infinity Scarf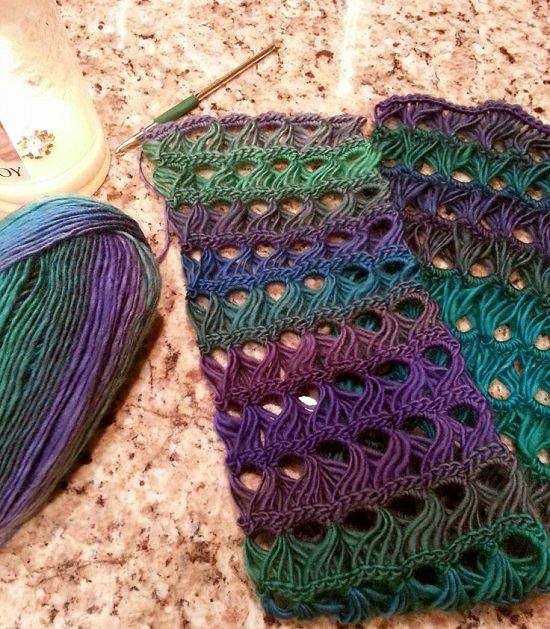 This variegated scarf will give your neck an extra warmth with broomstick stitching. In this stitch, the row is finished in two steps, one is looping and the other is crocheting. Try this Crochet Infinity Scarf Patterns for sure!
15. Free Crochet Pattern Zip Line Scarf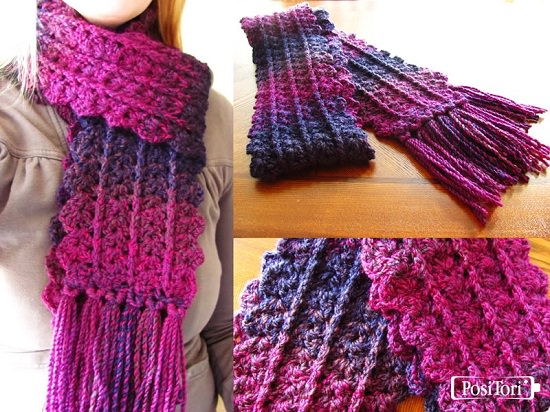 This colorful scarf with laying fringes can be a heartwarming gift for your special one. Crocheter has used various stitchings including Chain Stitch, Double Crochet, Slip Stitch, Front Post Double Crochet, Back Post Double Crochet, and Shell Stitch.
16. Crochet Heart Scarf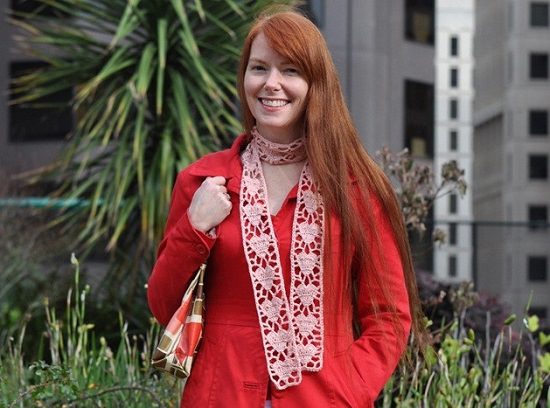 If you have already crocheted many scarves and searching for something unique, this cowl will fit your search. This romantic heart scarf is made with cuddly soft cotton yarn and is comfy enough to muffle all day.
17. Crochet An Infinity Scarf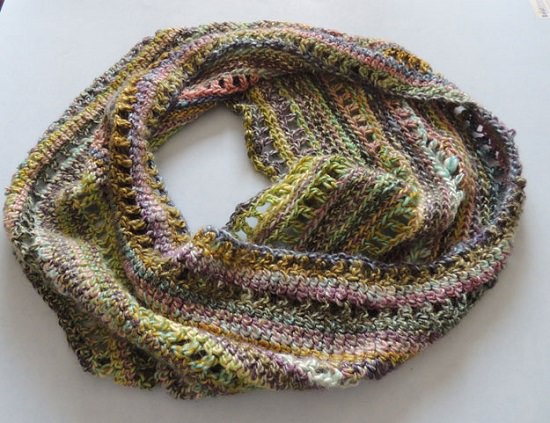 If you are a left-hand crocheter and don't know much stitching patterns, you will appreciate this tutorial. This variegated scarf employs no special stitch, making it the top choice for newbie crocheters and one of the best Crochet Infinity Scarf Patterns!
18. Easy Velvet Crochet Infinity Scarf Tutorial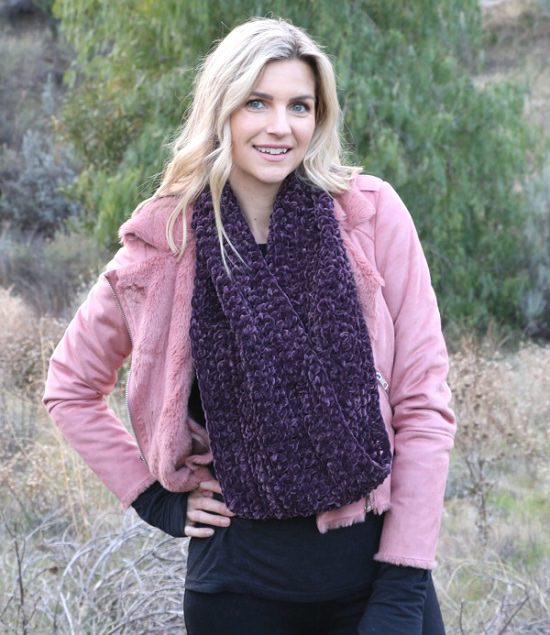 Many crocheters are crazy for velvet yarn, thanks to its lustrous and soft texture that makes the winter dressing more attractive. Crochet just one velvet scarf using this tutorial, and you will be reluctant to stop weaving more of them.
19. Havra Crochet Infinity Scarf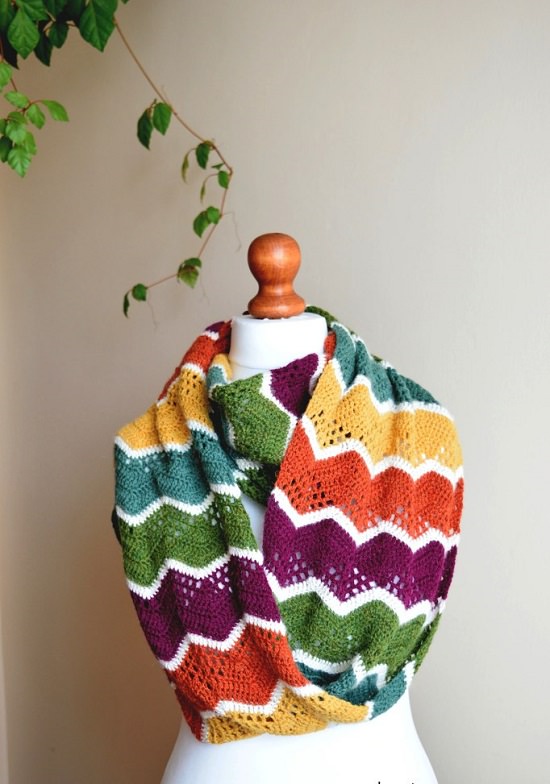 The fusion of Ochra, Rust, Plum, Lemongrass and Forest Green hues on this scarf are fabulous! Surely one of the most colorful free crochet infinity scarf patterns to try. Check out the steps on My Crochetory.
20. Crochet Convertible Infinity Scarf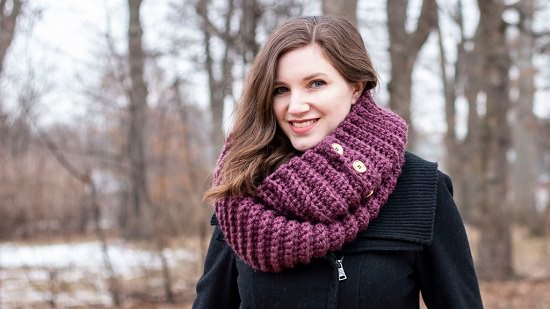 This bold scarf is an ideal winter accessory for keeping you toasty! The specialty of this scarf is its buttoned ends, which will help you in carrying it like a cowl or a long scarf.
21. V-Stitch Infinity Scarf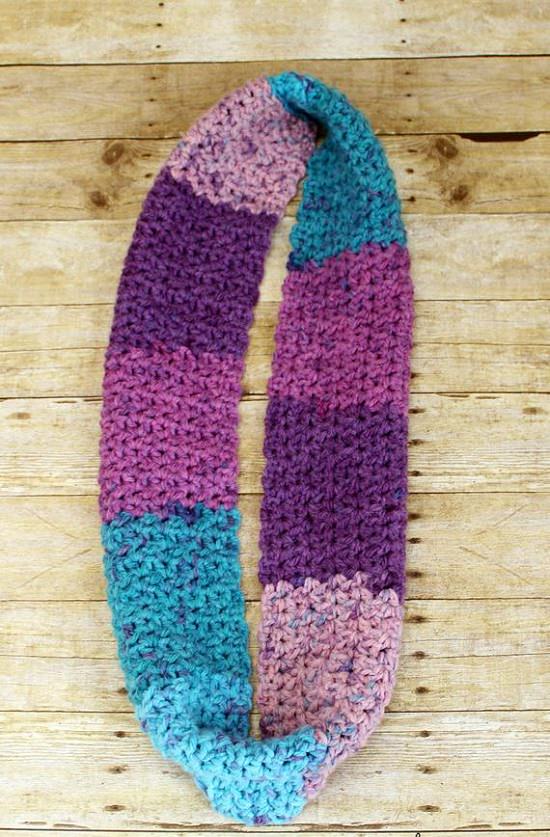 This infinity scarf, enriched with lovely colors, is prepared from the caron chunky cake plum perfect yarn. The half, double crochet v-stitch makes it more soft and lovable.
22. Cozy Striped Crochet Infinity Scarf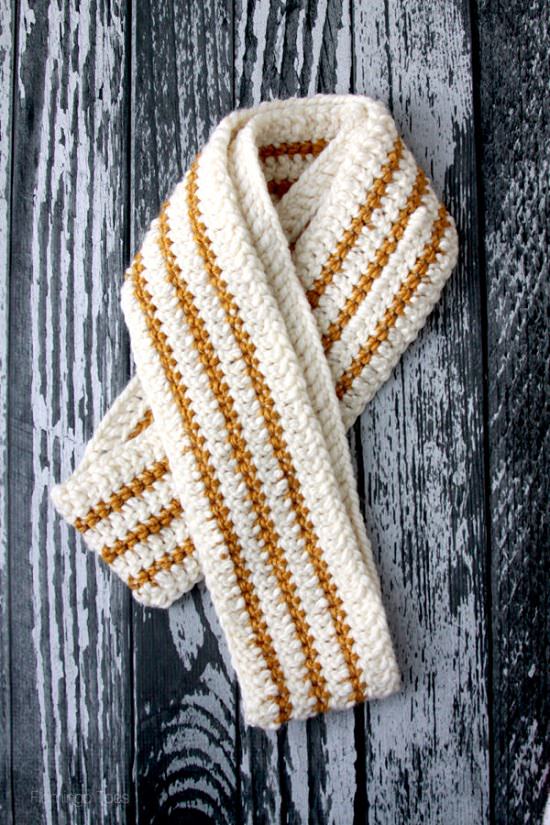 Add this striped scarf in your collection that can be crocheted with cream and gold yarns. Here, single and double crochet patterns are used, but the rows are worked in the back loops for giving the brims a ridged look.
23. Ineffable Infinity Scarf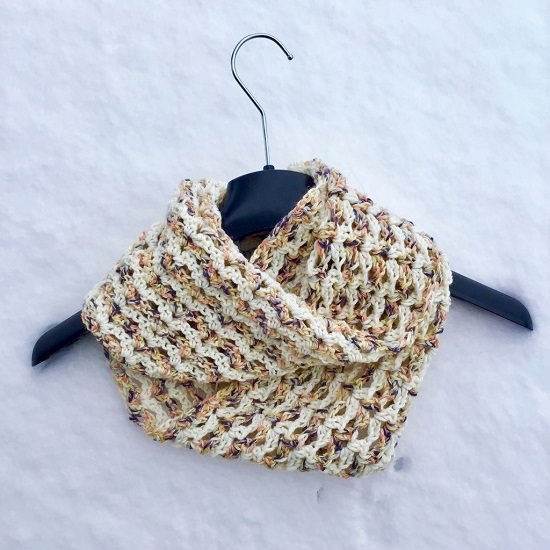 If you are fond of neutral colors, this scarf can work as a perfect winter accessory for you.
24. The Cambridge Infinity Scarf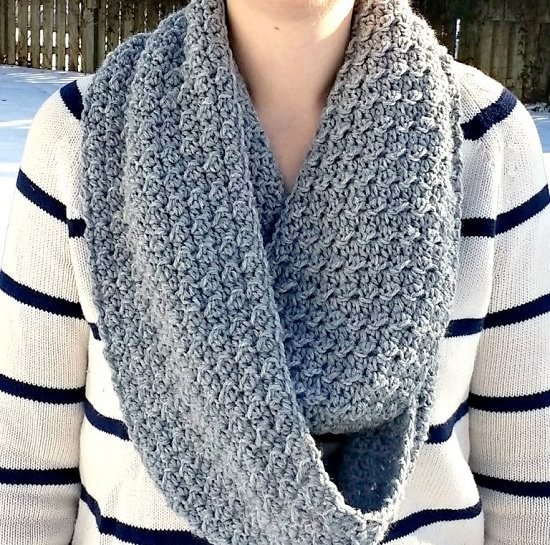 When the temperature falls to a single-digit, this Cambridge infinity scarf may come handy. Made from the Wool-Ease yarn of grey heather shade, this craft uses double and half double crochet, and slip stitches.
25. Venus Shell Infinity Scarf Crochet Pattern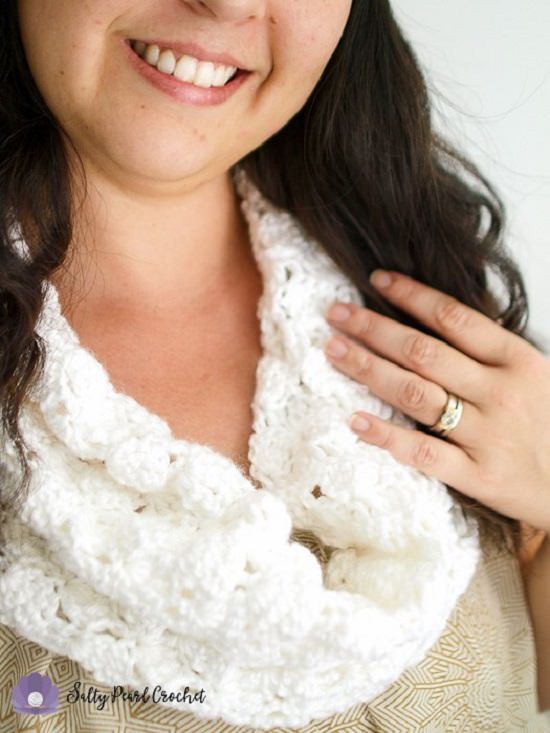 Thanks to its delicacy, any crochet addict will surely love this venus shell crochet scarf. The specialty of this scarf is that it can be used in both chilly as well as warm weather.