This winter, make a stylish statement by crocheting a trendy and cozy ponytail hat using these amazing Messy Bun Hat Crochet Pattern!
If you love keeping your hair tied in a bun all the time, then you are going to love these Messy Bun Hat Crochet Pattern! Keep yourself warm in style while flaunting your stylish bun!
---
1. Messy Bun Hats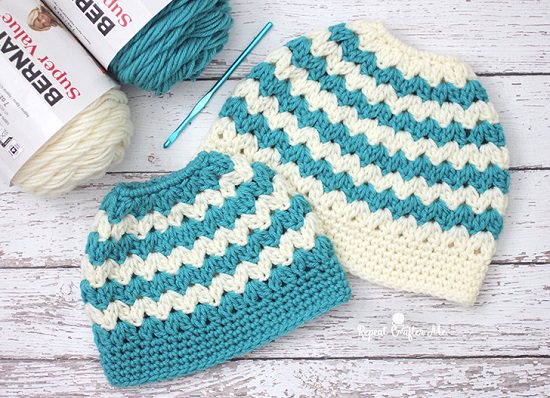 This hat, with a hole at its top, is going to help you carry your bun with ease. It uses a cluster v-stitch, allowing a lot of flexibility, making it one of the best messy bun hat crochet pattern on this list!
2. Messy Bun Hat With a Flower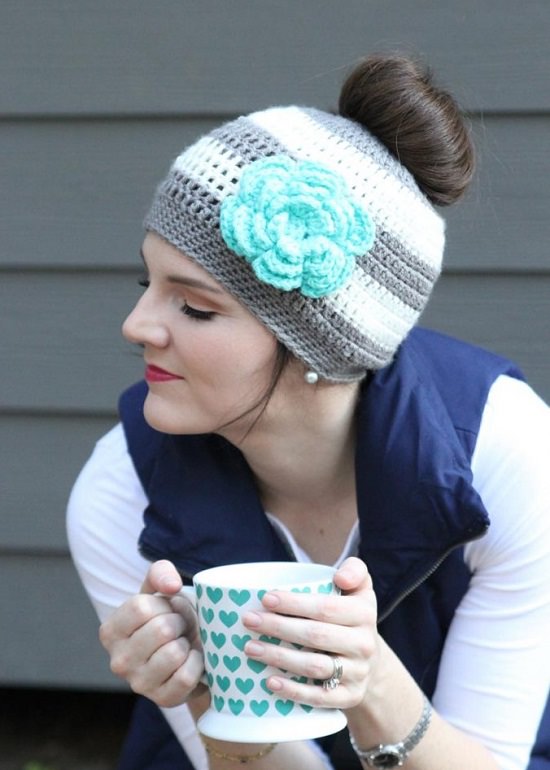 This striped ponytail hat, embellished with a crocheted flower, adds a bit of charm. Worked in the rounds, its motif starts from the top like the traditional ones.
3. Crochet Cabled Messy Bun Hat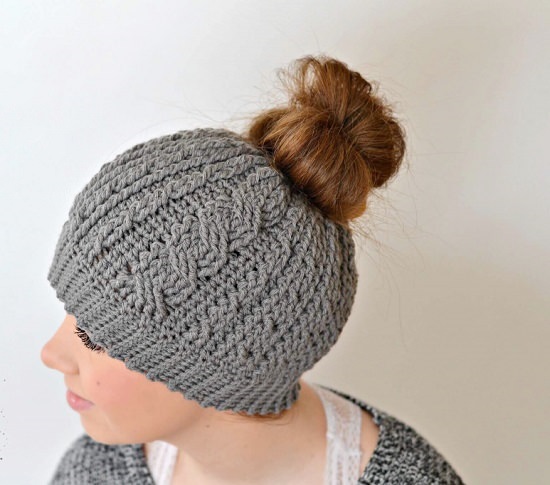 This neutral-hued cabled hat can go well with any outfit. Thanks to the Forward Cable2 and Forward Cable6 stitches that carve out a beautiful texture on this beauty!
4. Easy to Crochet Messy Bun Hat
If your friend avoids crocheted hats, feeling that it might ruin her messy bun, then its time to surprise her by crocheting this messy bun hat crochet pattern.
5. Crochet a Frenzy Bun Hat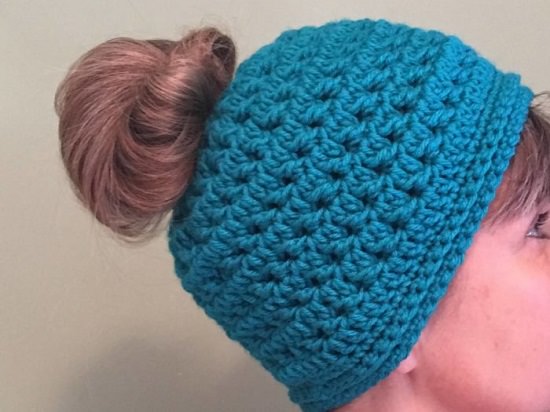 If you want to give your hair a flair of a classy look, this frenzy hat is going to perfect. Take help from TheCrochetCrowd blog for crocheting this beanie.
6. Skeleton Messy Bun Beanie Crochet Pattern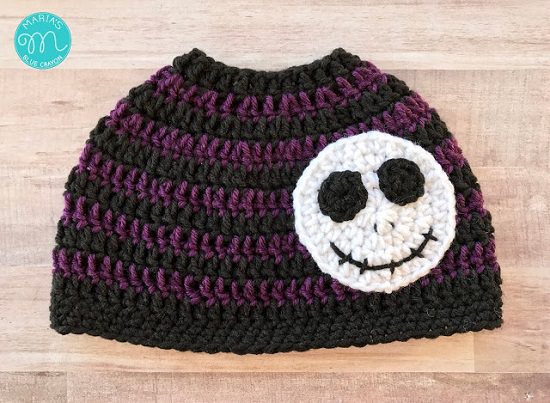 This messy bun hat embellished with a skeleton applique is going to add a funky touch to your appearance. You can even customize its look by closing the top while weaving one for your kiddo. This is one of the best messy bun hat crochet pattern on this list!
7. Addison Messy Bun Hat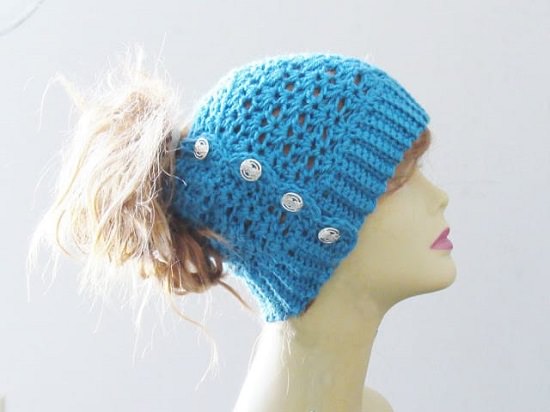 If you are searching for the easiest crochet messy bun hat with a wide opening to carry your voluminous hair, then this bun, with metal buttons, ends your search. Read its tutorial at CrochetDreamz.
8. Quick Crochet Messy Bun Hat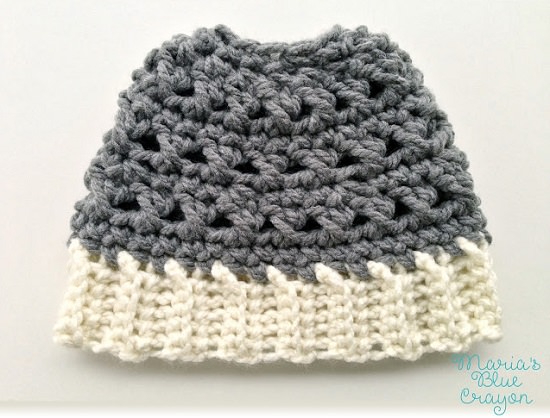 Take inspiration from MariasBlueCrayon blog for crocheting this quick to make crochet hat with a perfect combination of style and warmth!
9. Minimalistic Crochet Hat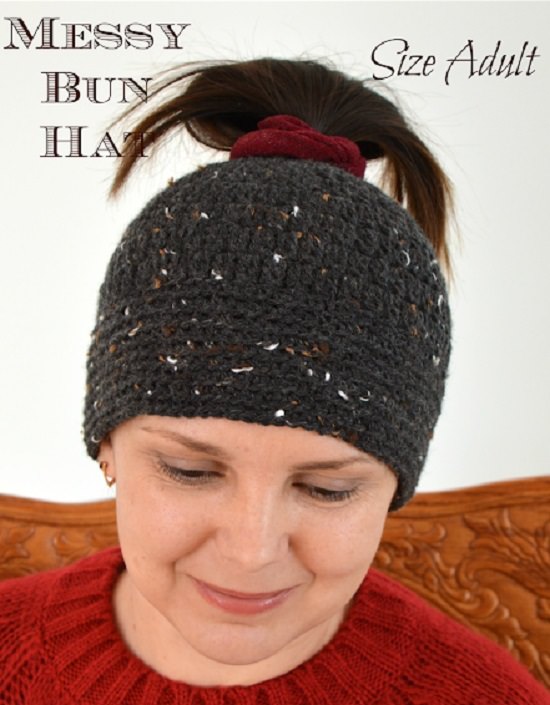 Give your look a stylish winter nudge by crocheting this solid-hued bun hat, smattered with contrast splashes. Worked in rounds, its motif engages cluster stitching along with basic stitches.
10. Makenzie Bun Hat Crochet Pattern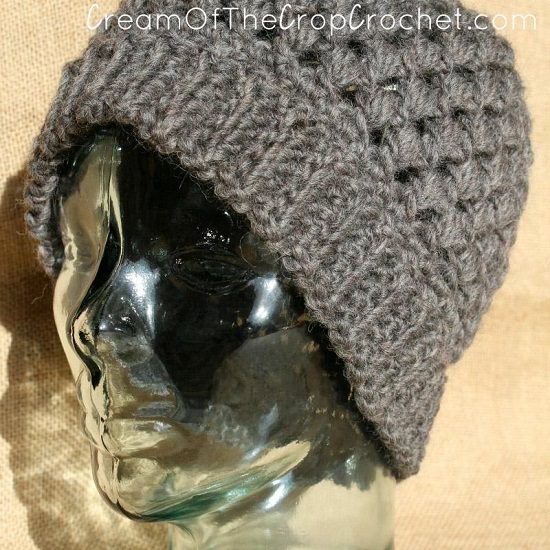 This puff stitch messy bun hat crochet pattern has tight stitches at the ear covering portion. Optionally, you can add a bow to enhance its look further.
11. Chunky Hat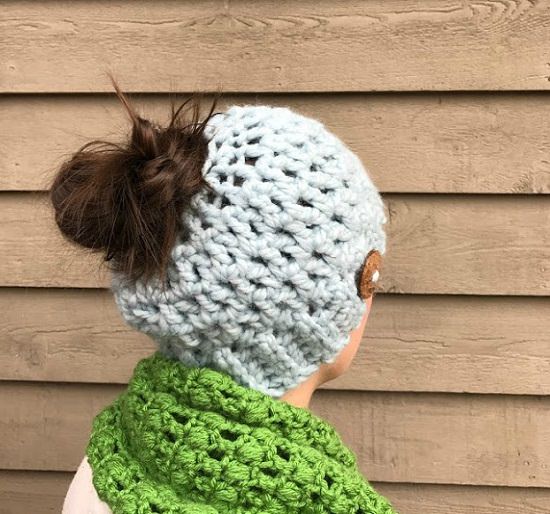 The craze for ponytail hats among ladies is at the peak, and this messy bun hat featuring vintage-looking buttons is fun to whip up. This design is shared by the FiberFlux blog.
12. Spiral Bun Hat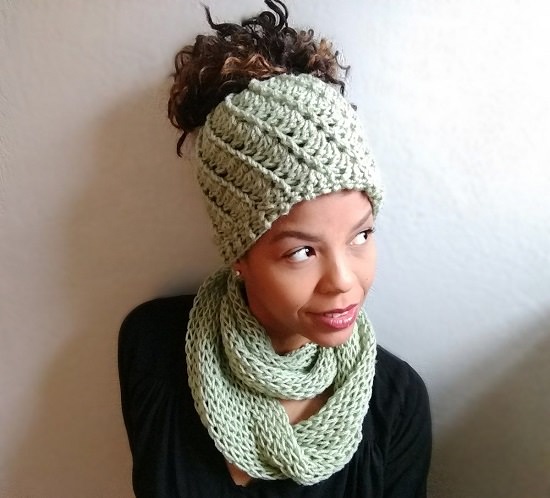 This spiral pattern bun is hit of the season among the crocheters! It is weaved using simple sc, dc, fpdc, and bpdc stitches. Imitate this DIY using the LittleJohnsYarn blog.
13. Winter Hat With Messy Bun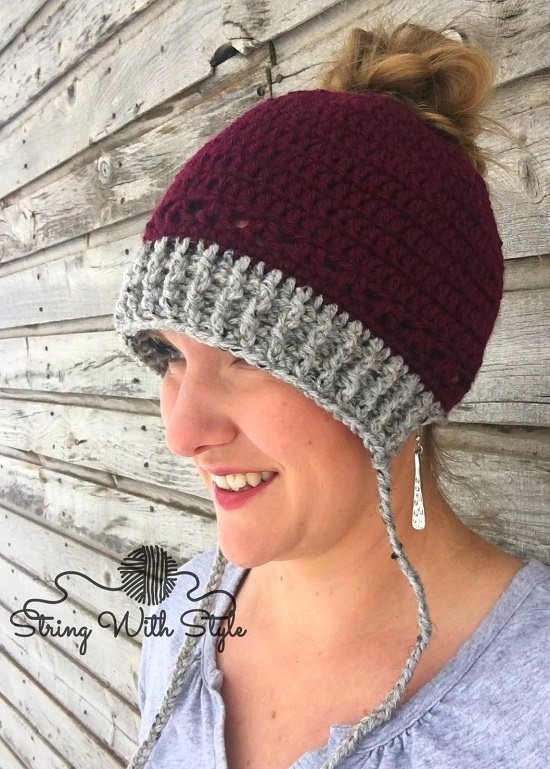 Elevate your winter style by crocheting a contrast colored hat using this StringWithStyle blog. This versatile beanie featuring cute braids is one of the best messy bun ponytail crochet hat.
14. Simple Plaid Hat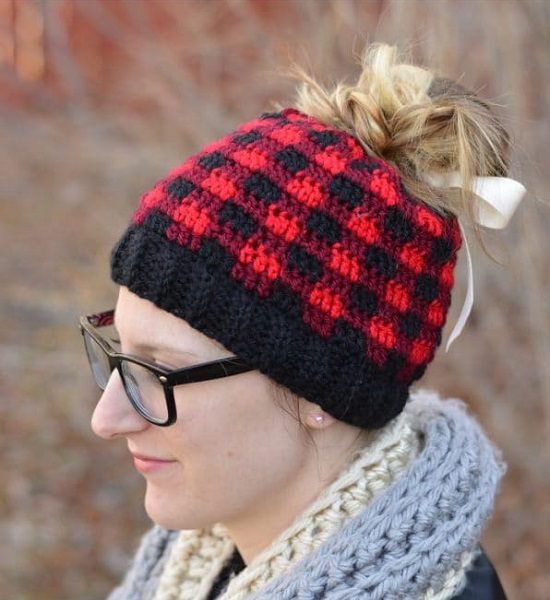 This plaid hat in bold colors is adorned with a thick ribbon that adds a feminine touch to it. This pattern is fun to stitch and well crafted from the bottom to up.
15. Colorful Bun Hat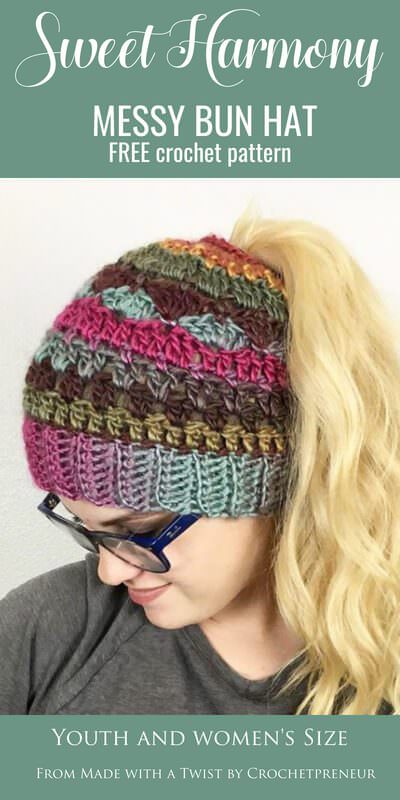 Accentuated by a beautiful mix of colors and plenty of stitches, this can be a stylish gift for someone looking to accessorize the wardrobe!
16. Messy Bun With a Bow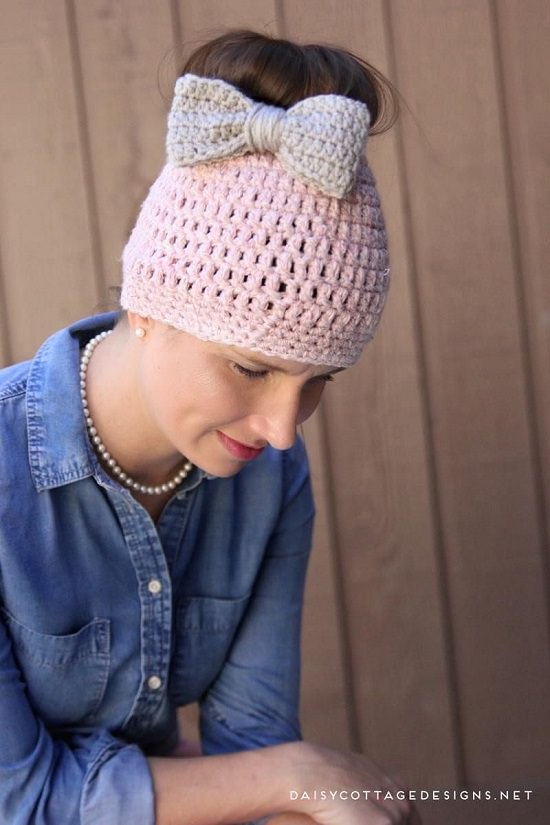 This pale pink colored hat, surmounted with a bow, can make any girl fall for it! Its pattern is worked through both loops, and an extra DC is worked into each of the rounds, making it one of the best messy bun hat crochet pattern on this list!
17. Bold and Beautiful Bun Hat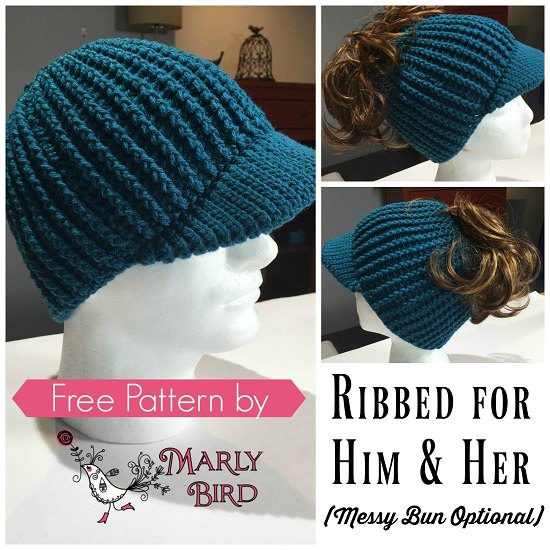 The crown of this hat makes it truly exceptional! You can weave it using just one ball of yarn! More details here.