Discover a collection of Stylish Crochet Cowboy Hat Patterns and add a touch of boho charm to your attire!
The wild west meets Crochet! If you're a fan of cowboy hats and enjoy working with yarn, why not combine the two? We have listed a collection of some trendy and stylish Crochet Cowboy Hat Patterns for adults, infants, dolls, and even pets. So grab your crochet hooks, saddle up, and get started!
Look at some Fantastic Crochet Beanie Hat Patterns here
---
Stylish Crochet Cowboy Hat Patterns
1. Pink Cowboy Crochet Hat for Girls

A classic cowboy hat pattern that offers timeless style and versatility. Ideal for those looking for a larger, statement piece to complete their western-themed attire. Do watch the tutorial here.
2. Cute Cowboy Hat Crochet for Cats

Adorable and quirky, this Cowboy Hat is designed specifically for your feline friend. Crochet a miniature cowboy hat that adds a touch of whimsy to your pet's attire.
3. Crochet Baby Cowboy Hat

This cute pattern is perfect for the little ones, offering a cute and charming accessory.
It's an excellent choice for themed parties, photo shoots, or everyday wear. Watch here!
4. Mini Crochet Hat

If you're new to crocheting, this mini cowboy hat could be a quick project to polish your crocheting skills. Watch the tutorial here.
5. Pair of Crocheted Cowboy Hat and Boots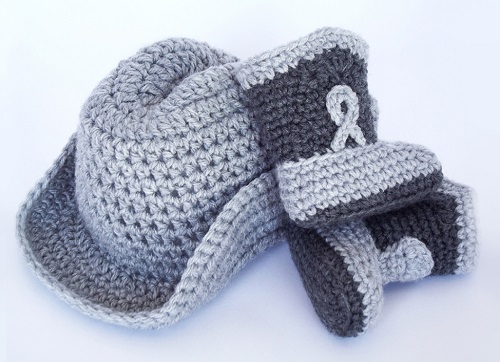 Gift your toddler a cute makeover with this pair of crocheted cowboy hats and boots. Pick the color of your choice and get crocheting!
6. Crochet Cowboy Hat for Puppies

Let your furry friend join the cowboy craze with this adorable dog hat pattern. Perfect for themed parties, pet parades, or for a cute photo session! Watch the tutorial here.
7. Mini Cowboy Hat for Doll

Give your favorite dolls a cutesy makeover with this doll-sized crochet hat pattern.
It's an excellent opportunity to showcase your crochet skills and design unique accessories.
8. Elegant Cowboy Hat for Adults

Another adult-sized Crochet Cowboy Hat Pattern, this design will offer elegance to your attire. Experiment with different colors, brim sizes, and embellishments to make it your own.
9. Cattleman Style Crochet Cowboy Hat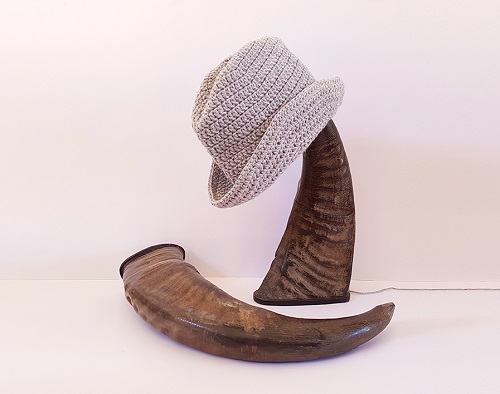 Channel your inner cowboy with this classic Cattleman style crochet hat, complete with a structured crown and a wide brim for a beach day out.
10. Crochet Studded Cowboy Hat

Add boho flair to your hat collection with this studded cowboy hat. Embellished with metal studs, it offers a unique and stylish twist on the traditional design.
11. Tribal Shell Embellished Crochet Cowboy Hat

Add a bohemian twist to your cowboy hat with this crochet pattern, featuring a tribal-inspired shell band detail that brings a unique and eye-catching element.
12. Colorful Striped Cowboy Hat

Infuse your crochet hat with vibrant colors and playful stripes. This colorful striped cowboy hat will turn heads and bring a cheerful touch to any outfit.
13. Sun Safe Cowboy Hat for Infants

Adorn your little one with this adorable Crochet Cowboy Hat pattern designed for infants, offering style and comfort.
14. Wooly Cowboy Hat with Pompom

Get ready for the chilly days with this woolly crochet hat that'll give a cozy makeover to your outfit.
15. Black Crochet Hat with Beige Rim

Make a statement with this black Crochet Cowboy Hat pattern, featuring intricate edge details that will elevate its look and add a touch of sophistication.
16. Hailey Crochet Cowboy Hat
Create a trendy accessory with this crochet pattern, featuring a stylish boho design, perfect for any occasion.
17. Hollowed Out Cowboy Hat

A unique crochet pattern featuring a hollowed-out design adds a touch of elegance to the classic cowboy hat style.
18. Wide-Brimmed Summer Cowboy Hat

Shield yourself from the sun in style with a wide-brimmed cowboy hat. The extra-wide brim provides excellent sun protection while keeping you fashionable.
19. Crochet Raffia Cowboy Hat

Take your crocheting skills to the next level with a crochet raffia cowboy hat. Raffia yarn offers a natural and rustic texture, perfect for a beachy or bohemian vibe.
Find out some Cute Crochet Baby Hat Patterns here