Want exclusive looking cap patterns? These DIY Crochet Beanie and Hat Patterns are easy to make and create a style statement!
Hats are always in fashion. No matter the season or the occasion, you can comfortably sport one and can pair them with the majority of outfits you have in your closet. Here are some appealing DIY Crochet Beanie and Hat Patterns you can carry with style!
---
DIY Crochet Beanie and Hat Patterns
1. Puff Stitch Hat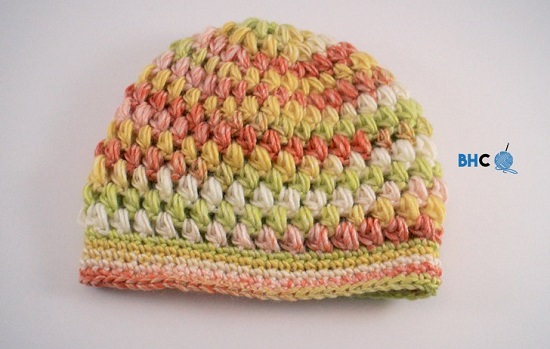 This is a simple repeat pattern, but the use of a puff sitch brings some variations in the dimension of the hat. You can find the details here.
2. Child's Hat and Scarf Set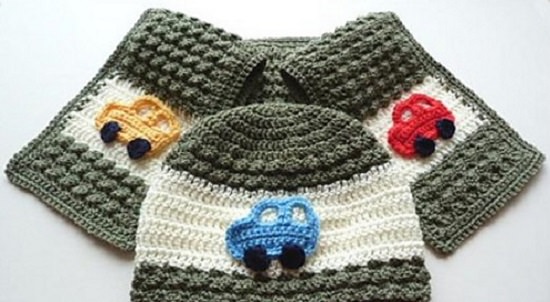 Crocheter uses two contrast colored worsted weight yarn along with some oddments to prepare tiny cars design on the hats.
3. Nautical Baby Hat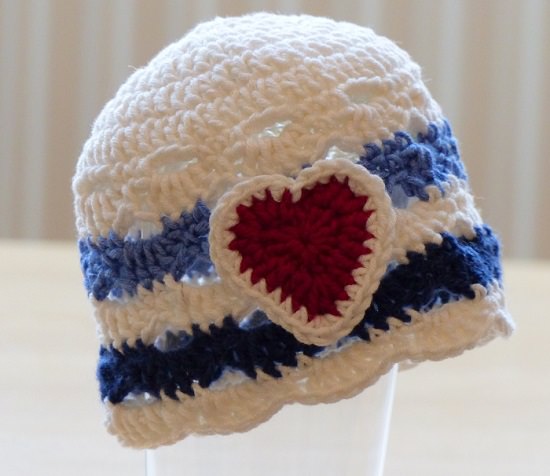 If you are fond of a nautical theme, then this baby hat featuring marine blue and white stripe is for you!
4. Newborn Holland Hat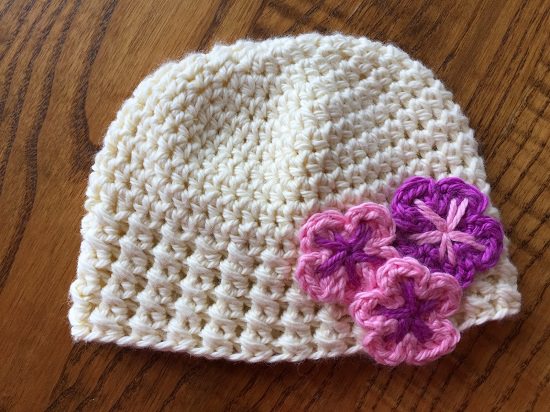 The designer tucked a contrasting flower applique on this newborn hat to make it more appealing.
5. Lacy Shell Hat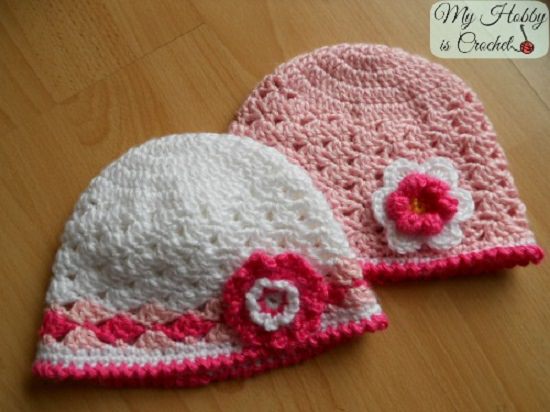 This hat pattern is for a toddler, but you can customize its size by adding or subtracting rounds.
6. Leafy Autumn Hat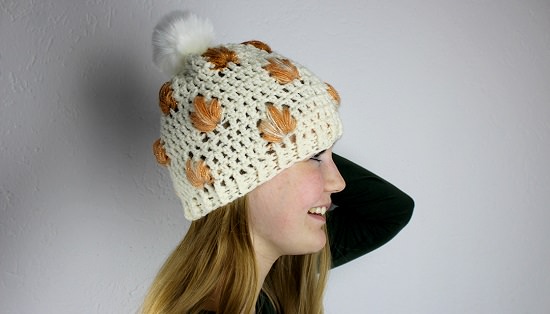 This hat is worked top to down using double crochet and the drop stitches that carves a leafy layout on it.
7. Bunny Beanie with Ears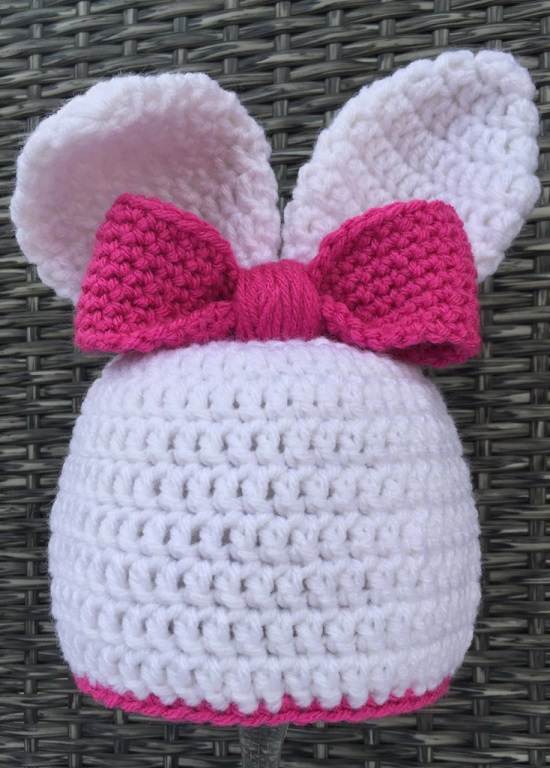 The crocheter prepared a beanie and then sew two ears and one bow at top of the hat.
8. Vintage Pearl Baby Hat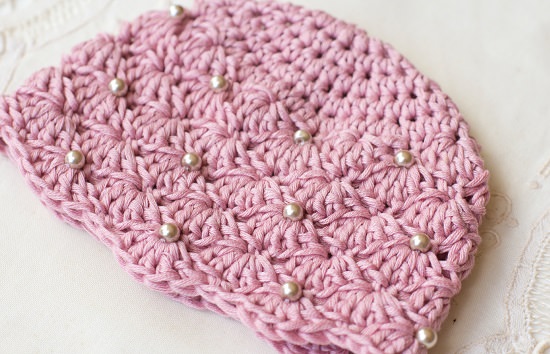 This vintage pearl hat, accentuating a girly pink color, is worked in rounds from top to bottom.
9. Bunny Hat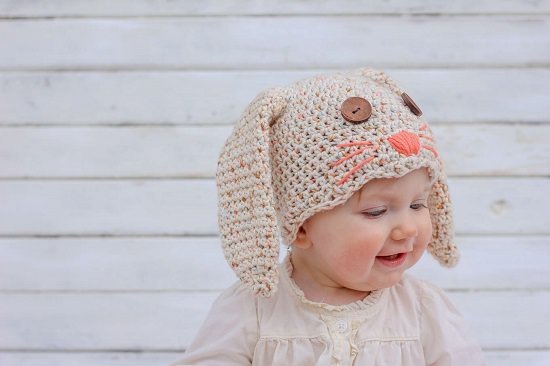 The body of the hat and ears engages hdc, hdc-dec, and chain stitches, whereas its scalloped border, requires a slip, sc, dc, and treble crochet stitches.
10. Delaney Hat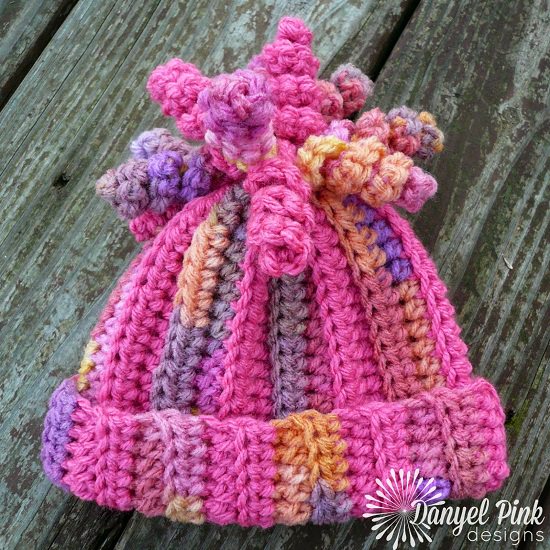 Experiment with a multitude of colors for crocheting this funky hat. This is a spiral topped beanie that can be customized in numerous ways to fit any head.
11. Worm Beanie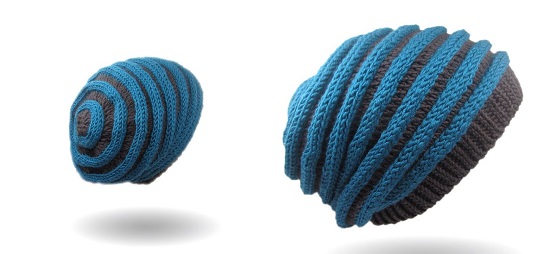 Head on to this vlog from Monk Wolle & Beanies to master the art of crocheting a slouchy beanie.
12. Pokeball Hat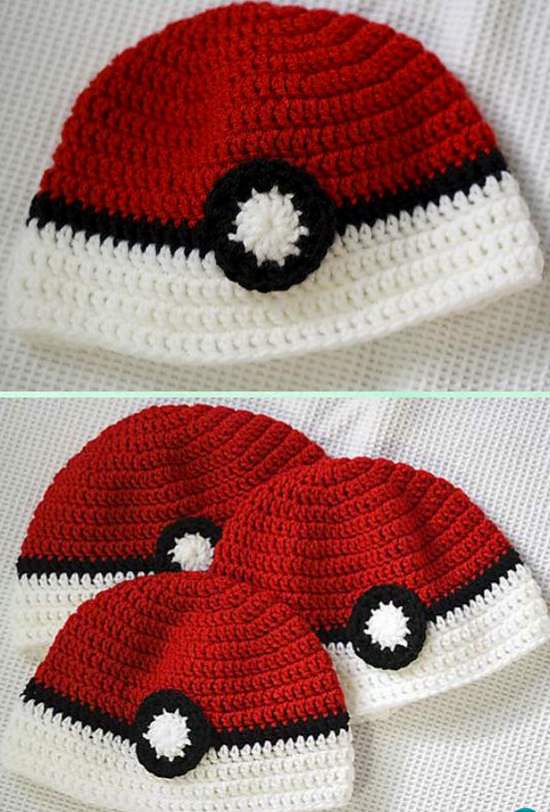 Kid's craze for pokemon is evergreen, and crocheting this Pokeball hat for them is going to be a wonderful idea!
13. Anthro Inspired Hat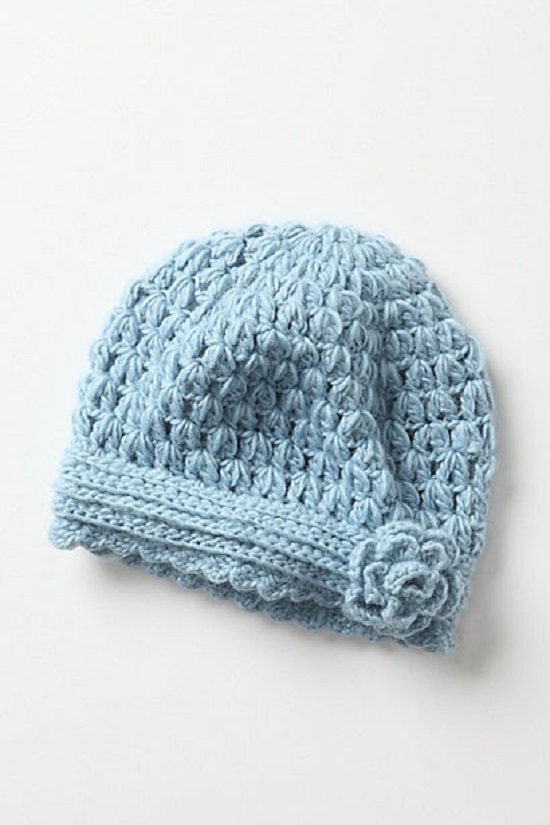 The best perk of creating this hat is that its neutral blue palette will pair well with any outfit you wear.
14. Baby Chick or Baby Bird Hat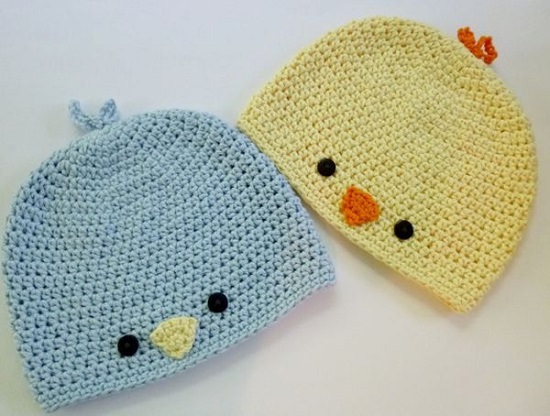 Magic circle, chain, slip, sc, hdc stitches are all you need to know for crocheting this baby chick hat pattern.
15. Fox Pattern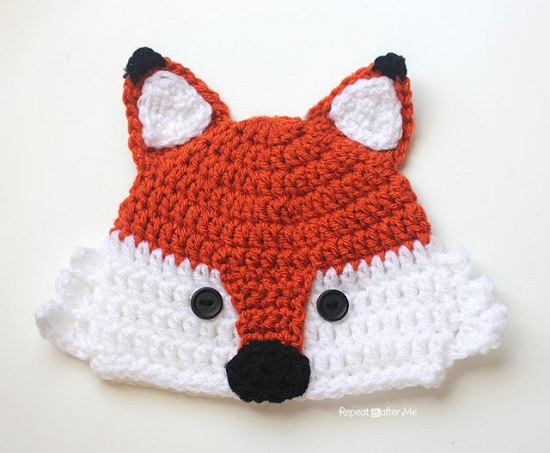 This fox hat can be a lovely gift for birthday parties. The crocheter has even provided separate instructions well suited for different age group children.
16. Sly Fox Hat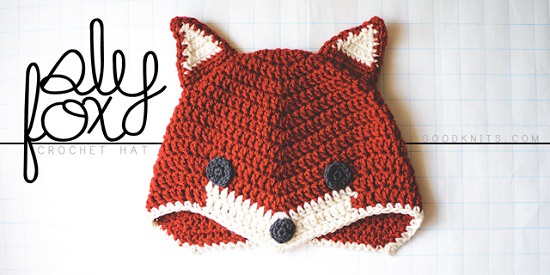 Worked from top to down, this hat motif features an interesting layout for carving a front point along with long flaps to cover the ears.
17. Super Chunky Granny Hat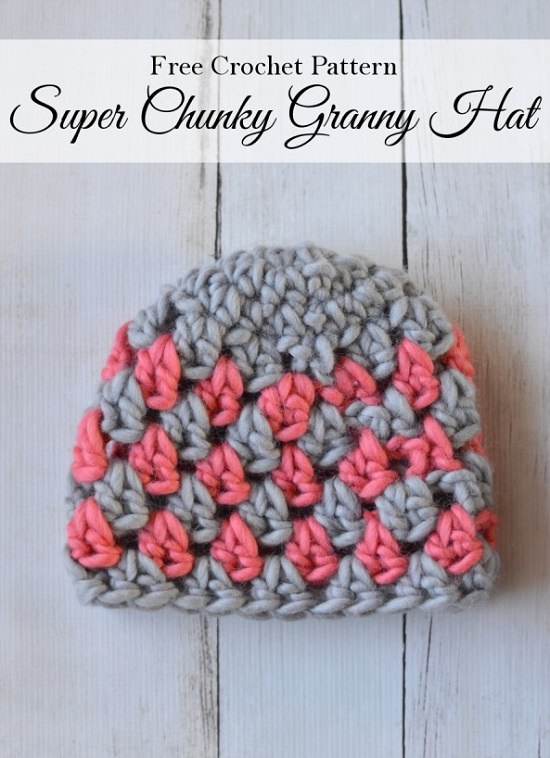 This chunky granny crochet hat is fun to craft and you can even add more rows to it!
18. Pearl Beanie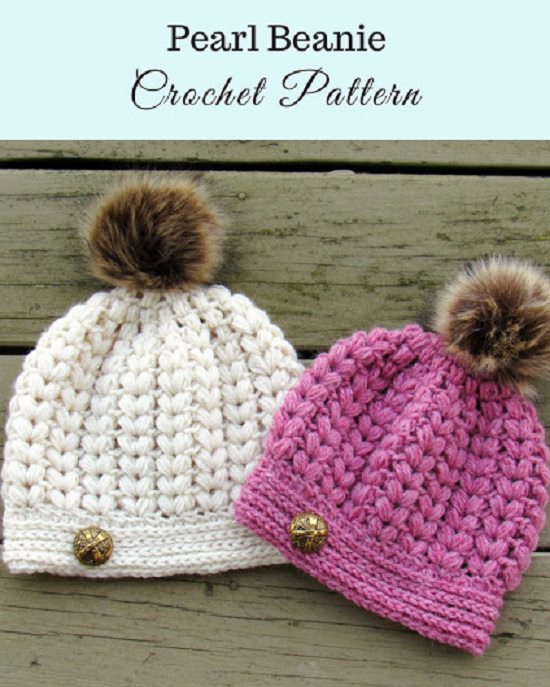 For carving an intriguing look, the designer worked with a puff stitch that complements well with its bulky texture.
19. Hat With Leaves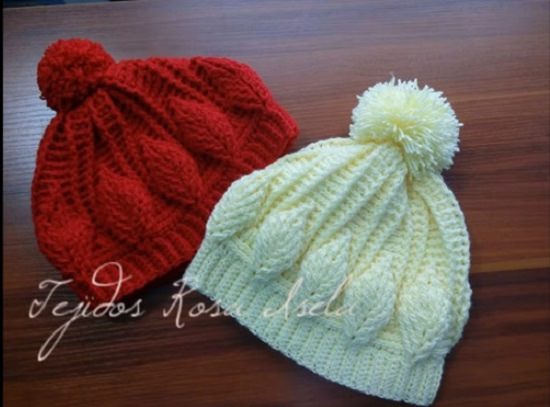 Any newbie crocheter willing to crochet a hat from the scratch should take inspiration from this vlog.
20. Beanie Hat with 3D Leaves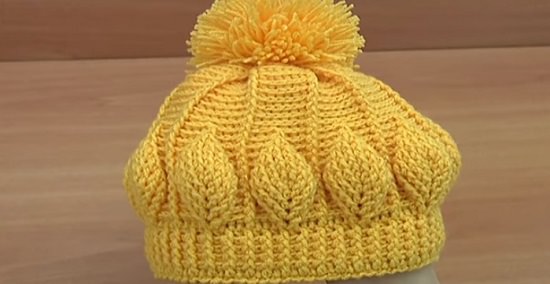 The special stitching techniques used in this tutorial creates a 3D textural effect on this hat. For copying this idea, head on to this vlog.
21. Hats with Chubby Braids and Puff Crab Brim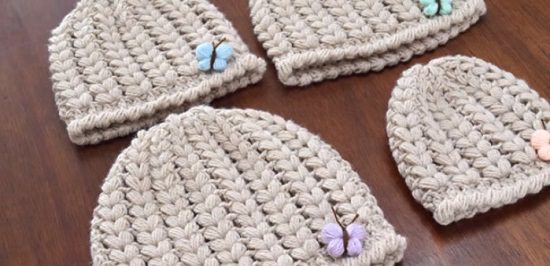 Simple, yet elegant, this neutral-hued hat with a butterfly hint is going to be an ideal gift to any girl, who prefers decent accessories.
22. Baby Hat Made of Lush Columns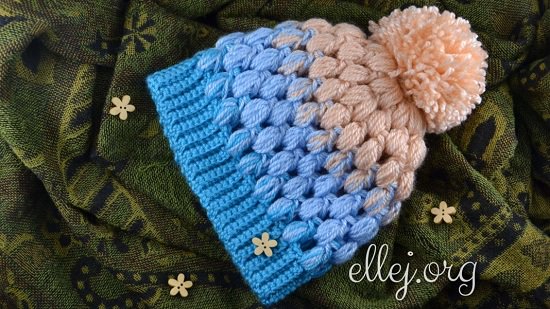 The designer knitted the elastic in one thread and fused two complementary colors for giving off the gradient effect on this hat.
23. Peek a Boo Beanie
The continuous rows accentuated with detailed textures make this pattern stand out. Crocheter used sc, hdc, dc, slip, and fhdc stitches for completing this hat.
24. Flower Point Hat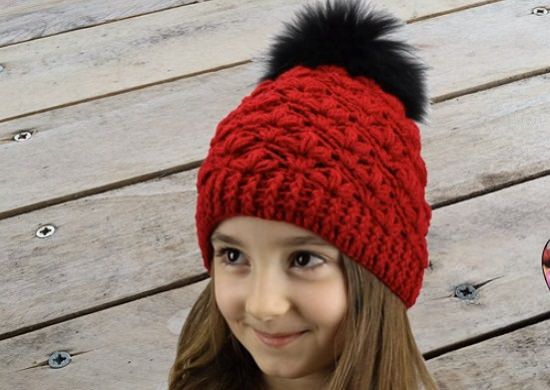 The combination of bulky yarn, fascinating texture and the pompom topping makes this beanie pattern exceptionally stunning.
25. Pebble Beanie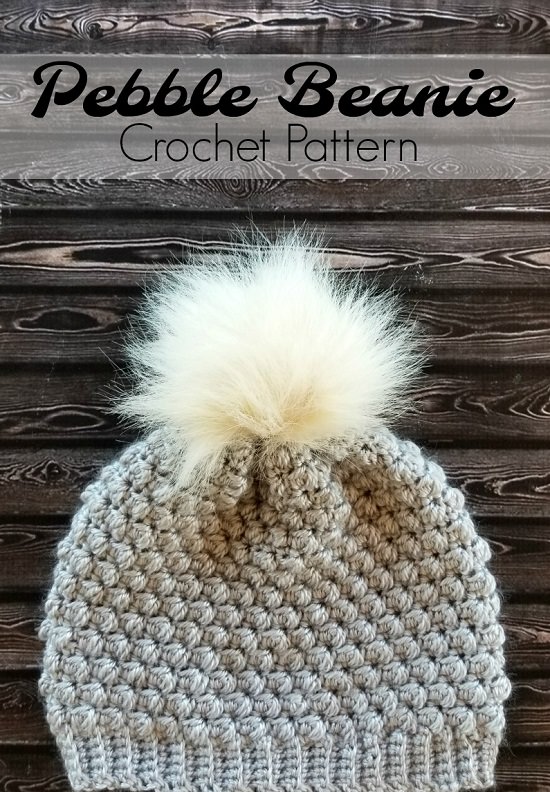 This beanie is worked from the bottom to up in back and forth rows using pebble stitch. Then it is stitched together and sewn at the top with the cute pompom.
26. Women's Hat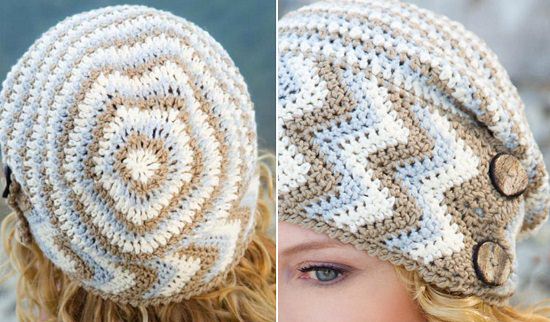 To imitate this slouchy hat pattern representing a blend of tricolors in ripples, head on to this blog from KnittedPatterns.
27. Ginger Spice Slouch Hat and Cowl Set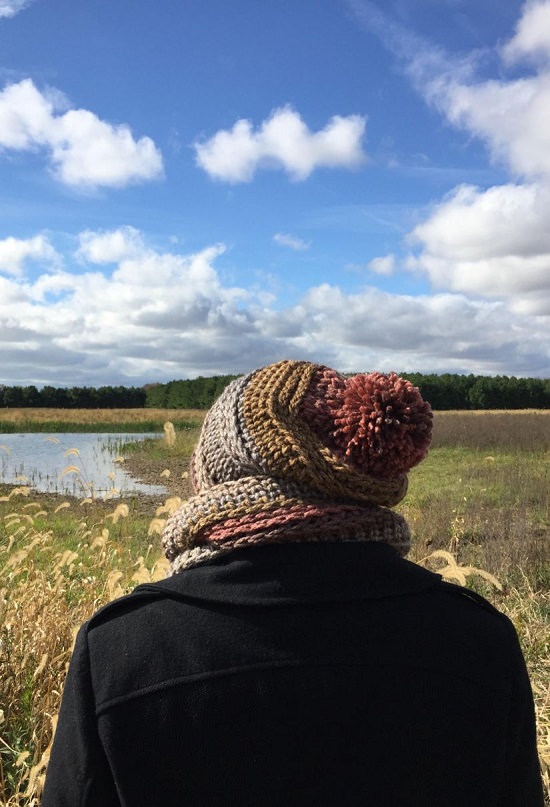 For crocheting the same set, you are going to need two Caron Tea Cakes, or as a substitute, you can take yarns of the same weight. Details here.
28. Slightly Slouchy Hat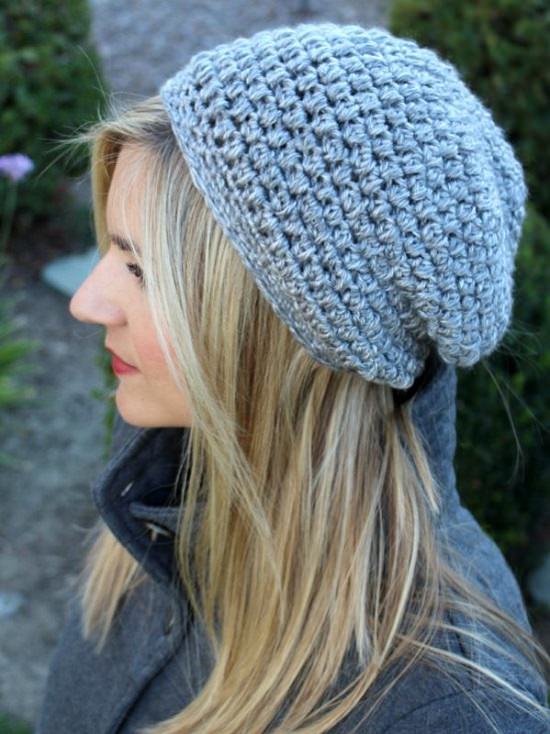 Take inspiration from this advanced beginner video tutorial for crocheting a slightly slouchy beanie.
29. Blue Hat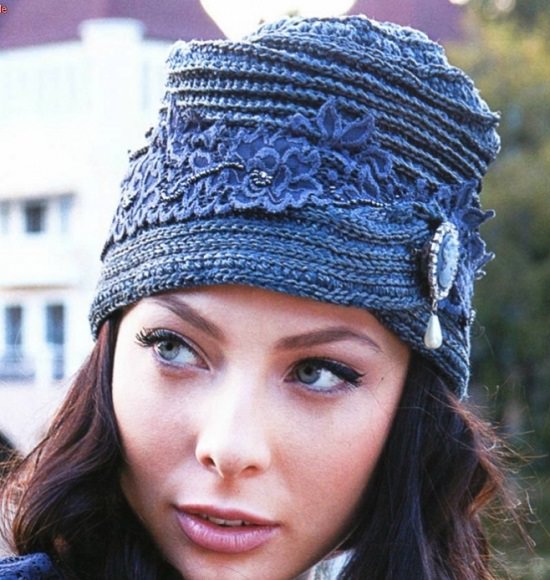 Give yourself a stylish revamp by crocheting this hat showcasing a girly flare.
30. Cross Over Long DC Hat Pattern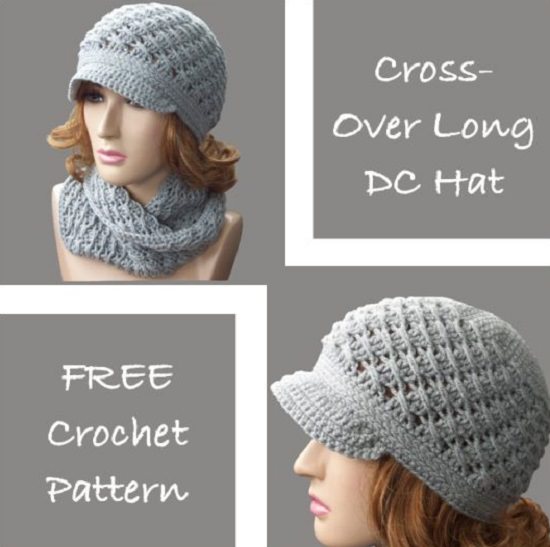 This crochet hat is worked in a continuous round up until the side of the hat. For the border, the designer advises adding a lining underneath for keeping the shape better.
31. Cabled Slouchy Beanie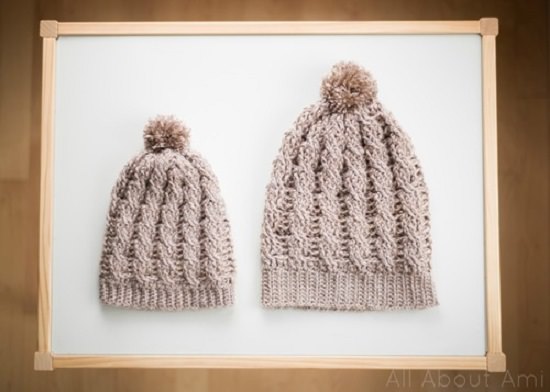 Crocheter here worked with chain 10 and then stitched single crochets in the back loops only for creating a ribbed effect on this hat.
32. Nifty Newboy Hat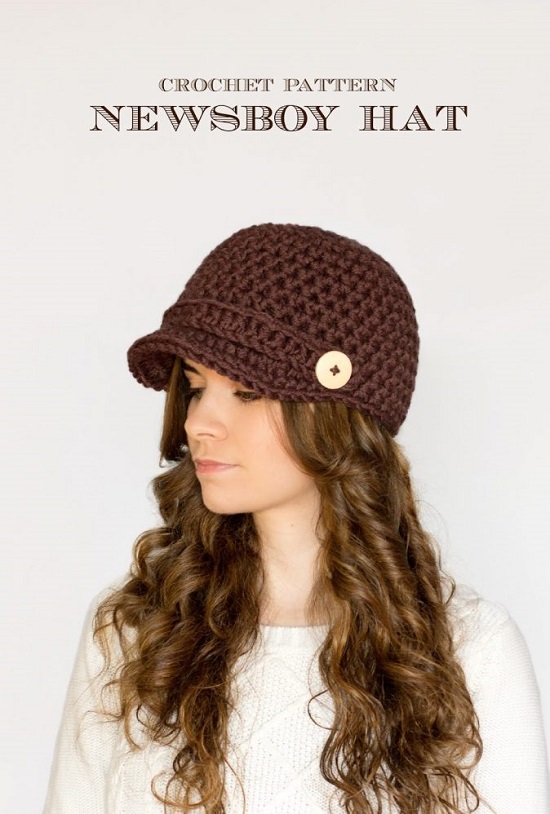 The newsboy hats do not need trend, as they are part of evergreen fashion. So, prepare one for yourself using this tutorial.
33. Ribbed Beanie Pattern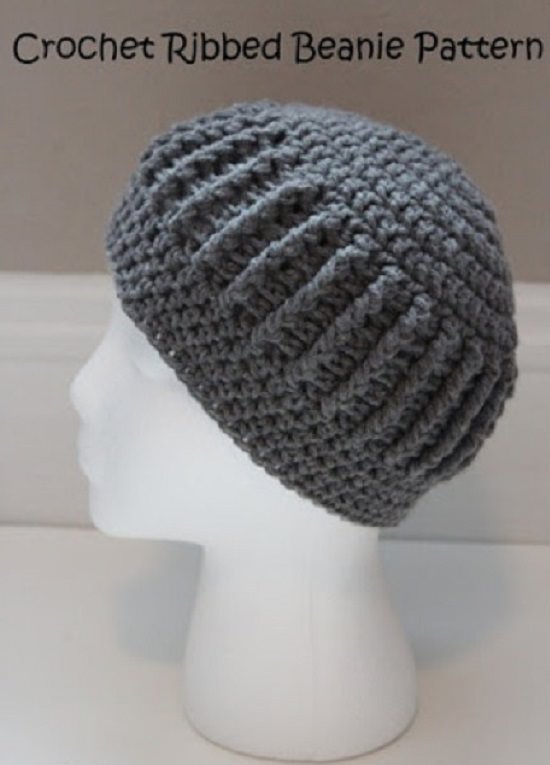 The combination of FPDC, BPDC, DC, HDC, SC, TR, Slip Stitches creates a perfect blend of ribbed and slouchy look. Read more here.
34. Trinity Hat Beanie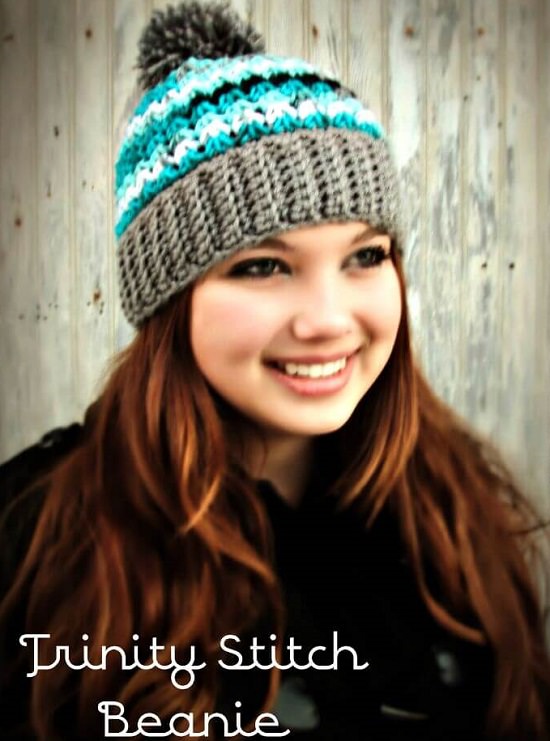 Make yourself a gorgeous hat with this trinity hat pattern with optional pompom at top.
35. Ninja Turtle Hat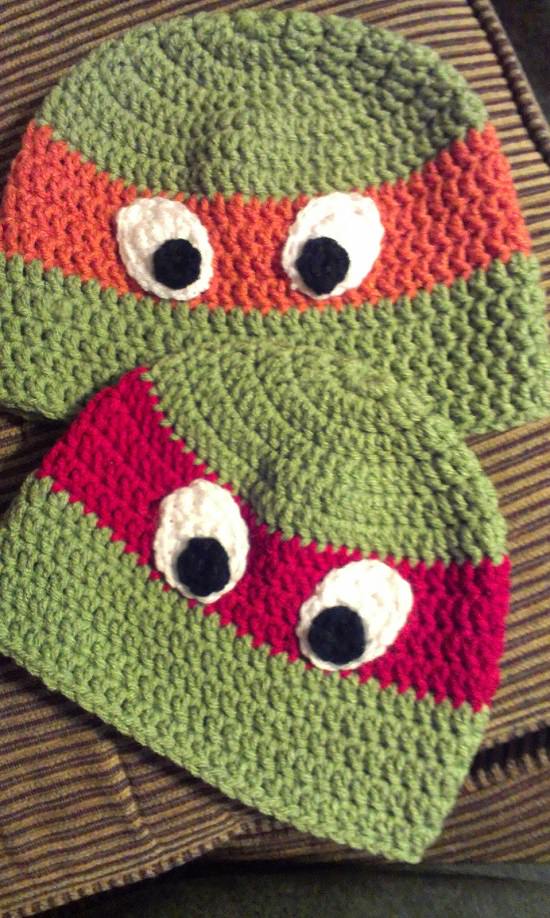 Is your kid a fan of Ninja turtles? If yes, then, no other pattern can beat this hat motif. Prepare it using this tutorial.
36. Multi-Strand Big Bow Hat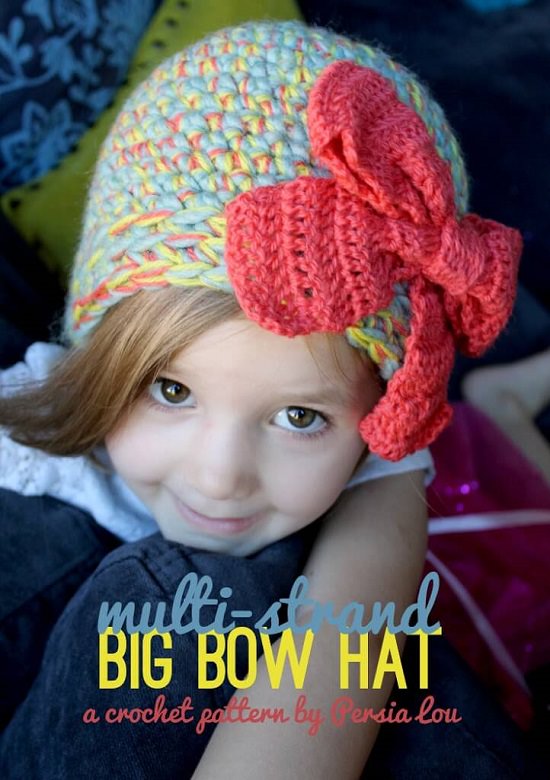 Crocheter worked this variegated hat with the three contrasting hued remnant yarns and added a fun bow for a girly touch.
37. Rudolph the Reindeer Hat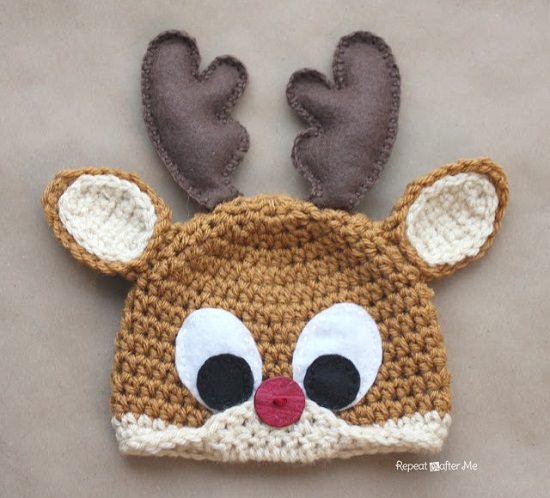 The designer has shared separate instruction of this reindeer hat that is well suited to the different age groups of children.
38. Cuddly Cat Scoodie with Pockets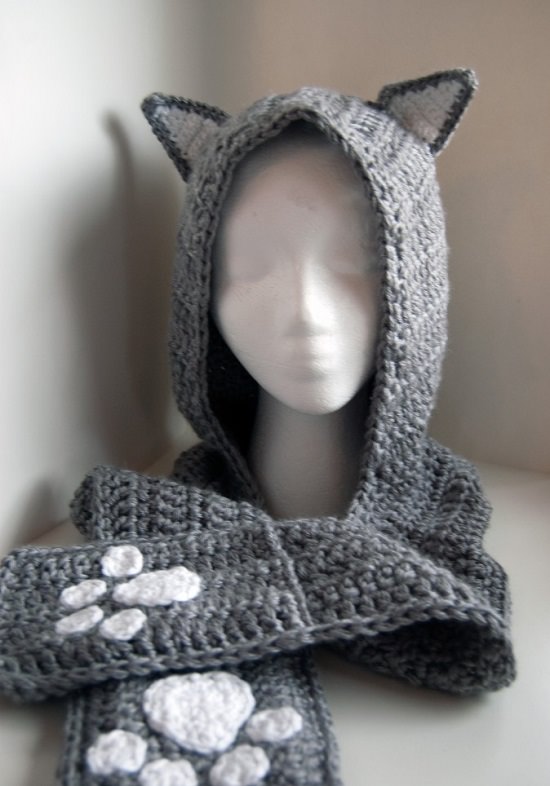 This crochet scoodie is a must-have wardrobe addition for any stylish women. Grab its free pattern here.
39. Ladybug Hat Pattern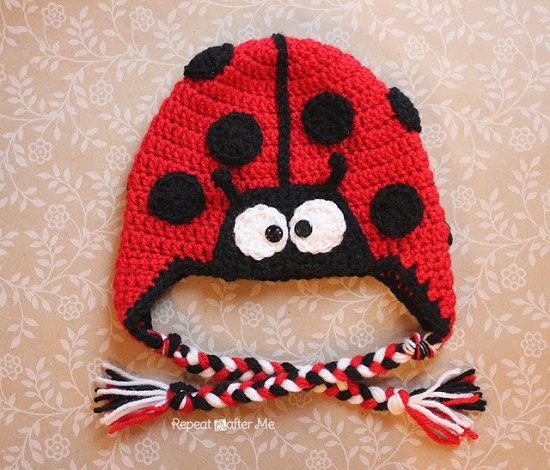 If lots of red yarn is piling up on your stash, left after the Christmas theme crafts, then this ladybug project is going to prove a great stash buster.
40. Double Pom Pom Hat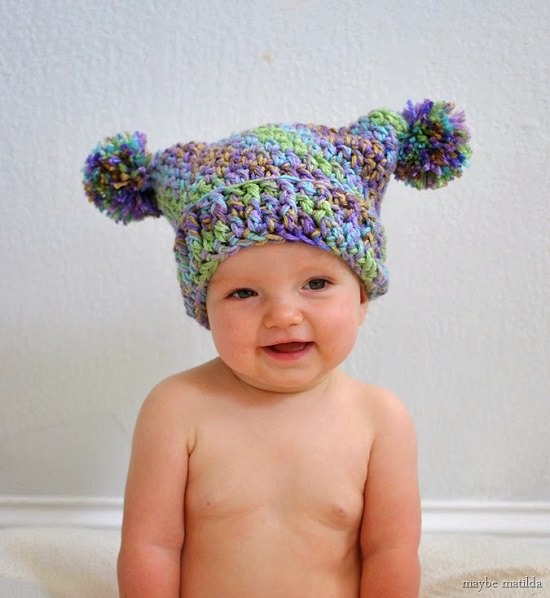 This color-drapey hat pronouncing the touch of two cute pompoms can make any crochet newborn mother fall for it.