Elevate your crochet game with our delightful Mushroom Hat Crochet Pattern Ideas that'll add a touch of uniqueness to your attire!
Are you a crochet enthusiast looking to add whimsical charm to your wardrobe? Look no further than the delightful world of Mushroom Hat Crochet Pattern Ideas! Make one for yourself today!
Look at the Best Cowboy Hat Patterns here
---
Adorable Mushroom Hat Crochet Pattern
1. Classic Mushroom Cap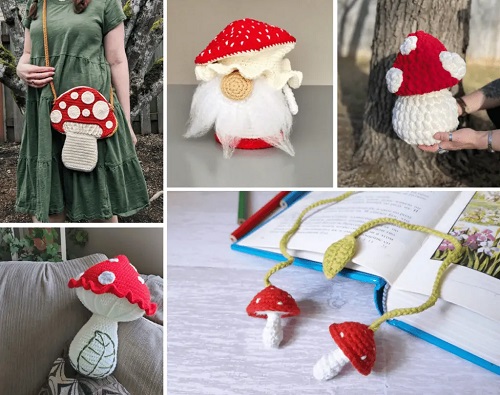 This classic mushroom hat crochet pattern is the cute makeover you need! Its elegant design, with a cap resembling the top of a mushroom, makes it a standout accessory.
2. Crochet Mushroom Bucket Hat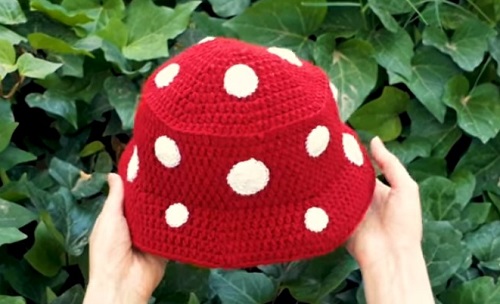 Want to crochet a mushroom bucket hat in a few simple steps? Here's all you need to know!
3. Crochet Witch Hat Pattern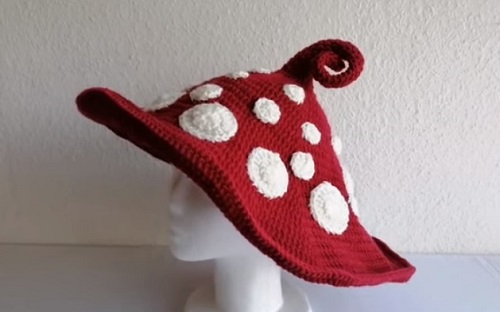 Embrace the magical side of crochet with a mushroom witch hat. This crocheting project will make you stand out from the crowd, perfect for Halloween or costume parties.
4. Lovely Mushroom Wizard Hat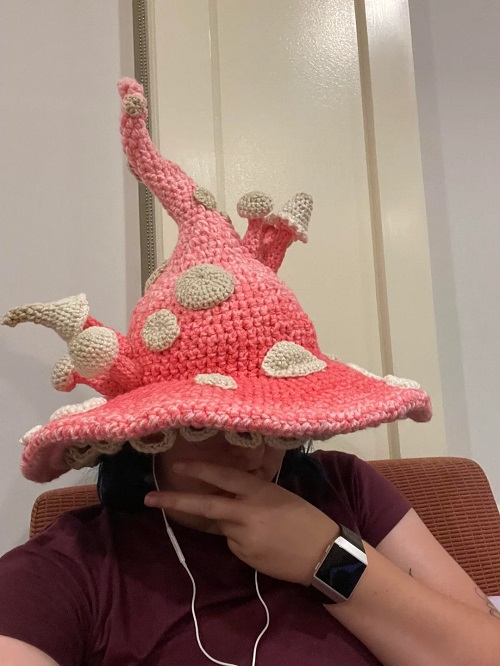 Channel your inner wizard with the Lovely Mushroom Wizard Hat crochet pattern that combines elegance and whimsy, creating a magical accessory that looks straight out of a fairy tale.
5. Twisted Witch Hat Pattern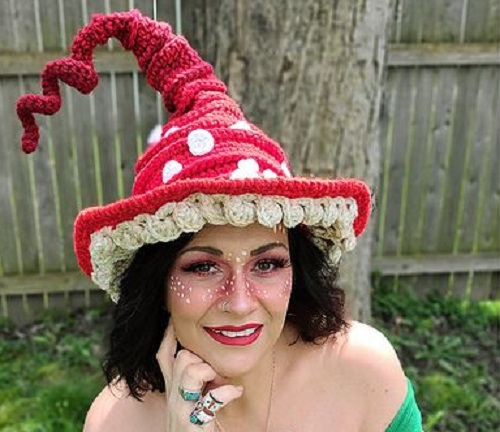 Add a whimsy to the classic witch hat with the Twisted Witch Hat Crochet pattern. This unique design features a spiral detail that adds a touch of mystery and intrigue to your attire
6. Slouchy Crochet Hat with Mushroom Accents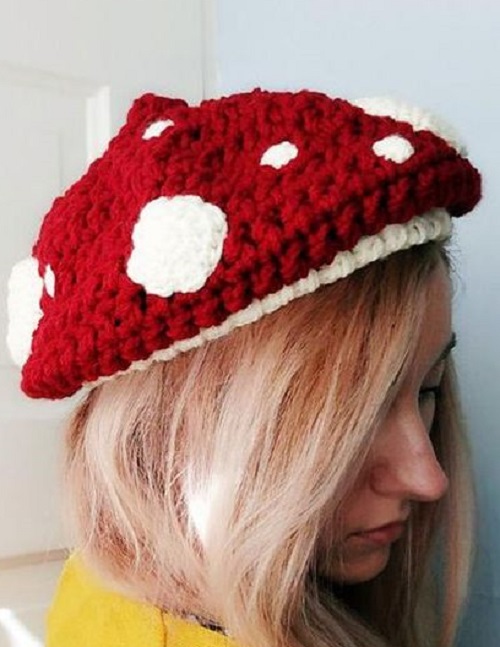 This pattern combines the comfort of a slouchy hat with the cuteness of a mushroom design. It's perfect for adding a touch of playfulness to your winter wardrobe.
7. Cottagecore Autumn Hat Pattern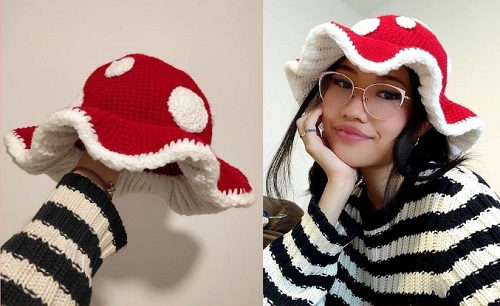 Embrace the rustic charm of cottagecore with the Cottagecore Autumn Hat Pattern. This cozy hat, with a mushroom motif, is perfect to complement a cozy attire.
8. Mushroom Fairy Bucket Hat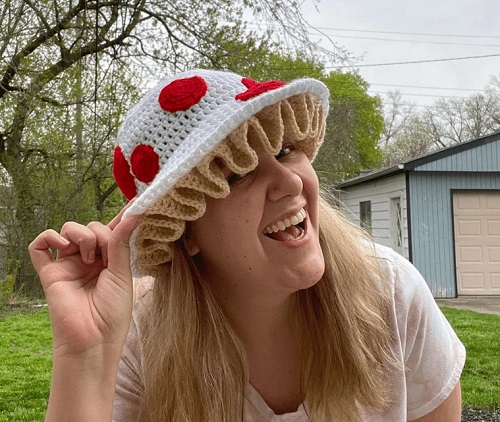 Design an adorable accessory with the Crochet Mushroom Toadstool Hat pattern. This charming hat, featuring the iconic red and white toadstool design, adds color and fun to your crochet collection.
9. Red and White Mushroom Hat Cum Cap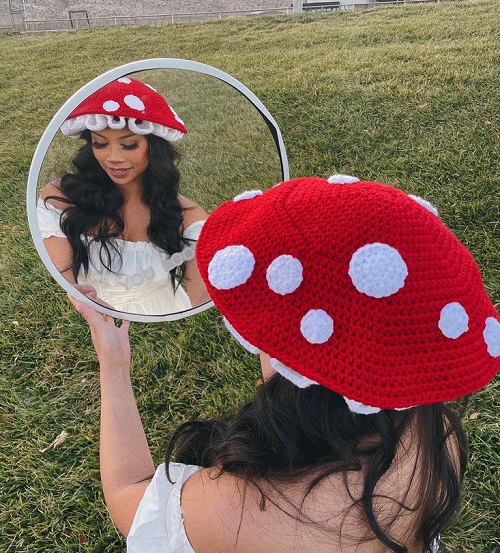 This pattern allows you to crochet minimal mushroom hats that can also be worn as a cap. Perfect to feed your fashion appetite!
10. Cute Crochet Creation for Kids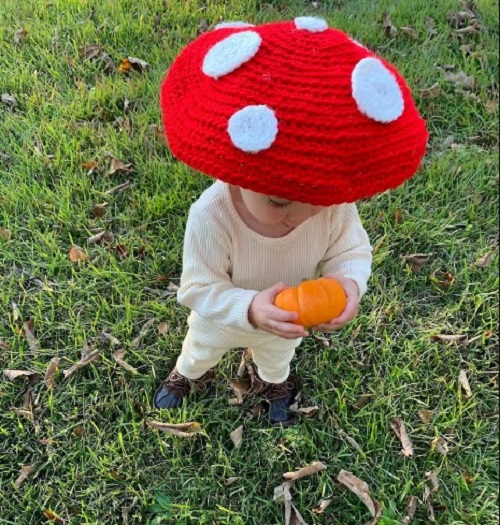 This whimsical hat-explicitly designedly for children, combines playful colors and a mushroom-inspired shape to keep your child stylish and cozy.
11. Cute Slouchy Beret Hat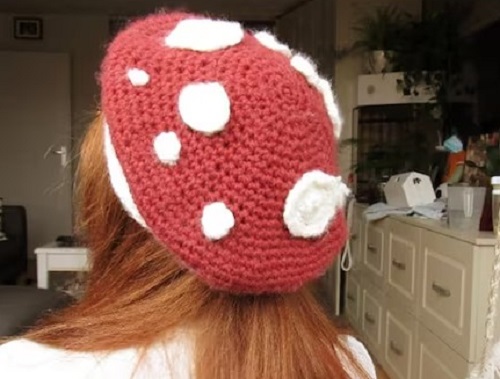 Add a touch of elegance to your outfit with a crochet mushroom beret. This pattern creates a sophisticated hat with a mushroom-inspired crown and a slouchy, beret-style brim.
12. Crochet Mushroom Beanie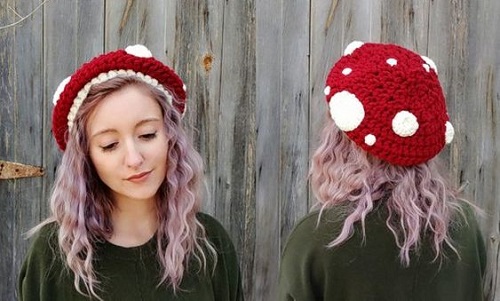 A mushroom beanie is a versatile accessory suitable for both children and adults. The beanie style ensures a snug fit, while the mushroom-inspired design adds a unique charm.
13. Toadstool Mushroom Hat Pattern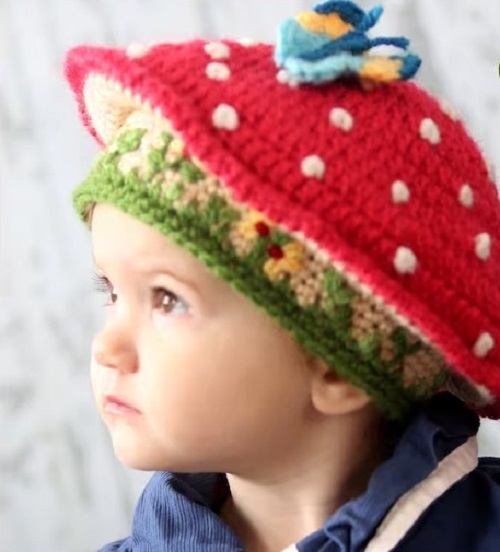 This crochet pattern creates a hat that replicates the iconic shape and colors of toadstools, making it a standout accessory for nature lovers and fantasy enthusiasts.
14. Crochet Witch Hat with Heart Motifs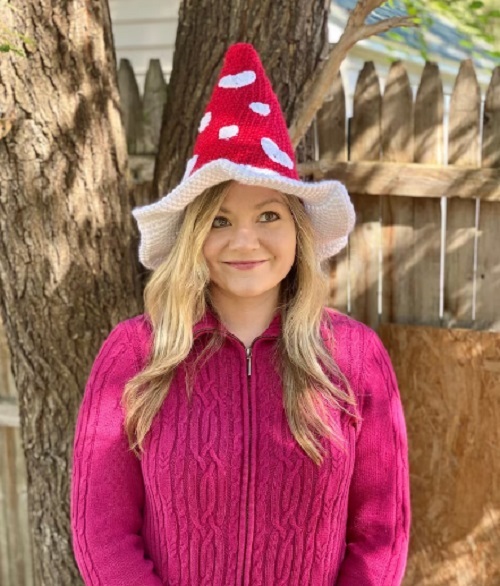 This crochet witch hat features a witch hat silhouette adorned with heart-shaped motifs, adding a delightful twist to your witchy wardrobe.
15. Dual Toned Mushroom Hat Crochet Pattern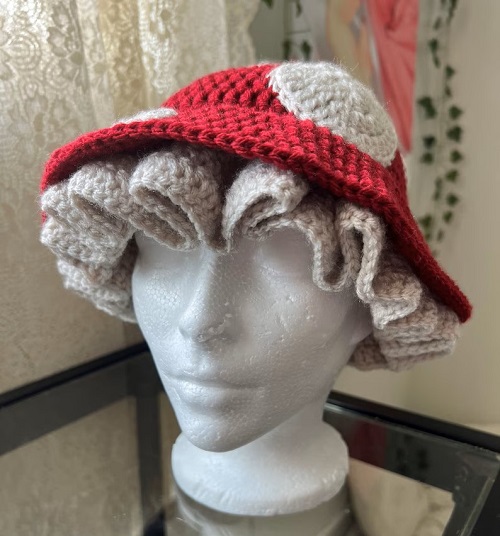 Embrace your creativity with the dual-toned Mushroom Hat Crochet Pattern. This design allows you to infuse two colors to create a unique mushroom hat that perfectly matches your style and preferences.
16. Handknitted Woolly Mushroom Headwear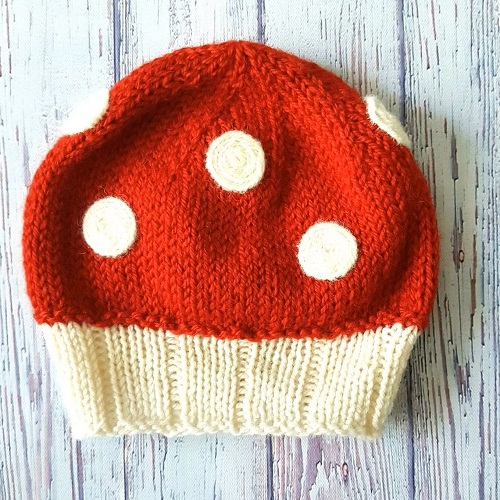 Crafted with cozy wool yarn, this cap features a charming mushroom design, making it a practical and whimsical accessory for colder seasons.
17. Mushroom Earflap Hat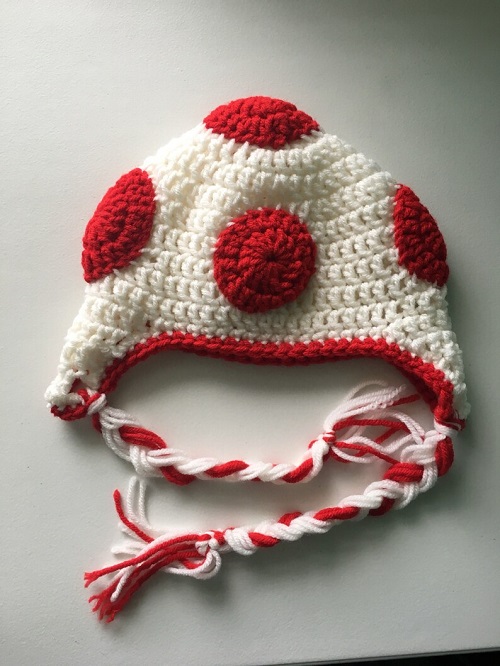 Keep your ears warm on a chilly evening with a cozy mushroom earflap hat. This pattern includes provides both style and functionality to your outfit.
18. Mushroom Beret Hat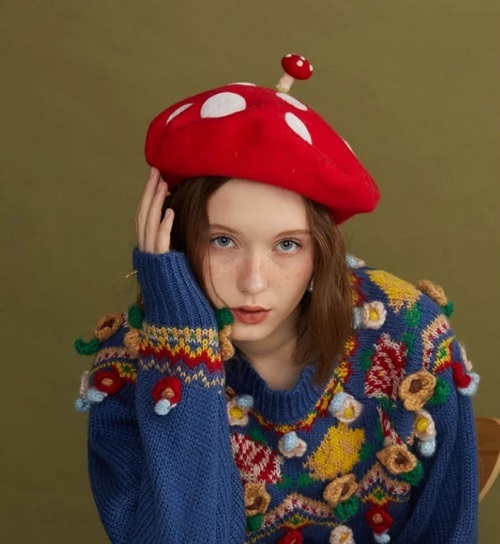 This mushroom hat crochet pattern creates a sophisticated beret-style headwear with a mushroom-inspired crown, giving you an effortlessly chic accessory for any occasion.
19. Crochet Mushroom Bonnet for a Trendy Makeover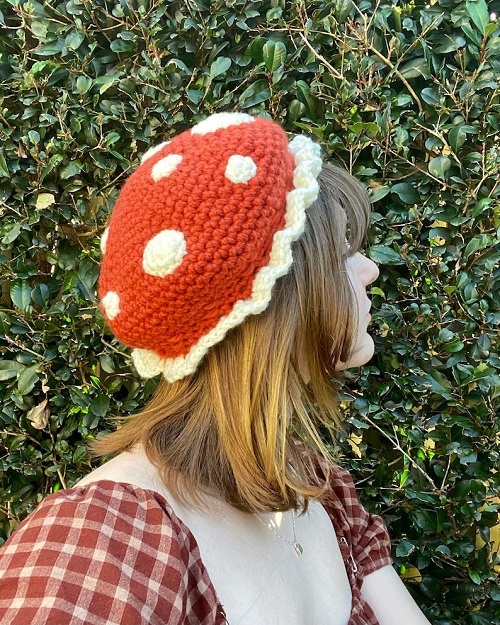 Gift your little one a charming mushroom bonnet. This pattern typically features a bonnet-style hat with mushroom motifs and a tie or ribbon for added cuteness.
20. Mushroom Messy Bun Crochet Pattern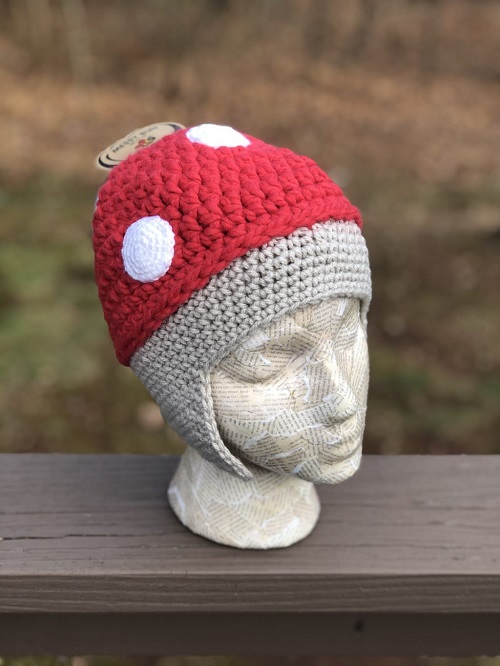 For those with long hair who want to keep their bun or ponytail intact, a mushroom messy bun hat is perfect.
21. Chunky Crochet Mushroom Hat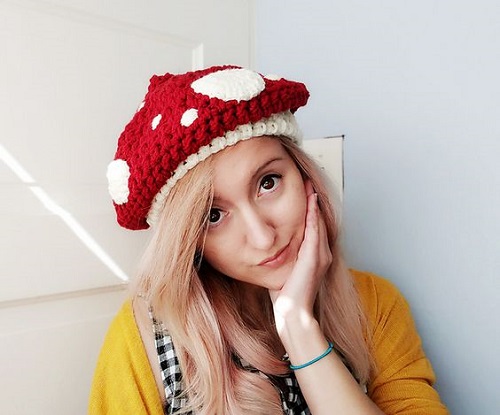 Using thicker yarn and larger crochet hooks, you can create a warm mushroom hat perfect for colder days.