Are you tired of wearing the same boring slippers? Don't worry! These DIY Crochet Slippers Patterns will help you craft a trendy one!
Crochet flip-flop slippers are easy to make and will break you from the boring design patterns available in the market. Check out these DIY Crochet Slippers Patterns for a minimalistic yet trendy look!
Check out some Fantastic DIY Crochet Shoe Patterns Here
---
Trendy DIY Crochet Slippers Patterns
1. Black and Beige Crochet Sandals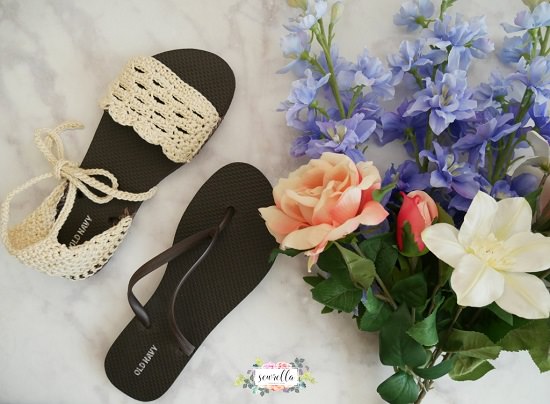 These unique crochet sandals have rubber sole flip flops. You only need cotton yarn and crocheting tools to make yourself one of these!
2. Peekaboo Picot Flipflop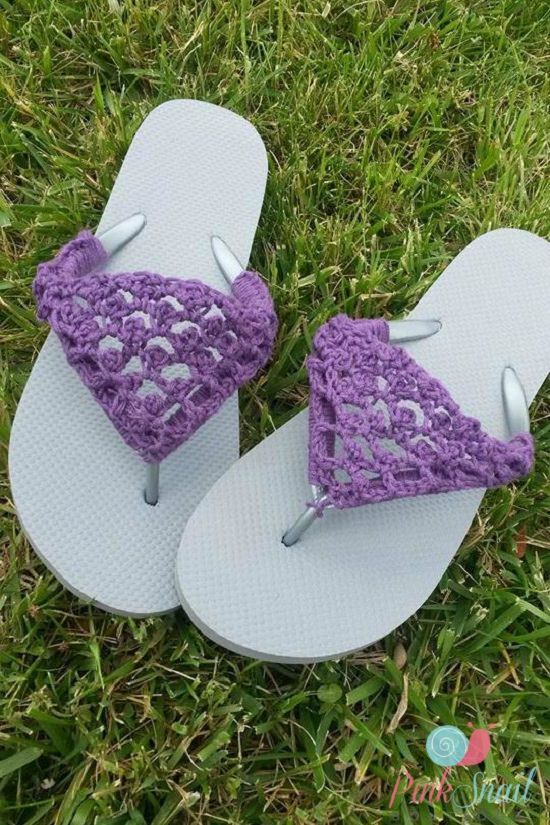 This elegant set of flip flops requires you to crochet complete primary chain, single crochet, double crochet, slip, and picot stitches.
3. Easy Slipper Pattern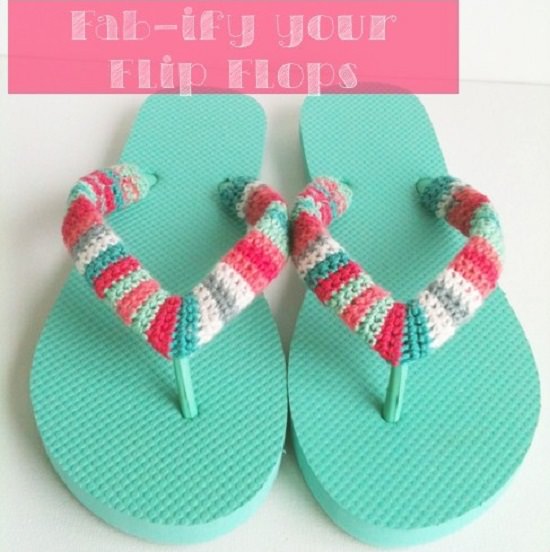 Choose the best color for creating these color-drapey flip-flops. This stash-buster craft uses tiny bits of different hued yarns.
4. Basic Crochet Slipper Makeover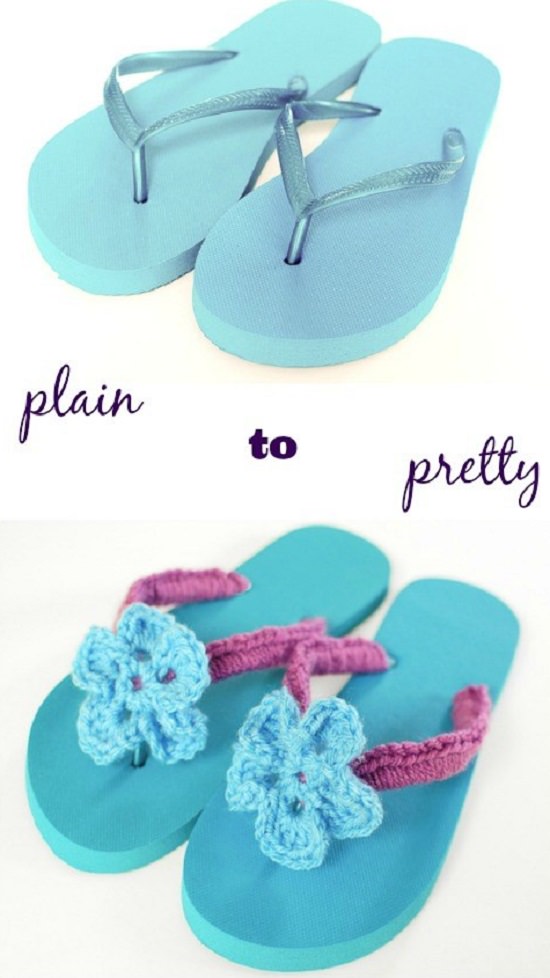 Transform your boring flip-flops into a fancy pair with your crocheting skills. Take inspiration from this tutorial for details.
5. Penguin Crochet Flip Flop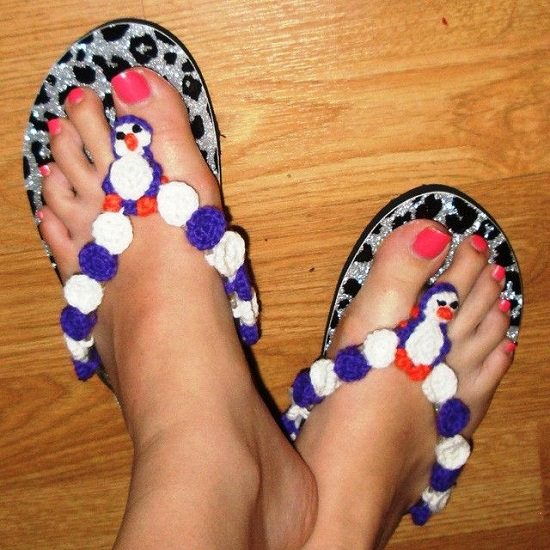 The designer made a penguin applique and sewed it onto the flip-flops! One of the trendiest Crochet Slippers Patterns on this list!
6. Basic Crochet Slipper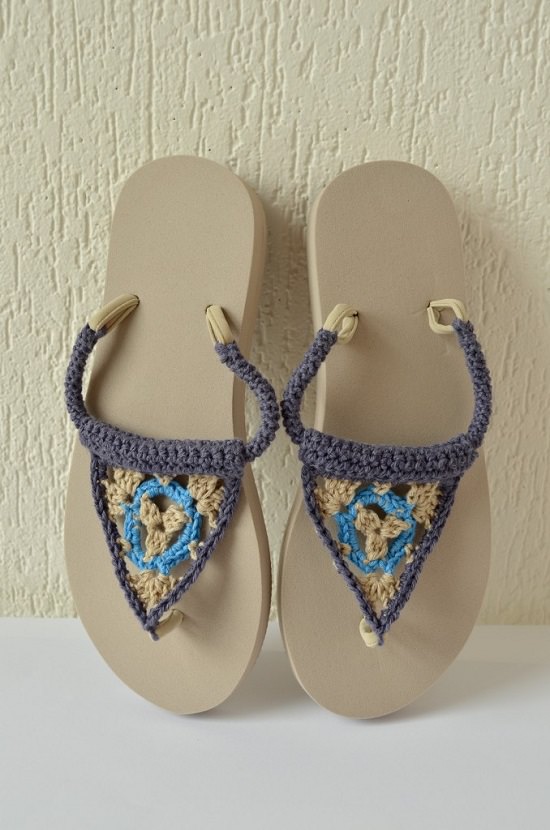 Alter your flip-flops into something graceful like this! Know how to do it here.
7. Crocket Flip Flop with Floral Accents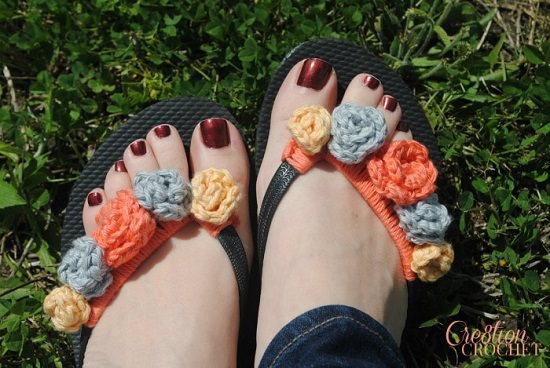 The pattern features adding a crochet base on the flip-flop straps. You can also put flowers of distinctive colors and sizes on them asymmetrically.
8. Lightweight Crochet Slippers with Flip Flop Soles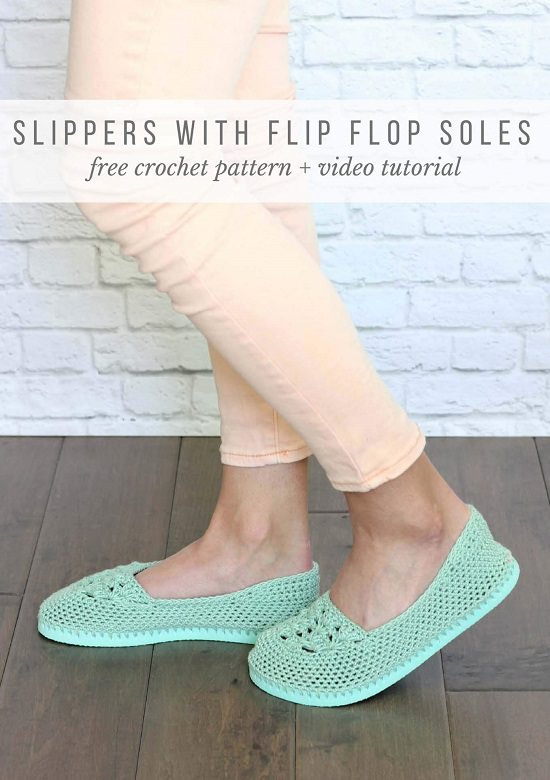 This excellent combination of breathable cotton yarn and mellow rubber soles makes these crochet flip-flop slippers a great companion to shuffle in the house.
9. Beautiful Teal Crochet Slipper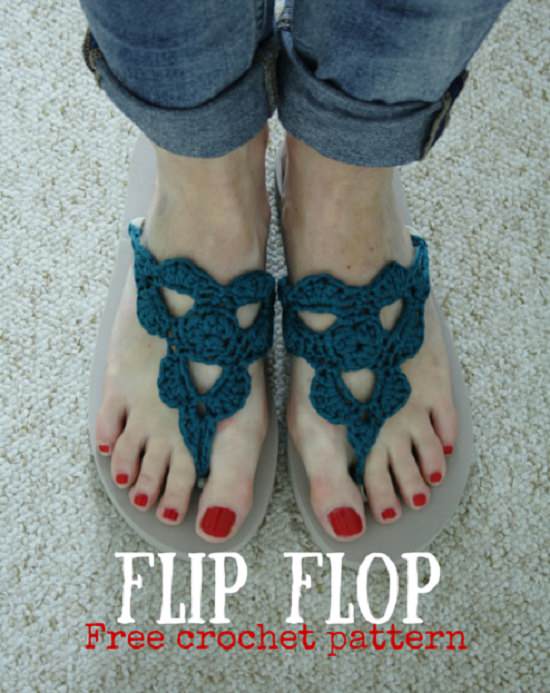 If you are searching for a crochet flip-flop motif with a perfect mix of comfort and beauty, this is a 'must check out' pattern.
10. Gray and Black Crochet Slippers Pattern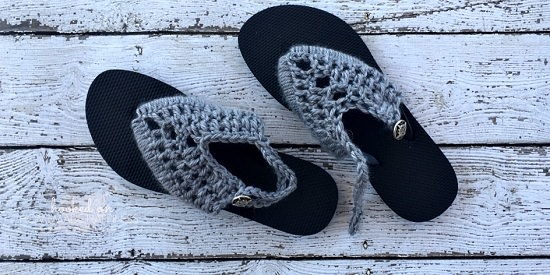 This craft's fusion of gray and black gives it a unique look. This crochet sandal calls for simple slip, chain, single, and double crochet stitches.
12. Trendy Summer Flip Flops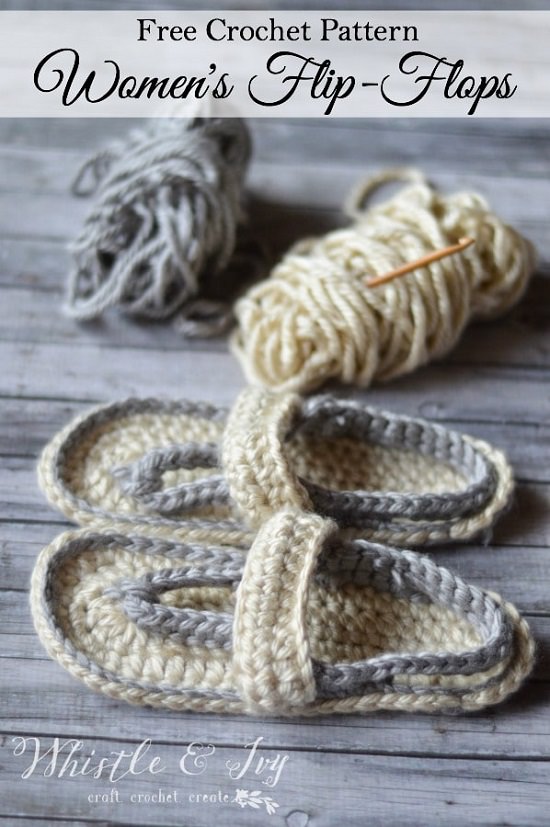 Here, the bulky yarn in beige and gray imparts great softness and squishiness to this pair of flip-flops.
13. Quick Crochet Slippers for Adults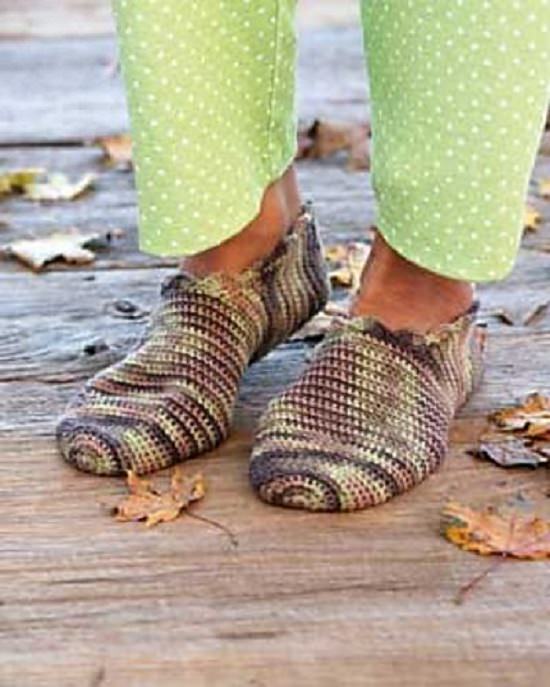 This crochet slipper design, covered in variegated shades, will keep your feet stylish and warm!
14. Rose Slippers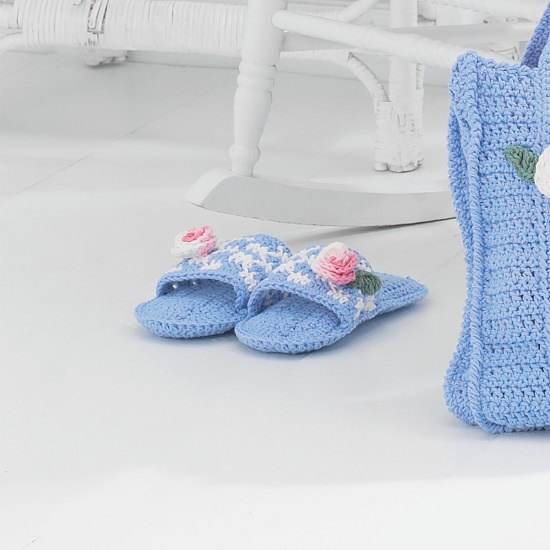 These comfy slippers with pretty rose embellishments are designed using blue as a dominant color and contrasting pink, white, and green as complementary shades.
15. Cheery Yellow Slippers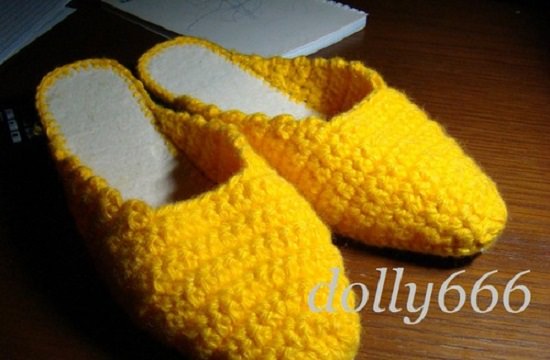 Master the art of crocheting a snuggly pair of Crochet Slipper Clogs with the help of this tutorial that you can wear indoors and outdoors.
16. Crochet Mary Jane Slippers
These Crochet Mary Jane Slippers are a delightful blend of comfort and vintage-inspired style. Click here for the tutorial.
17. Fuzzy Crochet Boots
The plush interior lining provides a cloud-like feel, while the sturdy sole ensures durability and support. Design it with the help of a tutorial.
18. Cabled Crochet Boots
This is the best DIY Crochet Slippers Pattern on the list. Cabled Slipper Boots are cozy and stylish footwear with intricate cable patterns. Watch here to get the tutorial.
19. Lacy Slipper Socks
Lacy Slipper Socks are a delicate and elegant pair of crochet accessories that combine the comfort of socks with the style of slippers.
20. Open-Toe Slippers
Handmade with care, these slippers feature an open-toe design that lets your feet stay relaxed and comfortable. Click here for the tutorial.
21. Double-Strapped Footwear
Double-Strapped Footwears are a stylish and secure pair of crochet slippers designed for a comfortable fit that you can watch here.
22. Creative Owl Crochet Pattern
Animal-themed Slippers, such as owl, fox, or bunny slippers, feature crochet designs inspired by your favorite animals.
23. Easy Crochet Sneaker For Adults
Easy Crochet Sneaker For Adults is a fun and comfortable pair of footwear that resemble sneakers. How to do it? Learn here!
24. Moccasin Crochet Slippers Pattern
Moccasin Slippers offer a classic and timeless footwear option for ultimate comfort featuring a moccasin-inspired design with a soft, flexible sole and a cozy upper.
25. Cozy Cabin Infant Slippers
This cute and cozy Crochet Slippers Pattern footwear is designed to keep infants' feet warm and protected indoors.
26. Colorful Granny Square Slippers
These Granny Square Slippers are typically made by crocheting individual granny squares and then joining them to design the slipper.
27. Ladies' Crochet Ballet Flats
Designed with utmost care and tenderness, these Crochet Ballet Flats are perfect for little girls.
28. Crochet Chunky Booties
These colorful crochet booties use chunky yarn and a thick crochet stitch, creating a cozy and warm footwear option.
29. Striped Slipper Socks
Indulge in ultimate coziness with these Striped Slipper Socks. Carefully knitted with love, these socks offer comfort and a trendy makeover.
30. Buttoned Cuff Slippers
Handcrafted with attention to detail, these slippers feature a classic design with a buttoned cuff for added style and functionality.
31. Pom Pom Slipper Boots
The soft and cozy materials envelop your feet in comfort, while the fluffy pom poms on the cuffs add a touch of playfulness and fun.
32. Crochet Zigzag Slippers
Crochet Zigzag Slippers are stylish and cozy footwear perfect for keeping your feet warm and fashionable.
33. Flower Power Slippers
Made from soft and cozy yarn, the flower embellishments bring a pop of color and evoke a sense of joy and positivity.
34. Moroccan Tile Slipper Pattern
Crochet yourself a stylish pair of Moroccan tile slippers inspired by Moroccan tiles' intricate patterns and vibrant colors.
35. Colorful Granny Stripe Slippers
Put on these Colorful Granny Stripe Slippers and let your feet enjoy the warmth and cheerful spirit they bring.
36. Ripple Stitch Slippers
Made from soft and warm yarn, this Crochet Slippers Patterns footwear provides a comfortable and snug fit for your feet.
37. Bow-Tie Slippers
Bow-Tie Slippers are charming crochet slippers with adorable bow accents. These slippers add a touch of elegance to your loungewear.
38. Crochet Ruffled Slipper Socks
Crochet Ruffled Slipper Socks combine the coziness of socks with the charming appeal of ruffles.
39. Fair Isle Slipper Boots
Fair Isle Slipper Boots are a cozy and festive pair of crochet slippers that showcase the traditional Fair Isle knitting technique.
40. Retro Flower Slippers
Step back and slip into these Retro Flower Slippers for a whimsical and stylish loungewear experience.
41. Heart Appliqué Slippers
The heart-shaped embellishments, created with soft yarn, bring a whimsical and endearing element to the Crochet Slippers Patterns like this.
42. Braided Strap Slippers
Handcrafted with attention to detail, these slippers showcase intricate braiding techniques that enhance the overall design.