Embark on an exciting journey of Crochet Raccoon. Shedd light on its significance in both the realms of nature and creative artistry.
Amidst the vast tapestry of the natural world, a tiny, crocheted creature has found its place, captivating the hearts of nature enthusiasts and craft aficionados alike. The Crochet Raccoon, with its endearing demeanor and lifelike features, seamlessly melds the realms of nature and art, offering a unique perspective on the beauty of our natural surroundings.
Look

here

for amazing DIY crochet cactus free patterns.
---
Crochet Raccoon Patterns
1. Free Crochet Raccoon Pattern
Venture into the captivating world of crochet with our Free Crochet Raccoon Pattern, an accessible and gratifying project suitable for crocheters of all skill levels. Moreover this pattern not only provides the blueprint for creating your very own raccoon but also serves as a gateway to an enchanting realm of creativity.
2. Raccoon Square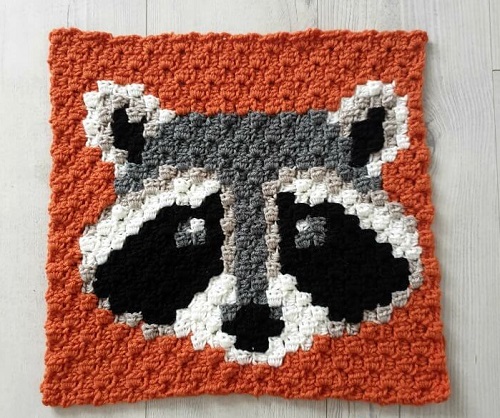 Infuse your projects with a dose of whimsy and personality by incorporating the Crochet Raccoon Square. Furthermore this versatile crochet square, a canvas for your creativity, can be seamlessly integrated into larger projects such as blankets, throws, or afghans.
3. Crochet Ornament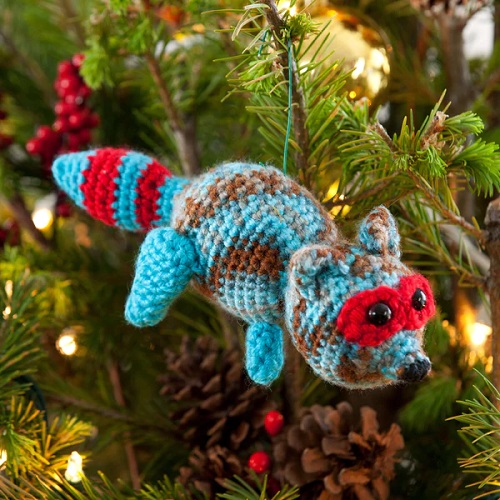 Embrace the holiday spirit with the Crochet Raccoon Ornament, a delightful addition to your seasonal decor. Additionally hang this intricately crafted ornament on your Christmas tree or use it as a charming gift topper, imbuing your celebrations with a touch of rustic charm.
4. Cuddle Me Crochet Amigurumi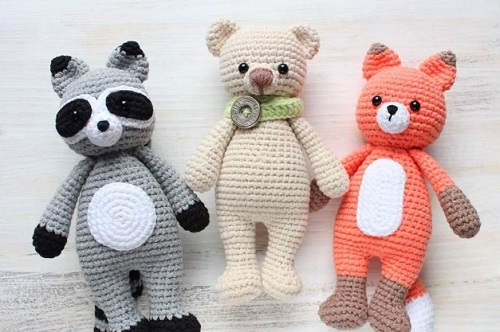 Craft a huggable friend with the Cuddle Me Raccoon Crochet Amigurumi pattern. Perfect for both children and adults, furthermore this endearing raccoon is designed to be more than just a toy; it's a source of comfort and companionship.
5. Raccoon Hat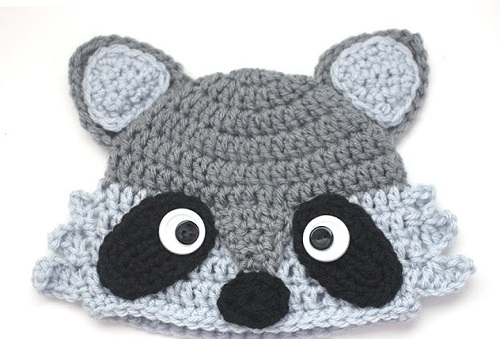 Elevate your winter wardrobe with the Crochet Raccoon Hat, a whimsical yet functional accessory that merges style and warmth. Moreover this hat showcases the raccoon's distinctive facial markings and tail, making it a conversation starter wherever you go.
6. Sitting Raccoon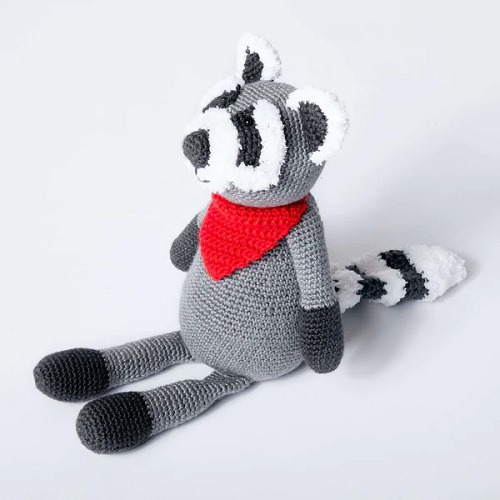 Add character to your living spaces with the Sitting Crochet Raccoon, a piece of artistry that exudes endearing personality. Additionally the seated posture of this raccoon, combined with its lifelike features, makes it a captivating centerpiece for your home.
Here

are amazing DIY egg crochet patterns.
7. Pocket Raccoon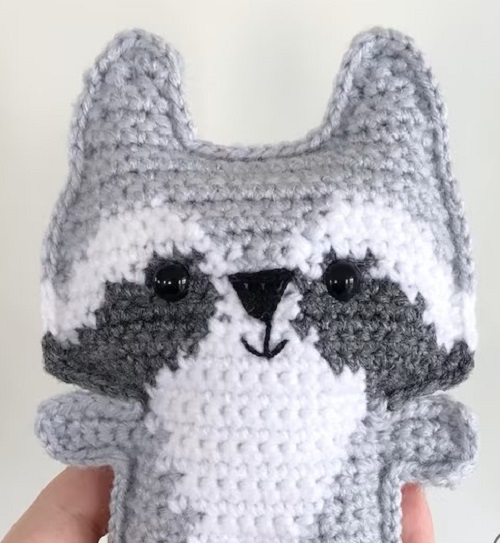 Carry a bit of nature's wonder wherever you venture with the Pocket Crochet Raccoon. This miniature masterpiece, designed to fit snugly in your pocket or bag, additionally it serves as a whimsical travel companion, always ready to bring a smile to your face.
8. Racco, Raccoon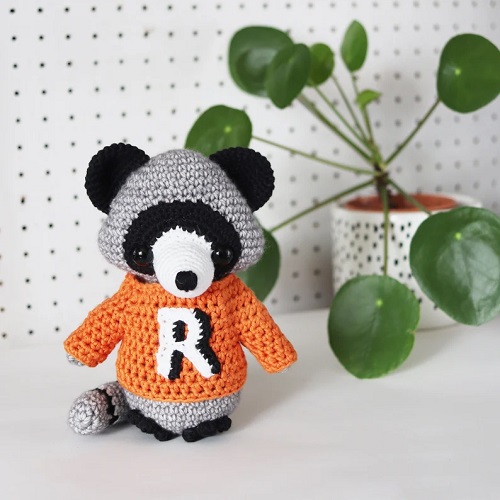 Meet "Racco," the crochet raccoon with a personality all its own. This unique character allows you to infuse your crafting endeavors with imagination and individuality. Additionally personalize your creation, from the choice of yarn colors to the raccoon's name.
9. Crochet Handkerchief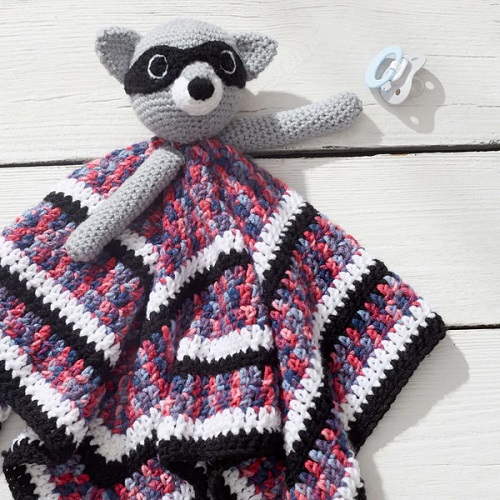 Embellish your garments and accessories with the Crochet Raccoon Handkerchief. Additionally this versatile design allows you to add a touch of raccoon charm to any project you desire.
10. Amigurumi Raccoon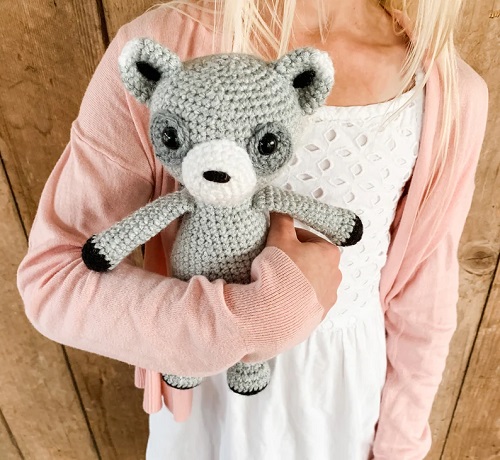 Discover the artistry of amigurumi with the Amigurumi Crochet Raccoon pattern, a project that combines crochet mastery with the creation of an adorable woodland companion. Furthermore this pattern guides you through the intricate process of crafting a raccoon replete with lifelike features.
11. Crochet Hooded Blanket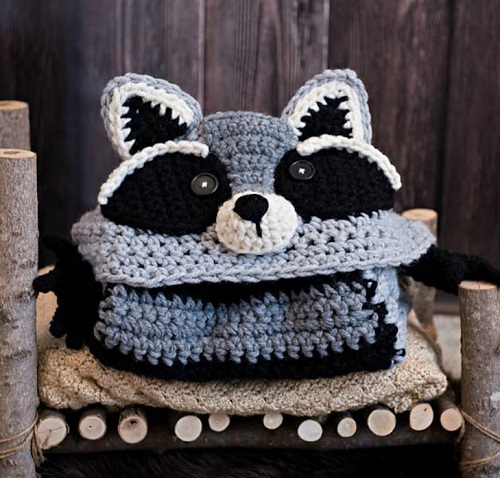 Revel in both warmth and whimsy with the Raccoon Hooded Blanket, a functional and artistic creation designed to keep you cozy on chilly days. Moreover this versatile blanket features an integrated raccoon hood, transforming you into a whimsical forest-dwelling creature.
12. Gigi, The Raccoon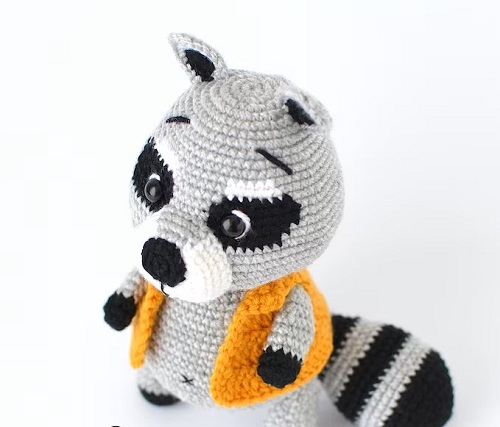 Meet "Gigi," a distinctive amigurumi crochet with a personality that shines through every stitch. Additionally this creative endeavor allows you to craft a character as unique as you desire, adding your personal flair to each aspect of Gigi's design.
13. Crochet Applique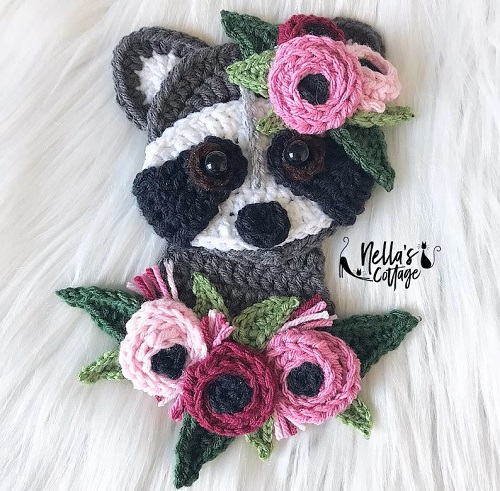 Embellish your garments, accessories, and decor with the Raccoon Applique, a versatile design that infuses your world with raccoon charm. Furthermore whether you're enhancing a tote bag, customizing a baby blanket, or adding a touch of whimsy to your clothing.
Explore DIY crochet headphone covers.

Here