Knit your style with us and embrace the warmth and elegance of these DIY Mens Crochet Fingerless Gloves Pattern Ideas!
Whether you're a seasoned crocheter or a beginner, these DIY Mens Crochet Fingerless Gloves Pattern Ideas are perfect for anyone looking to add a touch of warmth and style to their hands. So grab your crochet hooks, and let's get started!
---
DIY Mens Crochet Fingerless Gloves Pattern
1. Trendy and Stylish Stitched Fingerless Gloves

Elevate your style with these exquisitely stitched fingerless gloves, showcasing intricate details with a touch of elegance for a refined look.
2. Easy and Colorful Fingerless Gloves

Crochet a pair of these colorful gloves featuring an easy crochet pattern that makes them a breeze to design while keeping your hands cozy.
3. Trendy Brooklyn Fingerless Mitts

Embrace urban fashion with these trendy fingerless mitts, designed for style-conscious individuals who appreciate the perfect blend of comfort and sophistication.
4. Green Textured Hand Covers

These hand covers will not only keep you warm and comfy but can be a stylish addition to your attire.
5. Fingerless Woollen Gloves

Let your personality shine through with these fingerless woolen gloves, designed to be as unique and stylish as you are, making a bold fashion statement.
6. Bloom Pattern Fingerless Gloves Crochet Idea

The bloom design adds a touch of uniqueness, making these gloves a standout accessory for fashion-forward gentlemen.
7. Classy Crochet Fingerless Gloves

These rugged and stylish fingerless gloves are specially designed for the modern man, offering both warmth and a touch of masculine charm.
8. Classy and Functional Fingerless Gloves

Experience the cozy comfort of these fingerless gloves, featuring a classic stitch pattern that will keep you warm and stylish.
9. Durable Workman's Gloves

Designed for the hardworking individual, these durable fingerless gloves offer protection and flexibility, making them ideal for work or outdoor activities.
10. Quick and Comfy Hand Covers Idea

Stay cozy and comfortable with these quick-to-make hand covers, perfect for those chilly days when you need warmth and convenience.
11. Stylish and Warm Crochet Mittens

Effortlessly stylish and warm, these crochet mittens feature a simple yet sturdy design that will become your go-to accessory during colder months.
12. Men's Crochet Mitts with Cable Knits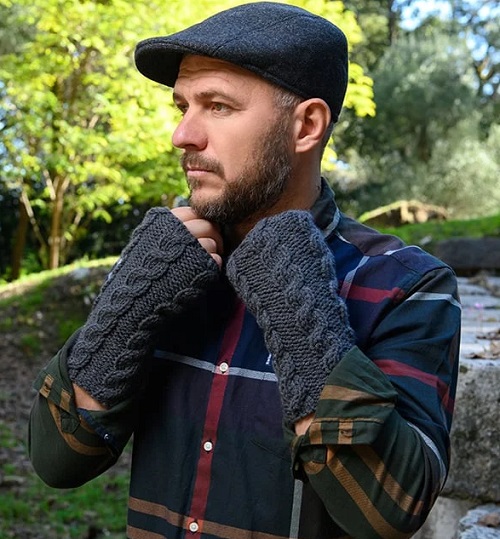 These mitts feature intricate crochet work and cable knit patterns, providing a classic and masculine look for the modern man.
13. Easy and Durable Fingerless Gloves

Channel your creativity with these rugged fingerless gloves, combining durability and style for a powerful accessory that stands the test of time.
14. Orange-Green Men's Fingerless Gloves

Make a bold statement with these vibrant orange-green fingerless gloves, designed to catch attention while providing warmth and comfort.
15. Modern Tweed Fingerless Mittens

Trust in the dependability of these fingerless mittens, crafted with durability in mind to keep your hands warm and protected on any adventure.
16. Granny Square Mittens

Embrace the classic charm of these homestyle granny square mittens, a cozy and timeless accessory that adds warmth and style to your winter wardrobe.
17. Classic Fingerless Mitts

This wrist warmer is a stylish and practical accessory designed to keep your hands warm while leaving your fingers free for easy movement.
18. Gray Fingerless Wristwarmer

Discover the fundamental beauty of these fingerless mittens, showcasing a straightforward design that brings out the essence of crochet craftsmanship.
19. Chunky and Woolly Textured Fingerless Gloves

Elevate your style with these textured fingerless gloves, combining a variety of stitches and textures for a fashionable and eye-catching accessory.
20. Fingerless Gloves with Wrist Support

These gloves offer the freedom to use fingers while offering crucial support to the wrist, making them ideal for various activities, from typing to sports and workouts.
21. Classic Crochet Pattern for Men Gloves

Keep your man's hand warm and stylish with this classic crochet pattern, designed to provide both comfort and masculine charm.
22. Simple and Quick Hand Cover Pattern

Get a stylish and functional accessory in no time with this simple and quick crochet pattern for men's fingerless gloves.
23. Stylish Half-Finger Crochet Gloves Pattern

Combine style and functionality with this half-finger crochet pattern for men's gloves, offering versatility and comfort for everyday wear. Watch the tutorial here.
24. Woollen Fingerless Hand Gloves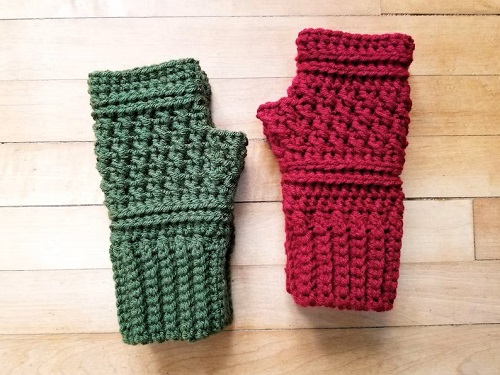 Get creative with your crochet skills and design these fashionable and functional fingerless gloves for men, perfect for adding a touch of style to any outfit.
25. Black Knitted Hand Covers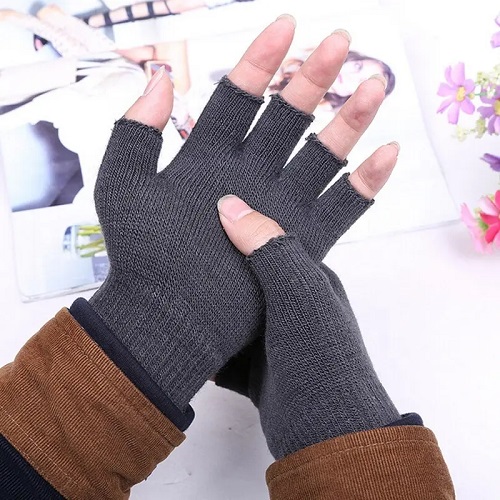 These gloves are both fashionable and practical, perfect for keeping your hands snug in chilly seasons.