Keep your tootsies warm and stylish by crocheting some amazing pair of socks using these easy to make DIY Crochet Socks pattern!
A warm pair of socks is always a good idea to give your winter dressing a fashionable twist. These DIY Crochet Socks patterns carry a wonderful texture and interesting color combinations that are surely going to make you crochet at least one!
---
1. Knee High Socks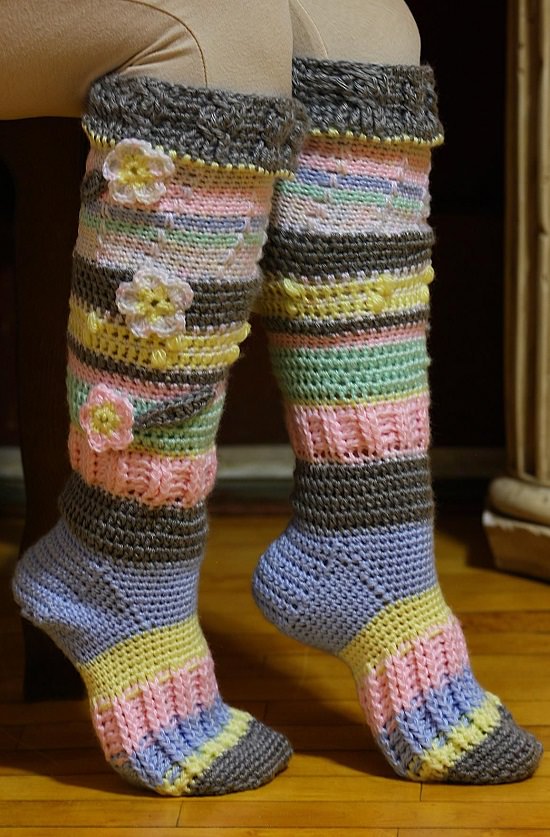 Anything you wear says a lot about your fashion taste! So, crochet a stylish pair of knee-high socks using this video tutorial that will make a great match with skinny jeans or trousers.
2. Crochet Socks Pattern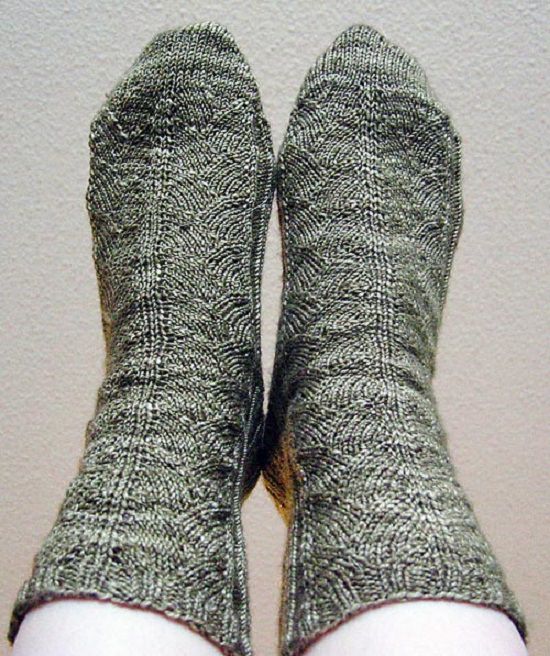 Simple but unique stitches engaged for crocheting these socks pairs make them stand out from the crowd. Head on to this tutorial from Marnie Maclean for imitating this pattern. This is one of the best DIY Crochet Socks patterns on the list!
3. Scandinavian Knit Pattern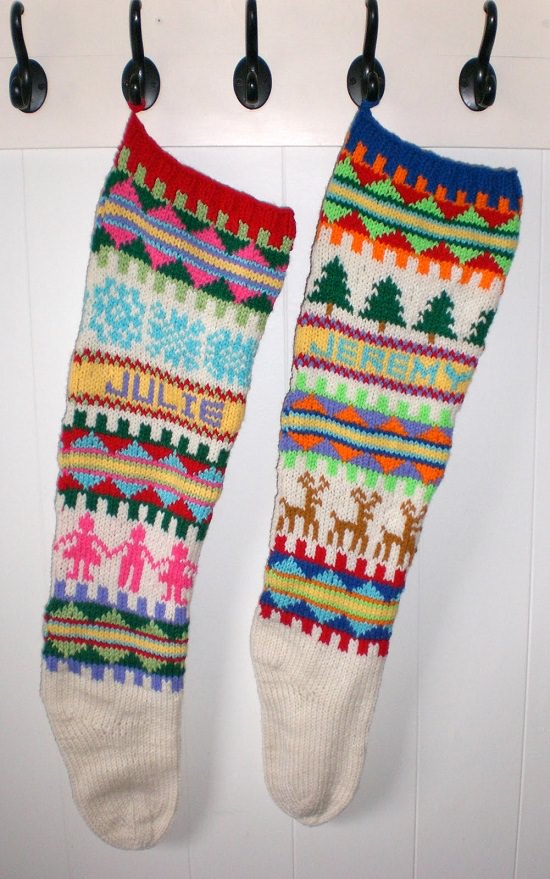 This Scandinavian knitting socks pattern with traditional embroidered names, reindeer, paper dolls, and snowflakes layout is inspired by the 1979 McCall's Needlework & Crafts design.
4. Red Heart and Sole Socks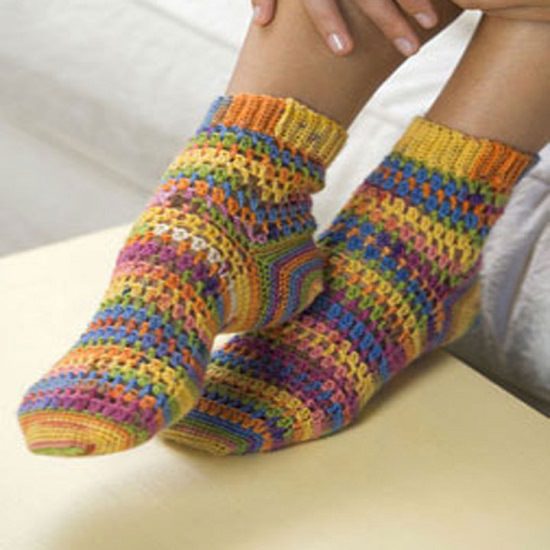 Apart from keeping your chilly toes warm and cozy in winters, this elegant pair of socks is going to elevate your winter dressing style! This is one of the best DIY Crochet Socks patterns on the list!
5. Summer Slice Socks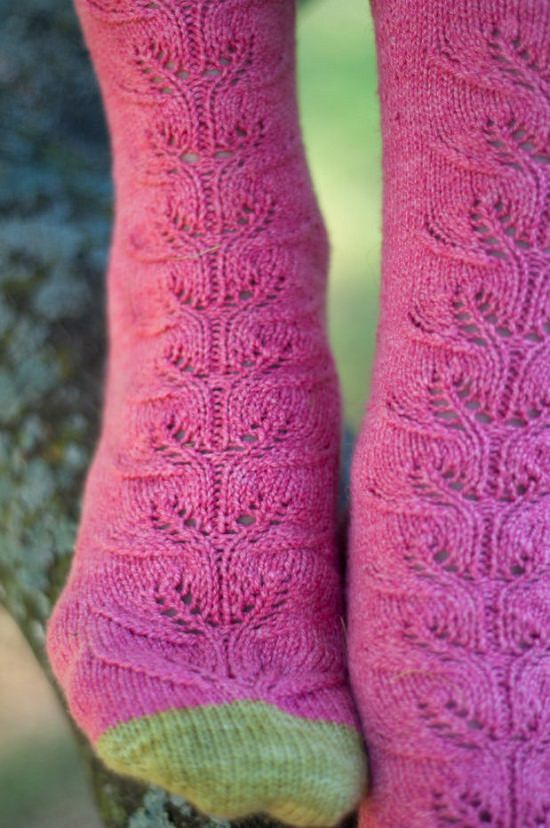 Socks are considered the most boring part of the dressing, but this socks pattern, fused exciting colors and wonderful stitches are surely going to change your perception!
6. Red Heart Colorful Knit Kids Socks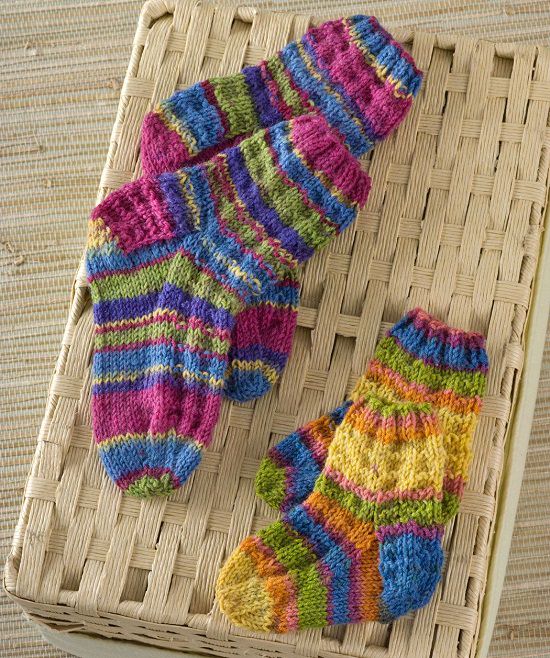 Wrap your tootsies with a chic pair of knitted socks that will stand up against tear and wear as well. Talking about the colorwork, the neat transition of colors is done without changing yarns. More details here!
7. Striped Knit Socks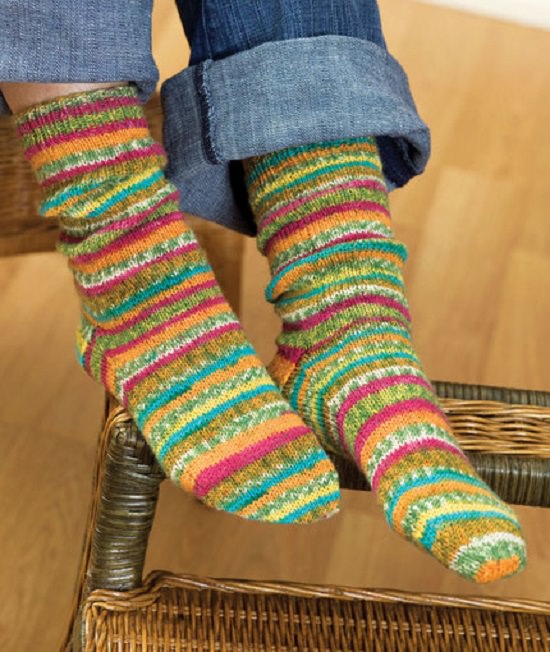 These cute pair of socks, accentuating the dramatic self-striping motif, can mark a bold statement while covering your tootsie.
8. Tube Socks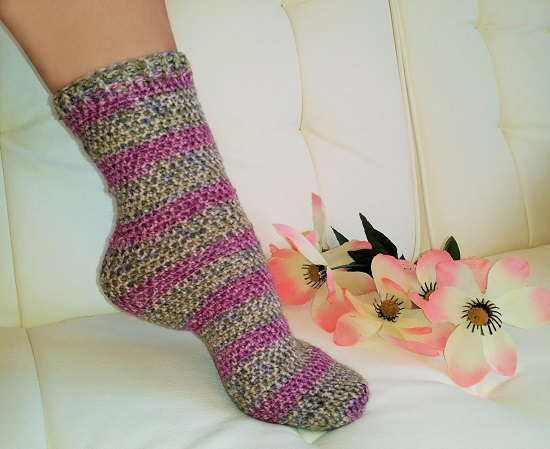 In winters, if you keep your feet warm, the whole body stays! Take inspiration from Leticia Wilson vlog for preparing this snuggly socks pair.
9. Wooly Cable Socks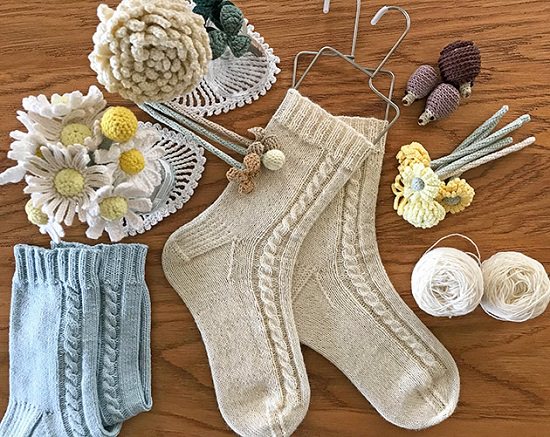 Thanks to its monochromatic look, hence you can pair these cable socks with any outfit. Moreover, you can customize their size as per your convenience!
10. Crochet Socks Pattern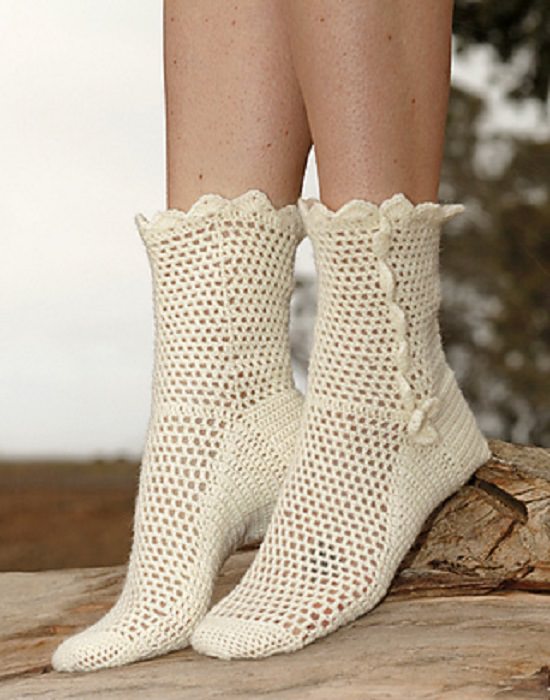 If the over bulky and thick textured patterns discomfort you, these elegant pair of socks, with an airy texture, is going to do the trick for you. This is one of the best DIY Crochet Socks patterns on the list!
11. Easy Crochet Socks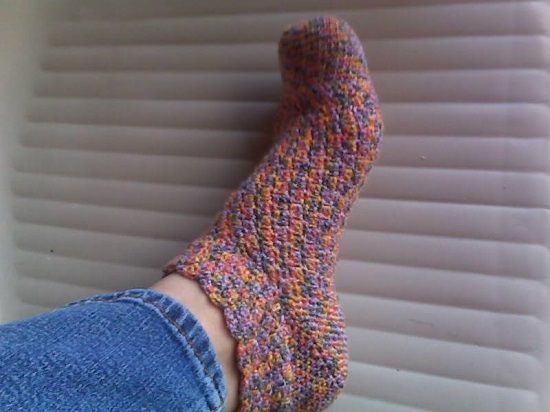 If you have a basic understanding of socks motif and crocheting, you can confidently weave them. These socks, accentuated with irregular color blotches, are best fit for slim feet.
12. Vee Socks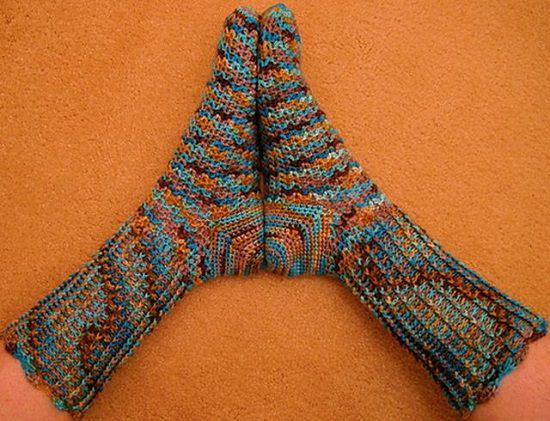 Enhance your winter dressing with the addition of these voguish socks pair. The wonderful mix of bold colors gives them an artistic impression.
13. Blue Tweed Crochet Socks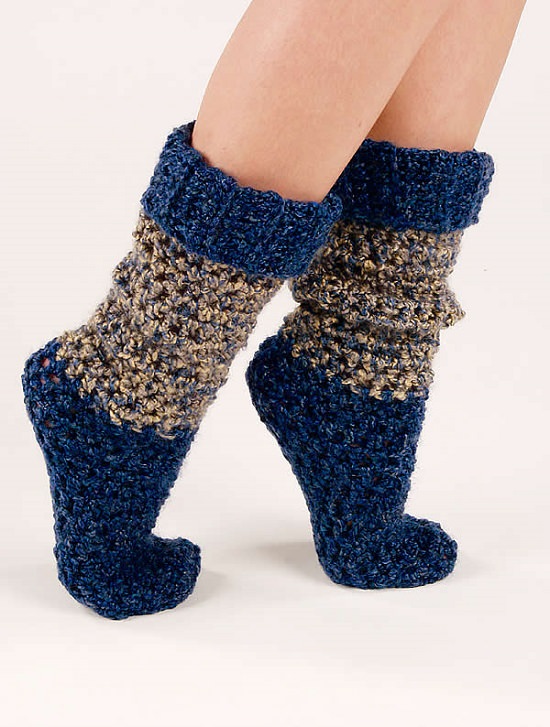 Everything you wear talks a lot about your sense of dressing, so how about surprising everyone by wrapping your feet with these blue beauties, pronounced with tiny brown touches.
14. Knee-High Boot Socks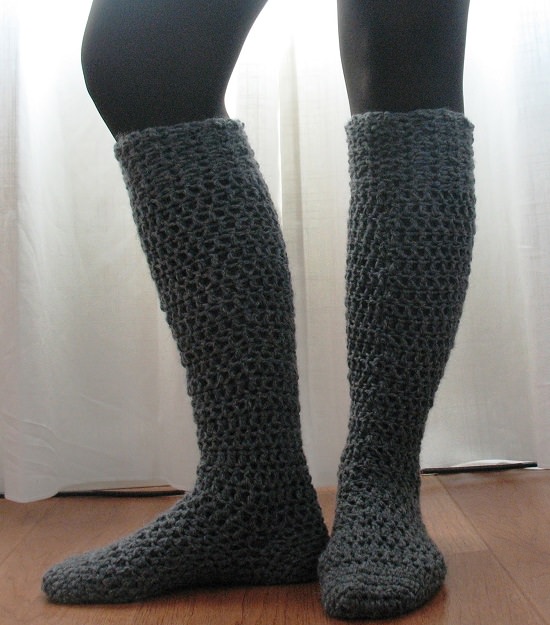 Looking for a comfy and stylish knee-high socks pattern? These toasty knee-high boot socks are worth try! This is one of the best DIY Crochet Socks patterns on the list!
15. Cozy Home Socks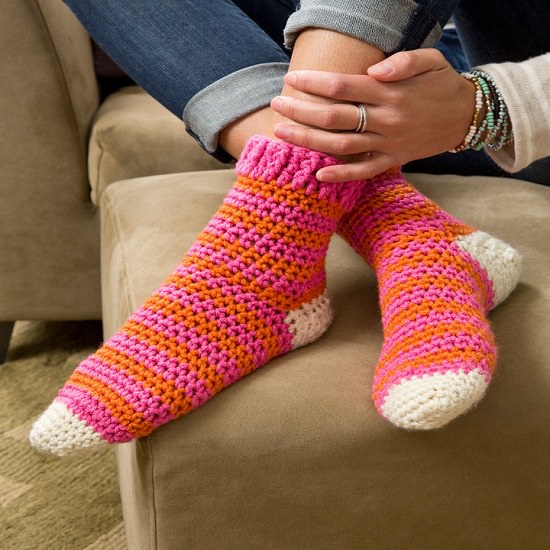 These cozy pair of socks are the best replacement over the clunky slippers during chilly winters. Also, the fusion of warm color tones enhances their appearance exponentially.
16. Vibrant Sock Pattern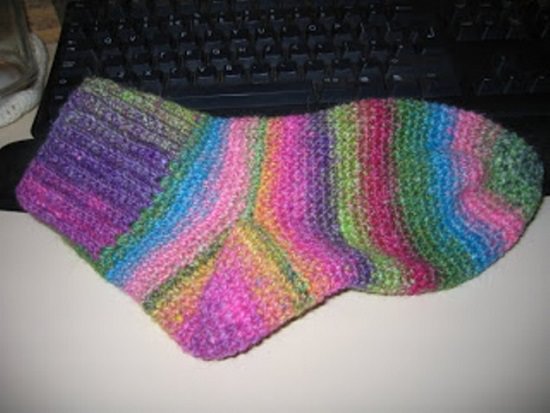 Bored of monotonous plain socks? Replace them with the vibrant ones! This pair of foot warmers, draped in the array of rainbow colors are the best bet!
17. Easy to Stitch Socks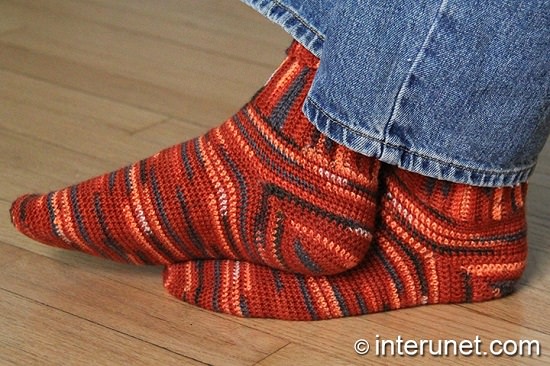 Make a high fashion statement by crocheting these girlish pairs of socks, covered with a hint of black-gray touches. Grab its free pattern at Interunet blog.
18. Color Pop Socks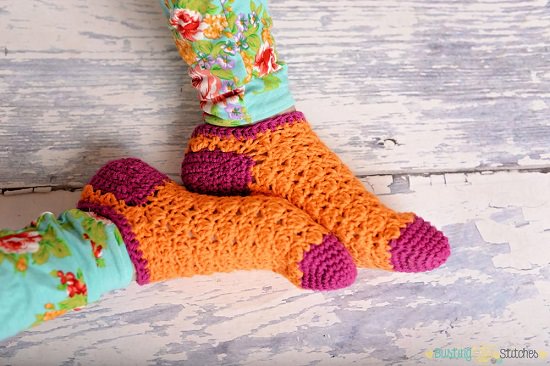 Apart from keeping your feet warm and dirt-free, these oranges socks, accentuated with the flirty hot-pink notes, are going to add a summer-y touch to your dressing!
19. Toddler Socks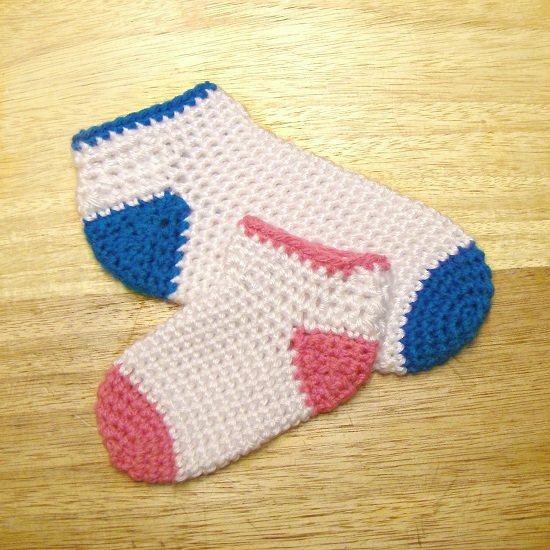 These toddler-sized, chic pair of socks, can be a heart-warming gift for any expecting mother. Its pattern is worked in rounds and uses DK weight yarn in two warm tones.
20. Flip Flop Socks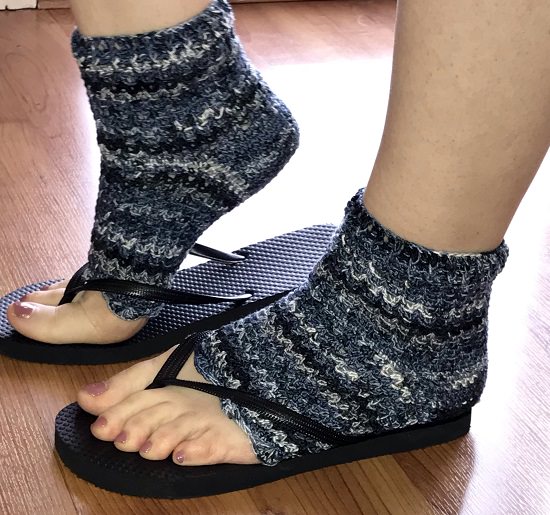 Any woman who does her daily chores while wearing slippers will find these flip flop Pedi socks pattern useful. They can be easily worn underneath the slippers.
21. Polka Dot Popcorn Socks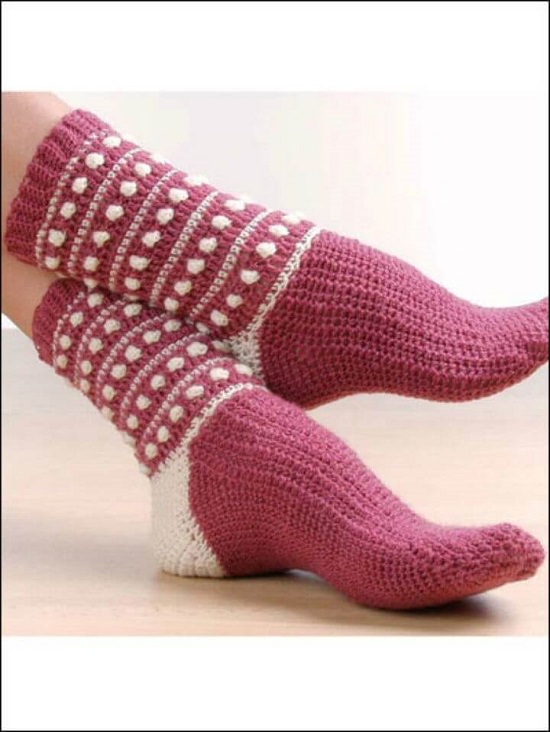 Accentuated with polka dots, these socks are a minimalistic way to add an appeal. The designer Mary Jane Wood has used sport sock yarn for crocheting them.
22. Wildings Socks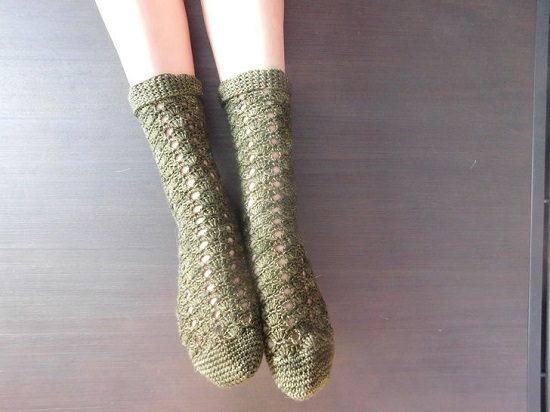 The feminine shell layout paired with a short-row heel creates a dramatic look on them. More details here.
23. Newborn Baby Socks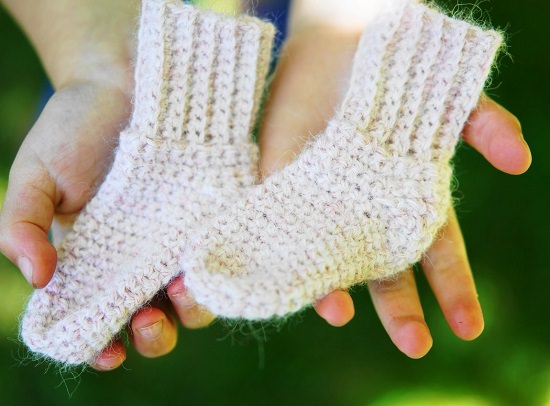 These socks motif is super easy to craft and you can use the leftover yarns from the stash for crocheting them.
24. Mustache Slipper Socks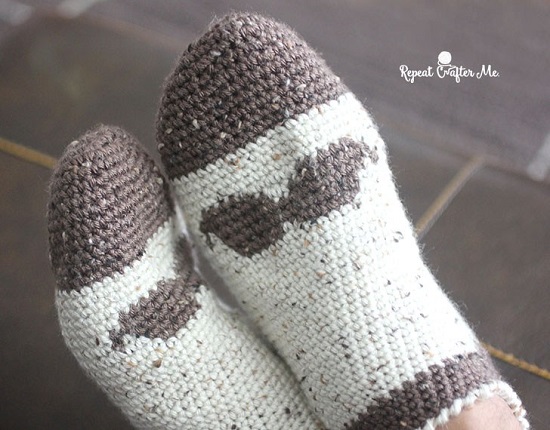 This repeatcrafterme blog showcases mustache socks with comfy texture, gender-neutral color, and mustache layout cast off a modish look.
25. Slipper Socks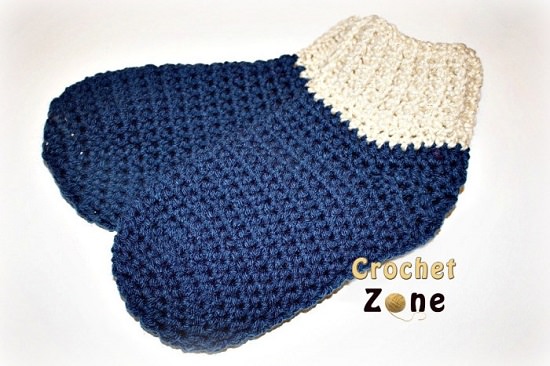 Beat the bone-chilling cold by crocheting these slipper socks with the help of this crochet zone tutorial. Wear them as slippers, or as the thick socks inside the boots, the choice is yours!
26. Pink Socks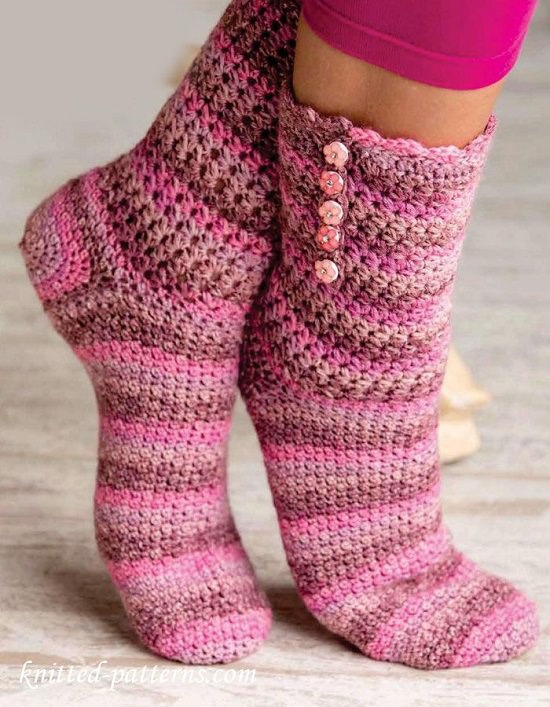 Give your boring dressing a stylish twist of these striped socks. Its beautiful texture is carved using special stitchings including First foundation double crochet, Next foundation double crochet, Extended single crochet, and Shell stitches.
27. Slouchy Slipper Socks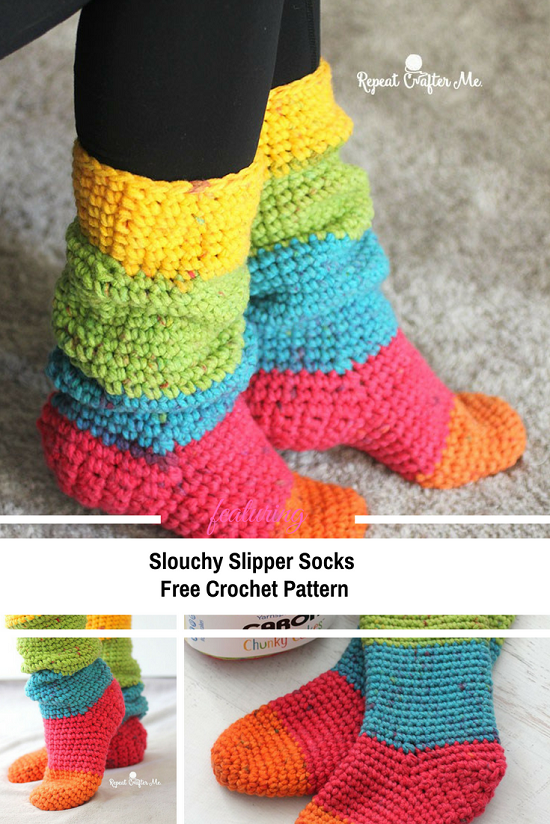 Socks are the integral parts of any winter dressing, so crocheting this funky pair of slouchy slipper socks is a great way to stylize your feet! The designer has engaged rainbow colored yarns for giving them a dramatic look.
28. Knee High Socks
The ultimate texture and the girlish color flare of these knee-high socks are surely going to make a high fashion statement. And thanks to the popcorn stitch for creating an intricate finished texture on them.
29. Star Gazer's Slipper Socks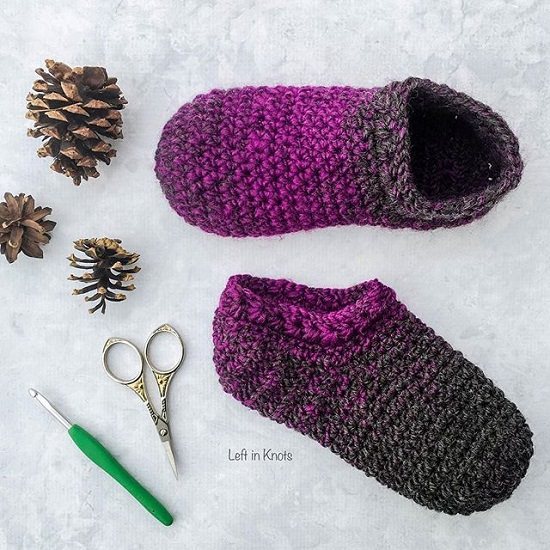 Revamp the look of your feet with the addition of these graceful slipper socks that can be paired with a matching mitten or cowl. You can even add some anti-skid bottom to them.
30. Pompom Slipper Socks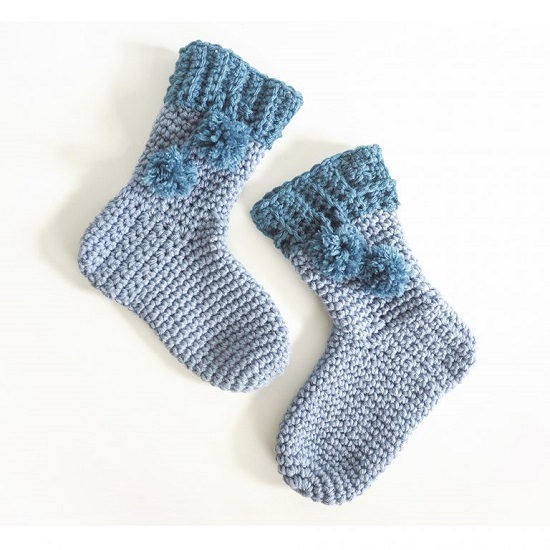 Prepared using Carlton Country Chunky yarn, these slipper socks are the fabulous stocking stuffers. These are embellished with the pompom tassels that add timeless beauty to their look.