These Free Crochet Shawl Patterns are going to help you in beating mild winters while giving you a stylish look!
This spring drape yourself with the stylish and warm shawl that can work as an all-season wardrobe addition! Here are some exciting Free Crochet Shawl Patterns that you can make easily!
---
 1. Juliette Shawl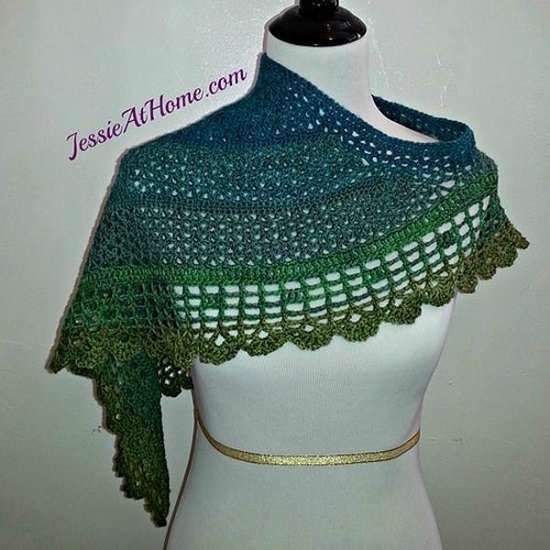 Add a fashionable touch to your monotonous winter dressing by crocheting this Juliette shawl. The circular design makes it very easy to carry as well.
2. Autumn Leaves Filet Crocheted Shawl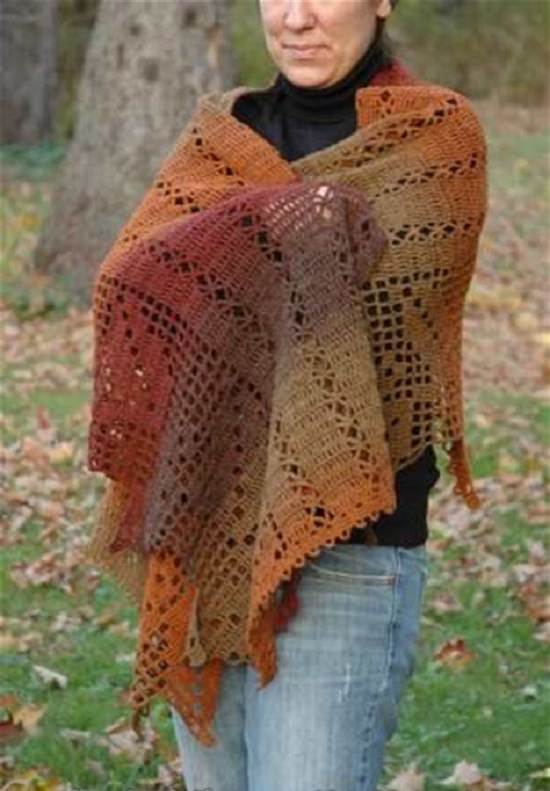 Enhance your looks by adding this classy shawl over your casuals. Worked with the filet crochet technique, its beginning and closing are done with the Bruges lace method.
3. Spring Shawl Crochet Pattern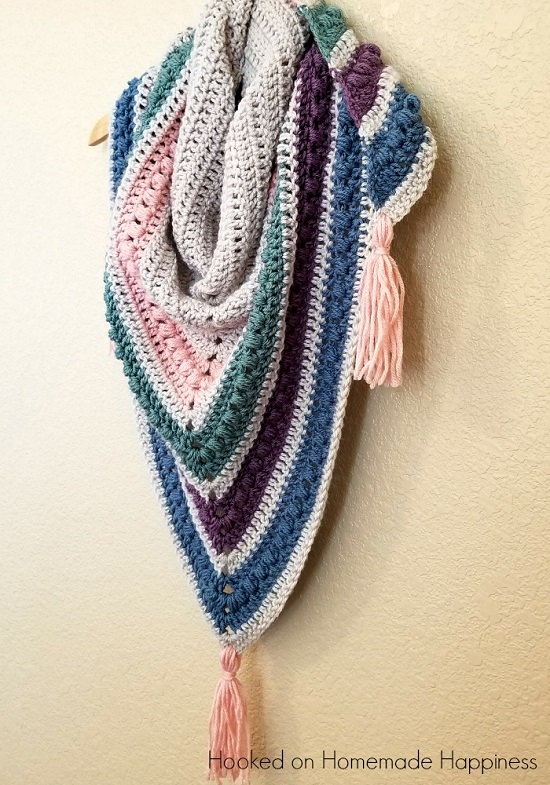 This colorful shawl complemented with stunning tassels is going to add a bit of charm to your look! You can make this one of the best free crochet shawl patterns using the chain, slip, double crochet, and puff stitches.
4. Coral Fringe Triangular Shawl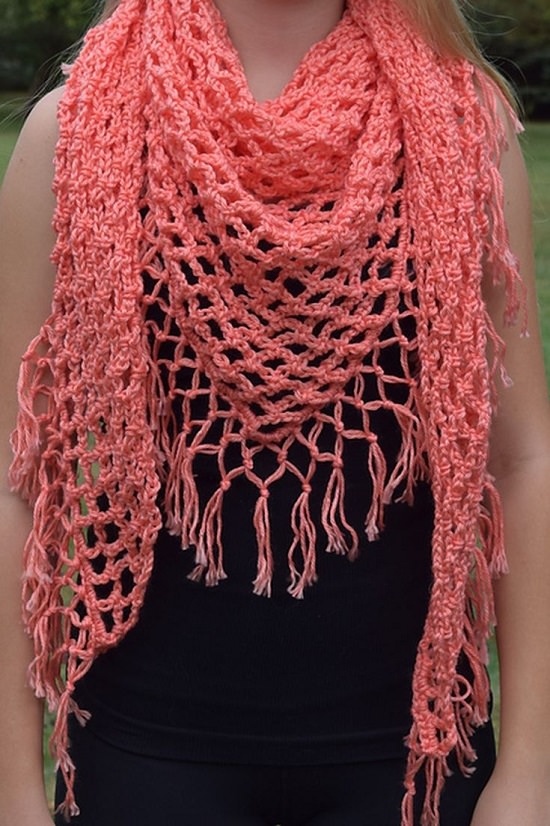 The beautiful colored yarn crocheted with open stitching makes it a splendid add-on for springs! The knotted fringes on this triangular shawl enhances its look further.
5. Crochet Purple Glam Shawl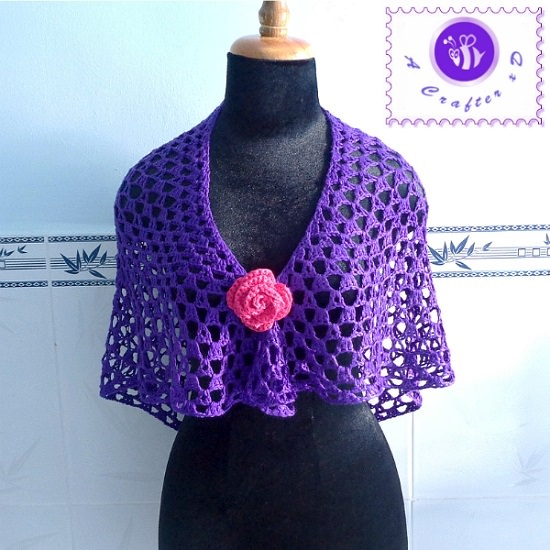 Light purple cotton yarn complimented with a rose brooch gives this shawl a feminine look. This craft is a relaxing crochet project for experienced crocheters and is one of the best free crochet shawl patterns!
6. Unique Lace Poncho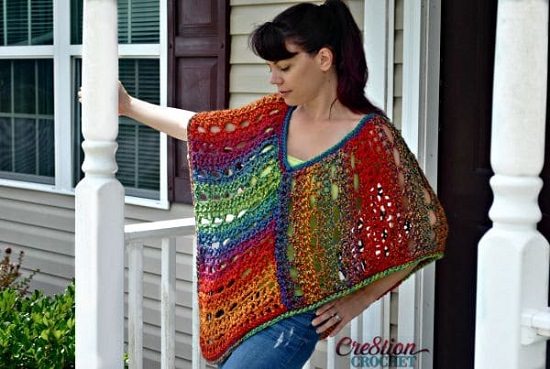 The dash of colors on this poncho adds a timeless charm to this beauty. Here, two panels are seamed together and finished with single crochet edging.
7. Beach Vacation Shawl Crochet Pattern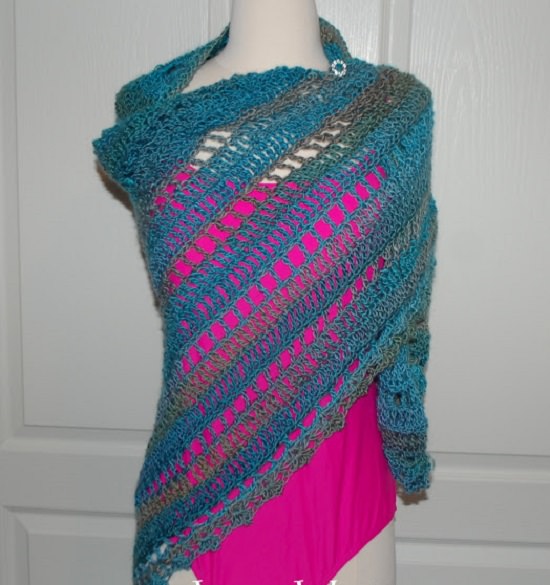 Max out your appeal by layering this elegant piece over any contrast spaghetti. This shawl is super easy to crochet that you can wrap around your shoulder in any beach party!
8. Flora Shawl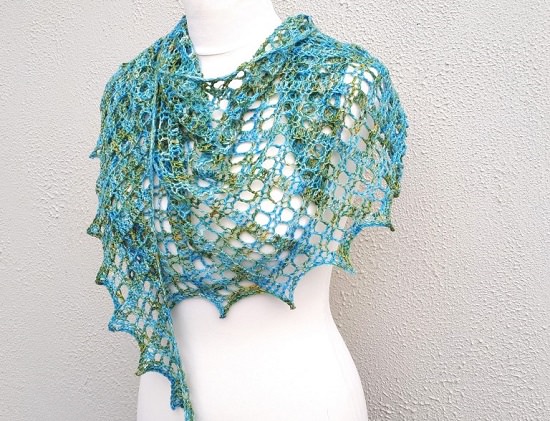 The fusion of aqua, blue-green and yellow hues scalloped with picot edging adds a bit of drama to this shawl. Read this blog from AnnieDesignCrochet for imitating this one of the best free crochet shawl patterns!
9. April Showers Shawl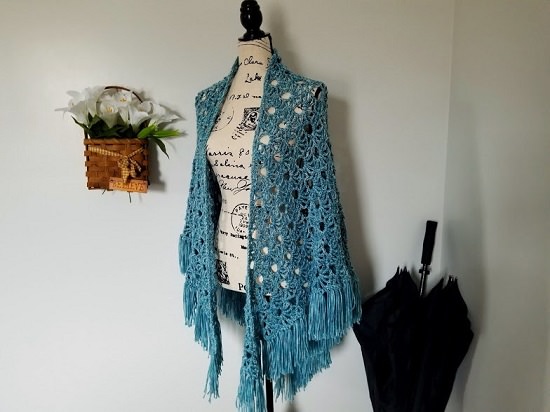 The layer of fringes, scalloping at the bottom gives this shawl a modish look. Read the HighlandHickoryDesigns blog for further details.
10. Double Crochet All The Way Shawl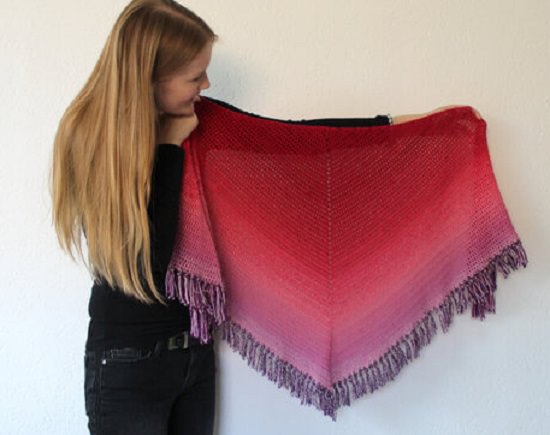 This shawl is enriched with tassels and crocheted using a double crochet stitching. Also, the uses of Scheepjes Whirl yarn in Turkish Delight color casts off a gradient effect on this shawl making it one of the best free crochet shawl patterns!
11. Brown Butter Shawl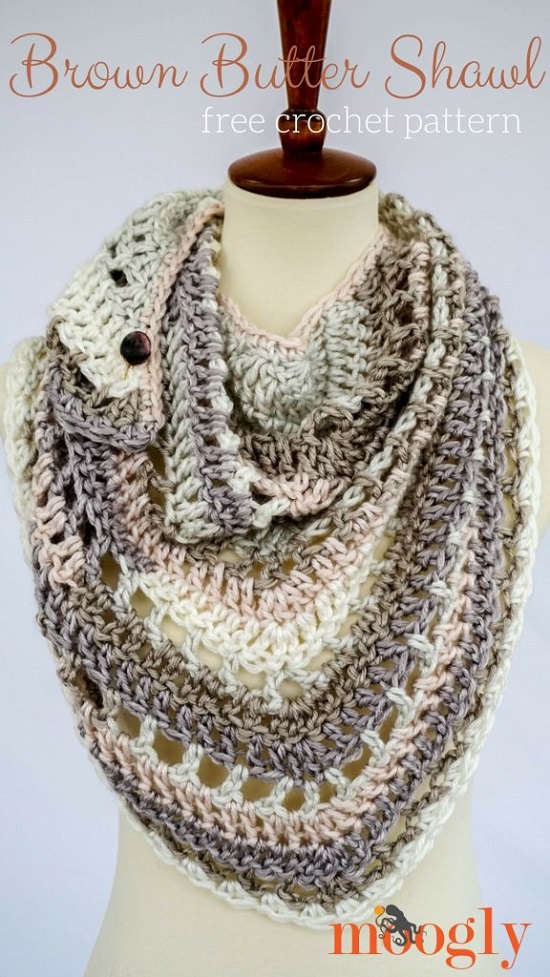 If you are looking for cozy, as well as a nifty option, this soft shawl featuring a striping appearance will come in handy.
12. Shawl In A Ball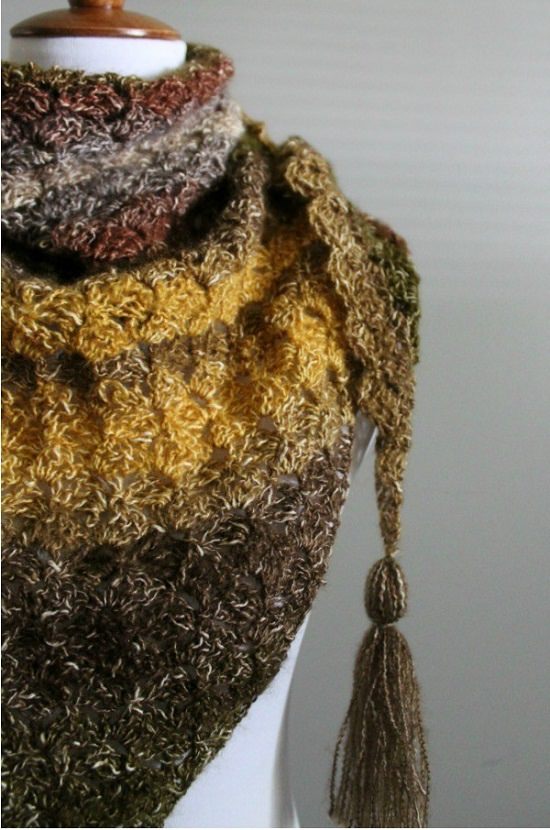 This triangular shawl, complemented with heavy tassels, can be a heart touching gift for your friends. The use of corner to corner stitch on this color drapey piece gives it a neat look.
13. Sky in Wonderland Shawl Crochet Pattern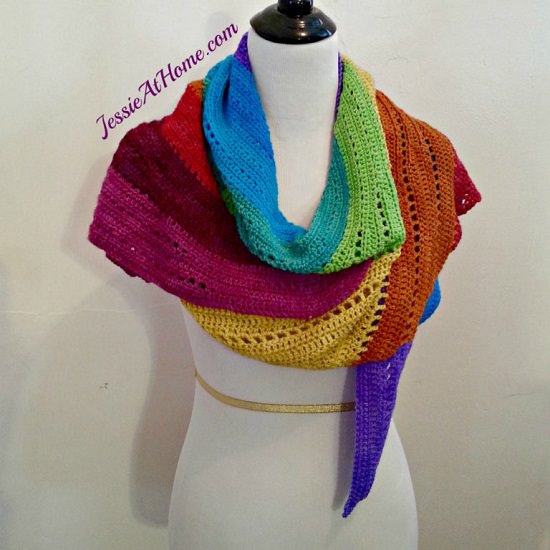 The great array of colors smattered on this shawl gives it a feminine flare. This design is inspired by JessieAtHome blog that uses basic ch, sc, hdc, dc stitches for sculpting this beauty, simply making it one of the best free crochet shawl patterns!
14. Nettie's Super Simple Tube Wrap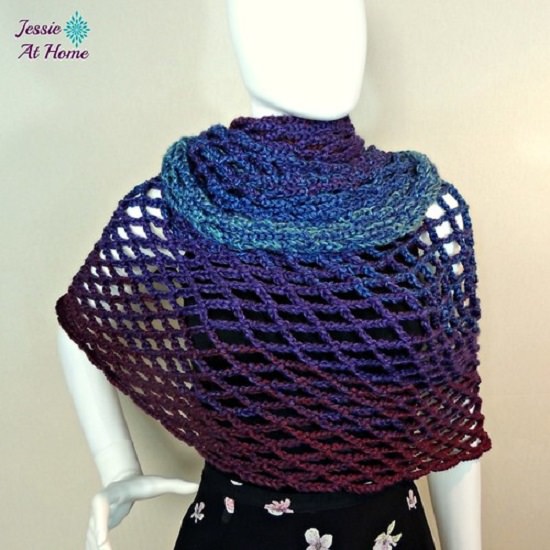 The entire pattern is worked by holding two strands of yarn together as one, then stitched using chain and slip stitches that create a gradient look on it. Read further here.
15. Omna Shawl Crochet Patterns
This squishy shawl, with a graceful color mix, can be wrapped around shoulders or can be muffled like a scarf over the neck. You can even customize its length by working more pattern repeats.
16. Crochet Triangle Shawl Pattern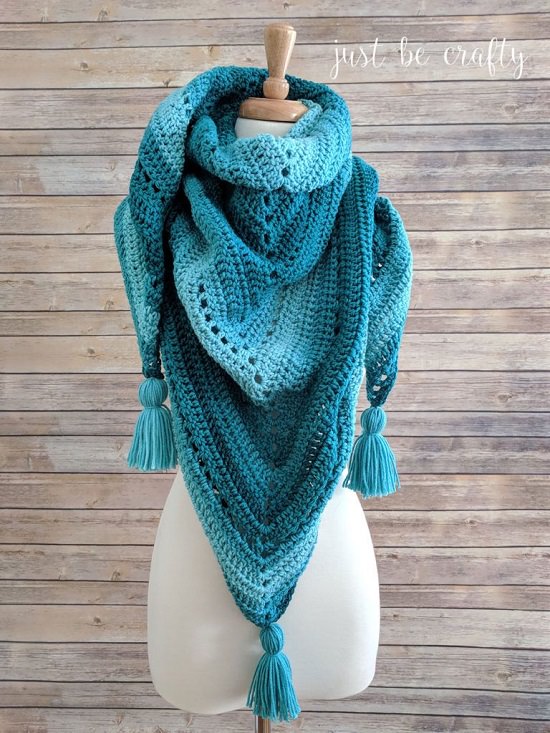 During the transition from winter to spring, this triangle shawl is going to be your favorite wardrobe staple! Here, the use of Red Heart Ombre yarn offers a monochromatic striping appearance.