No woman's wardrobe is complete without a Poncho! If you want to crochet one, these Free Crochet Poncho Patterns will come in handy!
Funky and airy ponchos can add a dash of beauty in the monotonous attire of any woman! If you are a crochet fan, searching for some fabulous styles, then these Free Crochet Poncho Patterns are going to please you for sure.
---
1. Stripey Poncho Free Crochet Pattern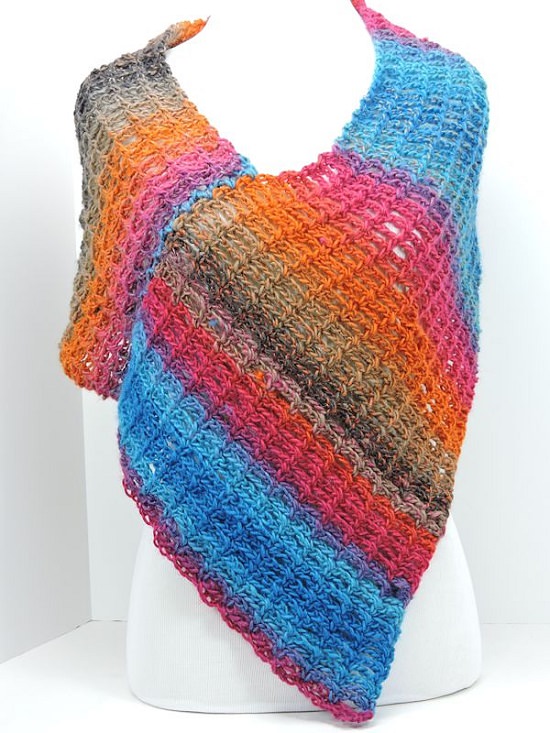 This spring, revamp your look with the addition of this vibrant poncho! This free crochet poncho pattern is a mix of stripes and multi hues along with some easy stitching patterns!
2. Crochet Drops Poncho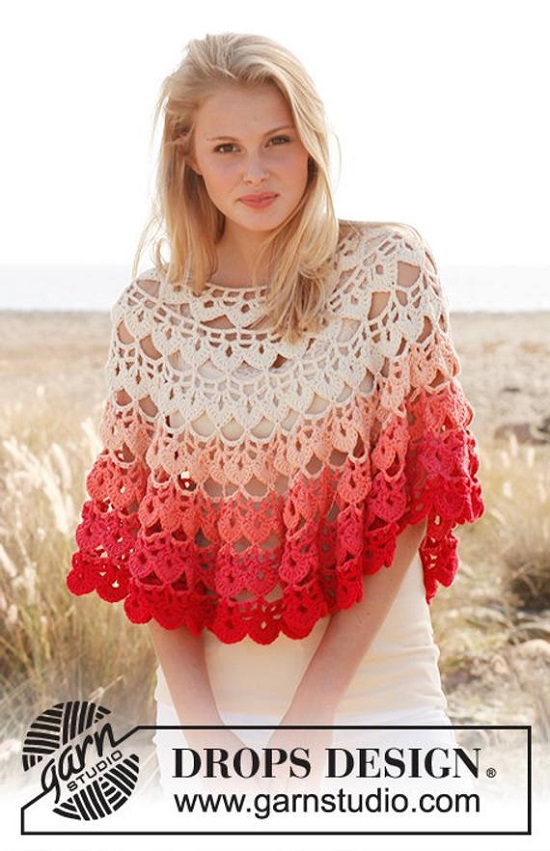 The fusion of complimentary shades in this poncho makes it one of the staple wardrobe addition. Read this blog from garnstudio for further details.
3. Scarlett Spiral Crochet Poncho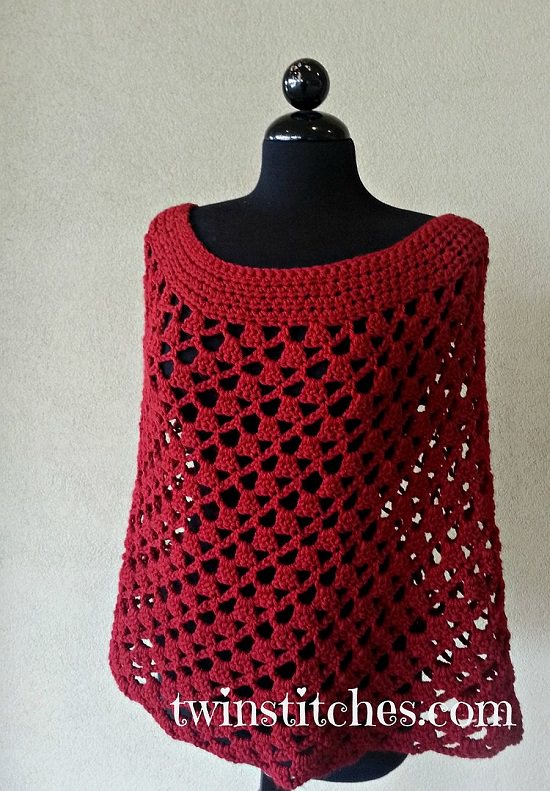 Make a stylish statement by wearing this plain yet classy poncho. You can work this airy and lightweight Scarlett poncho in rounds with spiral patterns.
4. Nicole Knit Look Crochet Poncho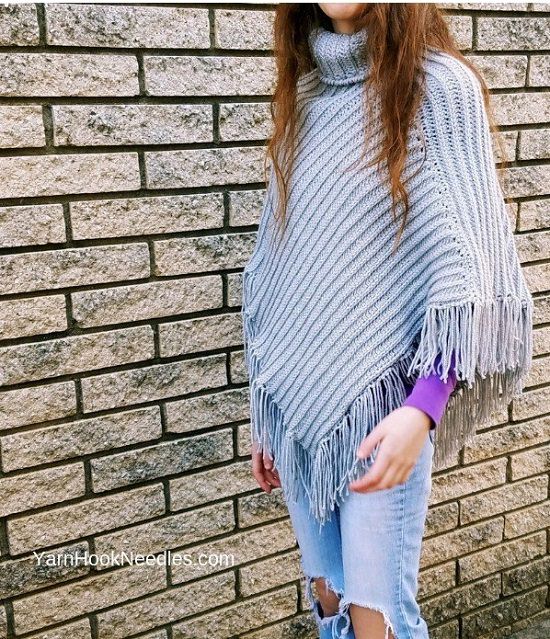 This poncho, with a layer of fringes at the bottom, will keep you trendy as well as toasty. Inspired from YarnHookNeedles, it has various stitchings, including slip, sc, hdc, and crab stitch.
5. Crochet Circular Poncho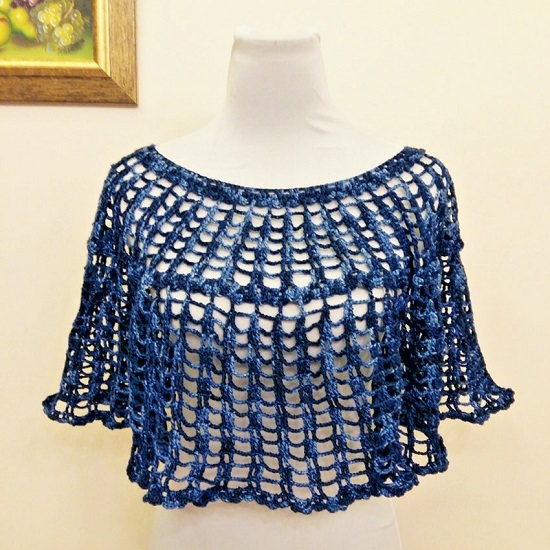 This elegant circular poncho is made from mosaic finish yarn, although you can stripe it with other hues also that match your taste.
6. Shades Of Indigo Poncho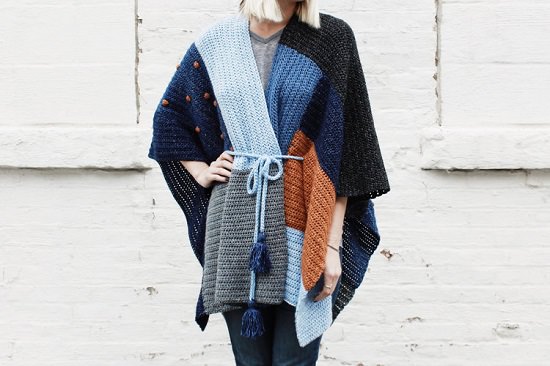 If you love fusing various colors in a single craft, this poncho, draped with colorful blocks, is surely going to entice you. You can use multiple hdc rectangles, seaming them together.
7. Alsace Poncho Crochet Pattern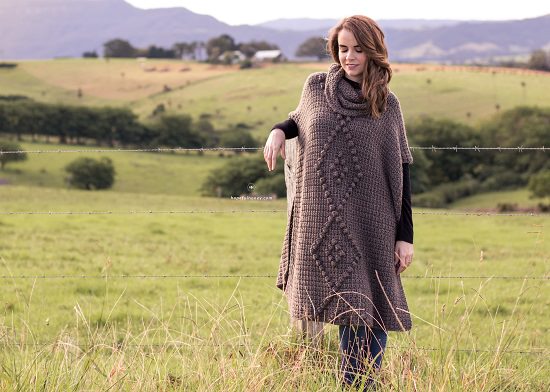 This Alsace poncho with a classic cowl neck is a perfect add-on to cover your shoulders while giving a fashionable accent. You can work it in two parts, and seam them together to create a final piece.
8. Pineapple Poncho Free Crochet Pattern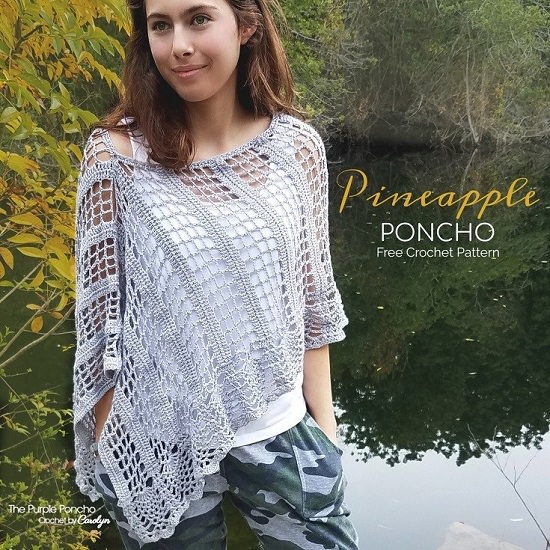 Add a fun flair to your boring dresses by layering this nifty free crochet poncho patterns over a spaghetti top. This versatile poncho features lacy stitching in rows.
9. Classic Two-Tone Poncho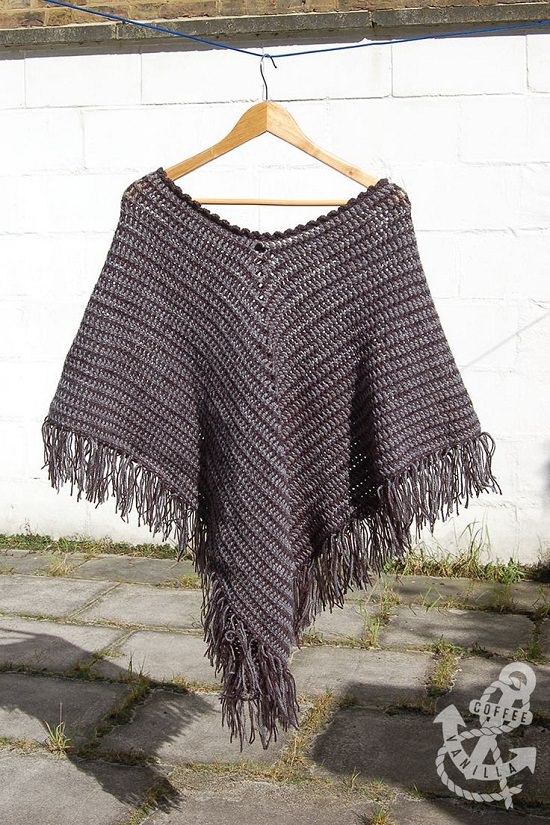 Take inspiration from CoffeeAndVanilla blog for crocheting this free crochet poncho patterns. It uses various stitches, including ch, dc, htr, tr, and slip stitch.
10. Light & Lacy Poncho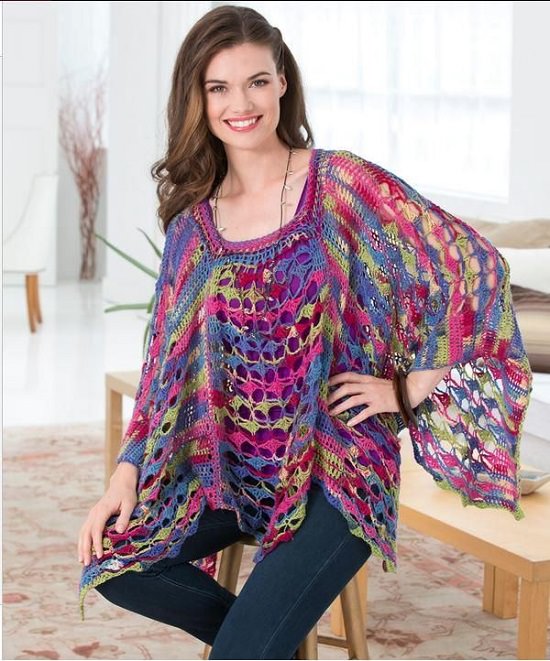 Redefine the fashion in your terms by wearing this funk poncho! You can make it using two centers and two long sleeves panels. Read this blog from YarnInspirations.
11. Light's Embrace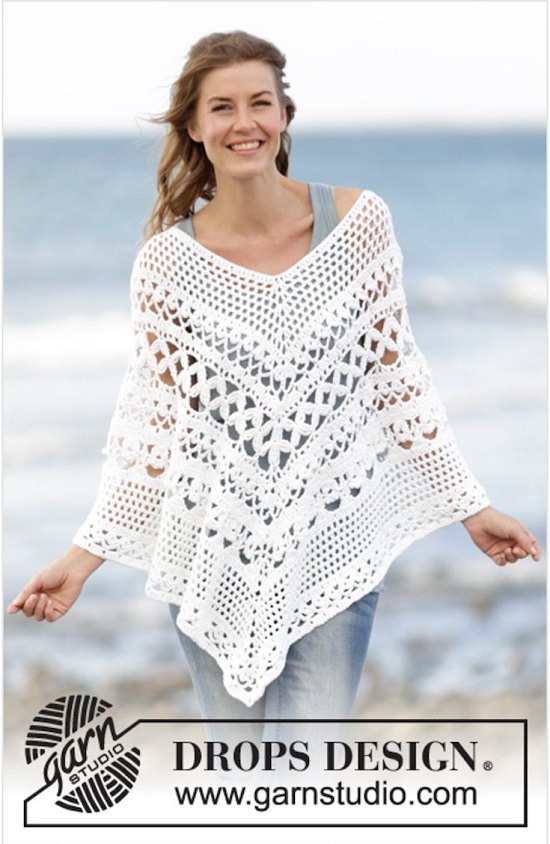 This poncho, in peaceful white, is going to become an elegant year-round wardrobe addition! Also, the 2tr tog, 3 tr tog stitches used here adds a timeless charm to this beauty!
12. The Olivine Ruana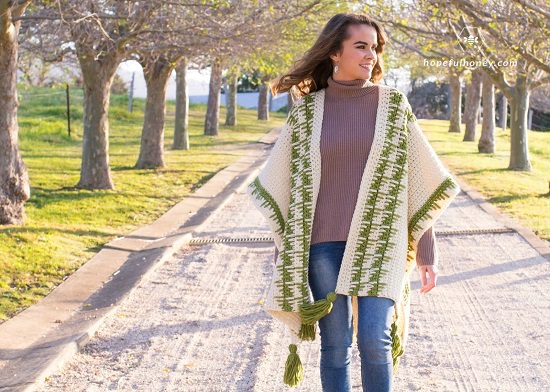 If you are tired of the same crocheting kind of poncho and pondering something new to add in your crochet collection, this tutorial from HopefulHoney will help you in weaving one.
13. Kitty Cat Poncho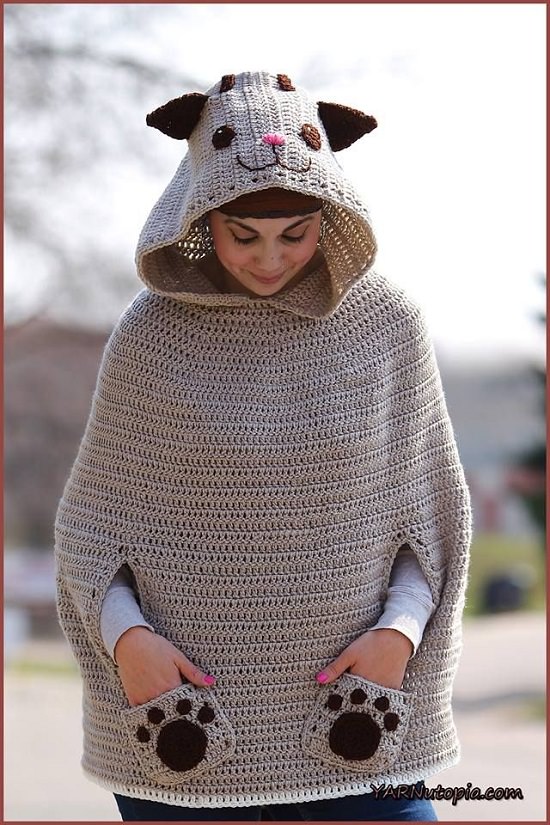 On this Halloween, give yourself a feline transformation by wearing this kitty cat poncho. This crochet poncho pattern with hood requires special stitchings, including BLO, Sl, SC, and DC.
14. Azul v-mesh Easy Crochet Poncho Pattern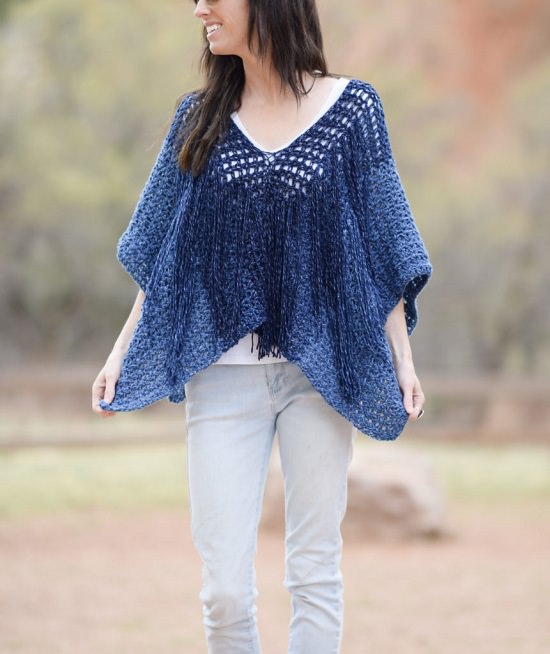 This lightweight and modish poncho can complement any casual outfit. You can prepare it with two rectangles and seam them together using v-stitching, that's just like a series of DC stitches.
15. Free Crochet Uptown Poncho Pattern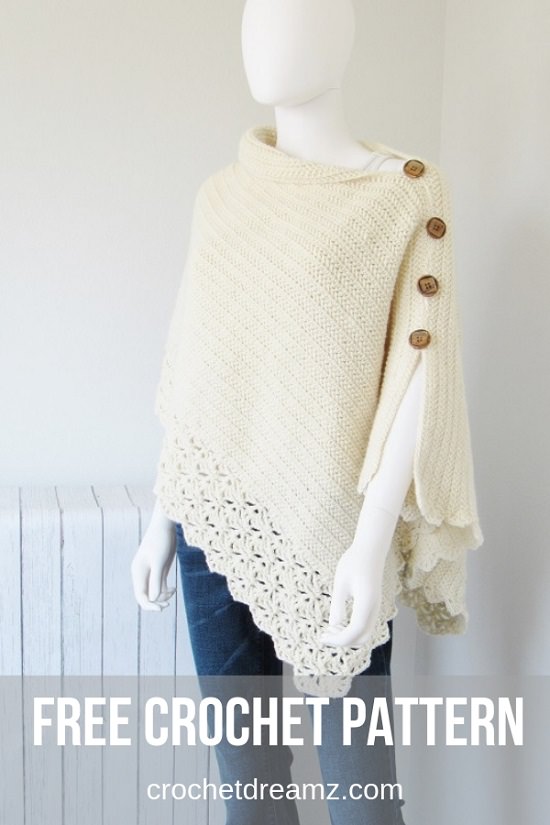 This free crochet poncho pattern is a bonus for girls who give preference to decency over a funky look. Prepared with herringbone HDC stitch, this poncho is embellished with a lace hem and brown buttons.
16. Free Crochet Poncho Pattern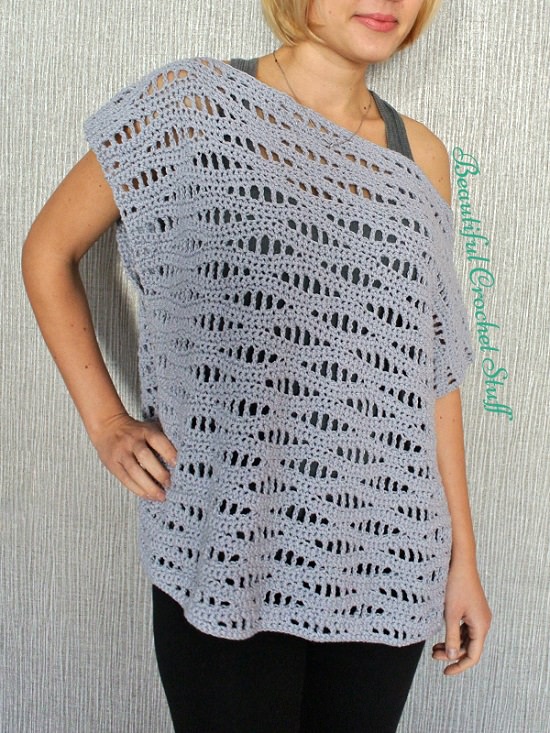 Crochet this voguish poncho to enhance your fall appearance. You can pair it with jeans or even shorts! More detail at beautifulCrochetStuff.
17. Braided Women's Crochet Poncho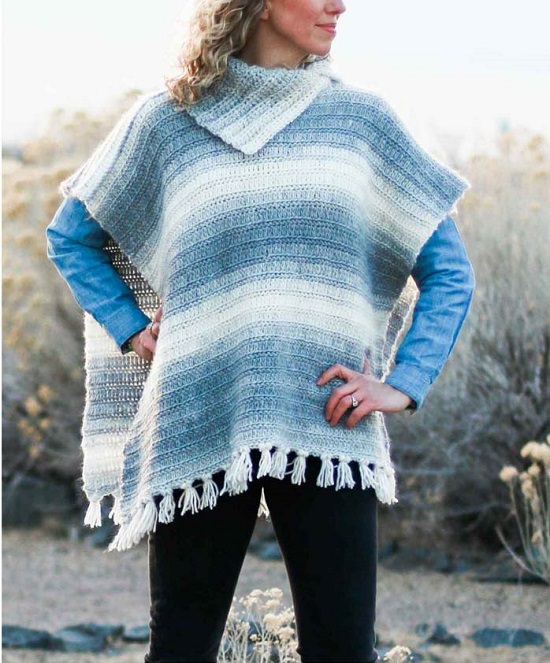 The combination of extended hdc and slip stitches gives this poncho a tailored look. You can drape it around the shoulder like a western blanket!
18.Perfect Gift Poncho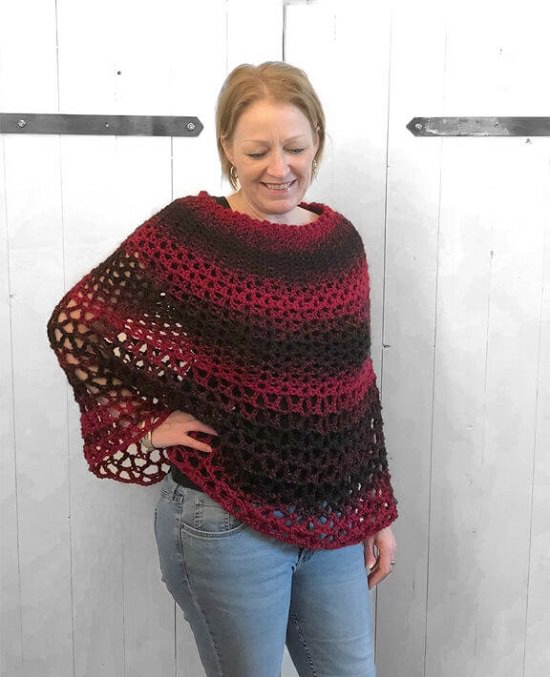 This free crochet poncho patterns can be a heartwarming gift for a woman of any age! Go through this beginner-friendly tutorial from ilmade for more details!
19. Casablanca Summer Poncho Crochet Pattern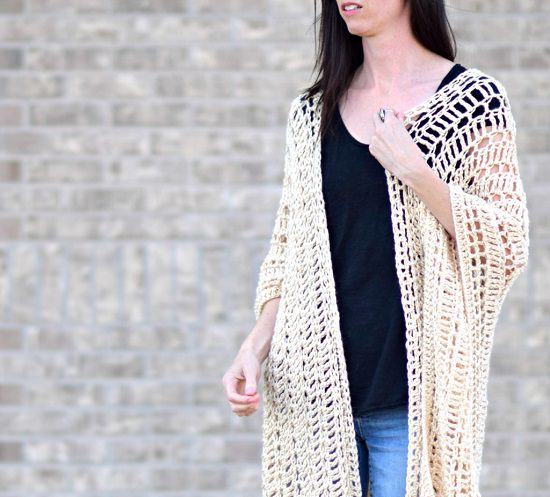 This elegant yet casual poncho is crocheted by seaming two rectangles together. What makes it stand out from the rest is the fineness of texture that goes well with any t-shirt, tank top, or a swimsuit.
20. Cheerful Free Crochet Poncho Pattern For Kids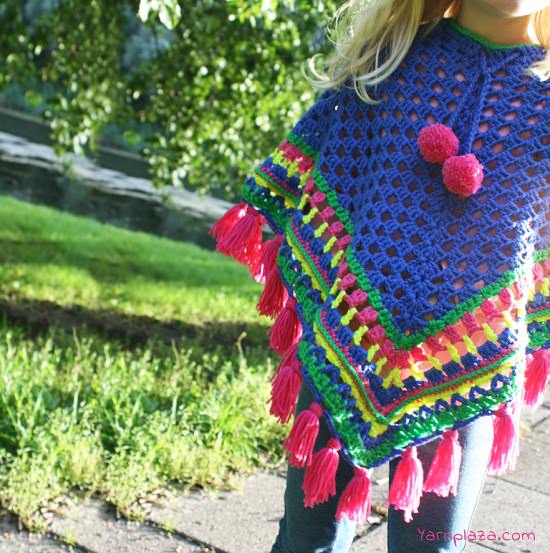 If you are willing to crochet a pretty poncho for your girl, this tutorial from rnplaza will match your preference! Prepare it using the cheerful colors of Lana Grossa Bingo yarn.
21. Crochet an Easy Hooded Poncho
Go through this instructional video for crocheting this hooded free crochet poncho patterns.
22. Wasilla Poncho for Girls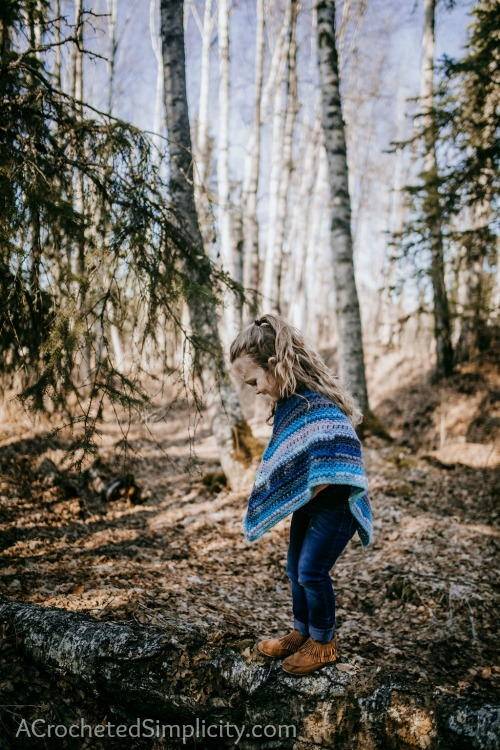 This poncho prepared from Mandala Sparkle Lion Brand Yarn is finished with a scallop pattern around the neck. Also, it uses some special stitches like puff st, alt-dc-cl, and 2 dc-cl.