Handmade crochet blankets are carefully stitched & flooded with love as well. Try these Free Crochet Baby Blanket Patterns ideas for your little one!
If you are thinking of crocheting a fluffy and warm blanket for your baby or pondering to gift it to your soon going to be a mother friend, then our Free Crochet Baby Blanket Patterns will help you. These patterns are best and at the same time–Easy! Go through each of them one by one, and decide which one is best for you.
1. Easy Crochet Baby Blanket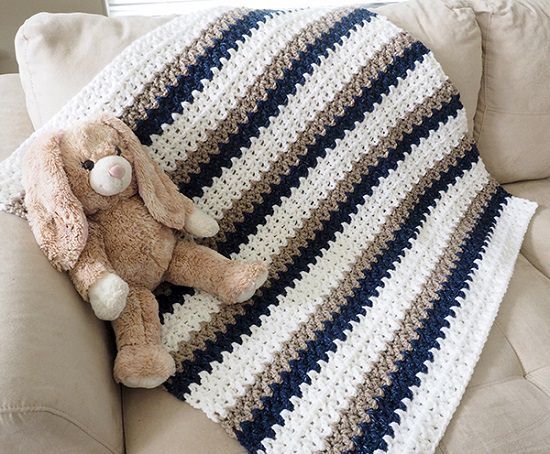 Crochet a cozy blanket for your baby using plush yarns. This tutorial is beginner-friendly, and surprisingly you can make it even if you are a novice in the world of crochet.
2. Variegated Crochet Baby Blanket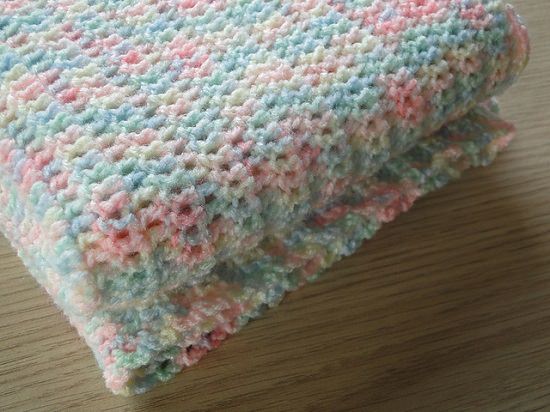 How lovely it would be to see your child sleeping calmly under a soft blanket, made by none other but yourself. Use any yarn/hook combo for making this variegated baby blanket.
3. Queen of Hearts Baby Blanket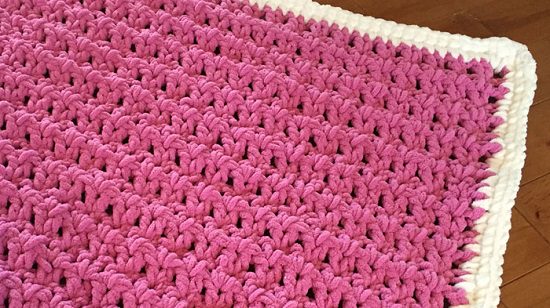 For crocheting this fluffy blanket, you will need 4-balls of primary color with 1-ball for stitching the edges. Use baby rose yarn as a primary color, in combination with white yarn for weaving its border.
4. Mile-A-Minute Baby Afghan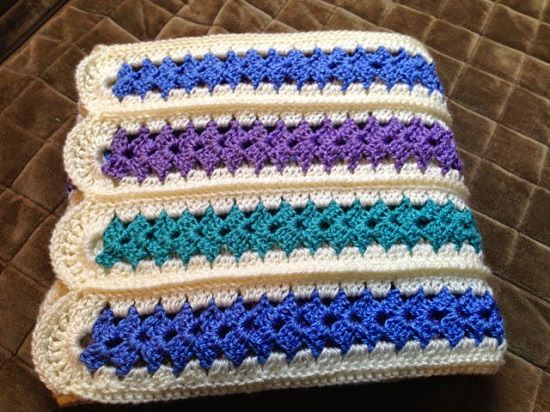 This beautifully crocheted blanket has outstanding ridges that are created by joining the strips together. What makes this blanket special is the color choices; pick any color tone to make the strips, then add a contrasting border using cream yarn to enhance its look.
5. Granny Ripple Baby Afghan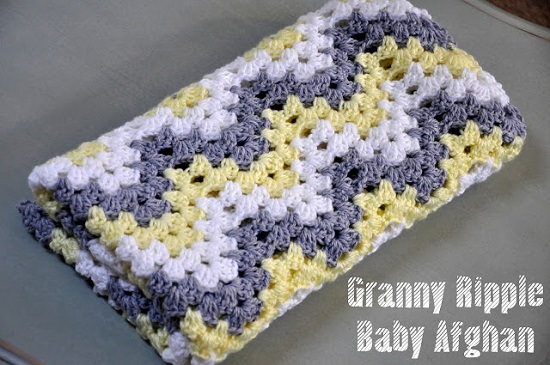 Every stitch of a crochet blanket expresses care and tenderness. For this blanket, you will have to change the color after every two rows. Make a chain in the multiples of 18 and add 6-chains at every end. Then, repeat this pattern for as many rows you want to include.
6. Nesting Basket Weave Crochet Baby Blanket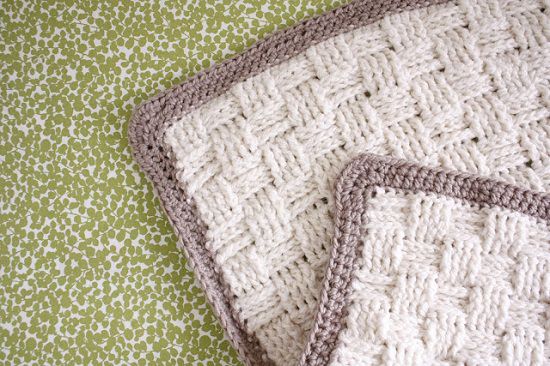 Blankets crocheted by hands are infused with emotions, making it more homely for toddlers. The blogger uses cream and tan colored, acrylic yarns to complete this craft, which is easily washable at the same time will keep your little ones warm.
7. Diagonal Rainbows Baby Blanket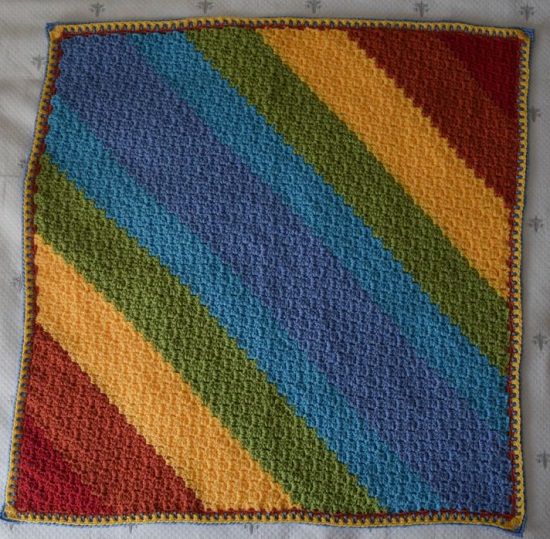 As the name suggests this vibrant blanket is made up of rainbow color yarns. It is crocheted from corner to corner creating bold blocks on it.
8. Beginner Crochet Baby Blanket Pattern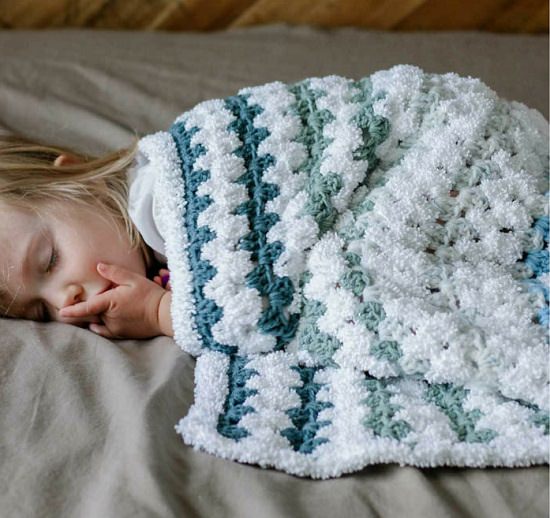 This unique textured blanket is made with colorful soft yarns. Go through this tutorial to learn how to make this machine washable and visually stunning blanket for your kid.
9. Easy Crochet Baby Blanket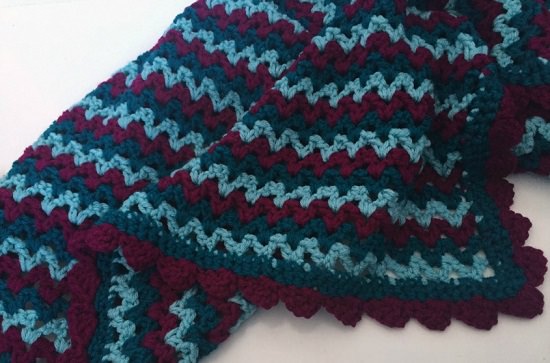 This multi-colored blanket is crocheted using the V-stitch. The combination of three-colors, berry (Boysenberry), teal (Mallard) and aqua (Iced Aqua) are repeated while stitching, offering it a sophisticated look.
10. Soft Granite Blanket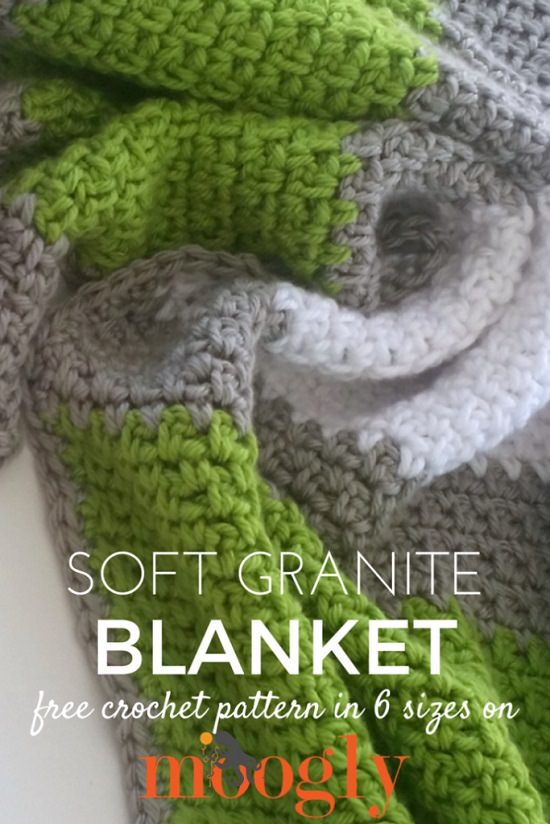 This fluffy blanket features a granite or moss stitch and engages a color combination of spring green, white, and gray for weaving the stripes. Read further for crocheting this blanket.
11. Chevron Baby Blanket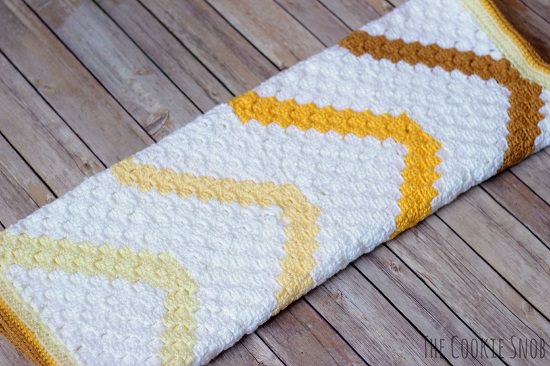 This afghan employs the corner to corner stitch pattern with the chevron design, which is really fun to craft. The enchanting yellow stripes paired with white yarn give this blanket a striking contrast blend.
12. Quick & Easy Crochet Baby Blanket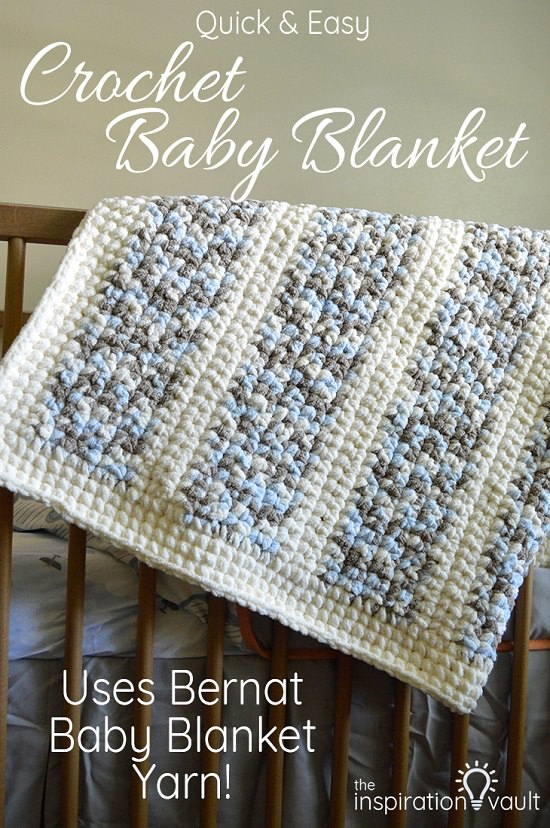 Any crochet addict will love to create this blanket which is worked with a single crochet stitch. This crochet blanket uses variegated Bernat yarn that is adjoined with vanilla yarn to provide an alternating pattern.
13. Moss Stitch Baby Blanket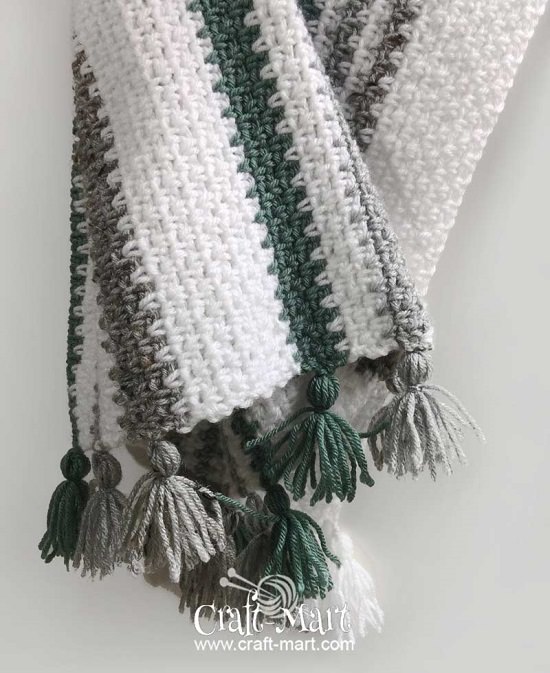 This DIY blanket shared by this blogger is super easy to make. It uses the Granite Stitch Method and employs soft green yarn in addition to grey yarn for giving the blanket a natural palette.
14. Crochet 3-D Reversible Turkish Stitch Baby Blanket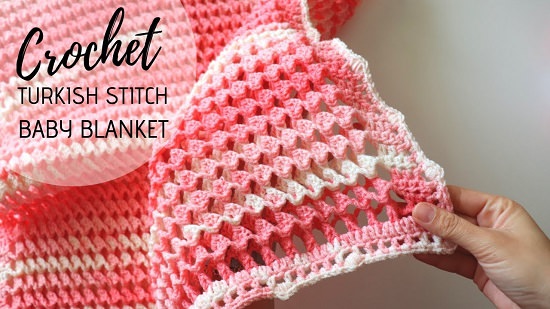 This densely stitched blanket gives off a fluffier feel, therefore, making it a perfect sleep time companion for your infant. Take inspiration from this vlog to crochet a similar blanket in an easy peasy way.
15. Baby Blanket with Colorful Blocks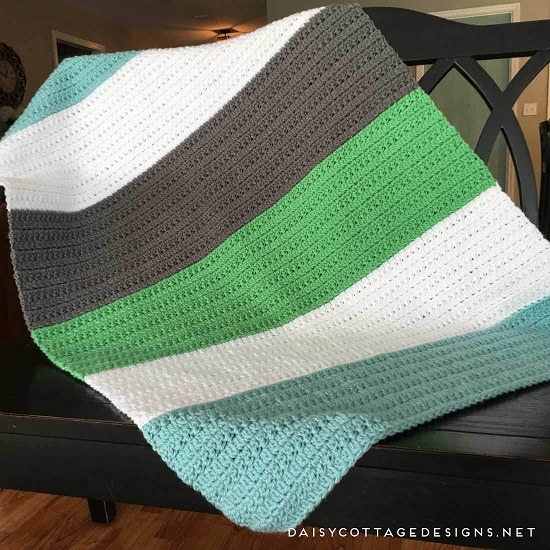 Exhibit your crochet skills for making this densely stitched colorful blanket. For preparing this blanket for your toddler, gather some bold colored yarns, and use the DC2TOG stitch pattern for creating heavy blocks on this afghan.
16. Multicolored Crocheted Baby Blanket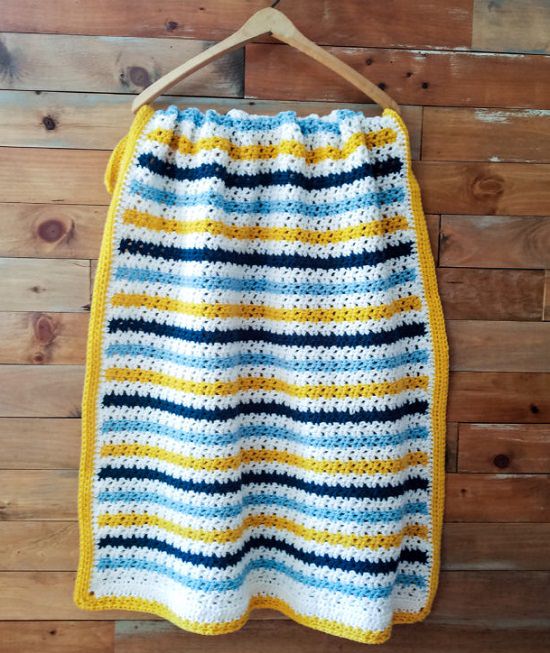 For crocheting this blanket, the blogger has utilized a large hook along with the white, light blue, dark blue, yellow-colored worsted weight yarn; and availed Foundation Half Double Crochet stitch for turning the colorful yarns into a beautiful craft.
17. A Quick & Easy Baby Blanket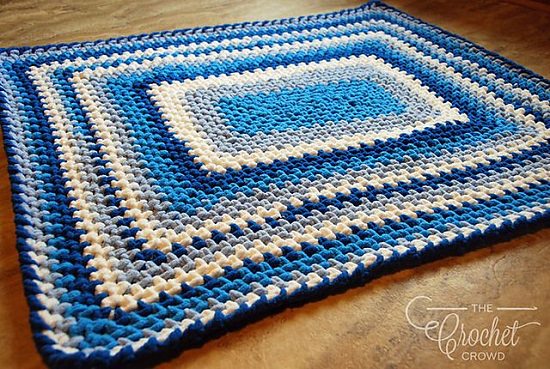 Although square crochet sounds boring, this eye-catchy baby blanket is a different story! Make it with the help of 2-balls of Bernat Blanket Stripes yarn, and let your crochet hook perform its magic.
18. Beginner Friendly Crochet Blanket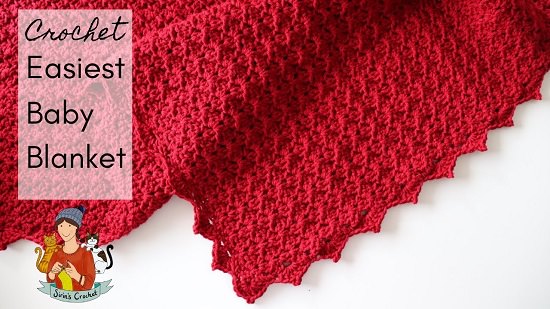 This video tutorial will guide you about how to crochet the most comfortable baby blanket in the easiest manner.
19. Easy Baby Blanket for Beginners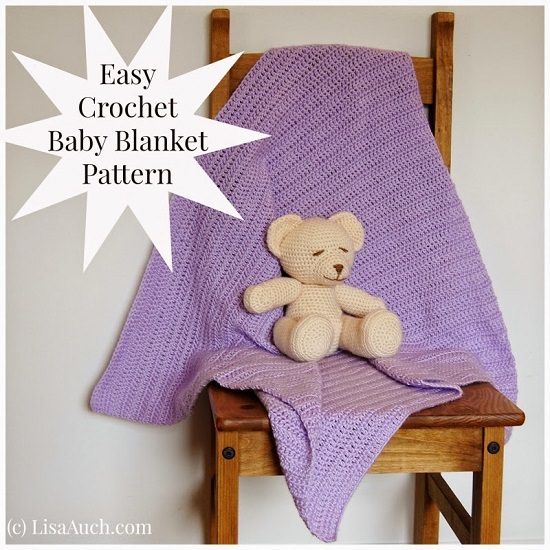 Crocheting is all about pushing the hook to the next stitch and then repeat the looping over and over. Once you become a master of this stitching, you won't be able to stop yourself from crocheting more blankets one after another. Take inspiration from this tutorial.
20. Elephant Snuggle Baby Blanket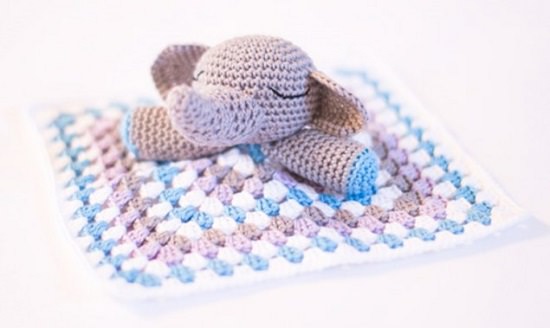 Imagine your toddler wrapped in a smooth blanket, along with a cute elephant fondling your babe with a warm hug. If you love this concept, grab this free pattern.