If you are looking for quick patterns to weave, these Free Crochet Afghan Patterns will come in handy! Try them out today!
Nothing like snuggling in your own made warmer while binging on Netflix! Here are some off the most exquisite Free Crochet Afghan Patterns that you're going to adore absolutely!
---
1. Free Crochet South West Afghan Pattern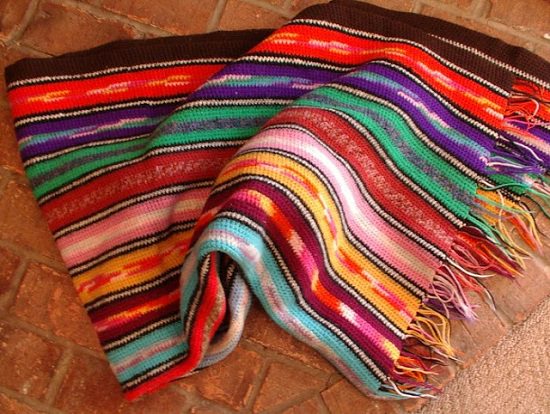 This one is beautiful enough to leave as a decor accent whereas cozy enough to drape it while having a short nap. In this motif, three yarns are tied together to form a bunch of fringes.
2. Charlotte Crochet Blanket Pattern
What makes this one stand out from the rest, is the fusion of contrast gray and claret-color pallets. This beginner-friendly DIY from RescuedPawDesign is going to help you in crocheting one of the best free crochet afghan patterns on the list!
3. Color-Blocked Stripes Blanket Free Crochet Pattern
The colorful blocks on this blanket are using dusty blue, Linen, and charcoal gray colored yarns stitches. Take inspiration from the RescuedPawDesigns blog.
4. Alissa Easy Crochet Throw Blanket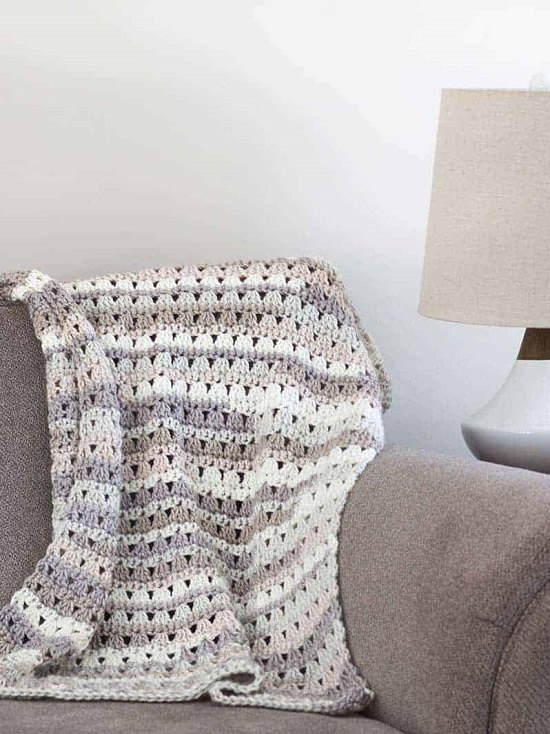 This pattern is best for novice crocheters as it avails only two easy stitches that are single and double crochet. It is one of the best Free crochet afghan patterns on the list!
5. Mile a Minute Celtic Weave Afghan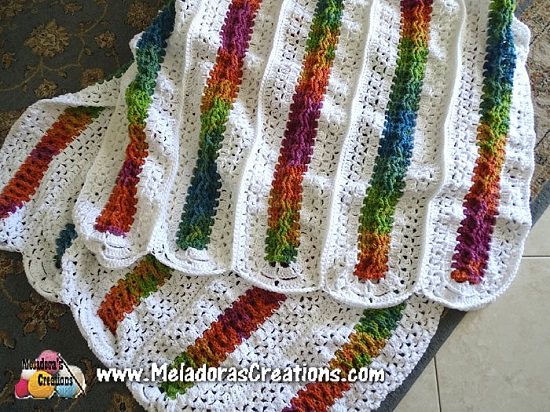 Worked in colorful pallets, the center stripes are crocheted back and forth in rows, whereas the outer stripes are crocheted in rounds. Details here.
6. Modern Rose Afghan
Featuring colorful spirals, this can be a lovely addition in your kid's room! Its pattern is worked in rows, and each motif is quarter-turned to end spirals in different places.
7. Chunky Feather and Fan Crochet Blanket
This chunky afghan is quick to crochet and engages super bulky weight yarn along with a large hook for stitching. This blanket comprises a unique texture in a 17-stitch repeat pattern.
8. Happy Hexagon Free Crochet Afghan Pattern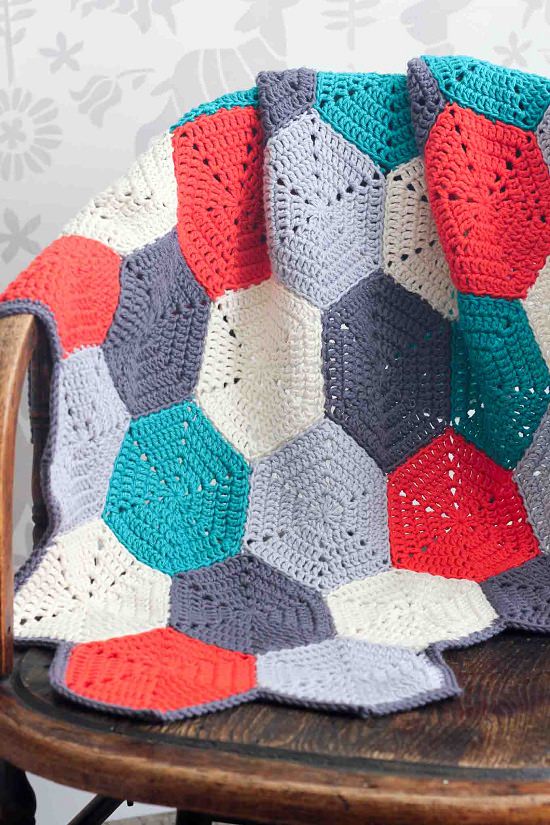 If you are fond of hexagon shapes, this pattern is worth trying! This motif engages multi-colored hexagon blocks. You can customize it according to your personal preference as well!
9. Blackberry Salad Striped Afgan Pattern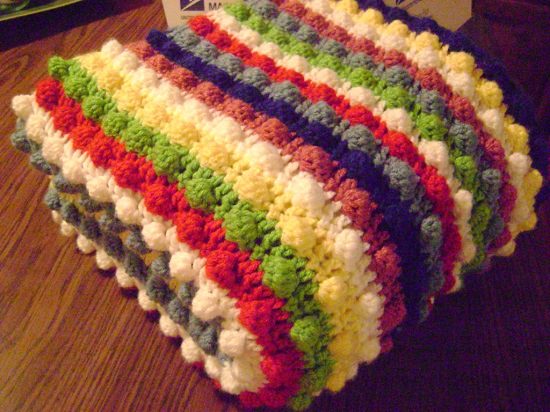 Featuring a customizable bobble stitch, the size of which can be adjusted by adding or reducing the chain row in the multiple of 4 st. More details here.
10. Free Crochet Falling Petals Afghan Pattern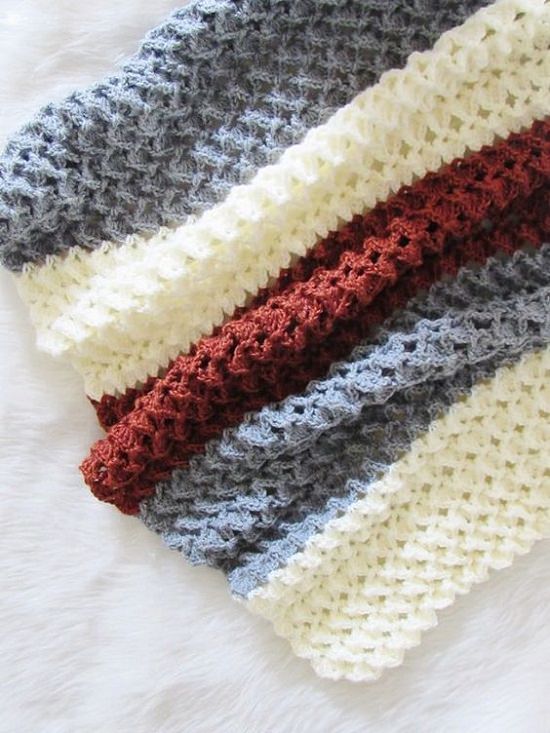 The fluffy texture of this afghan, complemented with eye-catchy color pallets, is going to tempt any crochet addict! This pattern is shared by crochetdreamz.
11. Bright & Fun Free Crochet Pattern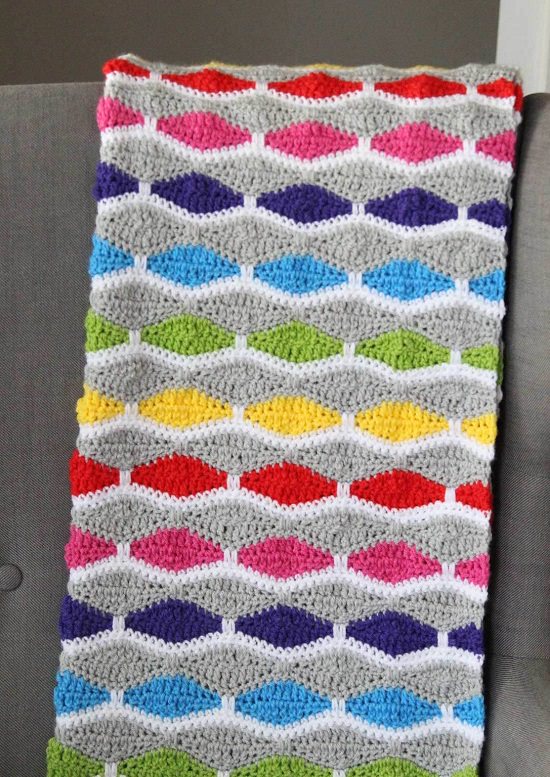 The neutral gray, augmented with the rainbow shades, is going to add a dash of vibrancy in your interior. At first glance, this blanket may seem difficult to the newbie, but it is super easy to craft.
12. Go Granny Crochet Afghan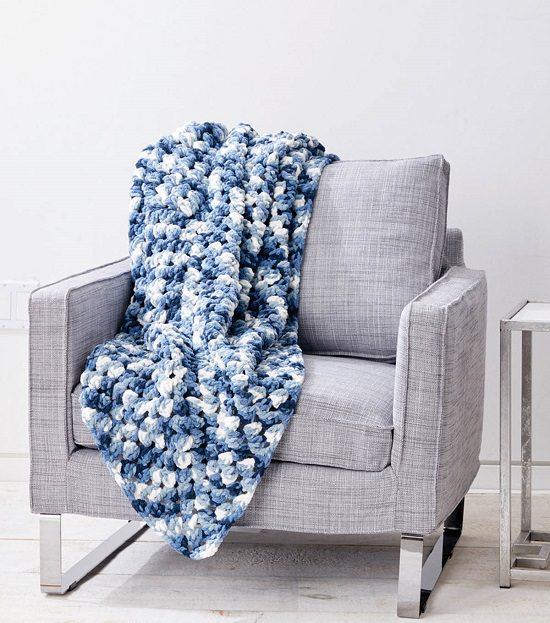 This faded blue afghan, accompanied with white hue, can brighten up your room. Its intricate-looking motif only engages basic techniques, including Slip, SC, and DC stitches.
13. Fields And Furrows Crochet Afghan Pattern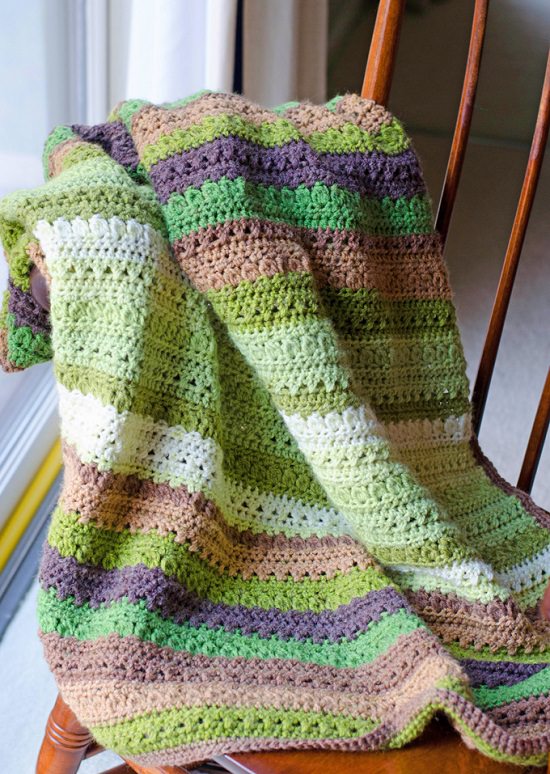 You can make this using DCX and bobble stitches and two different cakes. One is pistachio fudge, consisting of brown and green shades and pistachio cake, that comprises lighter shades. Read more here.
14. Red Bricks Crochet Afghan Pattern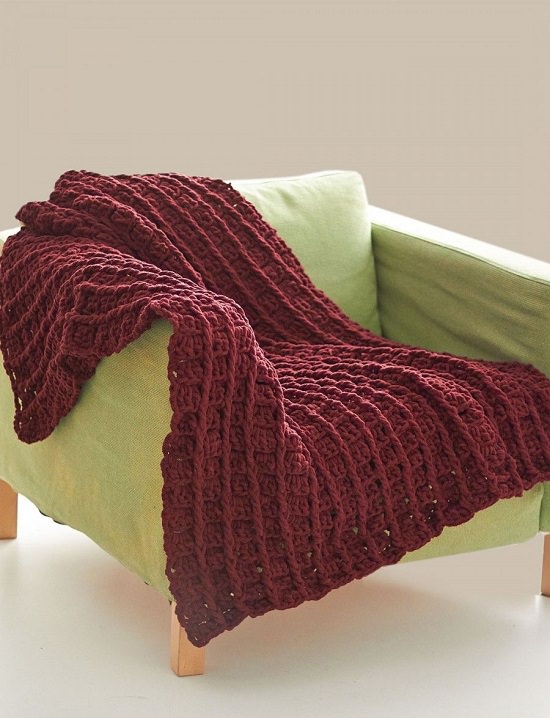 The fabulous texture of this Red Bricks Afghan carved with a solid colored yarn is going to make a strong statement. Its brick-like texture is due to the front post double crochet stitch that gives it a touch of sophistication.
15. Crochet Pinwheel Afghan Square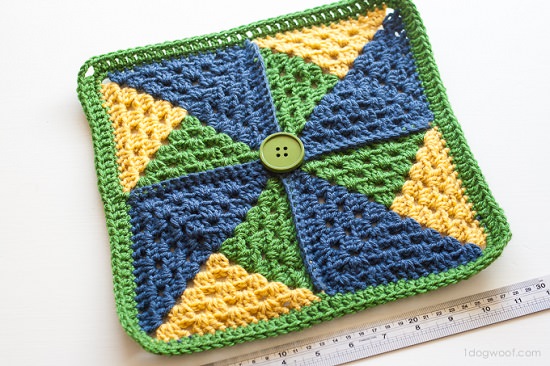 This one is a collection of four small squares, each consists of one large and two small triangles. Here, colors are changed in the middle corners of the small squares. Read the full tutorial at onedogwoof to make one of the best free crochet afghan patterns on the list!
16. Sand and Surf Throw Free Crochet Afghan Pattern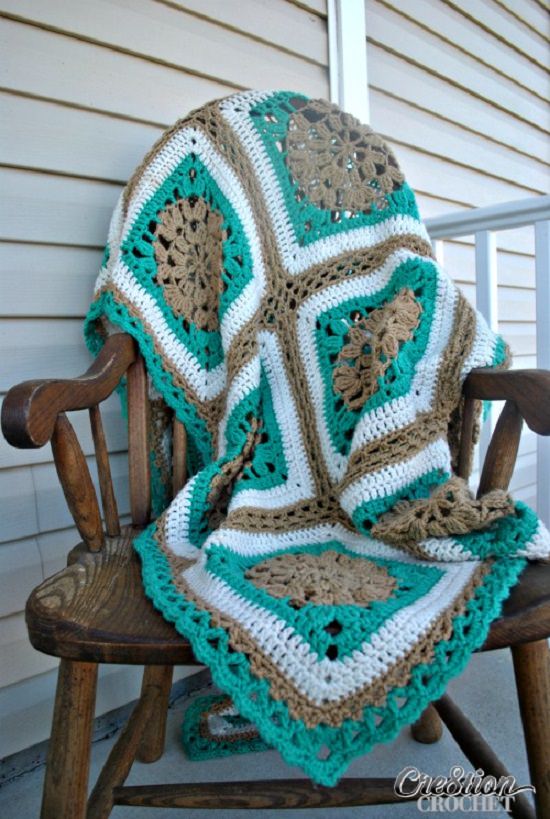 The motif consists of granny squares, seamed together, using an open weave join. Worked in beachy shades of tan, white and jade, this blanket is going to give a sandy shore accent to your home.
17. Crochet Afghan Blanket
Go through this video tutorial to create an argyle look using a planned pooling technique. This is one of the simple afghan crochet patterns on the list.
18. Crochet Super Star Afghan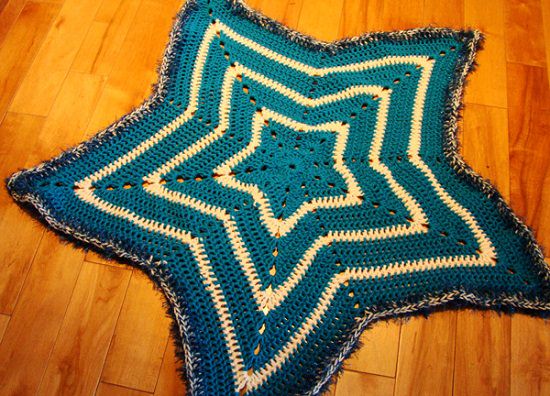 The great texture on this star-shaped pattern is stitched using the cross and popcorns stitches that can become snuggly wrap for your toddler. It is one of the unique crochet afghan patterns on the list.
19. Free Crochet Pattern Monet Afghan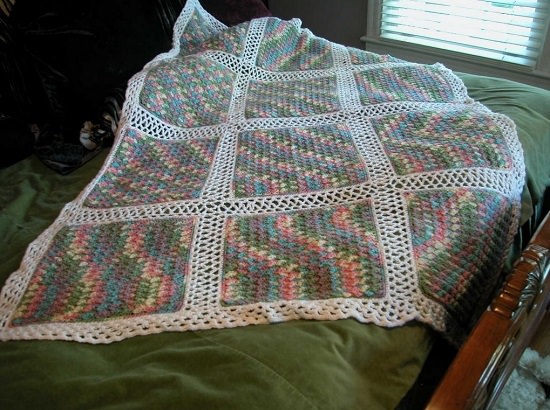 The blogger has named this as 'Monet' because the fusion of colors appears like an impressionist painting here. Although, you can crochet it in solid or variegated colors.
20. Easy Weekend Crochet Afghan Free Pattern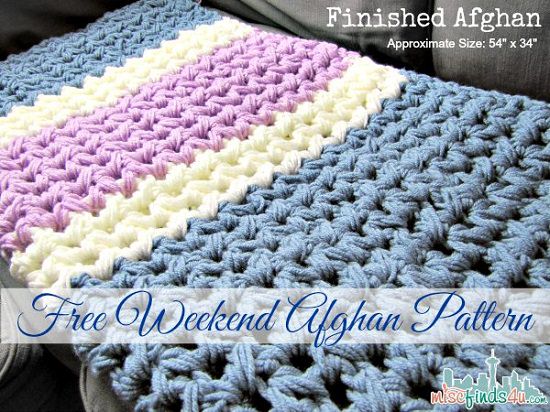 This afghan, with varicolored stripes, is what your bedroom needs. Take 6-Bernat Waverly Blue Gown, 3-Bernat Waverly Vanilla, and 3-Bernat Waverly Pinky, then crochet them using Hdc2tog stitch.
21. THE MIDWIFE BLANKET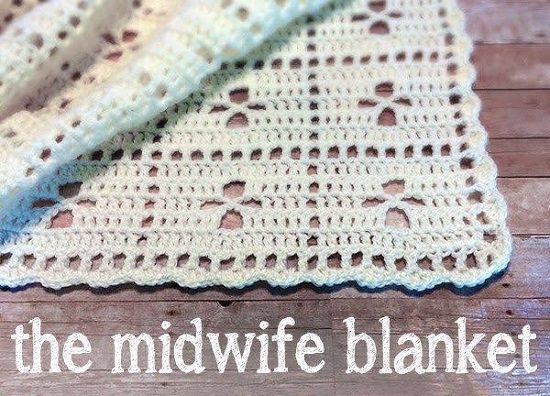 This craft engages super soft acrylic yarn, with a size G hook, and its pattern is started with a chain in multiples of 16. It is one of the best free crochet afghan patterns on the list!
22. Easy Ombre Baby Blanket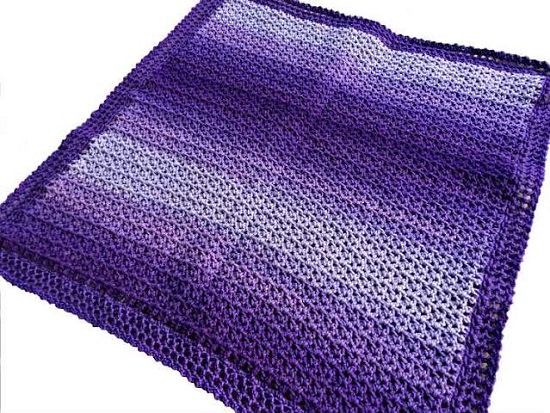 This one is super easy to crochet, as you have to repeat the same row over and over until the whole length of the blanket is complete. Take inspiration from the LoveLifeYarn blog.
23. Crochet Afghan Blanket with Flower Pattern
Watch this video tutorial to crochet a comfy afghan escorted with a floral pattern.