From all these 18 DIY Crochet Wreath Ideas chose the one you like most and start making it with the help of free patterns and tutorial available here.
1. Butterfly Crochet Wreath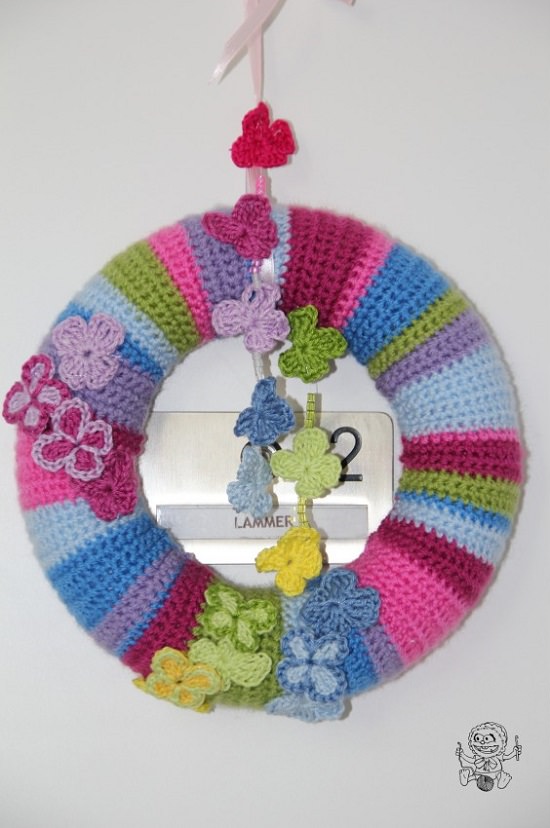 We all adore colorful butterflies fluttering with their vibrant wings open. Now you can make a butterfly wreath with lots of colors by following the link here.
2. Crotched Spring Wreath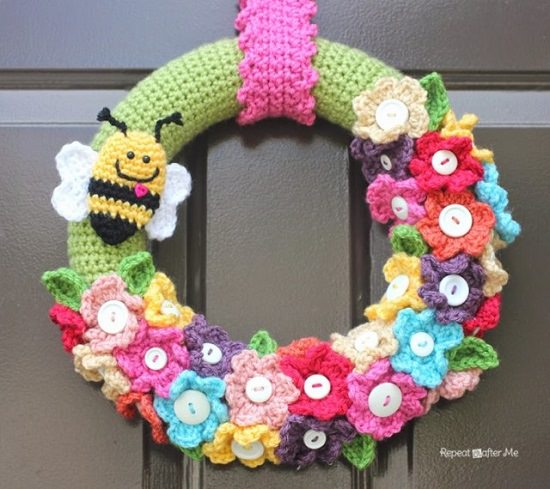 Bring the zeal and warmth of spring in your by crocheting this spring wreath. Here is the detailed tutorial!
3. Flower and Bird Wreath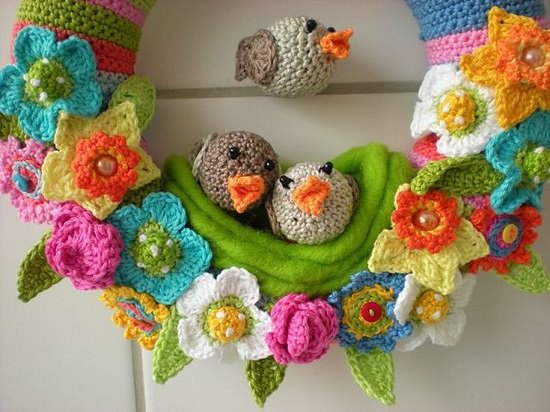 Oh, how cool! Nothing can match the exhilaration of watching baby birds peeking out from their nest. Now it can be added to the home decor with this DIY wreath idea here.
4. Rose Wreath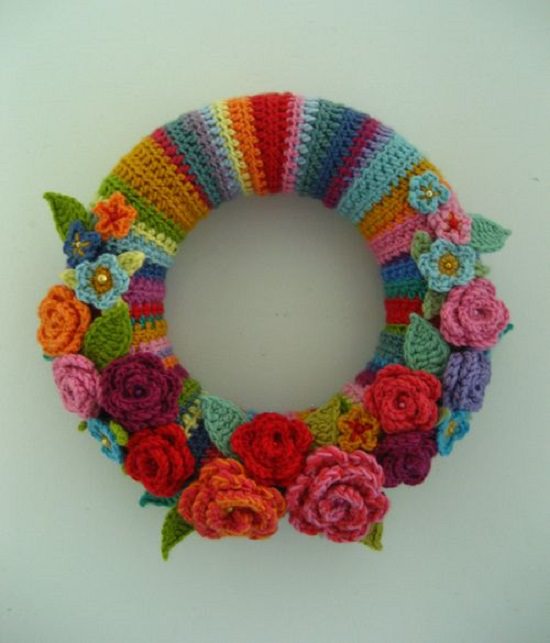 Beautify your house by pinning this colorful rose wreath to the wall. The detailed DIY is here!
5. Hoppy Easter Wreath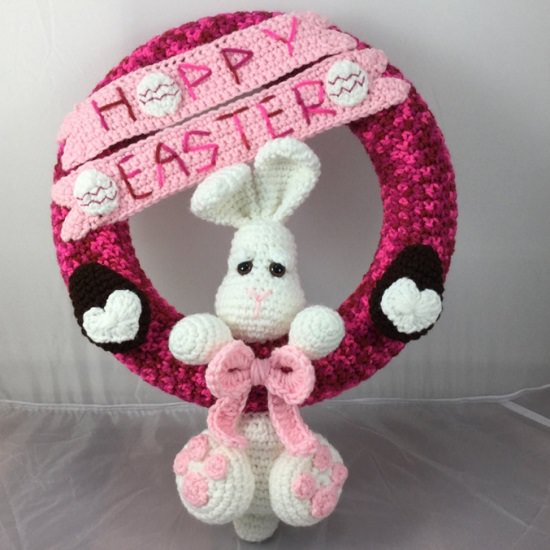 Gifting this hoppy Easter wreath to someone you love is difficult. Once you make it, you don't want to go it away. We found the idea here.
6. Ruffle wreath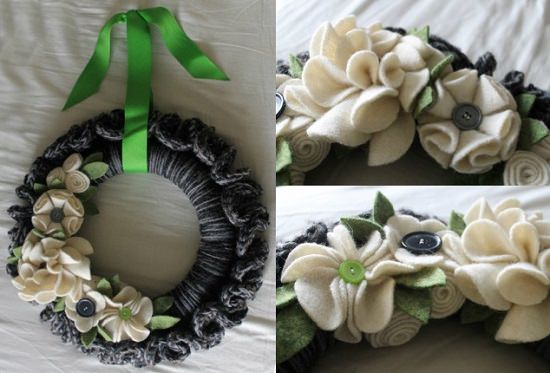 This ruffle wreath will be a classy addition to your office or home. Find the instructions here!
7. Lace and Crochet Flower Wreath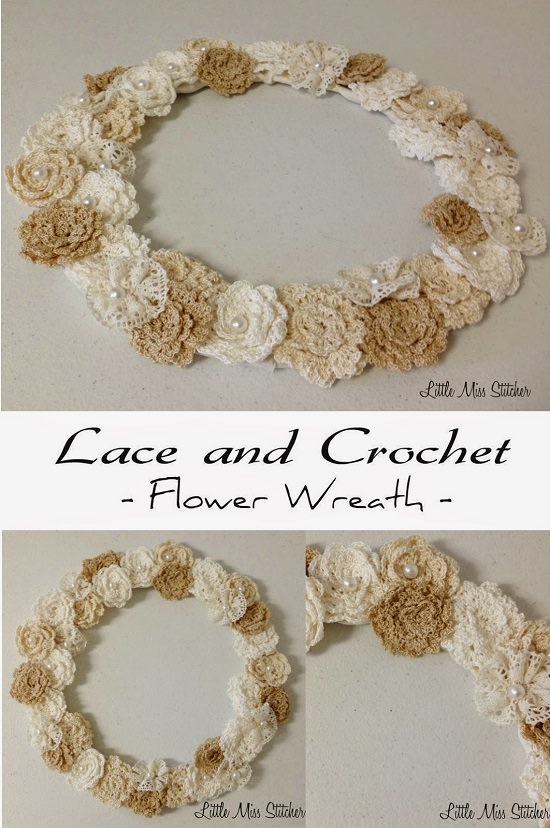 So simple yet so beautiful and classy. Create this super easy lace and crochet flower wreath by following the steps here!
8. Chained Wreath Ornament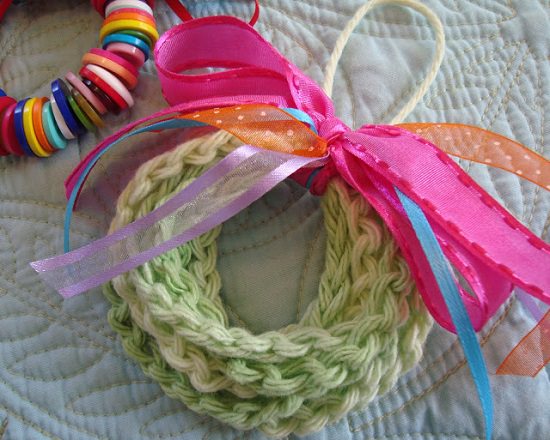 You don't need to have expertise in crocheting to make these. Children will simply love these chained wreath ornament.
9. Simple Statement Wreath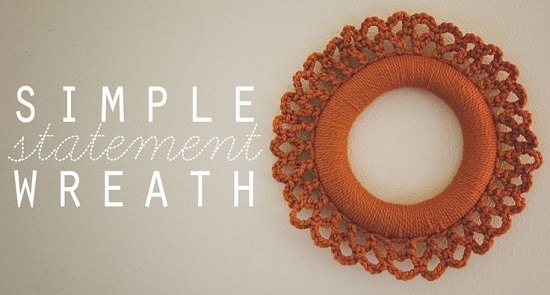 For a rusty and vintage look go for this wreath. Bold yet simple to create, follow the instructions here.
10. Crochet Fall Wreath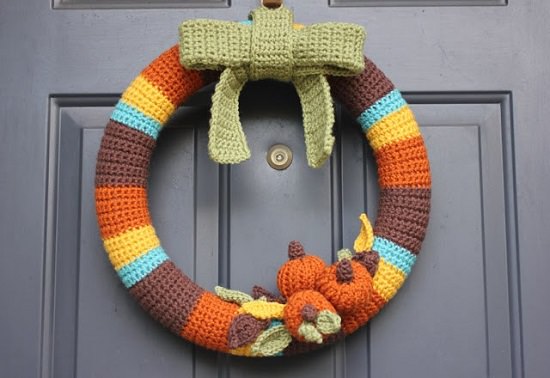 Hang it on your front door or mantle during fall and trust me, people will ask you for its pattern. The pattern and tutorial are here.
11. Spring Wreath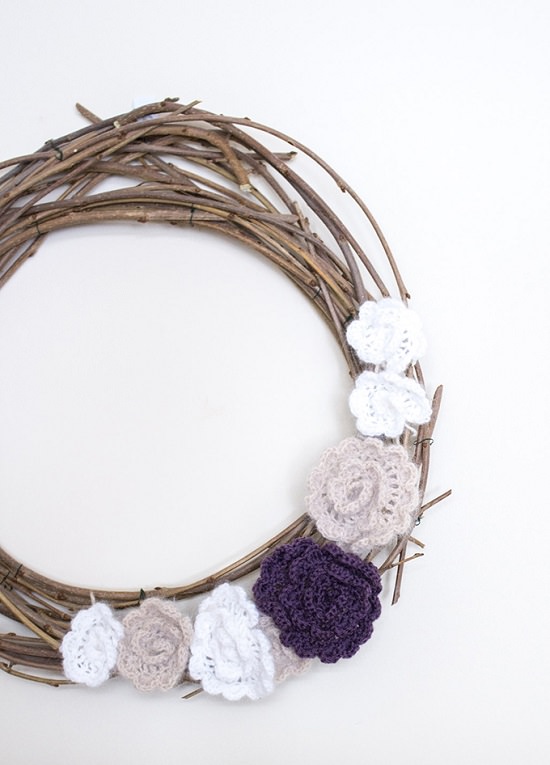 This spring wreath is made using mulberry branches and sewing crocheted flowers on it. The step by step DIY is available here.
12. Finger-Knit Wreath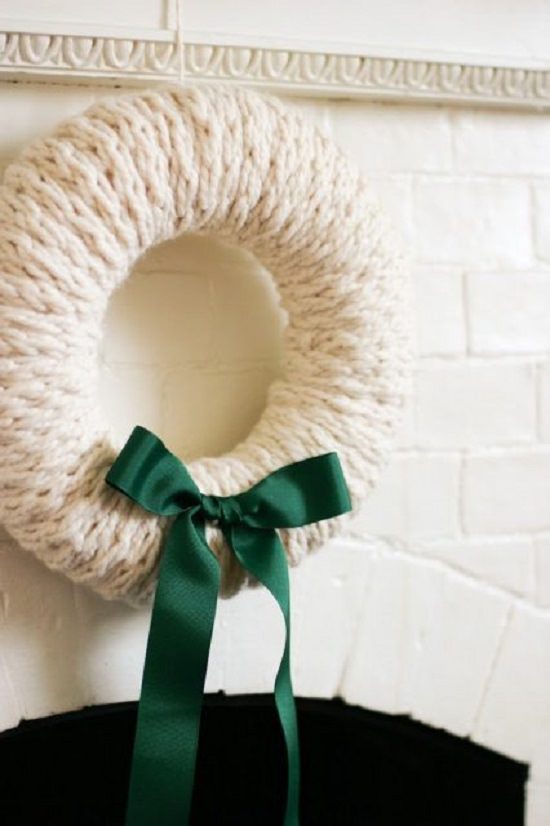 Want to try something new? Finger knitting is a perfect way to get started. Here is how to do it.
13. Winter Wreath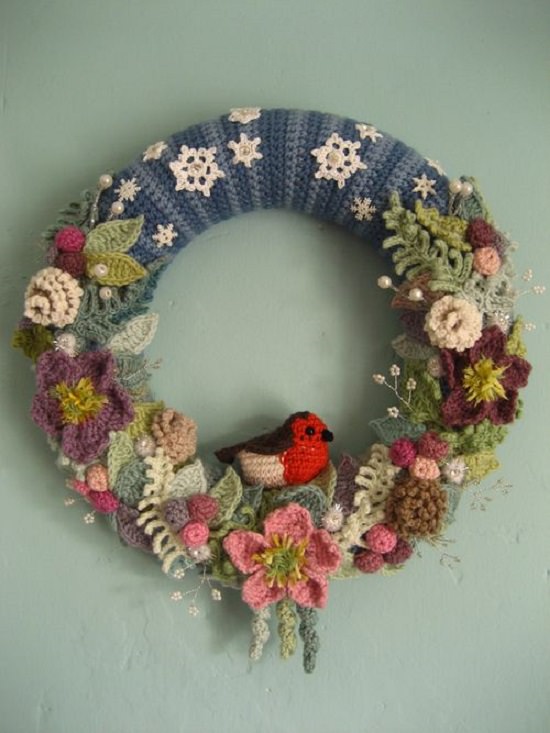 Decorate your room with this wreath will enhance the experience of enjoying a cup of coffee in the cool winter mornings. Check out the pattern and instructions here.
14. Springy Flower Wreath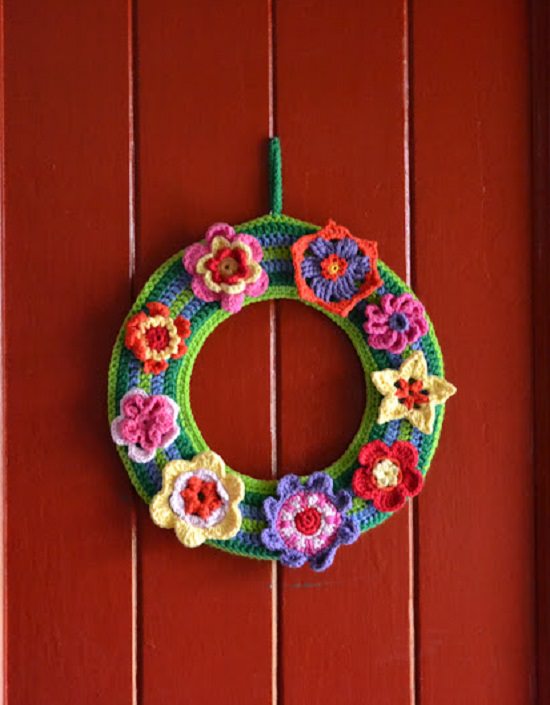 Here is another spring wreath idea for you to try! The large size makes it perfect to hang on the outer wall.
15. Crochet Christmas Wreath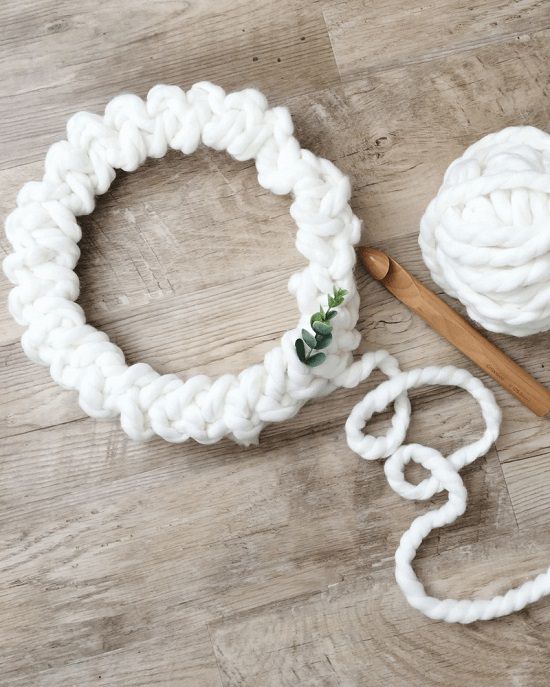 With Christmas around the corner, make your guests feel welcomed with this DIY Christmas wreath.
16. Yarn Ball Wreath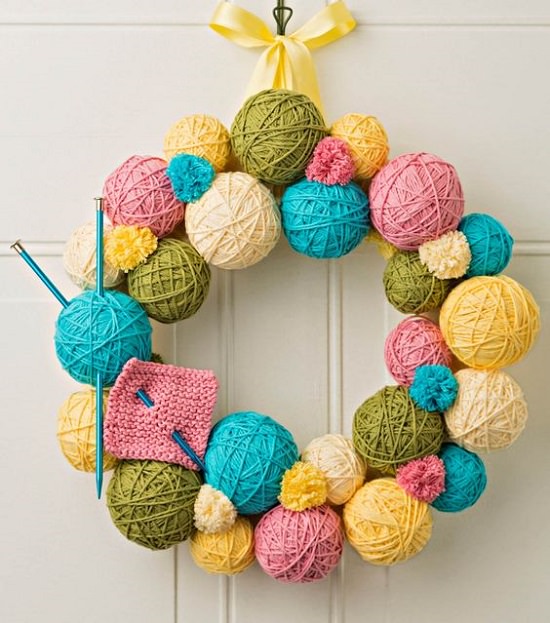 This Yarn wreath looks so different from all the other DIY crochet wreath ideas in this list. The detailed tutorial is here!
17. Snowman Pom Wreath Tutorial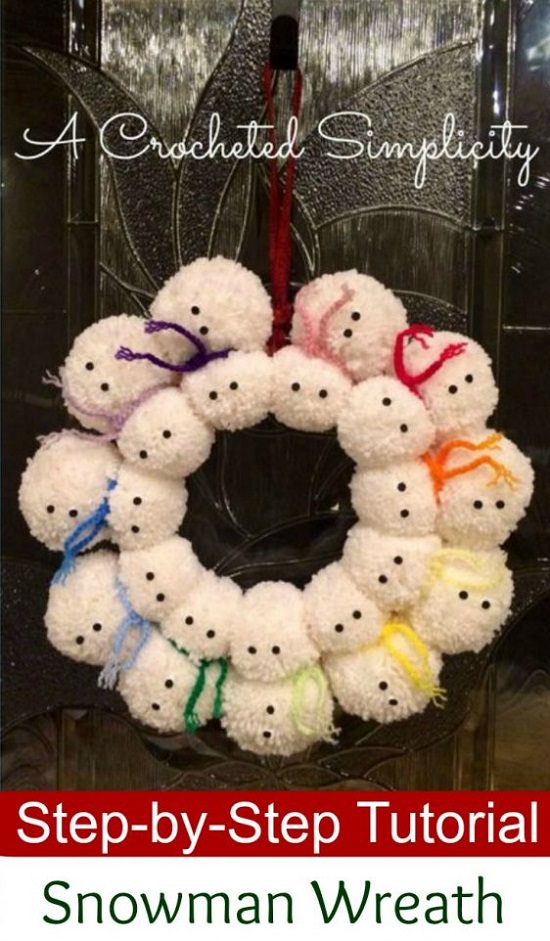 Now you don't need to wait for the snowfall to make a snowman. Here is the snowman wreath idea which is fun and easy.
18. American Flag Wreath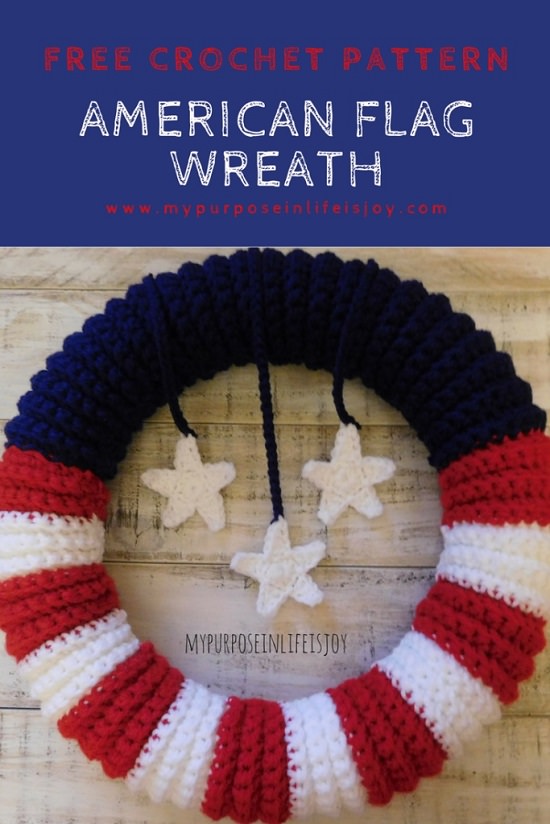 Make the wreath flag this summer. If you're not American, change the colors. We got the inspiration from here.