Try these amazing DIY crochet slippers that are really easy to make and gives a cozy and comforting feel to your feet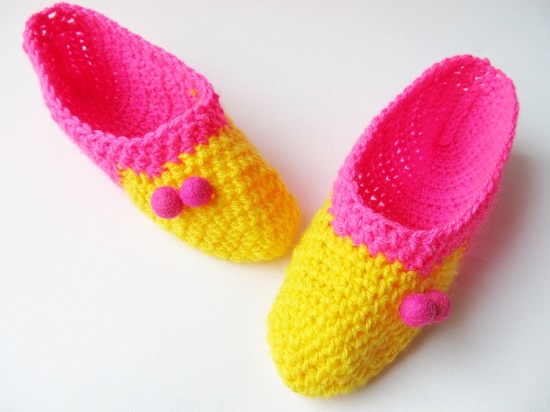 Required Materials
Yarn: worsted (any colors you like)
Hook: 4mm
Instructions
R1: Ch 2, 6 HDC in the second ch from hook. (6)
R2: 2 HDC in each sc around. (12)
R3: HDC 1, 2 HDC in next sc, rep 6 times. (18)
R4: HDC 2, 2 HDC in next sc, rep 6 times. (24)
R5: HDC 3, 2 HDC in next sc, rep 6 times (30)
R6-10: HDC around (30)
R11: Now, you're going to be working back and forth in ROWS. Ch 2, HDC in the same stitch and continue until you have 21 stitches, leaving 9 unworked. Ch 2, turn.
R12-R25: Change color (pink) at R13 and continue as R11
R26: Seam up the heel by putting the right sides together and slip-stitching from the top down to the bottom of the heel.
Now, in order to make your slipper snugger join your yarn at the center back of the slipper, above the heel. Sc into that same spot.
You're going to be working down the side of the HDC that make the foot of the slipper. Work sc stitches down the side, till you get to a corner.
At the corner, sc3tog (half of the last side HDC, and the first 2 HDC on the top.
SC into next 5 stitches, sc3tog (last 2 HDC on toe top and half of the first HDC up the next side and sc up the side towards the heel.
Note: In order to adjust the slippers to your shoe size, change the number of rounds 6 and 25.