These DIY Crochet Shrug patterns can give your boring attire an instant style boost! Check out our collection and try them today!
If you are an avid fashion follower and looking for some stylish clothing patterns, then these DIY Crochet Shrug ideas are for you! Not only these are easy to craft but also work as a trendy addition to your daily attire!
---
1. Crochet V Shrug

This V-shrug pattern by Rainbow Warrior vlog is surely going to inspire you to crochet one.  Its neutral gray shade matches with any solid-colored top!
2. White Summer Shrug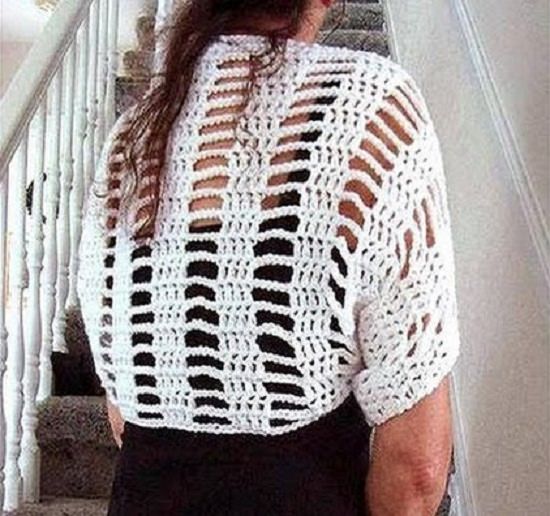 This shrug pattern, with its airy design, gives off a classic summery flare. Here, the crocheter has worked 21 to 24 rows and joined its ends together to form its sleeves.
3. Bolero Shrug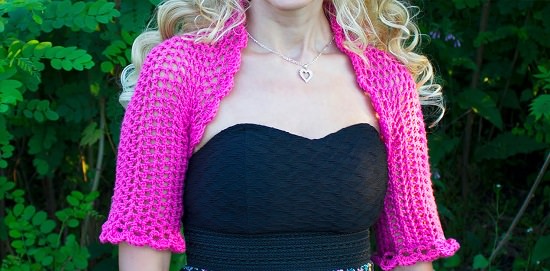 This bolero shrug, with a hint of girlish flare, can be a great fashion statement at any party! You can carry it as a shrug, cropped sweater or as a cardigan, options are endless.
4. Heklani Shrug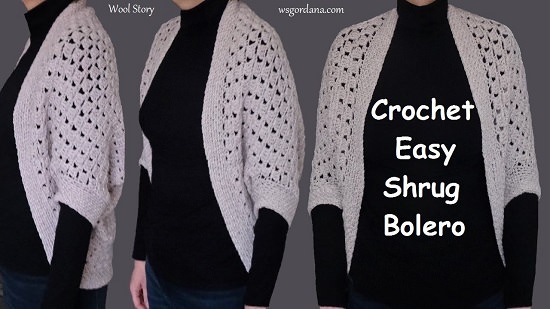 This DIY tutorial from Wool Story will guide you in crocheting it from scratch! It is one of the best DIY crochet shrug patterns on the list!
5. Summer Shrug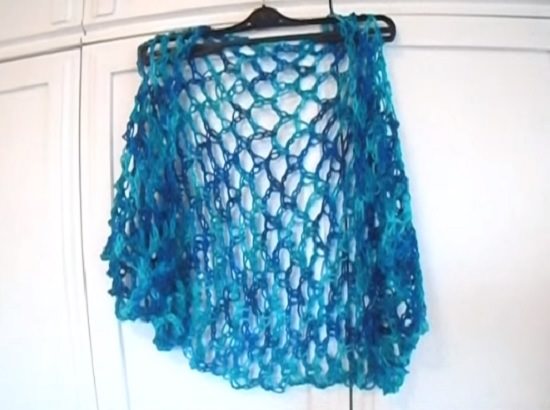 This shrug pattern, draped in the aquatic color tones, is an ideal wrap for any beach party. Here, the designer has used one skein of red heart super saver yarn and worked with different chain stitches as per the size requirements.
6. Spring Shrug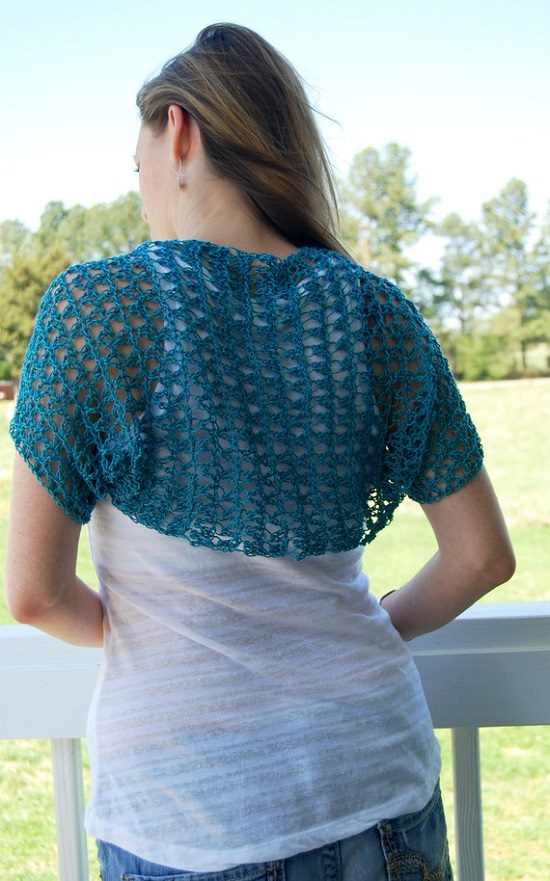 You can pair this graceful shrug with any spaghetti. For getting the same look, don't crochet too tightly, as its fascinating texture calls for a loose stitch.
7. Vintage Circular Shrug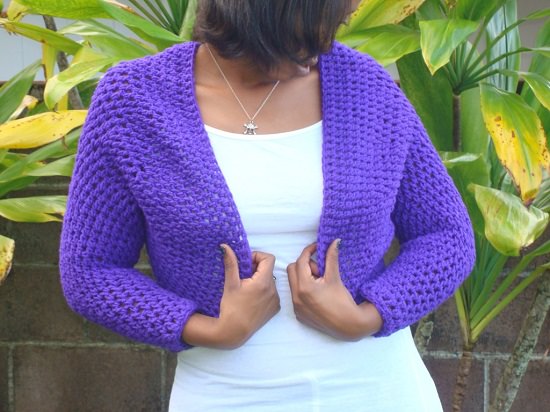 This circular shrug is made with the two halves, worked in the rounds, starting from the bottom of the sleeve up to the beginning of the shoulder.
8. Sassy Shrug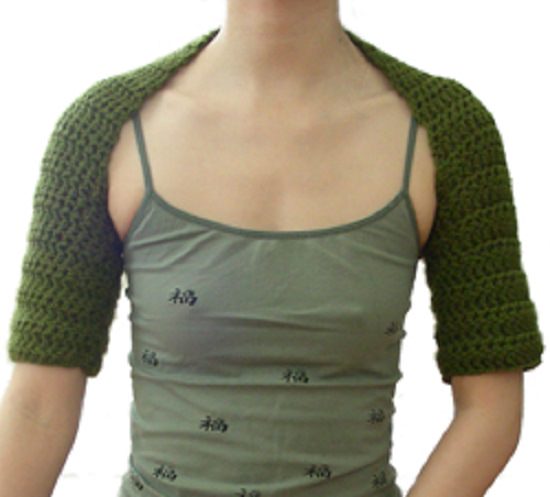 This crochet pattern, in the bold green shade, is a blend of simple yet sassy looks. This beginner-friendly shrug calls for a crocheted rectangle, whose ends have to be sewn up for making the sleeves.
9. Kimono Shrug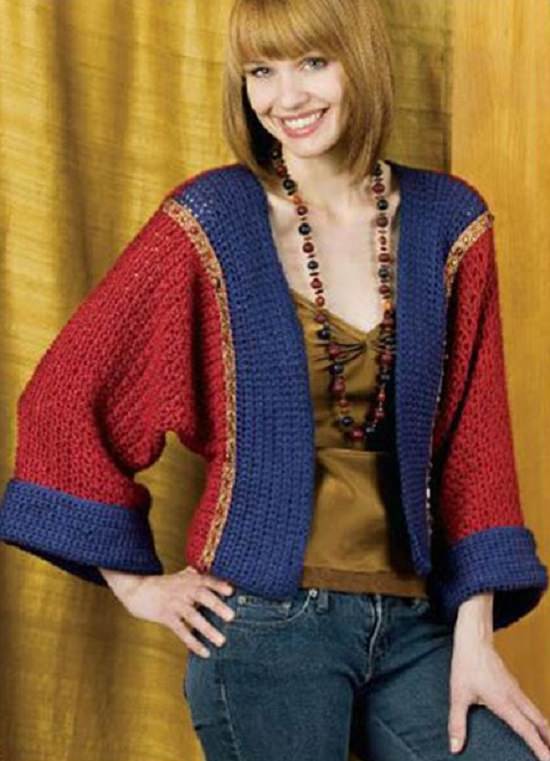 This multi-colored kimono shrug crocheted with a trendy outlook is going to be the best finishing touch to your ensembles. The look of this loose-fitting cardigan can be customized by tossing it with different color palettes.
10. X-Stitch Shrug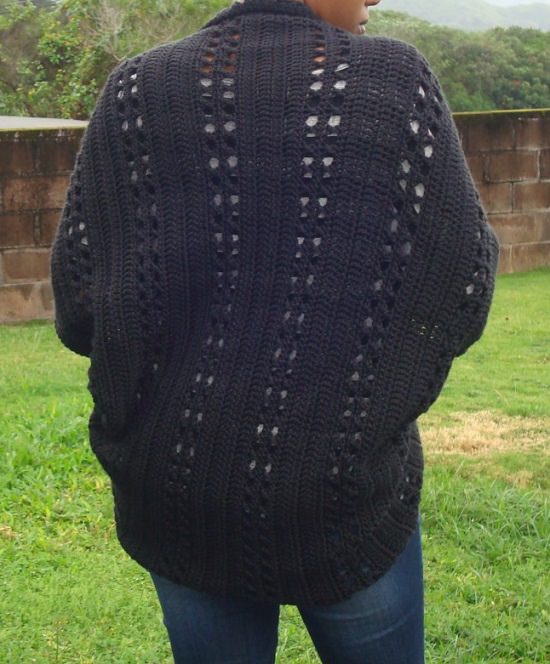 The long vertical lines crocheted using the x-stitches gives this shrug a tailored look. This shrug's motif is going to be really easy for you to make as well!
11. Paradise Shimmer Shrug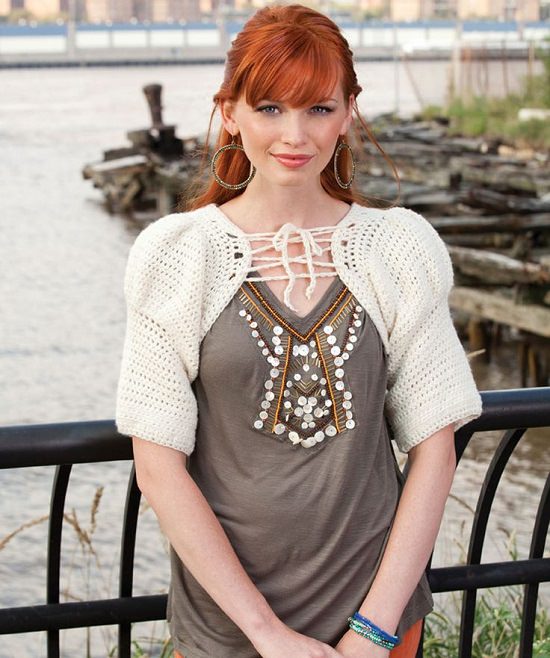 This shrug is worked in two parts, sleeves are worked in continuous rounds whereas the back is worked back and forth in rows.
12. Glam Girl Shrug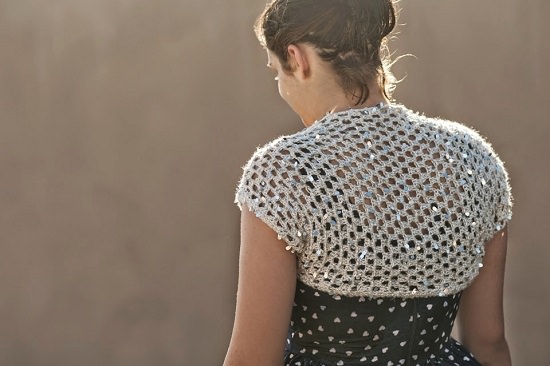 Searcing for something glamorous but not too fancy? This pattern is a must-try! It is one of the best DIY crochet shrug patterns on the list!
13. Granny Square Shrug Vest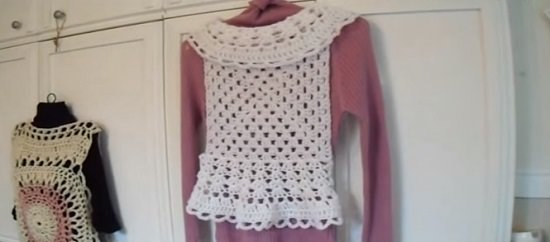 This shrug pattern is prepared using the granny squares. This tutorial will guide you on how to weave one.
14. Bolero Shrug Pattern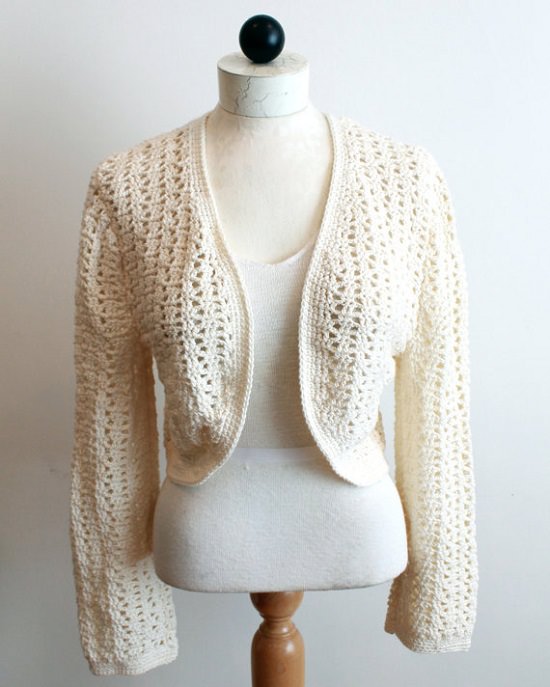 This classic pattern with a vintage look is an evergreen trend that is never going to go out of style!
15. Granny Shrug
This pattern is worked in rounds and a basic understanding of simple slip, chain and treble stitches is enough to craft this shrug.
16. Colossal Shrug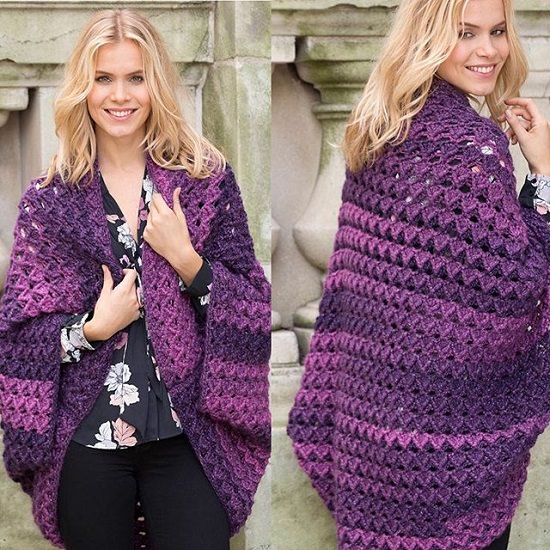 This gorgeous piece is made from a crocheted rectangle that is folded and seamed to prepare its armhole openings.
17. Navajo Blanket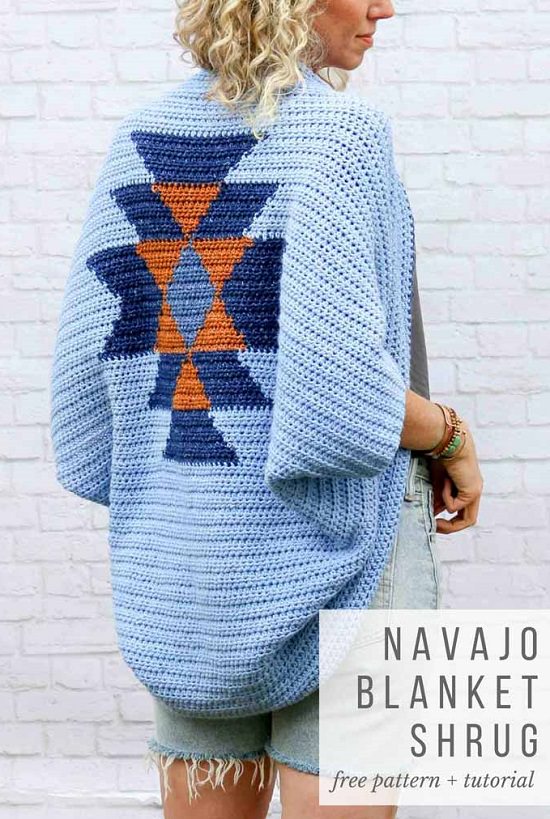 In this motif, the transition of colors is done in the middle of the rows using basic crochet stitches.
18. Cocoon Cardigan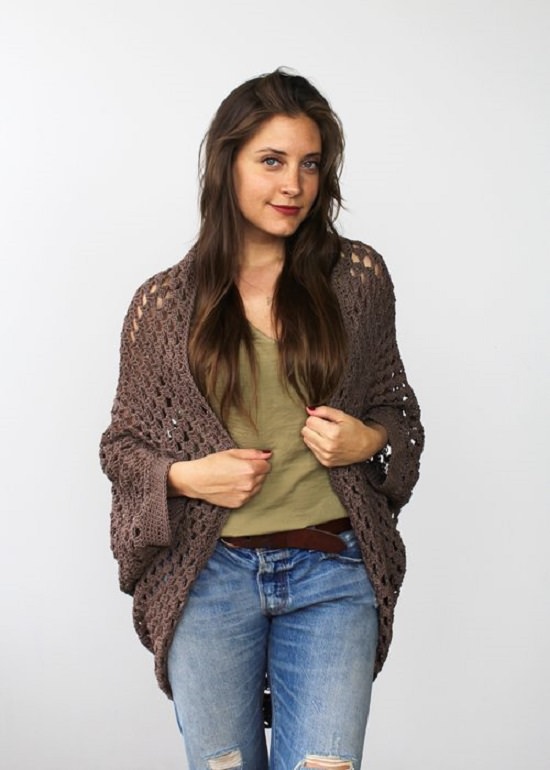 This shrug-style cardigan drape comfortably over the shoulders. Choose lightweight cotton for using it for summers or pick the chunkier wool to beat the freezing air of winters.
19. Modern Granny Shrug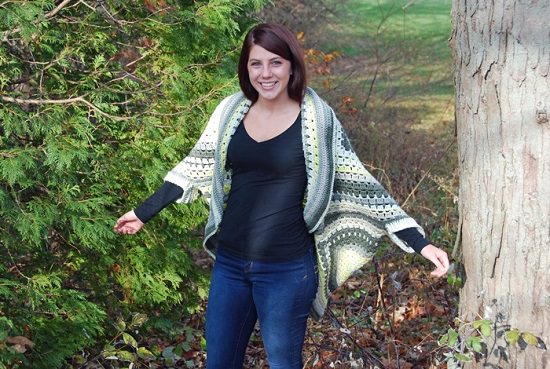 This shrug, with a hint of granny squares, is a fun way to play with your own colors! Customize it further as per your own taste!
20. Starlight Shrug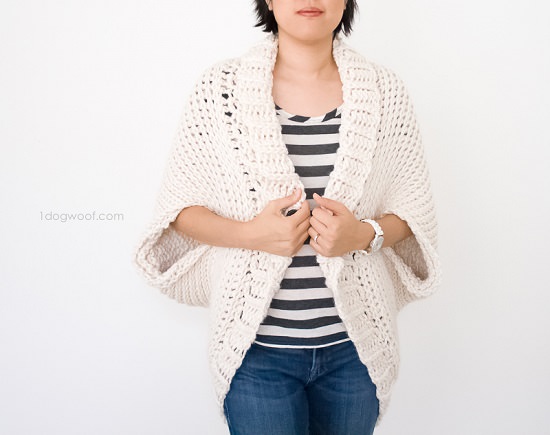 This starlight shrug, exhibiting a unique texture, can be a fabulous addition to your wardrobe! The designer worked through Tunisian Crochet which is a mix of crocheting and knitting.
21. Collared Cocoon Shrug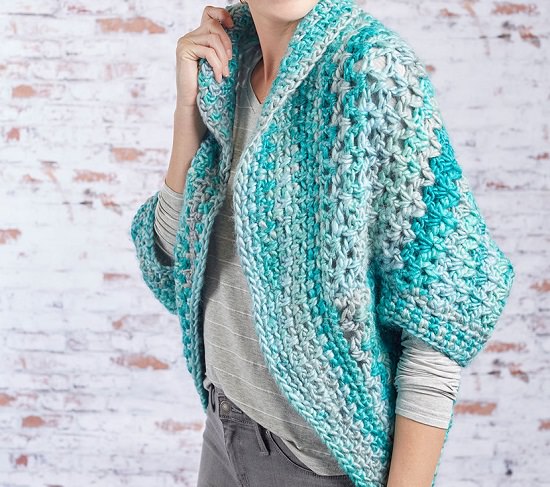 The cocoon layout, collar look, and the amazing colorwork makes it stand out from the rest. More details here!
22. No Seam Shrug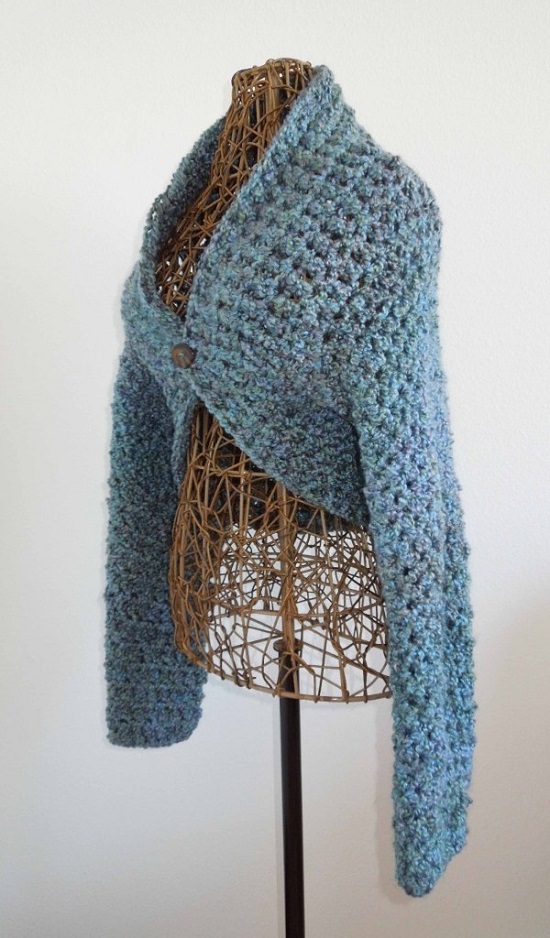 See the full tutorial of this exclusive design that can be paired with a variety of dresses, here on thepaintedhingetutorial blog.
23. Ribbed Shrug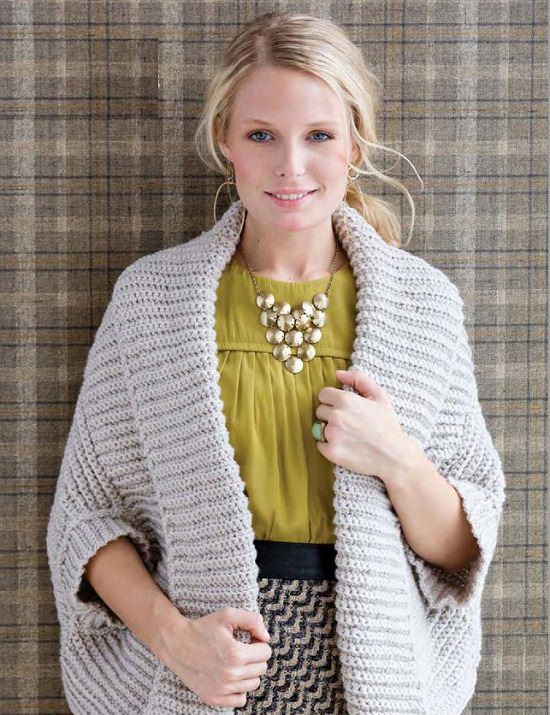 This ribbed shrug is made of four pieces, one large, one small rectangle, and two armbands.
24. Self Striping Granny Cocoon Cardigan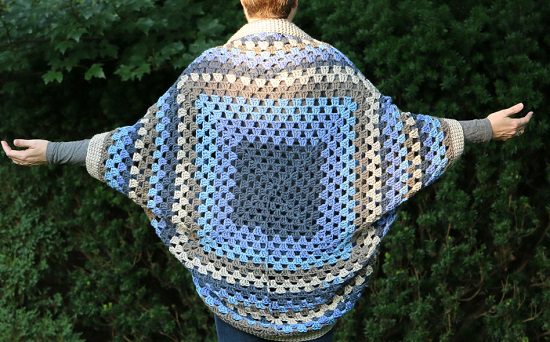 This self-striping cardigan, with the cocoon layout, showcases an array of concentric squares that are beautifully worked using complementary shades of three blues and two grays.
25. Cocoon Cardigan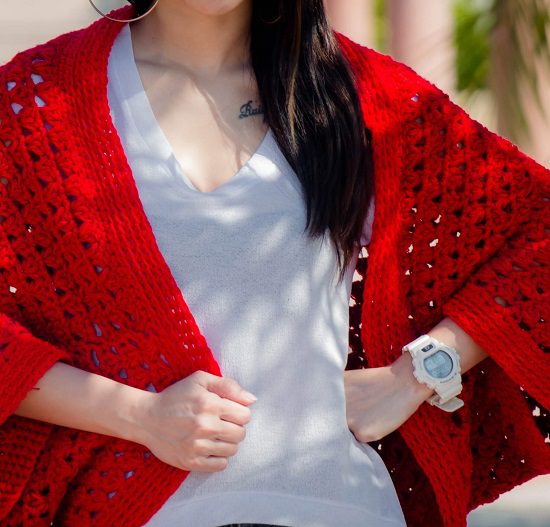 The fabulous triangle stitch used for crocheting this red beauty carves a wonderful lacy texture on it. This cardigan is made from one piece of the rectangle, using two skeins of acrylic yarn.