Rings make a perfect accessory for women of all ages and these exclusive DIY Crochet Rings ideas are the best you can find!
If you are bored with the same metallic rings and searching for a different and stylish alternative, then these DIY Crochet Rings accentuated with unique motifs, are going to grab your attention for sure!
---
1. Multicolored Rings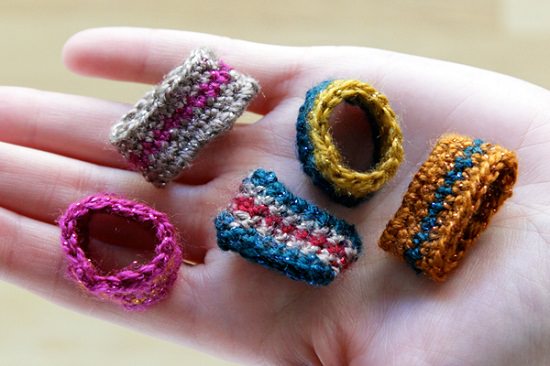 Reuse the leftover yarn from your stash to make these cute ones! These funky rings are fun to craft and can be completed within a few rows.
2. Thin Rings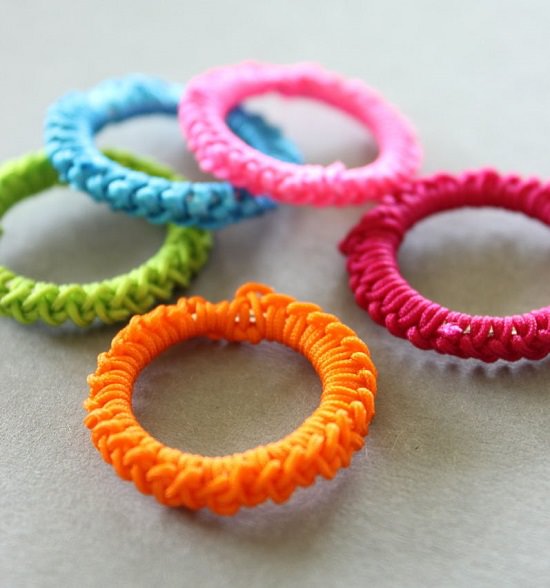 Give your fragile fingers a matching accessory with these rings, draped in colors of the rainbow! This is one of the best DIY Crochet Rings Pattern on the list!
3. Teething Ring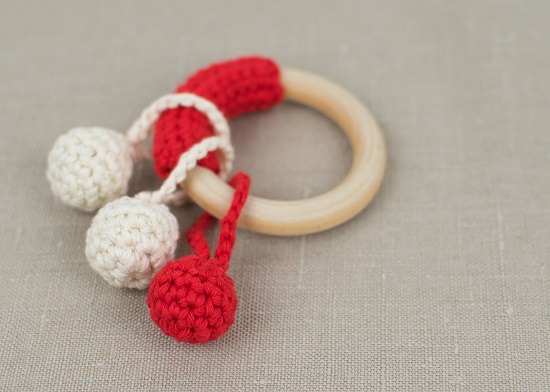 For crocheting this pattern, you must be familiar with ch, sc, sc2tog, and magic ring stitches. More details at Crobypatterns.
4. Soft Touch Rings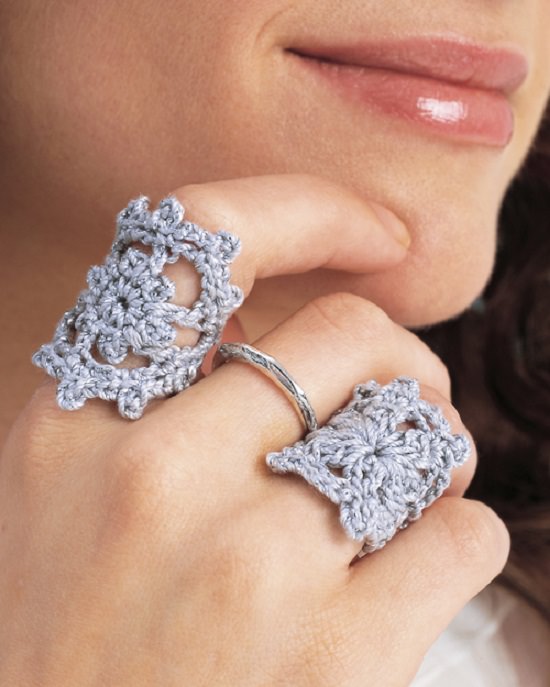 This crochet pattern involves clusters and picot stitches that carves out a fascinating texture.
5. Flower Ring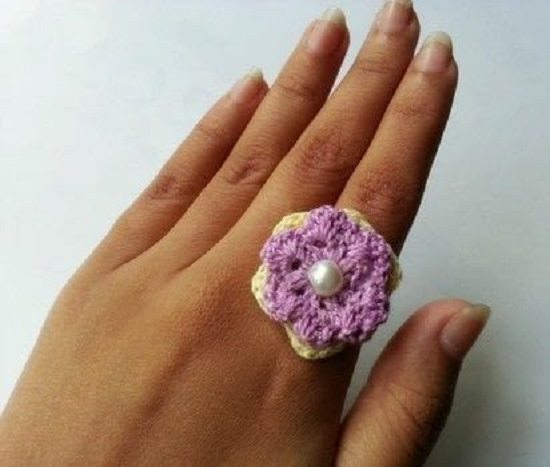 This ring is prepared with two flower appliques with complementing colors. It is easy to craft, and any newbie crocheter can weave it easily!
6. Ruffle Ring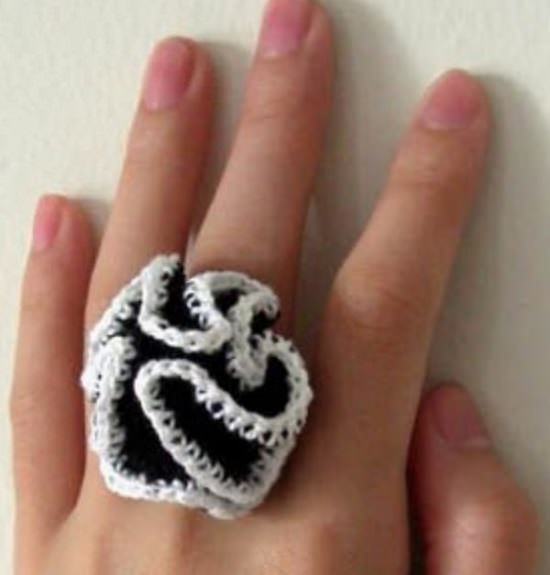 If you are searching for any ring motif that matches with any outfit, then this ring pattern is it!
7. Bunny Ring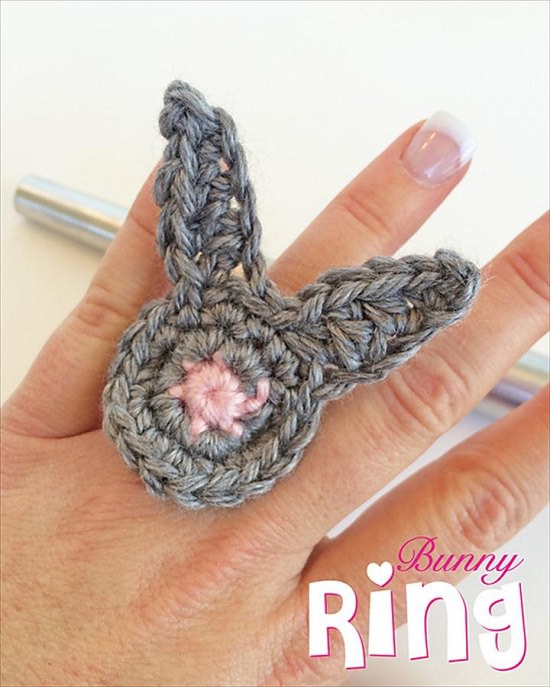 Let your tiny daughter mark her fashion statement by crocheting this bunny motif ring for her!
8. Bow Ring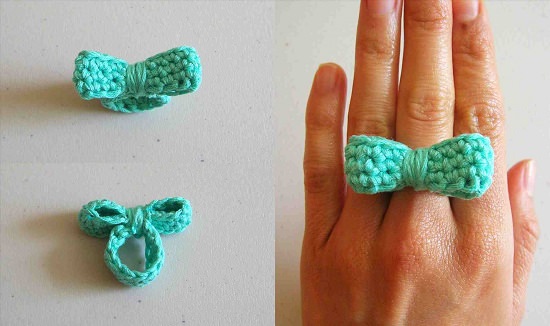 The bow motif is an evergreen fashion accent that can be added on hats, shoes, hairpins, or even on rings. Head on to this blog from CutOutAndKeep for more details! This is one of the best DIY Crochet Rings Pattern on the list!
9. Flower Rings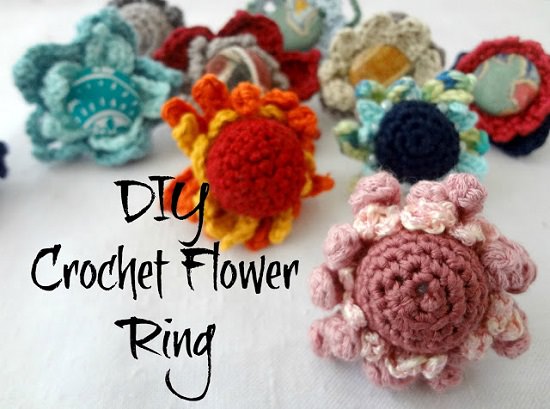 In this craft, crocheted flowers are stacked on top of each other, and then the bead is added. All the layers are sewn together then this flower applique is finally glued with the ring.
10. Harvest Button Napkin Ring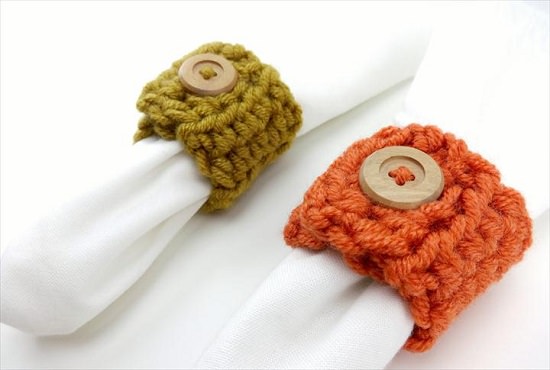 These rings are for keeping the napkins bundled up. Head on to this vlog from FiberFlux for crocheting a similar napkin ring adorned with functional buttons.
11. Pretty Flower Ring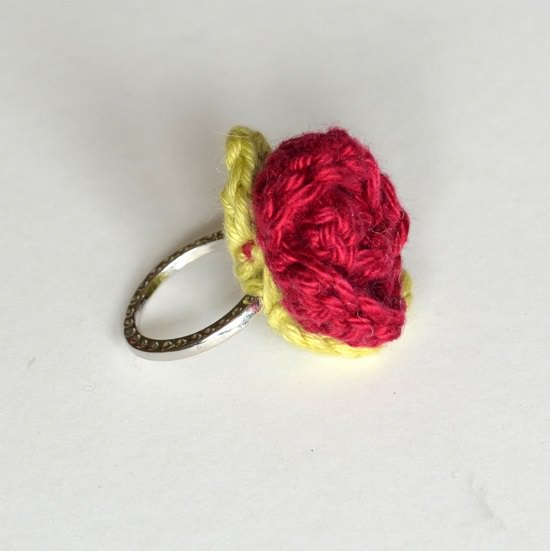 What a beautiful concept to turn a regular ring into a floral motif! If you love this, head on to this tutorial from popsdemilk for imitating this craft.
12. Little Hook Ring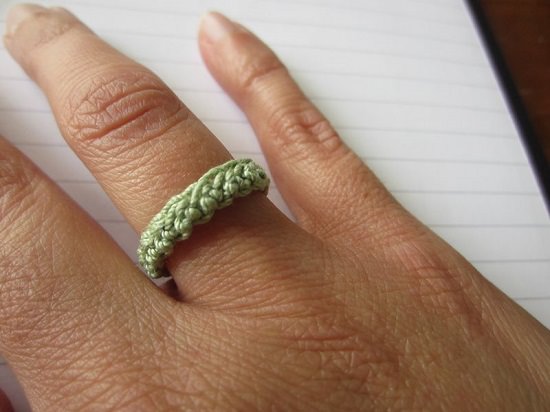 Girls who love trying different accessories would surely love to include this ring in their jewelry collection.
13. Sculpted Rings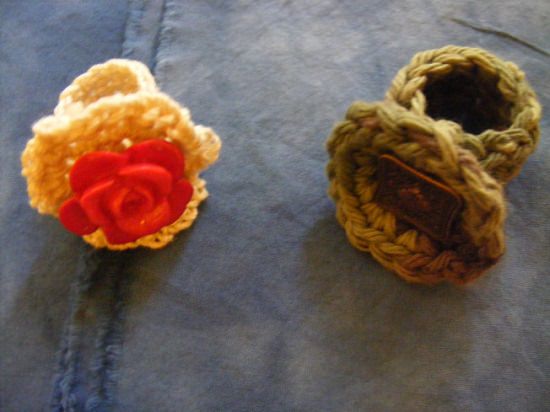 If you usually avoid ring as it leaves marks on your fingers, then you can make these carved rings using soft yarns that no longer give you any nasty marks.
14. Rose Ring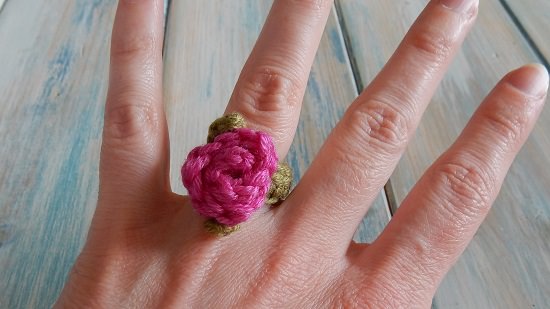 This bicolor rose ring can be easily made using this video tutorial from HappyBerryCrochet. This is one of the best DIY Crochet Rings Pattern on the list!
15. Linked Teething Rings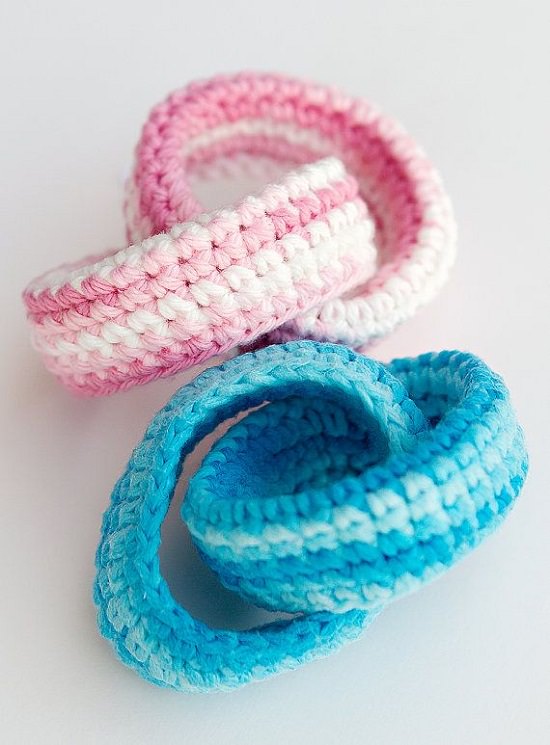 This crochet teething ring craft can be a great gift! It is prepared with organic cotton without any strings or fuzzes, hence making it safe for toddlers.
16. Big Flower Ring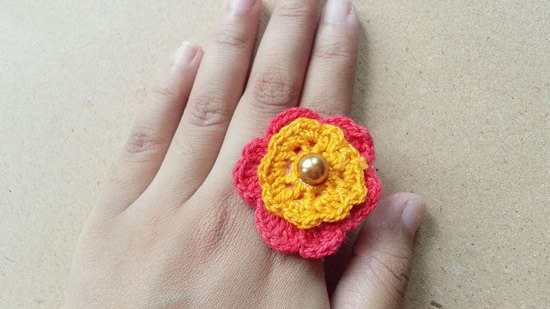 This fabulous craft is prepared using two crochet flower applique, blank ring, bead, and glue. Go through this video tutorial for copying this floral ring idea.
17. Cotton Rose Ring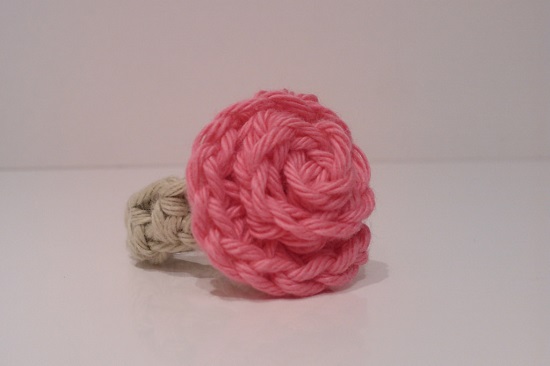 Prepared with hdc and chain stitches, this versatile ring is going to express the same story.
18. Thread Rose Ring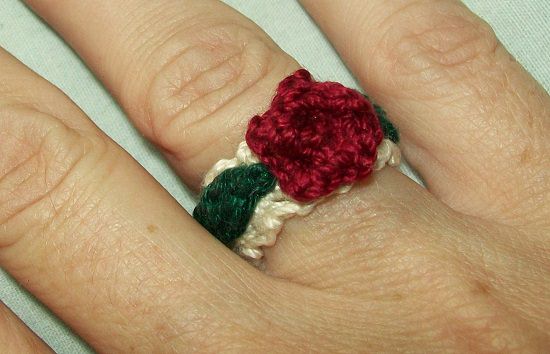 Apart from making a bold statement, this handmade craft is going to stun everyone with its minimalistic design!
19. Doily Rings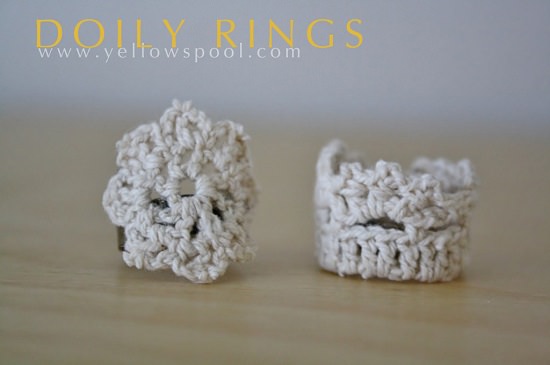 The incredible thing about these innovative doily rings is that you can achieve two different patterns from the same ring!
20. Signet Ring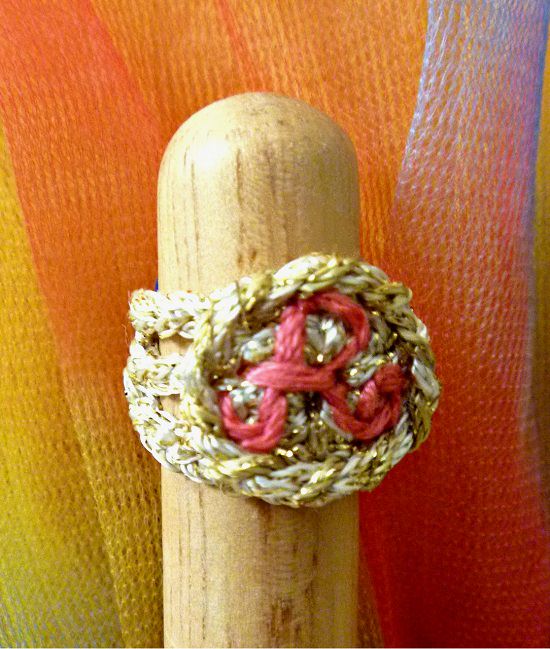 If you are fond of signet rings, then you are going to love weaving this one with your favorite signet.
21. Pumpkin Napkin Rings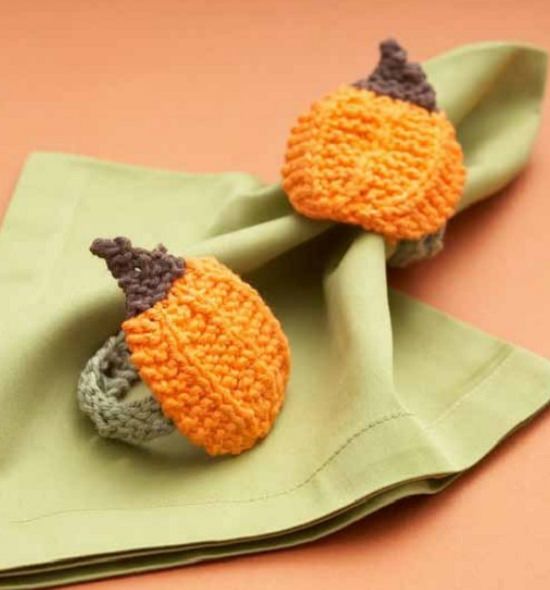 Crochet a napkin ring accentuated with pumpkin shape using this tutorial. This is one of the best DIY Crochet Rings Pattern on the list!
22. Shamrock Ring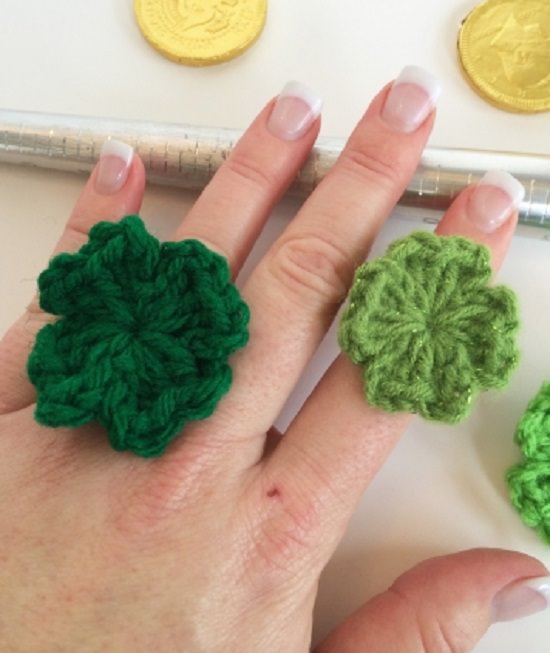 For crocheting this ring, you should be familiar with the chain, double crochet, triple crochet, slip stitch, and magic ring stitches.
23. Christmas Tree Ring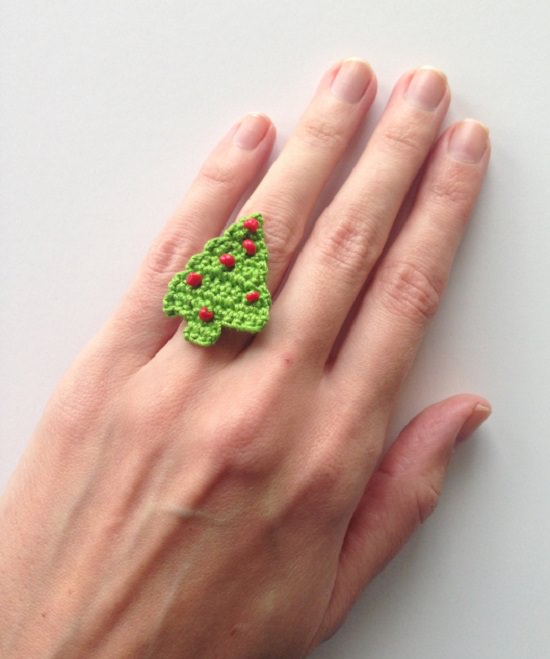 Wrap your fingers with a theme-based ring! It is worked in rows and crocheted using a basic chain, single crochet, and beaded single crochet stitches. More details here!
24. Chrissy Cupcake Ring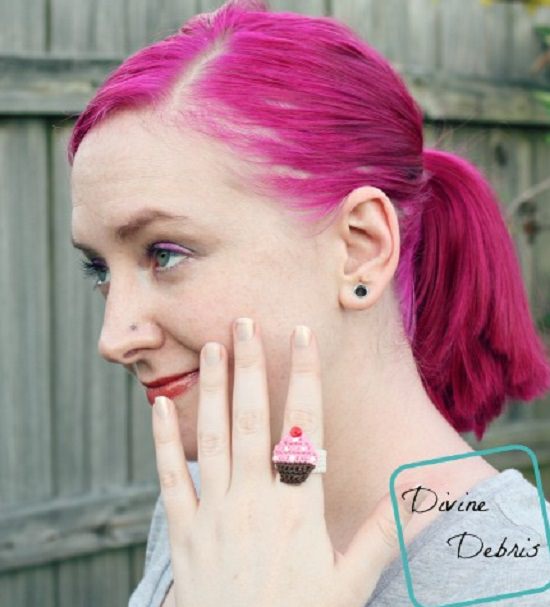 This ring pattern is worked in two parts, the cupcake and the band. As a finishing touch, you can add sprinkles to it.
25. Blue Rose Ring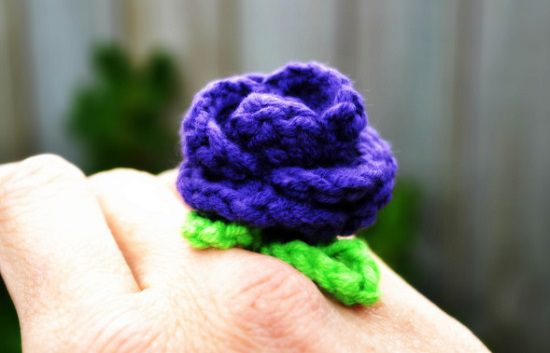 The ring is an essential accessory that any lady can wear all the time, and crocheting it yourself makes it more exciting. Head on to this blog for copying this ring craft.
26. Cube Rings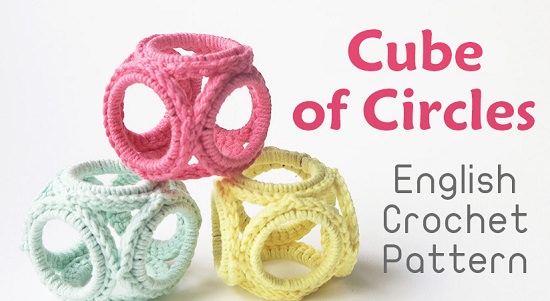 This crochet cube project is fun to craft! For each cube, you are going to need six plastic rings from the similar-sized water bottles.