Looking for some stunning planter patterns to crochet? Look no further! Here are some exquisite hanging DIY Crochet Planter patterns for you!
Blend the essence of nature with your crochet love for stitching some adorable crochet planters. This list showcases the best DIY crochet planter ideas that can redefine the look of your plants, making them look more beautiful!
---
1.DIY Crochet Hanging Planter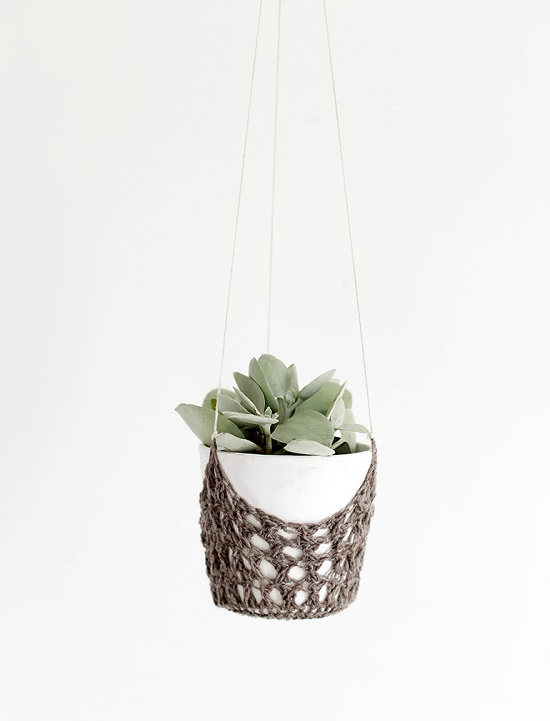 Choose cotton yarn or cord as per your convenience for crocheting this planter.
2. DIY Succulent Planter with Crochet Holder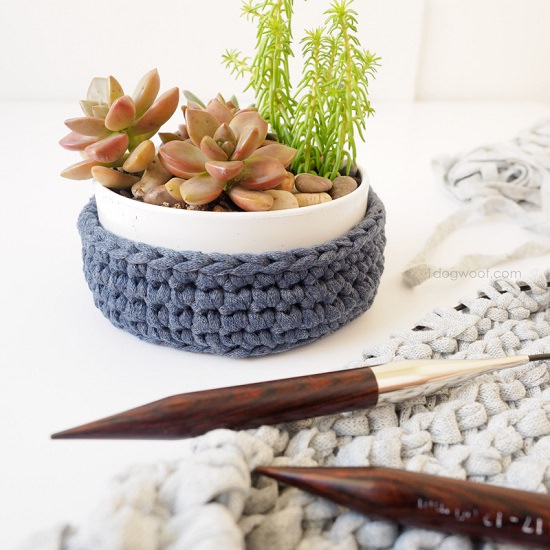 If you need a shallow and wide bowl cover, then this pattern is going to do the trick!
3. DIY Hanging Crochet Plant Holder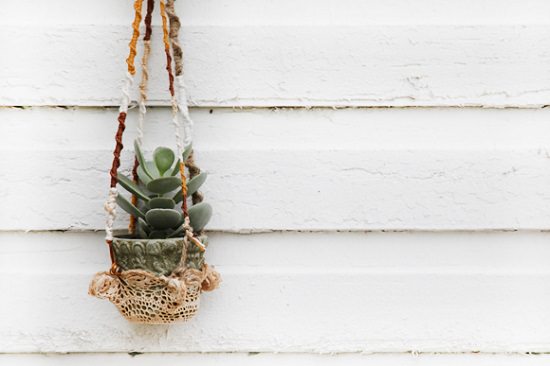 This plant holder calls for a crocheted doily, twine, plant holder, along with your plant to grow in it.
4. How to Crochet a Flower Pot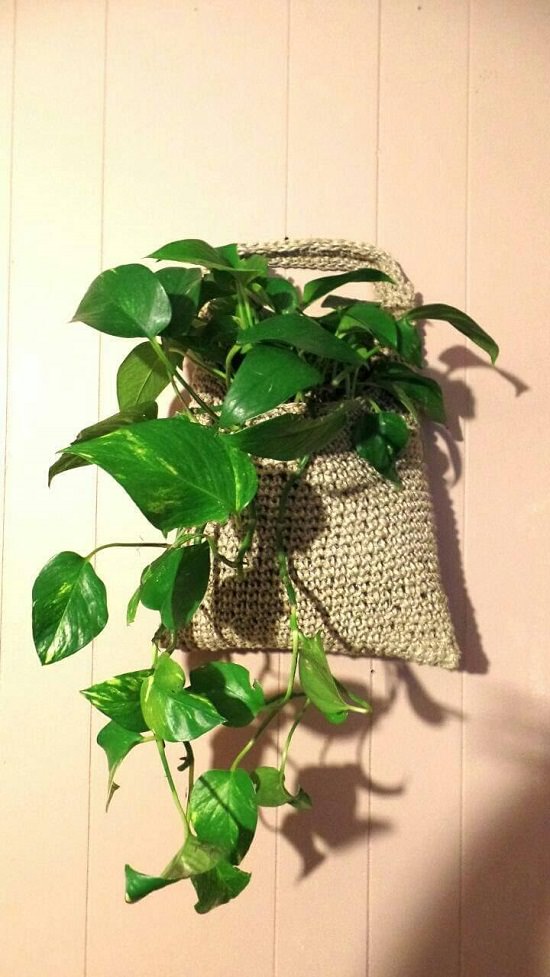 Head on to this vlog for crocheting this pot that you can suspend on any wall.
5. Crochet Plant Hanger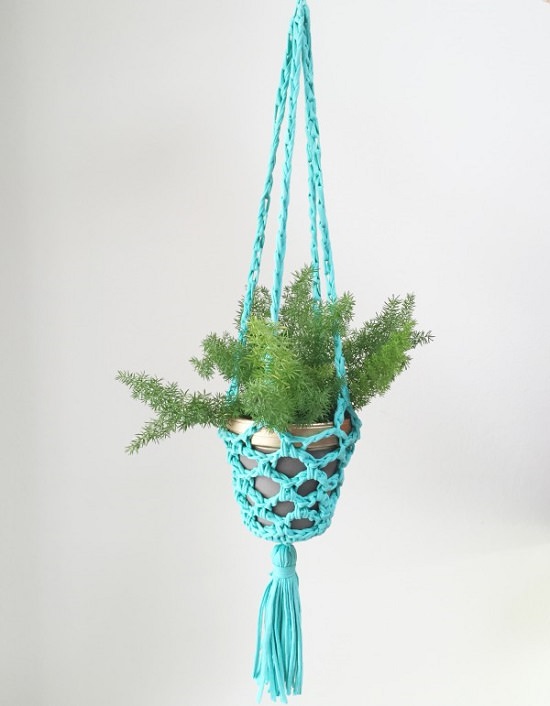 Crocheter recommends picking either t-shirt or jersey yarn of turquoise color along with a 12mm size crochet hook for this hangable planter craft.
6. Couch Craft Crochet Spiral Pattern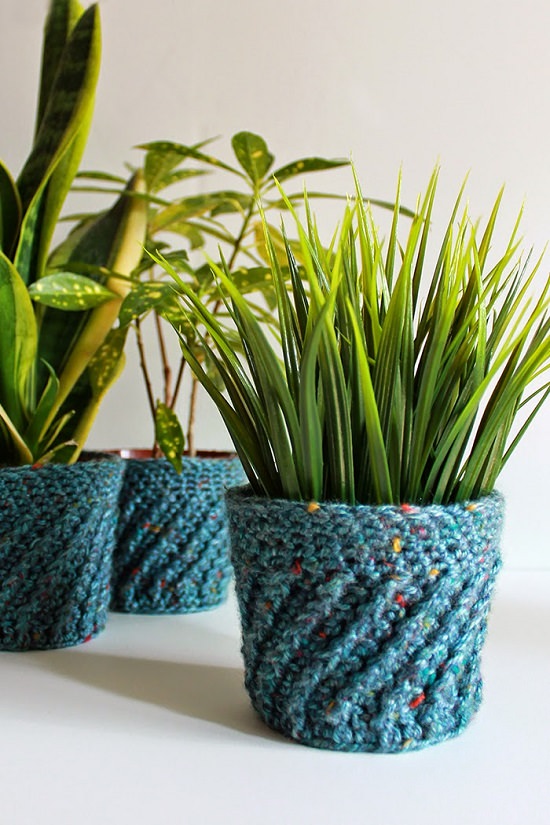 This spiral planter has a mix of rise and rounds, and can be worked in a jiffy!
7. Herb Plant Crochet Pot Holder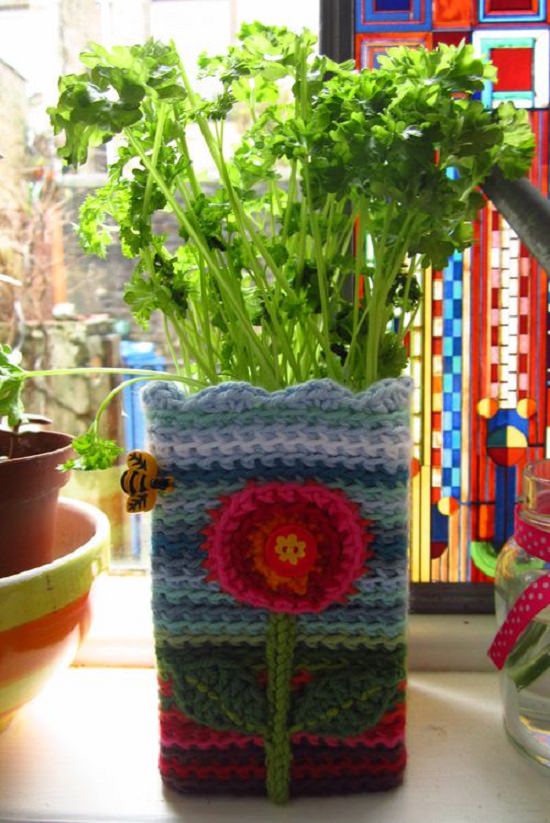 Turn a carton into a herb pot by wrapping it with an eye-catchy crochet planter. Copy this idea by taking inspiration from this blog.
8. Crochet Vase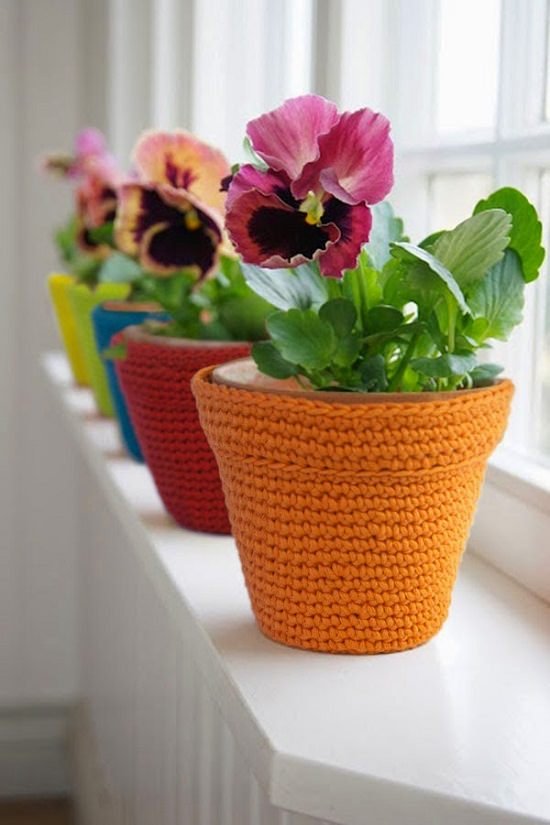 This crochet planter pattern is a great way to add a colorful touch to vases and containers. This craft is suitable for all beginners and experienced crocheters alike!
9. Knitted Flower Pot Cover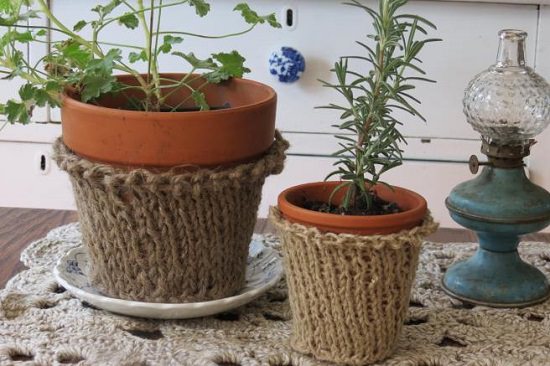 This pot cover is made using a heavy-duty jute string, and its motif calls for circular knitting technique. The layering of curled loops cast off a beaded effect around its edges.
10. Hanging Plant Basket Free Pattern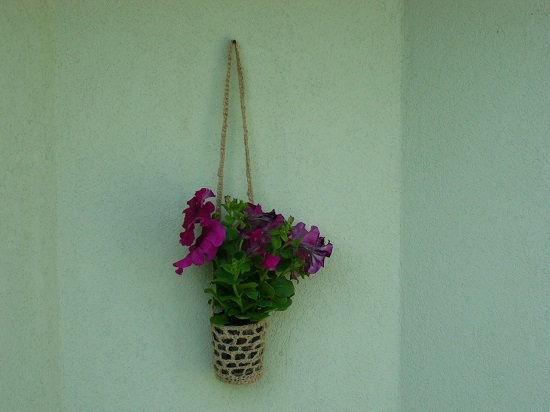 Worked in rounds, this pattern requires only a small amount of natural yarn from your stash.
11. Hanging Baskets on Dowel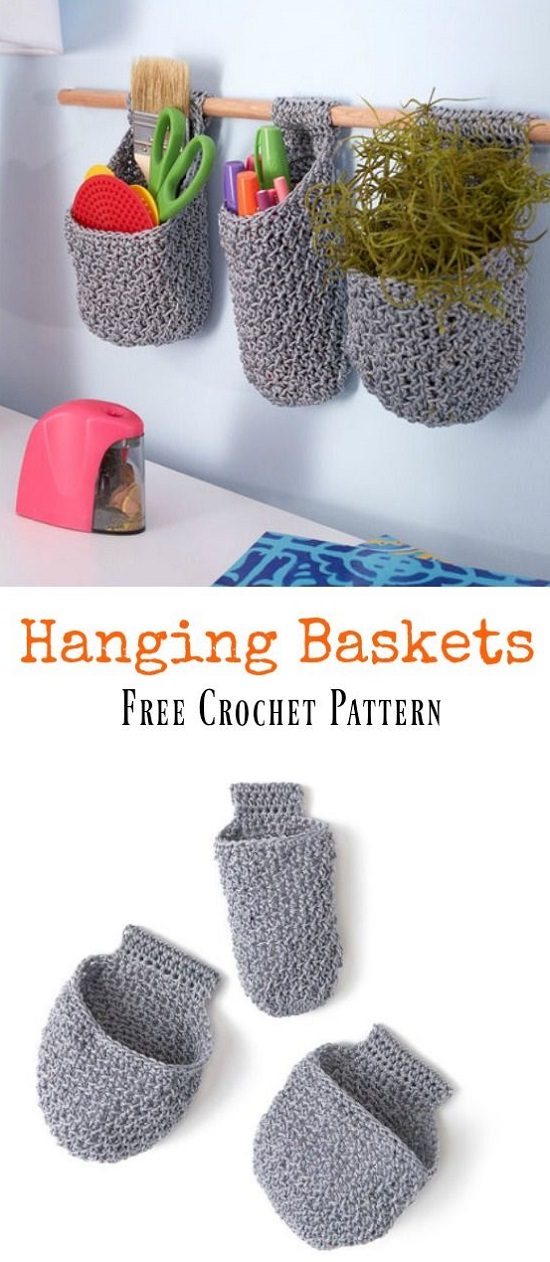 Apart from working as a plant holder, these neutral-hued crochet baskets, hanging on a dowel, offer a decorative accent to any home. Its free pattern is available on YarnInspirations.
12. Hanging Pot Holders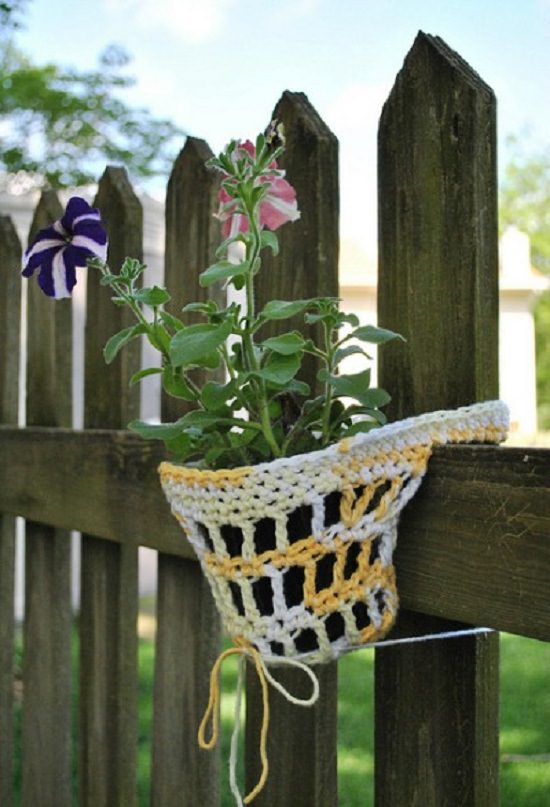 This hanging pot holder can be made just using the leftover yarns at home!
13. Crocheted Pot Covers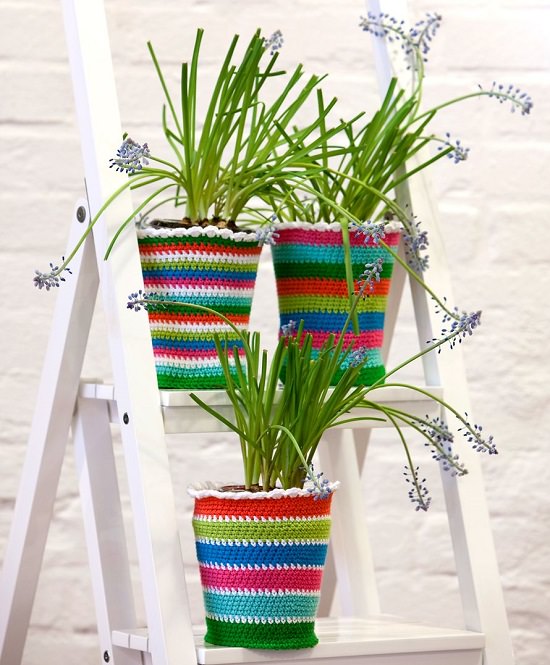 These color covers with rainbow stripes can completely revamp the look of any pot! The designer has shared three patterns corresponding to each self stripings.
14.  Spring Bunny Crochet Planter Cover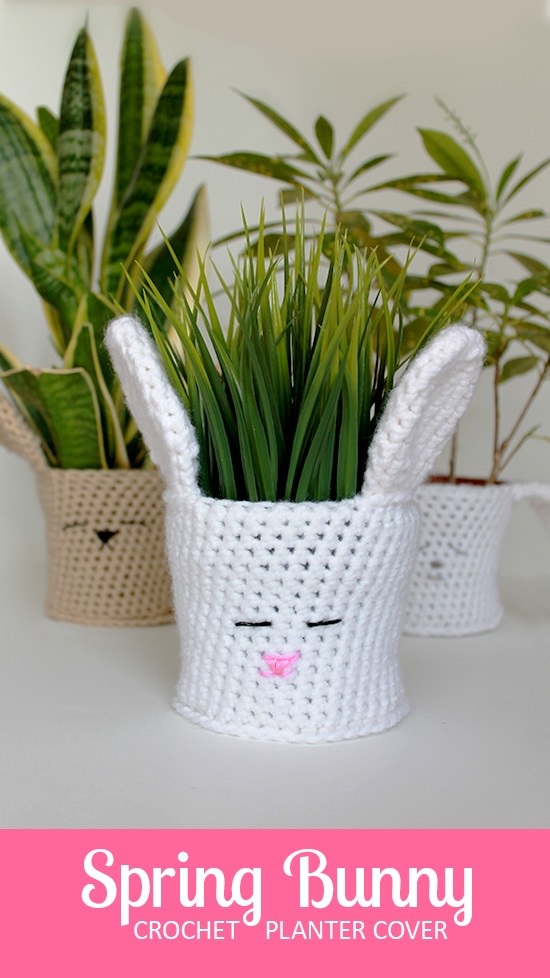 The cute ears of this bunny pot cover are not just showy but help in handling the pot as well. If you know basic hdc, sc, dc, and slip stitches, then this pattern is quite easy for you!
15. Ribbed Basket Crochet Pattern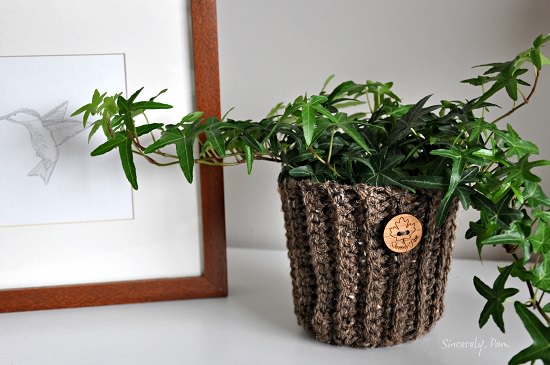 If you are looking for an easy and attractive cover, this pattern is it! This ribbed basket, embellished with a vintage button, works up within an hour.