Want to give your laptop's bag a personalized look? These wonderful DIY Crochet Laptop Cases ideas are the best way to do it!
If you are thinking to crochet a gift for your techie friend, then a laptop sleeve is going to be a great idea! Go through these DIY Crochet Laptop Cases patterns to crochet one for you!
---
1. Laptop Sleeve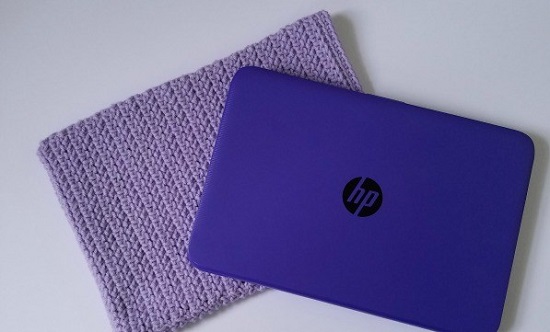 Crochet one for your laptop using ch, hbhdc, yo, slip, sc, and blo stitching techniques. Take inspiration from TheUnraveledMitten blog for further details.
2. V Stitch Sleeve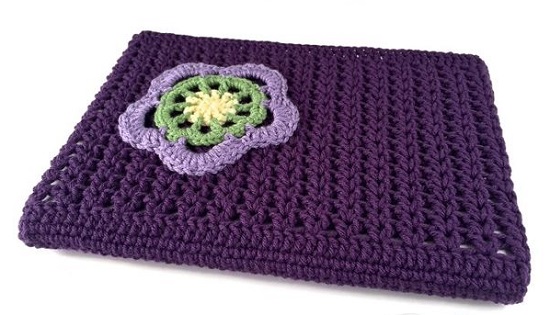 If you are always worried about your laptop like it may be nudged, bumped or even dropped, then this V-stitched sleeve with floral applique is the perfect way to protect it!
3. Easy Laptop Case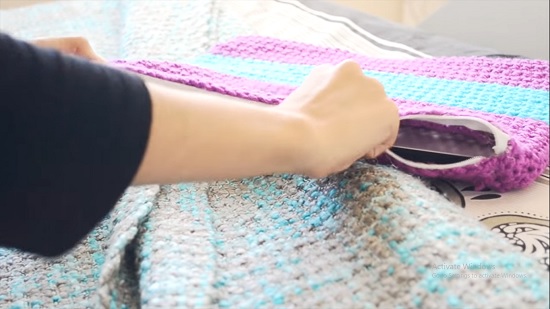 If you are thinking to crochet a gift for your techie friend, then no other accessory can beat this case! Just head on to this MissCraftNerd tutorial for creating this craft.
4. White Laptop Sleeve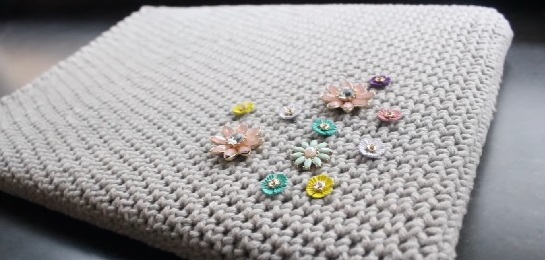 The floral layout on this neutral shade sleeve is the best way to keep your laptop safely covered while showing off your personal styling sense. More details here! It is surely one of the best DIY Crochet Laptop Cases and Sleeves on the list!
5. Knitted Laptop Sleeve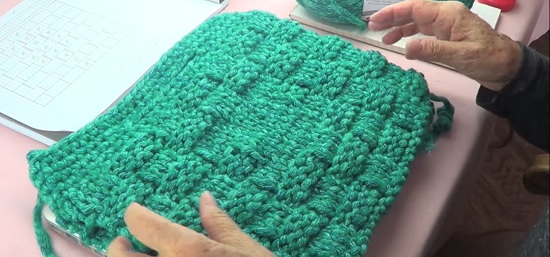 In this tutorial, the designer has explained through charts so you can crochet similar laptop sleeves with the appropriate measurements for yourself.
6. Laptop Bag Case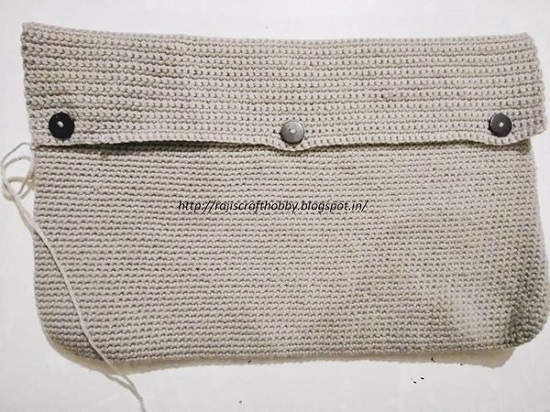 This sleeve pattern involves basic single crochet stitches, and no complex ones are engaged here. So, even if you are a novice in the world of crocheting, still you can prepare it easily.
7. Colorful Laptop Case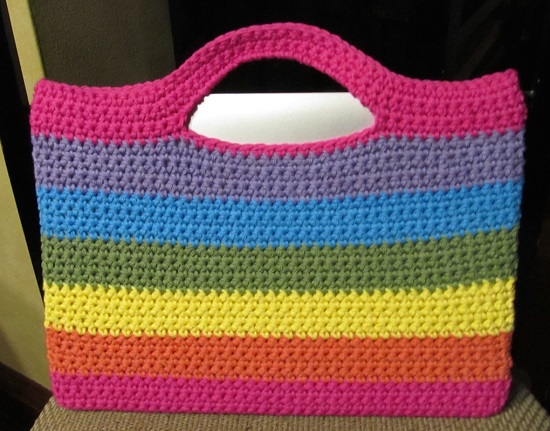 What makes this color drapey laptop sleeve stand out from the rest is its color and handle, so that you can feasibly carry it anywhere. Depending upon the sizing, you will have to determine how many base chain stitches to be engaged.
8. Cherry Blossom Laptop Sleeve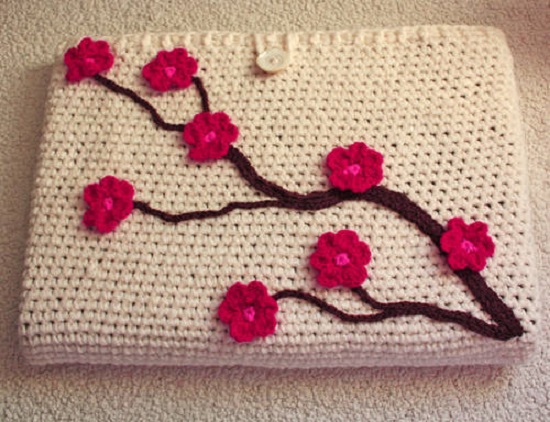 This laptop sleeve version is a bonus for everyone who appreciates a fine craft. This layout with a pink floral layout can also be a great gift, making it one of the best DIY Crochet Laptop Cases on the list!
9. Soft Touch Laptop Case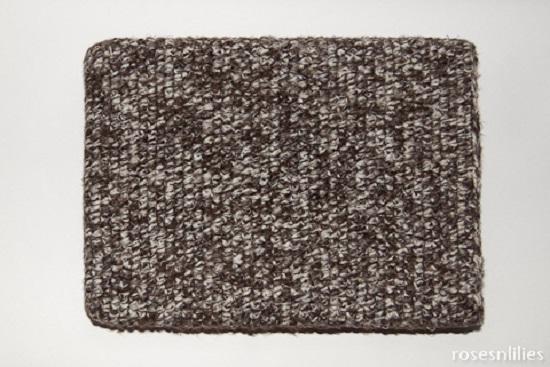 The motif of this laptop sleeve is worked in rows and uses basic stitching techniques including chain, single crochet, and slip stitches.
10. Rainbow Bobble Laptop Sleeve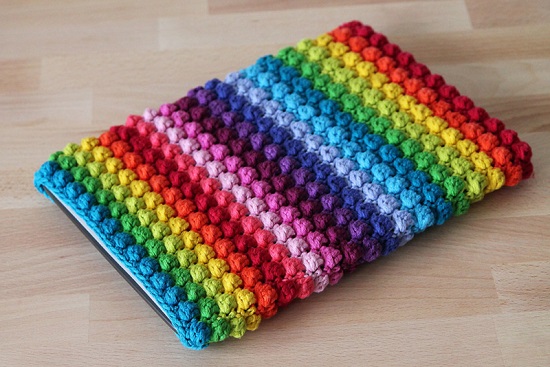 The bobble stitching engaged here imparts a stretchy texture to this sleeve, making sure that your tablet is safe. The crocheter has fused multiple colors in this sleeve using the chain, sc, ss, and bobble stitching.
11. Mustache Laptop Case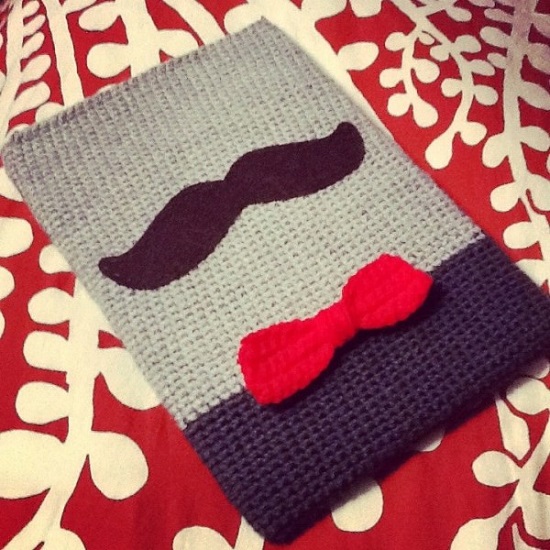 Make your computing devices look manly by crocheting a stylish cover for them. The funky layout and contrasting color palettes assigned to this sleeve elevate its appearance even more!
12. Basket-Weave Laptop Sleeve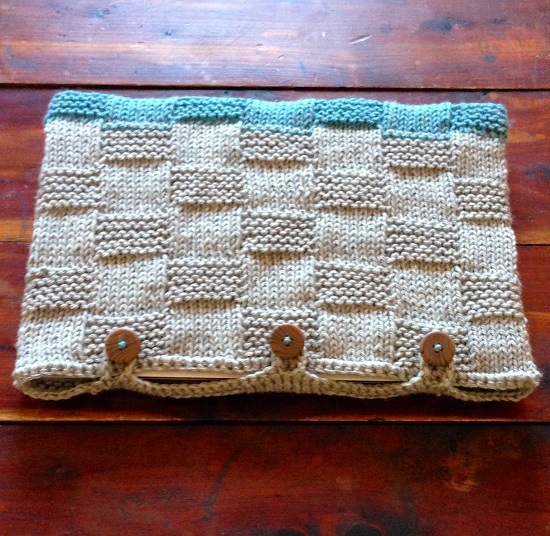 If you want to keep your laptop safe and scratch-free, then this intrigue textured laptop sleeves embellished with vintage-like functional buttons is going to do the trick for you.
13. Striped Laptop Case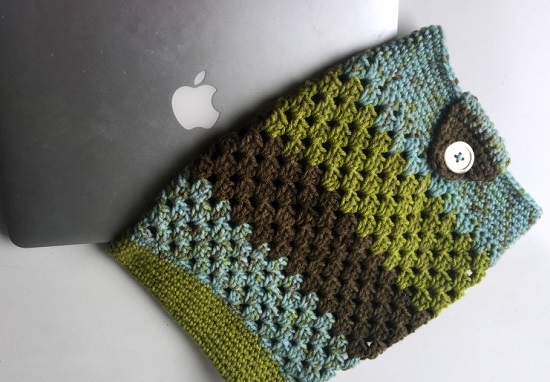 The top and bottom portion of this sleeve are worked with single crochet, to give it a sturdy texture, whereas its bottom is worked with granny stripes. You can even customize its length by adding rows of the granny stitch.
14. Multicolor Laptop Case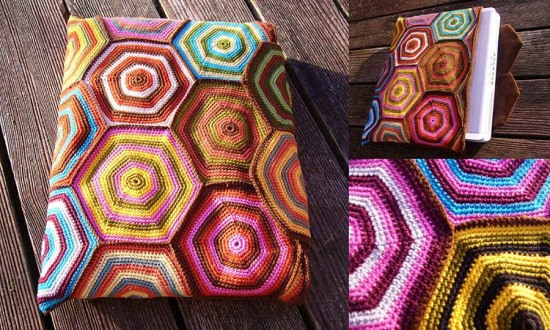 Any crocheter, who is fond of a hexagonal motif, is surely going to appreciate the beauty of this case. The colorful palettes on the hexagonal structure make this sleeve pattern beautiful!
15. Waterfall Laptop Case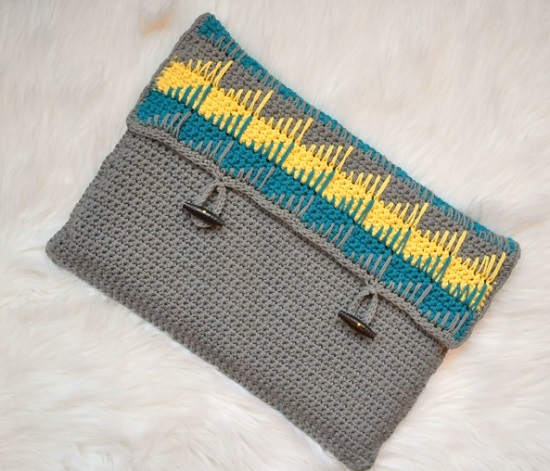 The tricolor combination along with the zigzag motif adds timeless beauty to this crocheted laptop sleeve. Here, the crocheter has used sugar n cream yarn in yellow, teal, and overcast shades.
16. Summer Breeze Laptop Case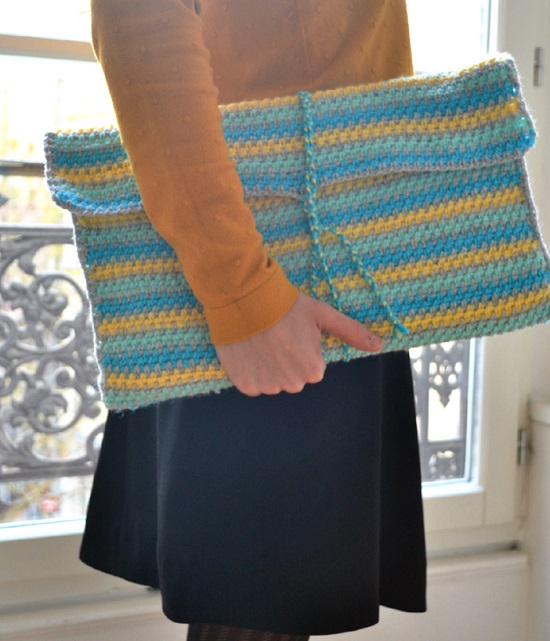 The color tones used in crocheting this laptop sleeve are going to remind you of summery days on the beach. Apart from slip stitch, this beachy laptop sleeve engages moss stitching for getting a pronounced look.
17. Twin Color Cover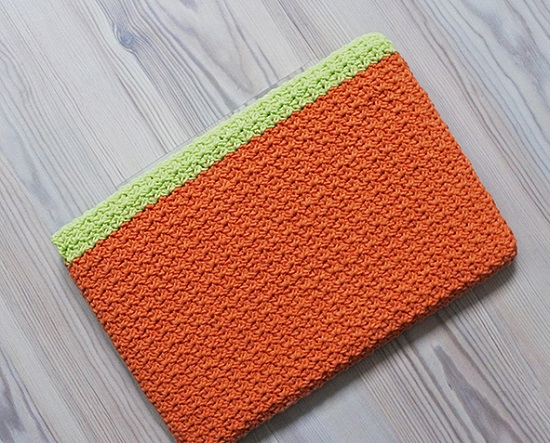 What an amazing fusion of colors! The designer has picked green, grey, and orange colors and weaved them by working row-wise.
18. Chevron Laptop Case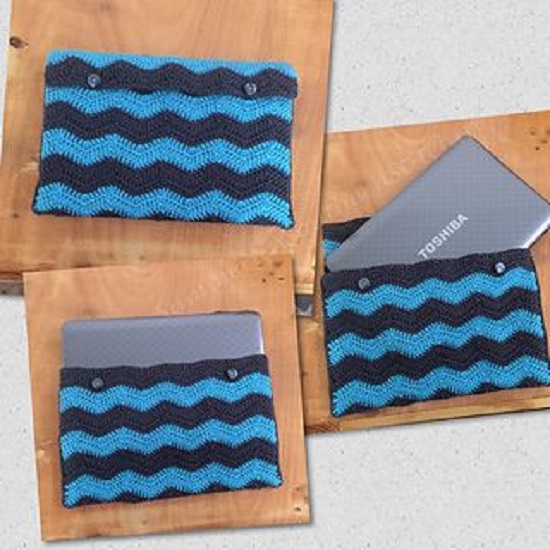 This chevron laptop sleeve features the wavy layout that is worked using two contrast color combination. This pattern is super easy to crochet and is available on Ravelry.
19. Multiple Colors Laptop Sleeve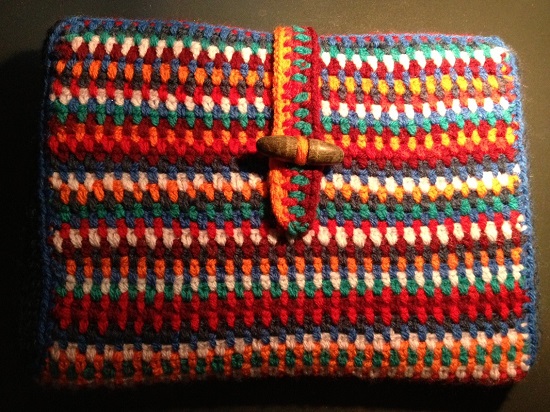 The multi-color moss stitches give this laptop sleeve an artistic impression. Also, the addition of a wooden button on this cover enhances its beauty further.
20. Catchy Design Laptop Case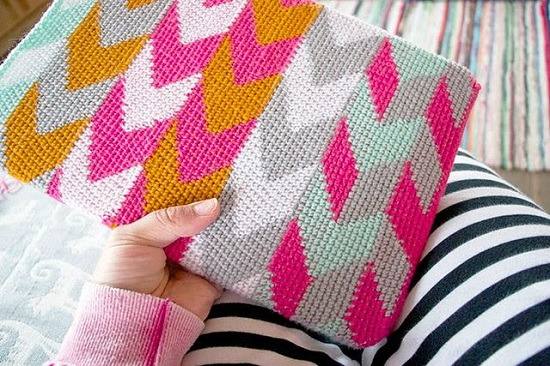 This laptop pouch with variegated color palettes is the best way to keep your expensive laptop safe in style!
21. Knit Laptop Case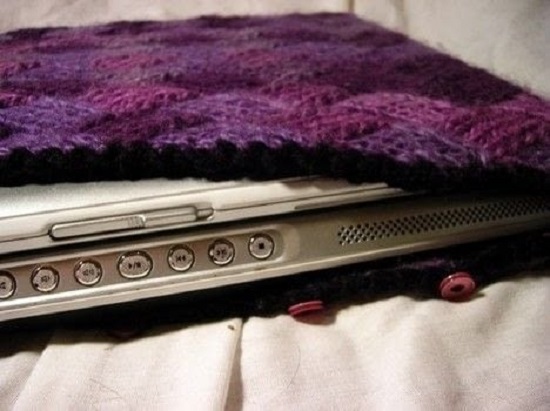 Crochet this soft cover to keep your laptop safe as well as voguish!
22. Chunky Laptop Case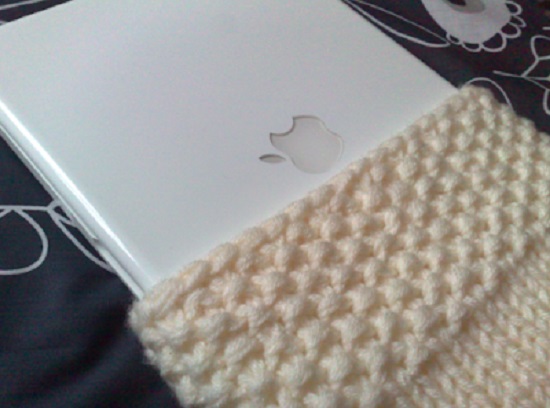 Read this blog to crocheting a similar one for yourself, using a bulky yarn for imparting a fluffy texture.
23. Bag Cover Laptop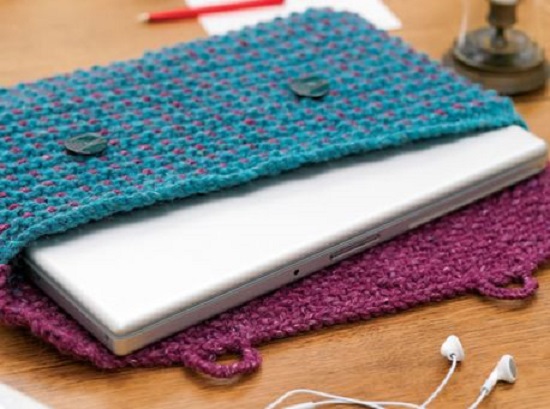 The flaps of this sleeve are worked with simple moss stitching and worked with one yarn at a time, slipping the stitches from the last row so as to exhibit the colors in the same row.