Have you just started crocheting and looking for patterns? We have handpicked the best ones for you! Check out our list of DIY Crochet Ideas below!
Crocheting is a lot more fun when you have exciting patterns to work on! Keeping that in mind, we have gathered some of the best DIY Crochet Ideas for you, that'll keep you hooked for a long time to come!
---
1. Yarn Tassel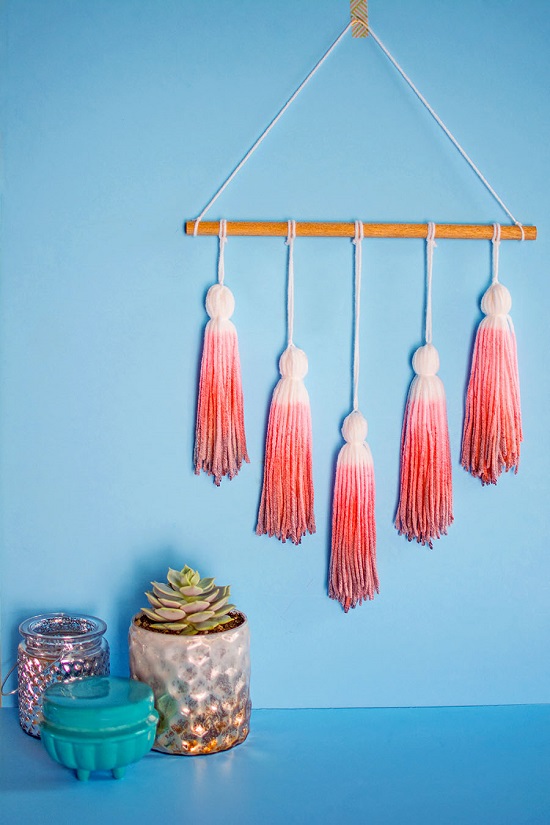 Decorate your walls with these hanging yarn tassels. The DIY is here!
2. Ombre Triangle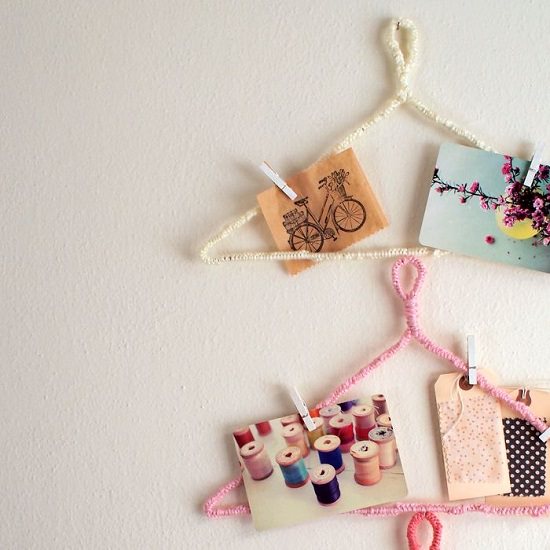 Pin your favorite pictures on this ombre triangle and hang it on the wall. More on the idea here.
3. Illuminated Yarn Lanterns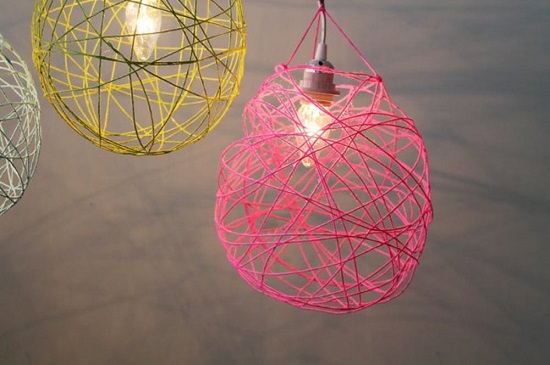 You'll need yarn, cornstarch, glue, and a balloon to create these illuminated yarn lanterns. Hang it on the ceiling for the glorious effect.
4. Pendant Light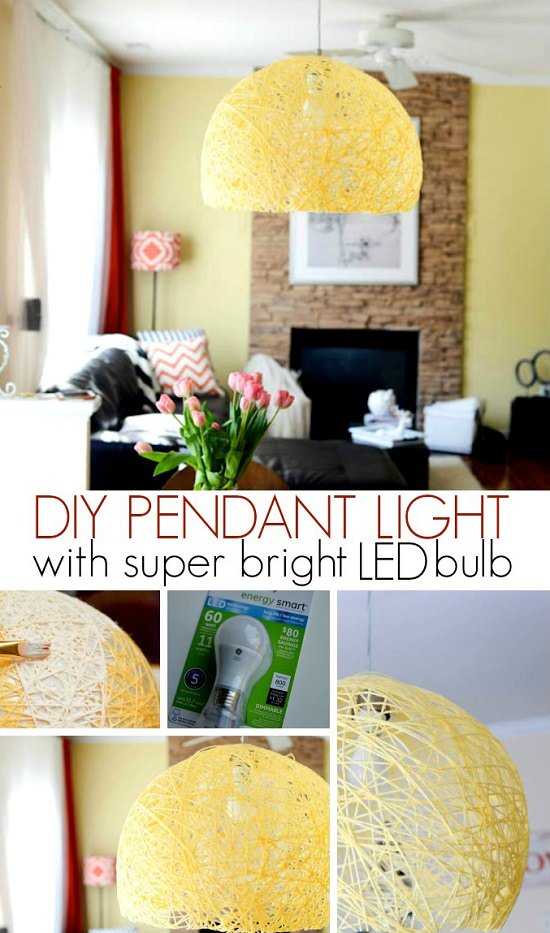 This idea is for all the avid crafters out there. Here is the tutorial for this fun DIY project.
5. Yarn Tassel Bed Skirt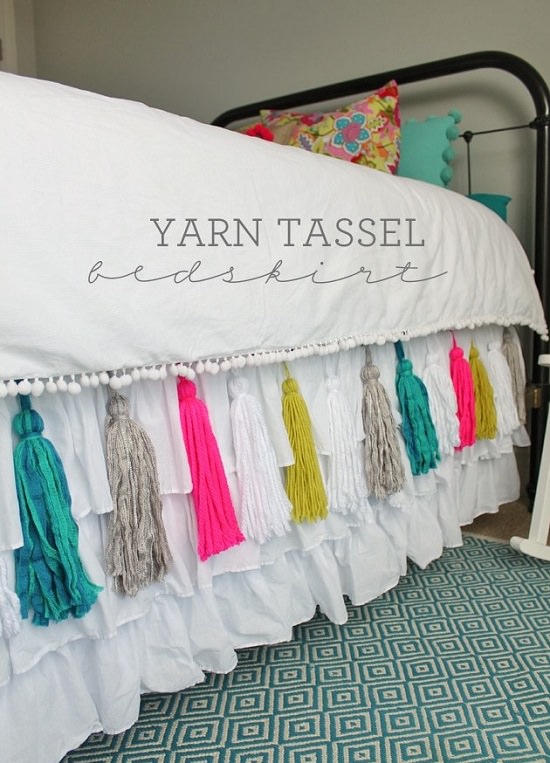 Enhance the beauty of the bed skirt with the yarn tassel bed skirt. Here is how to do it.
6. Yarn Embroidered Baskets

Beautify baskets with this fabulous yarn embroider idea. The steps are here!
7. Modern Yarn Hanging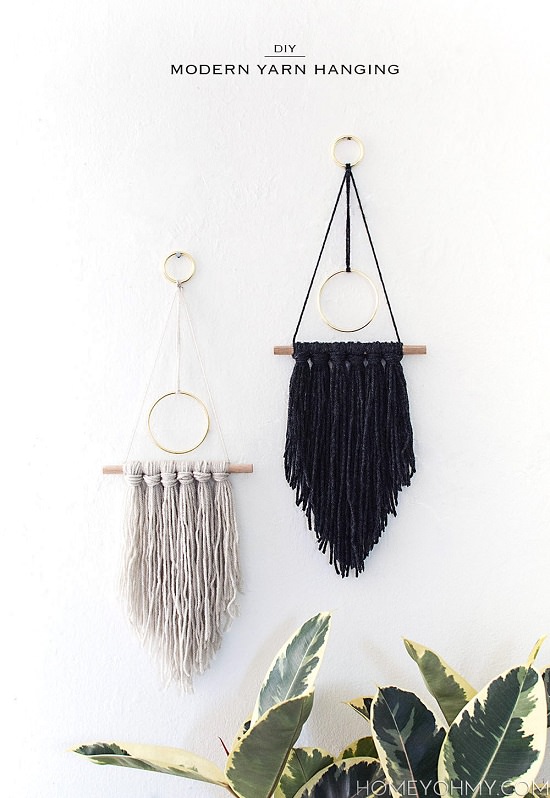 This yarn hanging is an excellent addition to the modern home or office decor. Here is the step by step tutorial.
8. Unicorn Bookmarks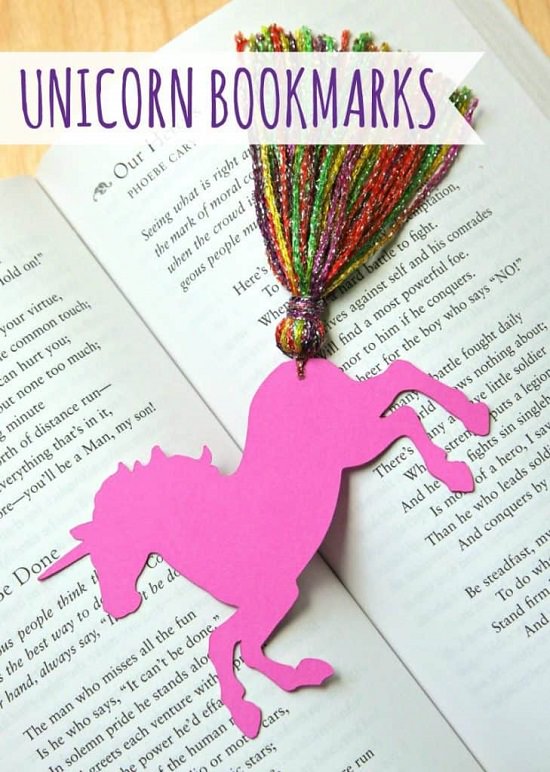 Why stick to the regular old bookmarks when you can use this fantastic unicorn?! The simple steps are here!
9. Tea Light Holder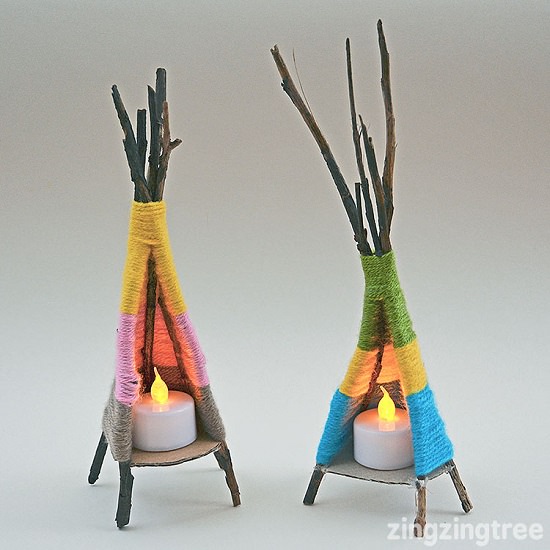 All you need is some sticks, yarn, cardboard, and glue gun to create this unique tea light holder. Find the tutorial at the blue bear wood.
10. Ice Cream Cone Garland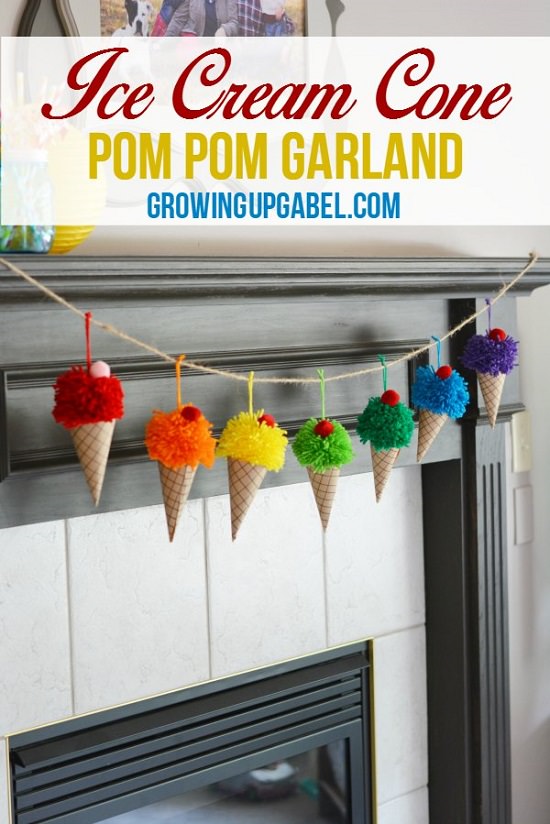 It is a perfect idea for festive summer decoration. Check out this article to know more.
11. Pom Pom Pillows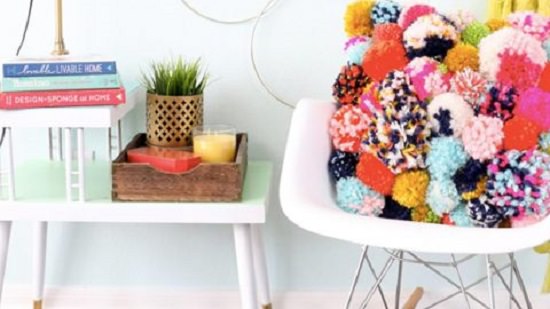 Pom-pom pillows are great for adding some color to your home decor. Make them in colors of your choice by following this post.
12. Halloween Spider and Web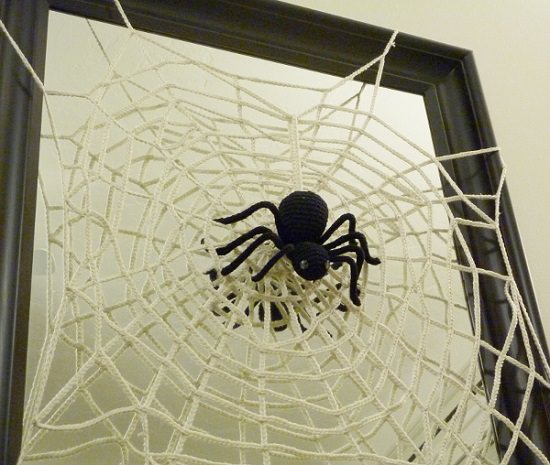 Spiders are among the scariest creatures, which makes them a perfect choice for Halloween. It's cross between crocheting and knitting, and we found it here.
13. DIY DREAMCATCHER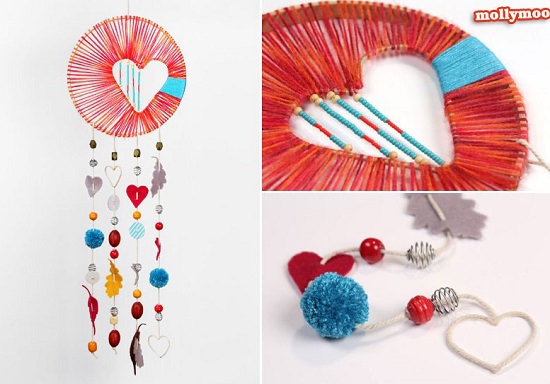 Protect your children from bad dreams, nightmares, and unsettling thoughts with this charm hanging over their beds. Get the tutorial here.
14. Yarn Ombre Lampshade Tutorial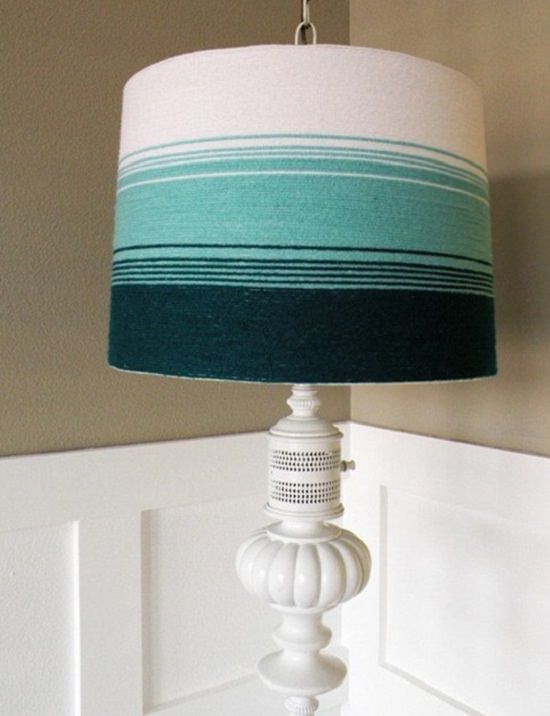 Add a fantastic touch of whimsical uniqueness by creating this lampshade. The simple tutorial is here.
15. DIY Yarn Chandelier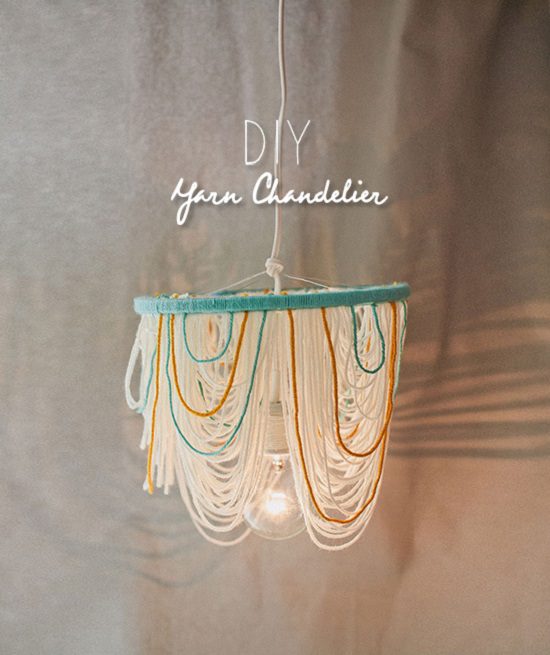 Cozy rooms are perfect conversation starters for couples. Having yarn chandelier will make the room appear cozier, just follow this DIY.
16. Yarn-Wrapped Ombre Monogrammed Letter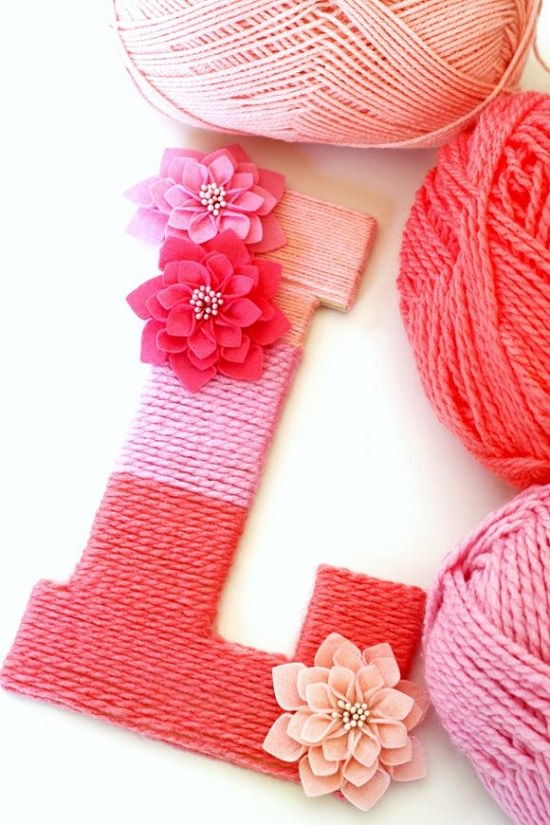 Although the end product looks as if it will be tough to create yarn wrapped letters, it's quite simple actually! Just follow the directions here.
17. Macrame Yarn Garland DIY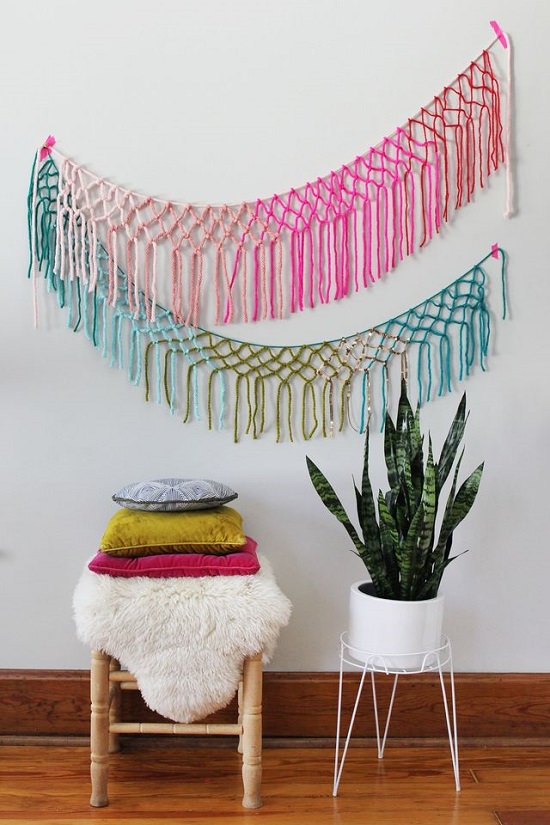 Decorating walls now made simple with this DIY. A colorful and time-saving project with a detailed tutorial is here.
18. Heart String Art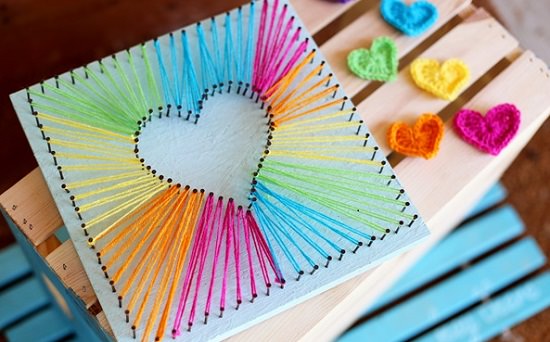 Indulge your kids in this heart string art project so that they get to exercise their creative side. Visit sugar bee craft to know more.
19. God's Eyes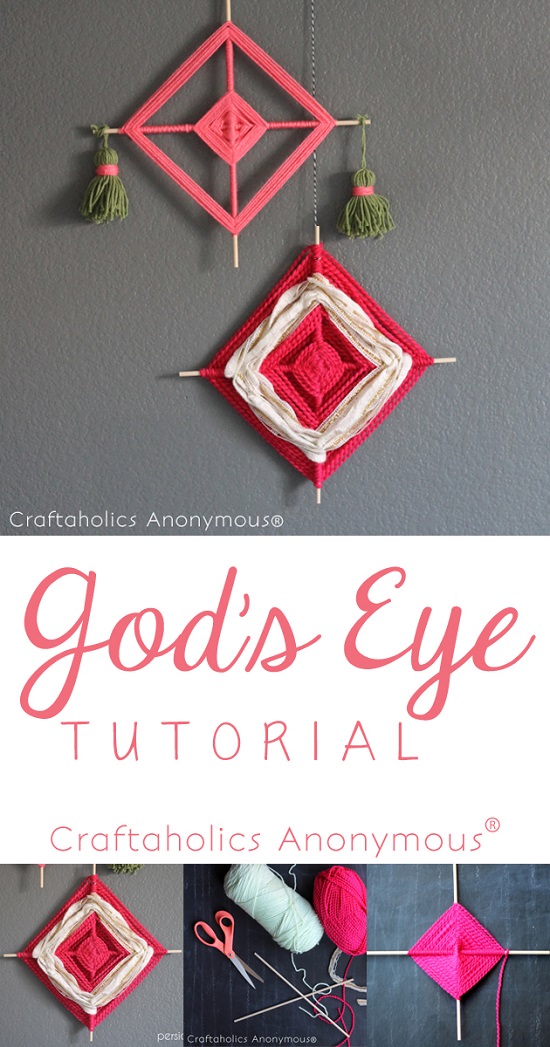 God's eye is believed to be a spiritual object made by weaving yarn across a wooden cross. Make this by following this tutorial.
20. Yarn Wrapped Recycled Bottles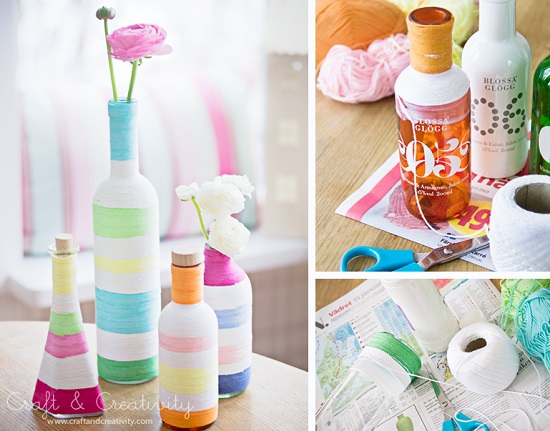 Recycle your old bottles and turn them into something amazing and cool with this project. Check out the idea of craft and creativity.
21. Yarn Pine Cones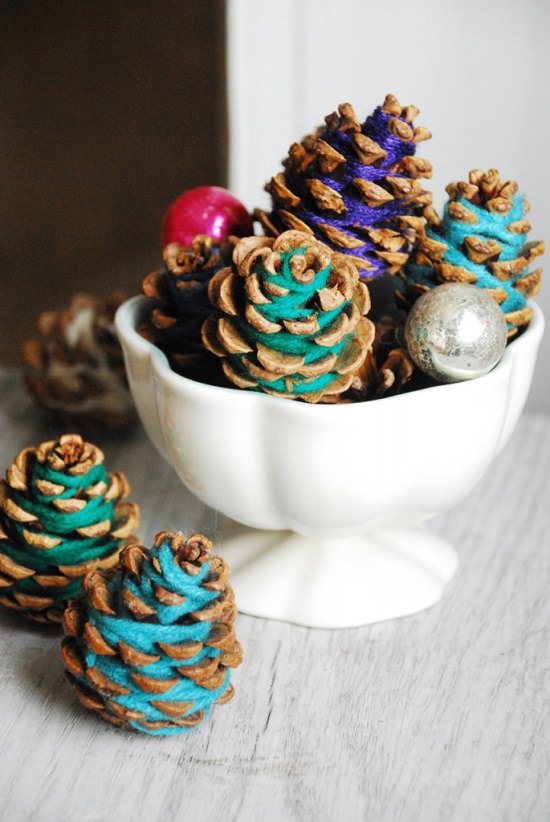 All you need is leftover yarns and pine cones, and you are ready to go. Here is the link!
22. String Heart Yarn Cards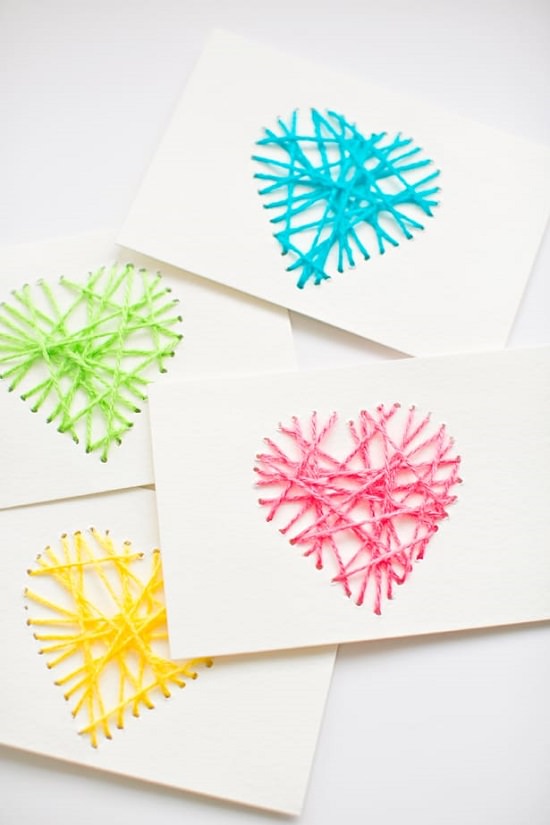 A fun and easy project for kids to encourage them into making something creative this valentine's day. Follow the article here to make this card.
23. DIY Yarn Backdrop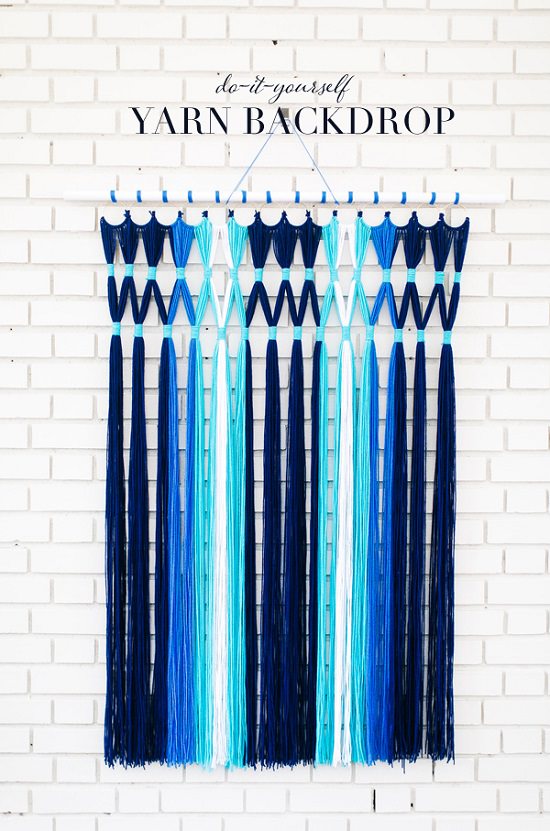 A classy addition to your background is yarn backdrop. It's easy to create by following the tutorial here.
24. Macramé Plant Hanger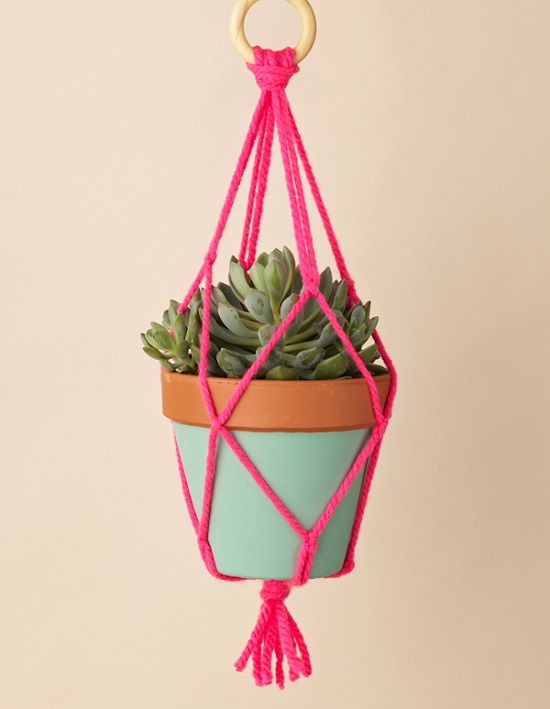 Pretty up your front porch and indoor space with this fantastic plant hanger. Learn more here!
25. Pom Pom Bookmark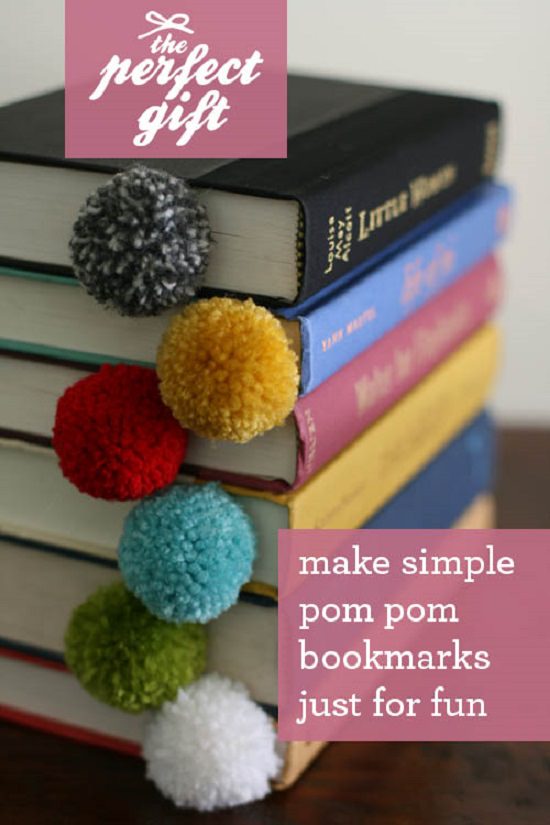 A perfect gift for book lovers is this yarn pom-pom ball bookmark. Get the instructions at design, mom.
26. DIY Pom Pom Rug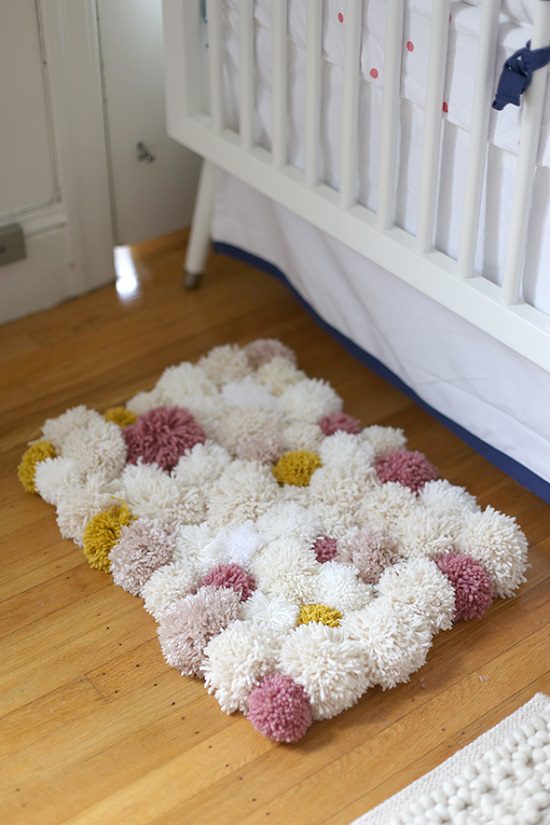 Here is another pom-pom DIY! Experience the feeling of bliss by standing on those rugs.
27. Yarn-wrapped Flower Pots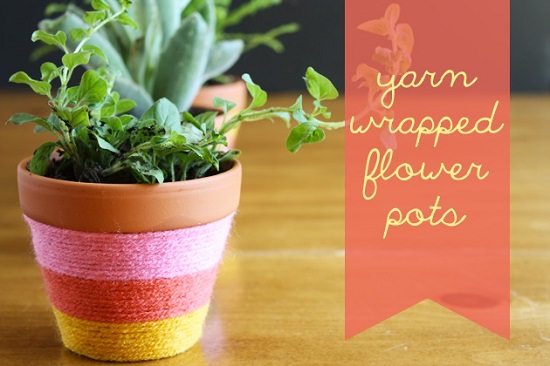 Turn simple ceramic or terracotta pots into something new and unusual by wrapping them in the yarn. Visit this article for an easy step by step DIY.
28. Home Sweet Home String Art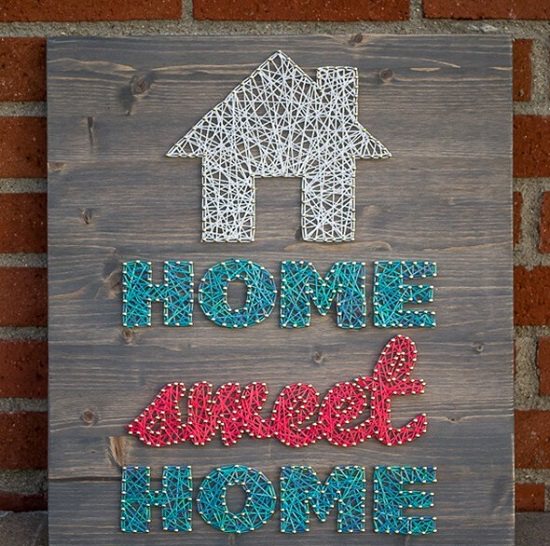 You won't find a much better way to welcome your guests in this festive season. Get the tutorial for this string art project here.
29. DIY Dandelion Bouquet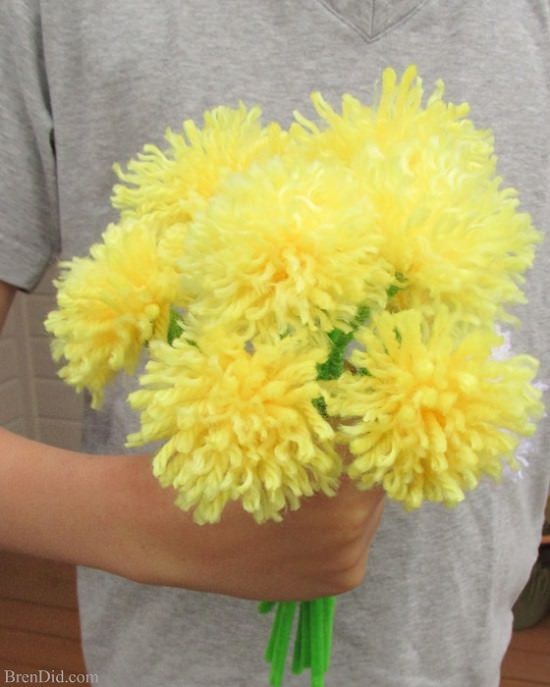 An excellent way to show your love and gratitude on this Mother's day. This Dandelion is made of yarn tassels! To know more, visit this article.
30. DIY Yarn Balls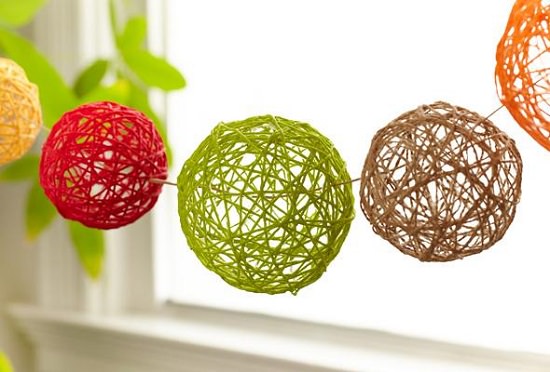 Create this DIY yarn project balls in no time for an easy party decoration. Understand the steps here.
31. Shabby Chic Pom-Pom Flowers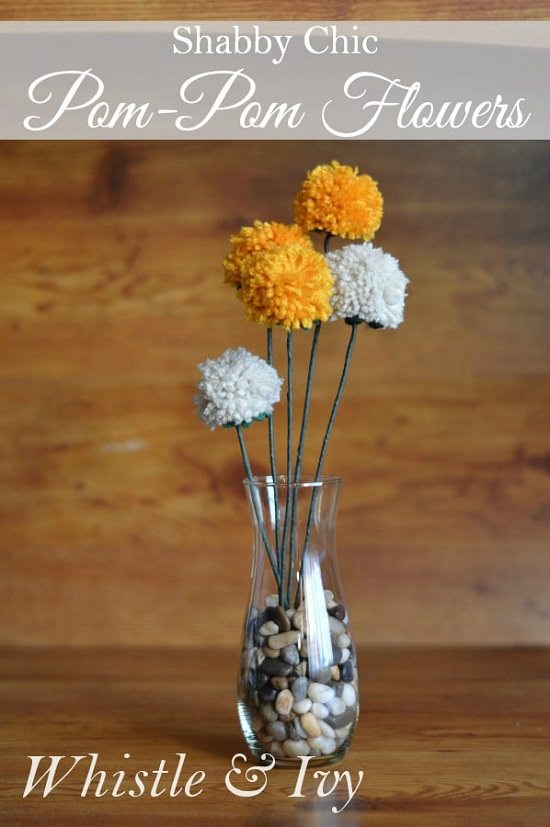 These adorable pom-pom flowers are perfect for enhancing your home with beauty and color. The tutorial is at whistle and Ivy.
32. Kool-Aid Popsicle Dyeing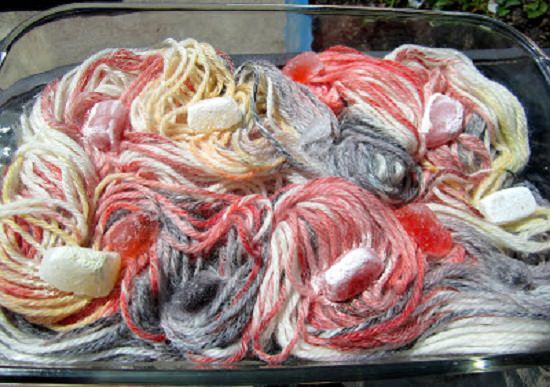 What a fun and unique way to dye the yarn with kool-aid. For more details, click here!
33. Crochet Ring Pattern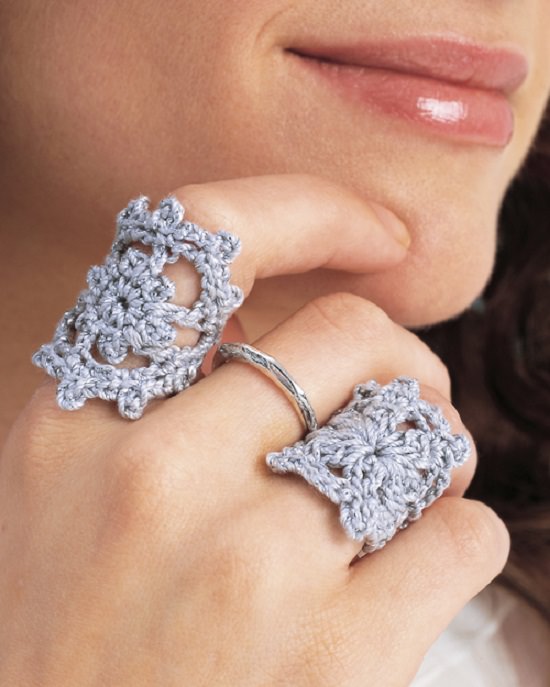 This crochet ring project will be ready within an hour and is an effective way to make use of leftover yarn. You can know more about this project at fave crafts.
34. Flashdance Chair Socks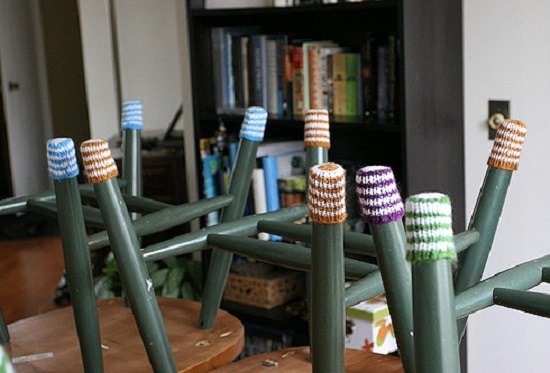 Fed up of scrap marks all over the floors because of chair legs? Cover them with cute socks! Check out this clever idea we found here.
35. Animal Pom-Poms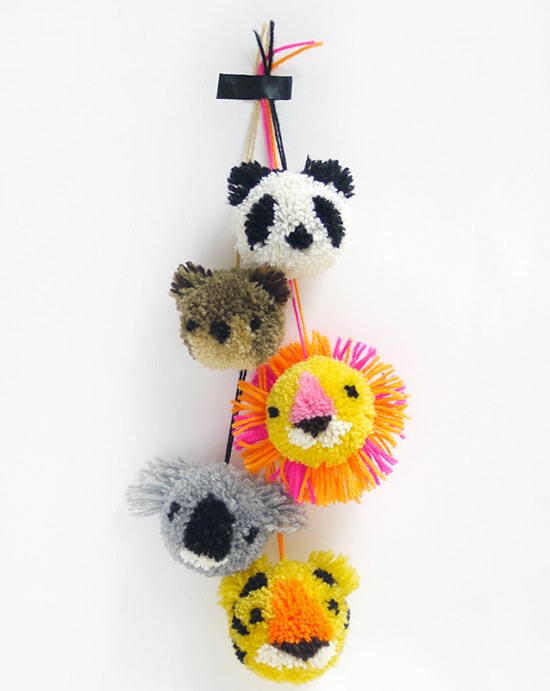 This animal pom-pom is another creative idea which we came to know by this reading this article.
36. Patchwork River Rock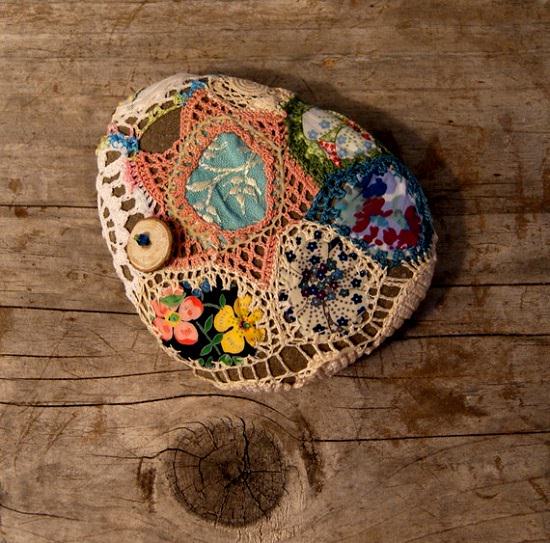 Who would have thought that river rocks can be transformed in such a way? We got the inspiration from here.
37. Wassail & Crochet Cozy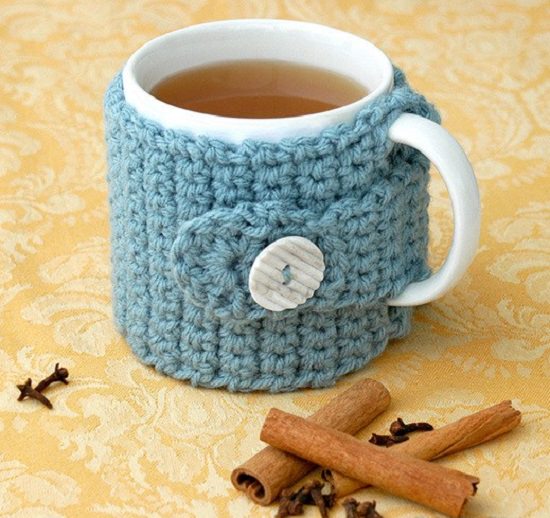 Make your coffee mug cozier with this cute idea we found for you here.
38. Partyvimplar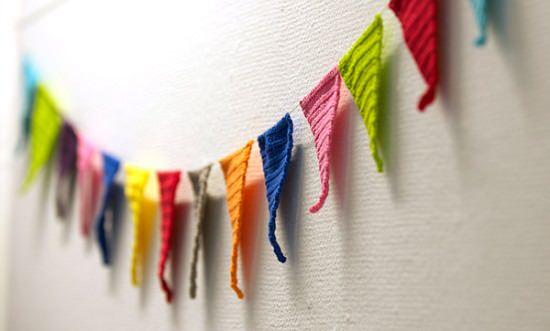 Mix up these crocheted pennants of multiple colors. Great idea for wall decoration, and it can also be used to decorate a Christmas tree! The tutorial is here!