Pillows are always fun to make and find many uses! Here are some incredibly versatile DIY Crochet Cushion patterns to transform your old ones!
Have a bunch of old pillows lying in your house? Well, you can make them look just like new with our list of DIY Crochet Cushion patterns! Try them out today!
---
1. Brick Stitch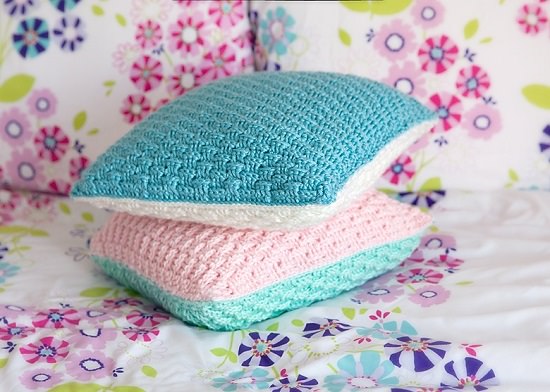 Crochet a soft and fluffy cushion for your family using this video tutorial. Its brick-like texture is the result of posted brick stitching that calls for an alternating front and back post double crochet stitches.
2. Flower Cushion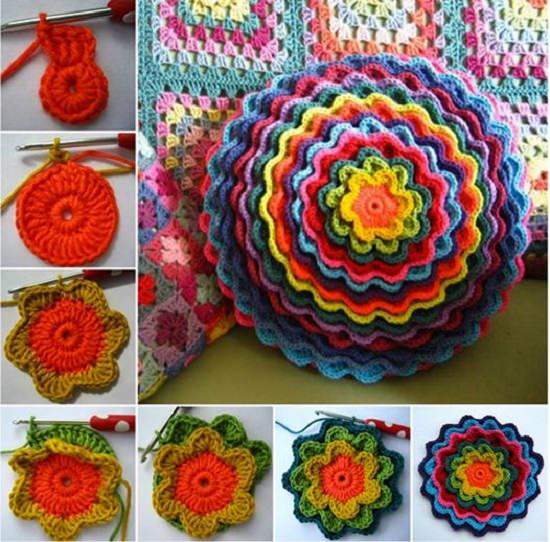 Here, the designer began from the smallest flower and worked up till the largest ones using various colors.
3. Geometric Pillow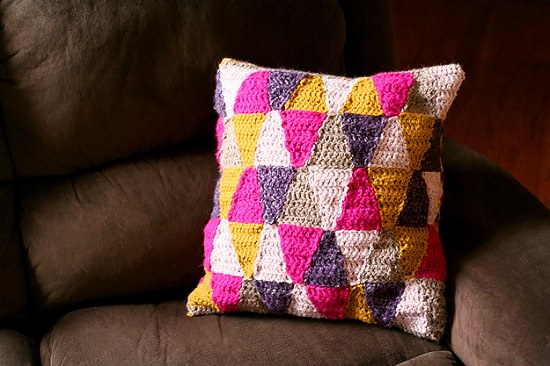 Although geometrical shapes on pillows may sound boring, this square pillow, carved with contrast colors, is a different story! This design is inspired by this post.
4. Circle Puff Pillow Pattern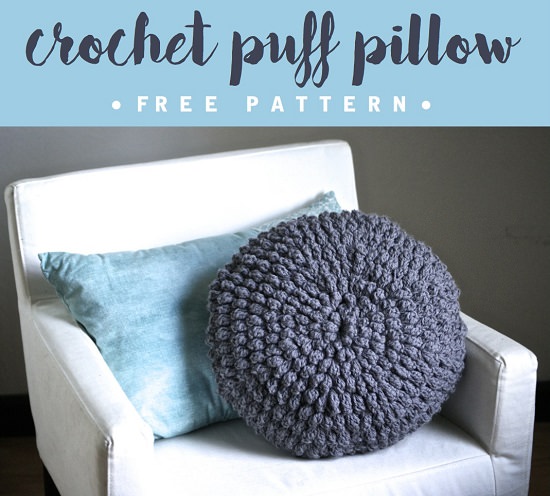 Copying this pillow idea is so simple that any novice crocheter can do it!. Its knobby texture is the result of the popcorn stitch, worked in rounds. It is one of the best DIY crochet cushion patterns on the list!
5. Mitered Square Pillow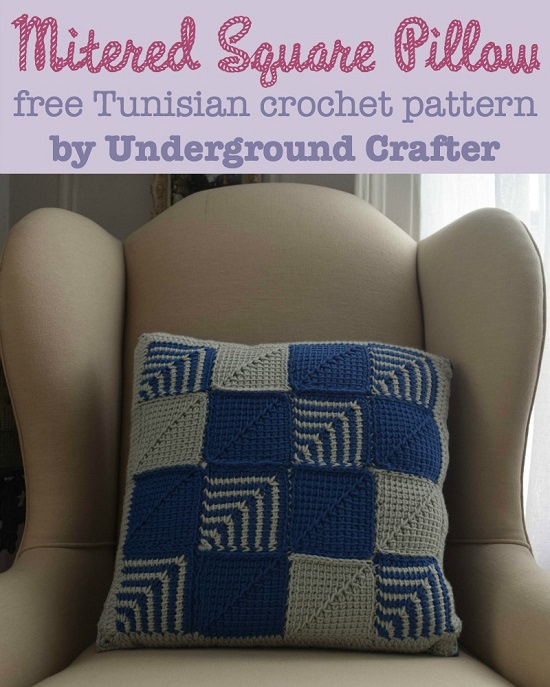 Thanks to the Tunisian crochet technique that gives this pillow a fabulous finishing. It involves a simple Tunisian stitch (TSS), a decrease, and finally binding it off.
6. Striped Round Pillow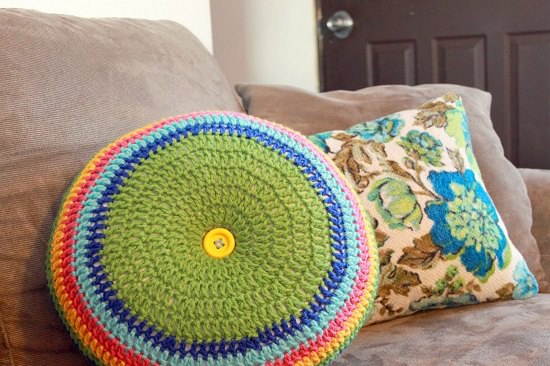 The charm of stripes is evergreen, and this round pillow sets an example! The motif of this pillow is worked in continuous rounds, and for an added effect, the designer has utilized multiple colors.
7. Buttoned Throw Pillow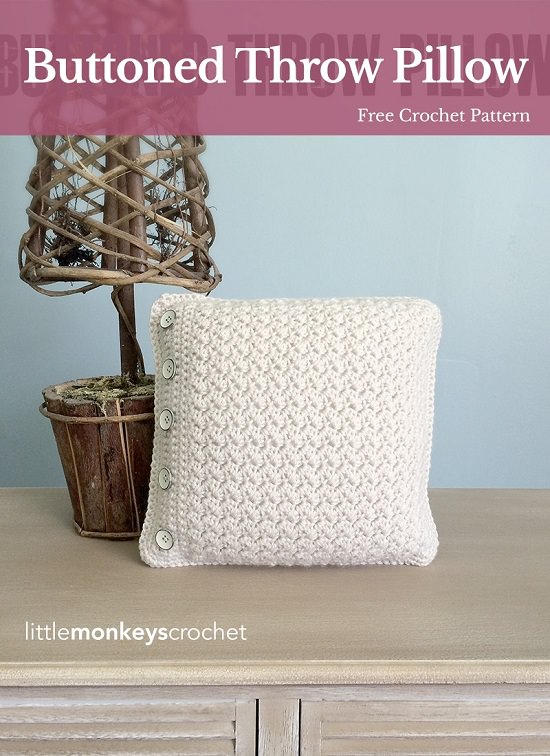 The look of this pillow is enhanced with the embellished of buttons, and its size can also be customized by beginning with an odd number of the chain.
8. Round Granny Pillow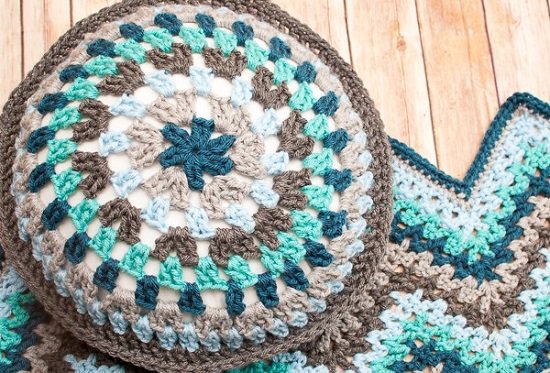 The granny square gives this pillow a traditional touch, while the V-stitch elevates its beauty further. You can pick different colored leftover yarn for this project.
9. Striped Button Pillow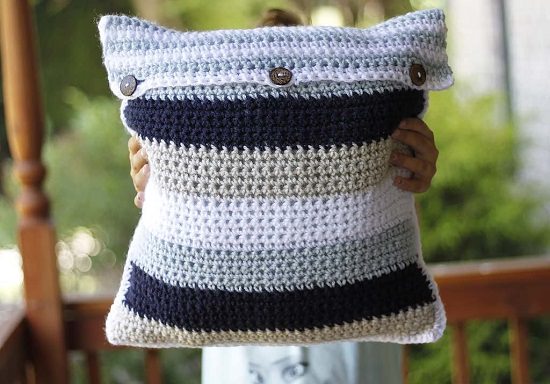 The crocheter worked this pillow in two pieces and selected white, silver blue, navy and linen colors. Head on to this tutorial from rescuedpawdesigns for more info!
10. Sunshine Lattice  Pillow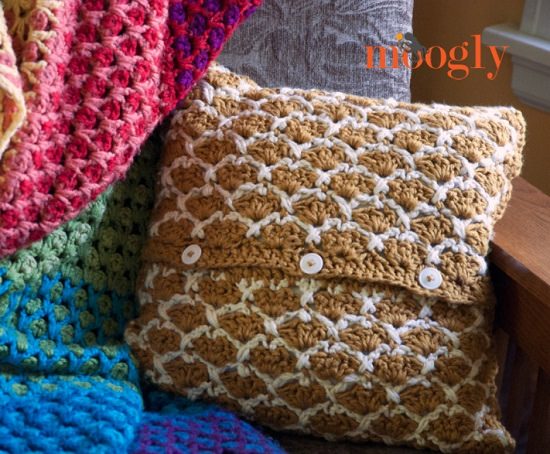 This pillow is worked with two active loops and turned only after the odd-numbered rows. Worked in rows, its intricate texture is the result of cluster and cluster shell stitches.
11. Reversible Spike Stitch Pillow Cover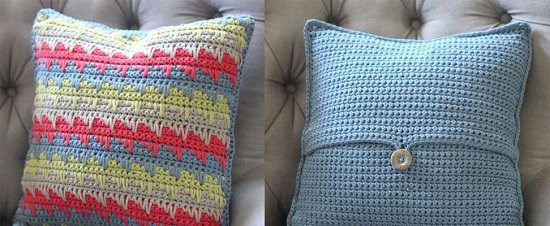 The stripes look on this pillow is made using the spike stitches, which is elongated single crochet. Its other side has a monochromatic look with button closure, prepared using single crochet.
12. Scraps of Yarn Decor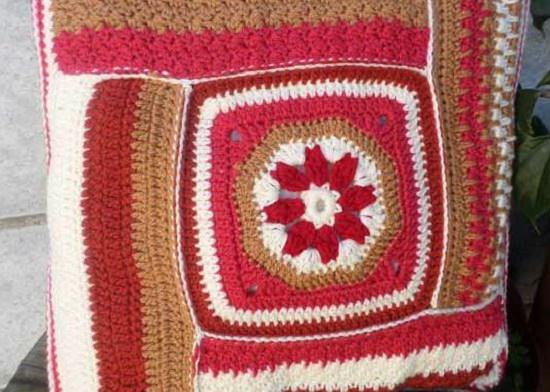 Thinking to crochet something out of the box? Then, this pattern blending the charm of warm colors with some beautiful stitching techniques is worth trying! More details on this tutorial at CreativeCrochetWorkShop.
13. Square Button Pillow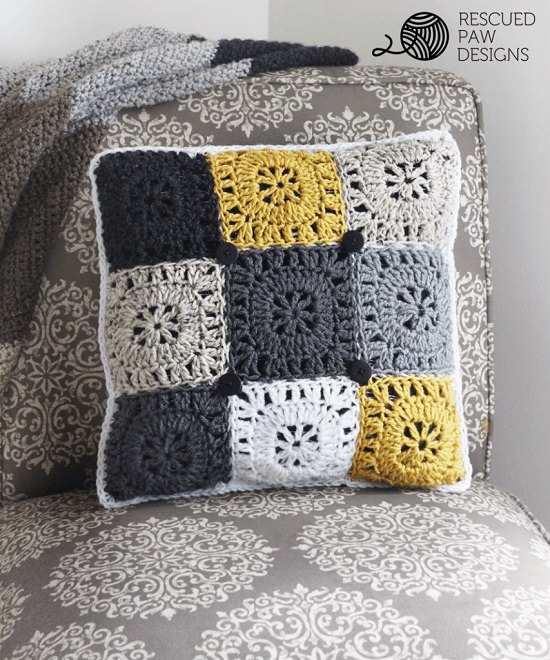 Inspired by Rescuedpawdesigns post, this pillow crochet pattern is super easy to whip up where crocheter worked nine squares and sewn them together to create the front of the pillow and one white panel for the back!
14. Checkerboard Pillow Pattern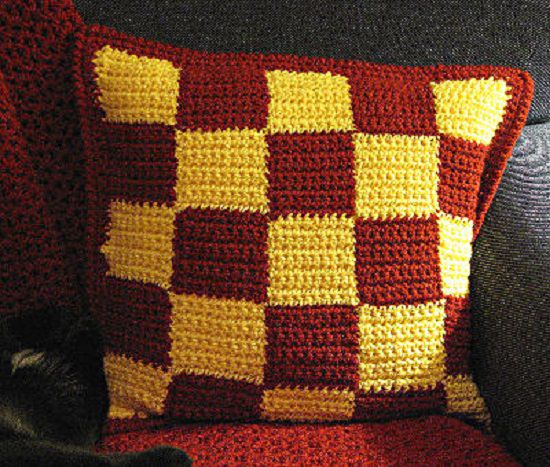 This checkerboard pillow is a great way to add a glam to the living room with its bold-colors. You can crochet the same using basic single crochet, chain, and reverse single crochet stitches.
15. Owl Stuffie Pillow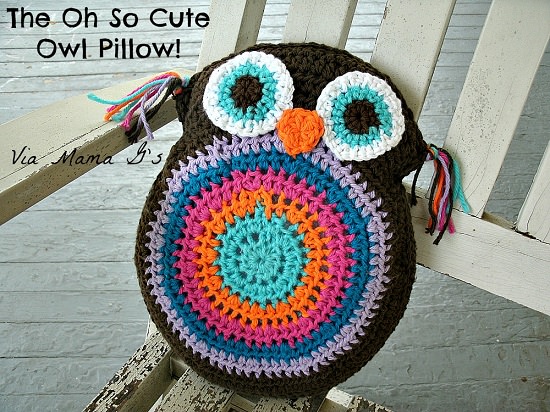 This pattern is worked in rows, and the fabulous fusion of the colors with the mimic owl shape makes it stand out from the rest.
16. Contemporary Granny Square Pillowcase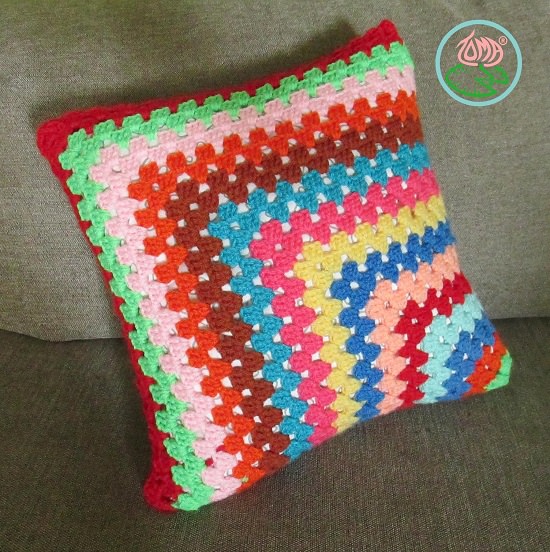 This pattern is worked in rounds, and the blogger has shared a demonstrative chart for better comprehension. It is one of the best DIY crochet cushion patterns on the list!
17. Granny Pillow Pattern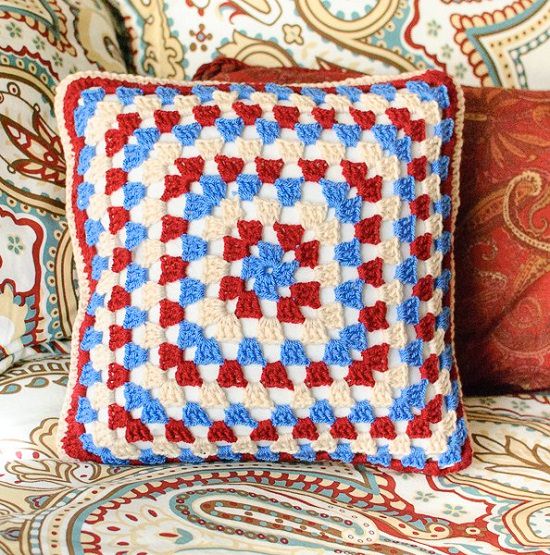 This craft from PtalstoPicots has two contrast colors along with a cream color to prepare granny squares and finally joined alternate colored squares together.
18. Dotty Throw Pillow Pattern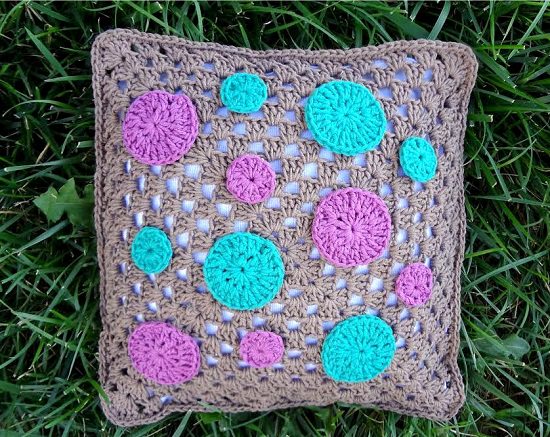 Two granny squares, with varying sized polka dots, look beautiful in this pattern! You can even attach these polka dots with glue.
19. Heart Cushion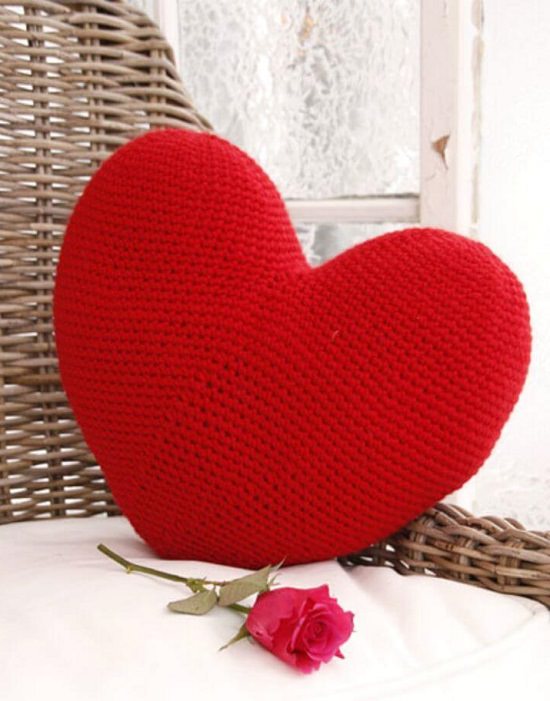 This heart-shaped pillow, covered with a draped with red color, can be a great gift for loved ones. Take inspiration from the garnstudio blog for further details.
20. Pillows for Kids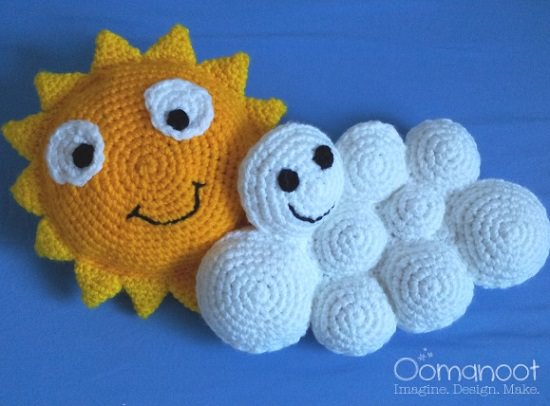 Searching a funky pillow pattern for your kid's dollhouse? Then this is an ideal fit! Here, you can make all the pieces in a continuous round, and create the sun pillow using two shades of yellow.
21. Blooming Daydream Throw Pillow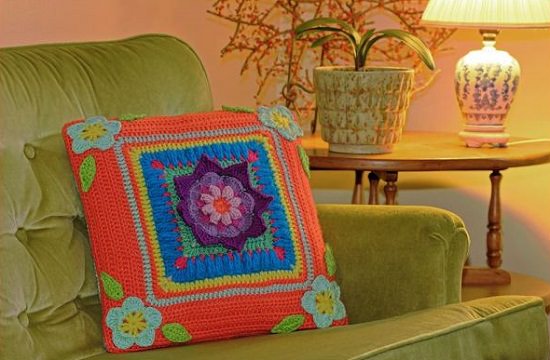 This pillow is a mixture of numerous colors and different textures that combine to become a perfect design! Go through the YarnUtopia post for details.
22. Irish Lace Pillow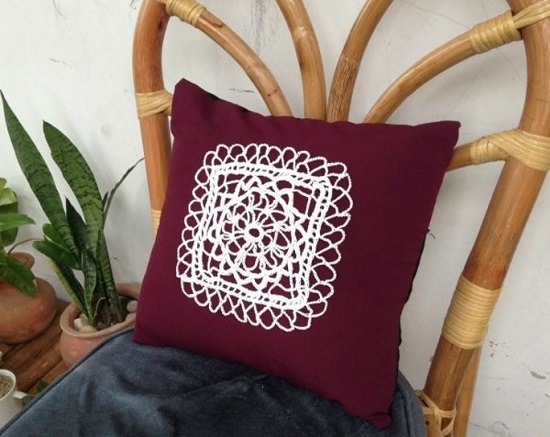 What a wonderful pillow craft, displaying artistic embroidery over a bold-shade pillow! This craft may look intricate to any newbie's eyes, but it is a beginner-friendly project.
23. Modern X Pillow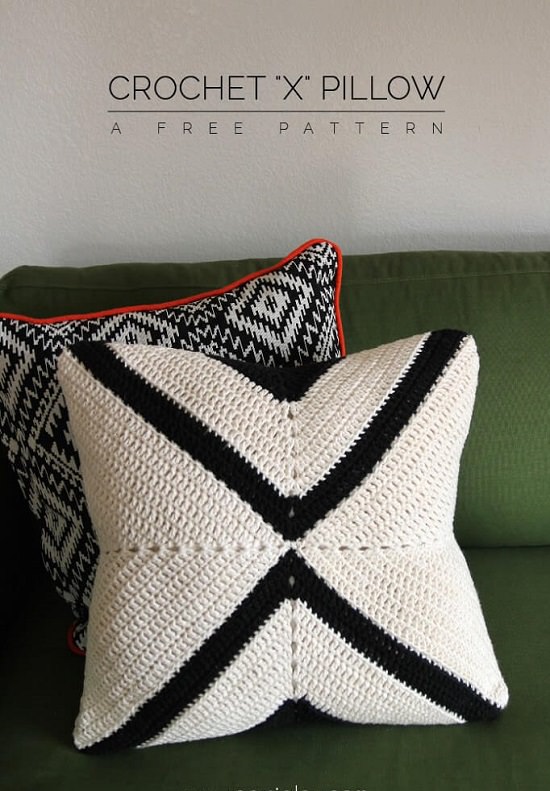 This cushion cover is a modern flare. Here you have to seam three sides first and after filling the pillow, complete the fourth one up.
24. Striped Throw Pillow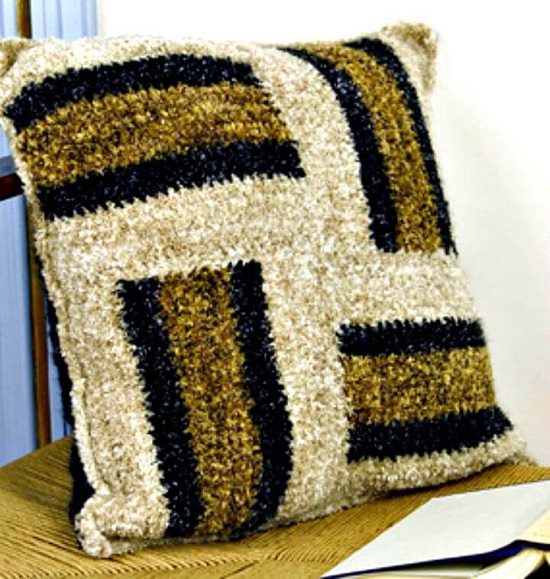 Here, the crocheter has picked sandstone, toasted almond, charcoal, and black colored yarns for this craft. It is one of the best DIY crochet cushion patterns on the list!
25. Tapestry Circle Pillow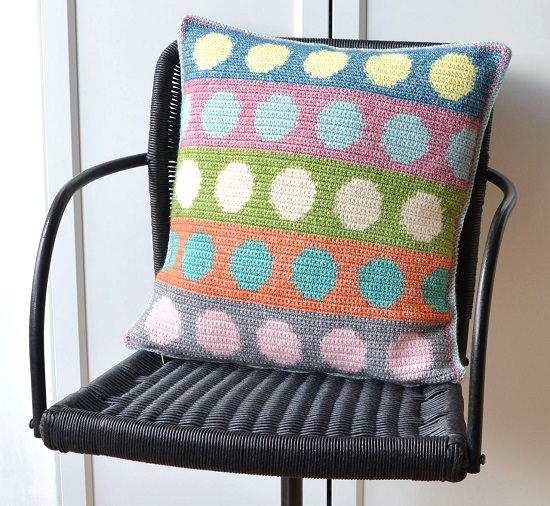 The front part of this pillow is created using tapestry crochet with a circles pattern. Whereas its back portion has simple stripes, prepared with single crochet stitches.
26. Emoji Pillow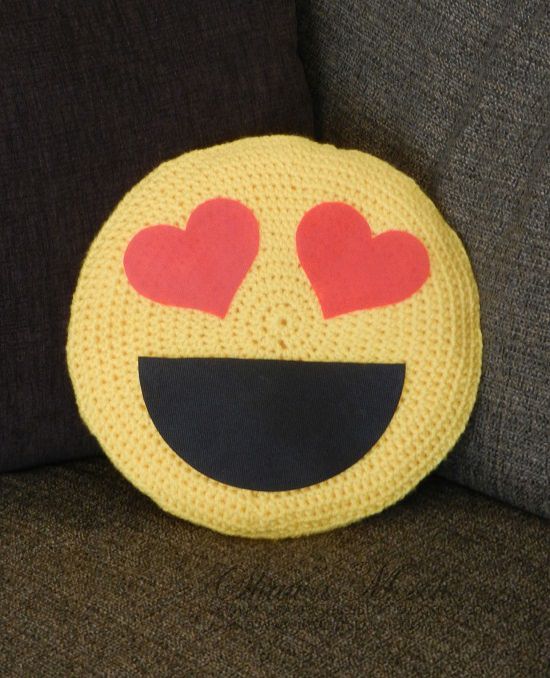 This adorable emoji pillow can be a great addition to your kid's room. This craft is super easy for any beginner crocheter and can be finished within a weekend.
27. YO-YO Pillow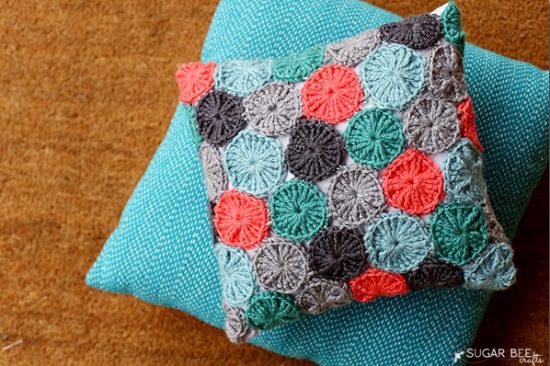 This craft is made with a yo-yo yarn, hence named so. You can make this using a Quadruple crochet stitch, similar to a double crochet stitch.
28. Woven Tassel Pillow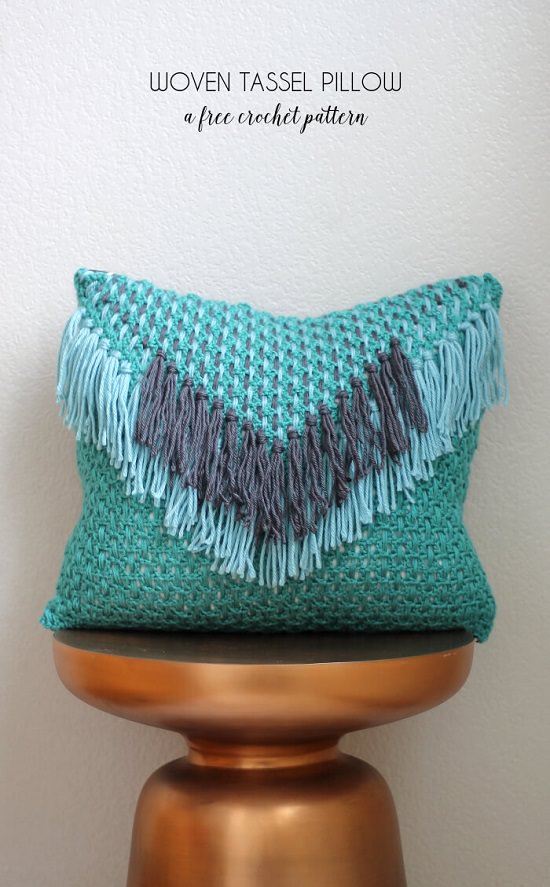 For imitating this craft, designer instructs to crochet a large mesh square, then weave double strands of yarn through the mesh, and finally add some tassels as a cute finishing.
29. Heart-Shaped Hexagon Pillow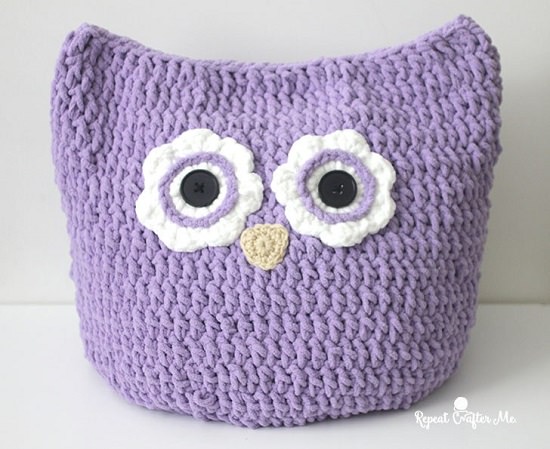 For creating this pillow, you will have to crochet 24-hexagons of the same size. For a unified look, the blogger emphasizes using the same color for the last row of hexagons.