Coasters are easy to make and also serve as a great gift! Here are some of the best DIY Crochet Coaster ideas to add a touch of style to your decor!
An attractive and colorful coaster is everyone's favorite! Here are some of the easiest DIY Crochet Coaster ideas that can be made in less than an hour, making them great for beginners!
---
1. DIY Crochet Coaster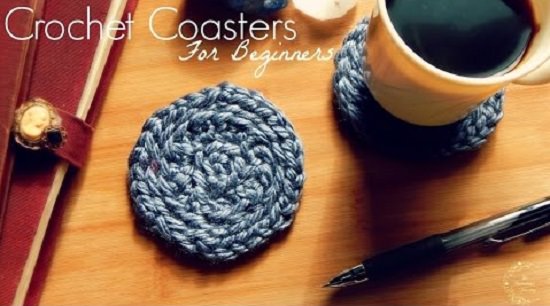 Any newbie crocheter can make this coaster easily, as it engages a basic stitching pattern. Head on to this video tutorial for further details and make this DIY crochet coaster yourself!
2. Quick & Easy Mug Coasters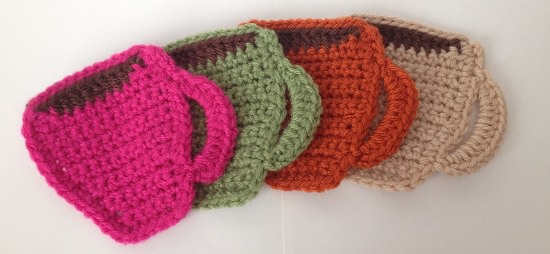 Give your skills an interesting twist by crocheting these cup-shaped coasters with colorful yarns. Head on to this vlog for further details.
3. Starbucks Coffee Coasters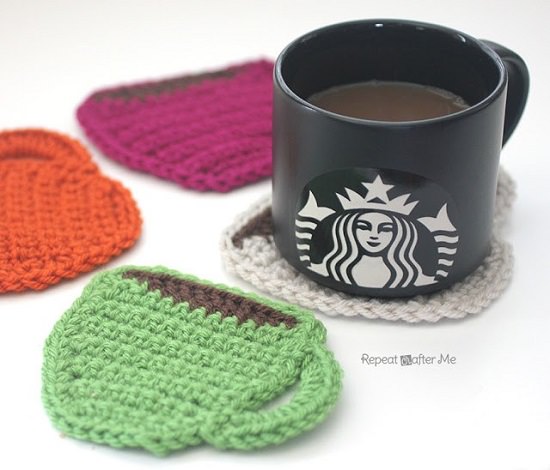 Any coffee lover is going to love this pattern! Here, the designer chose one primary color and worked using hdc, sc, and dc stitches.
4. Coffee Mug Coasters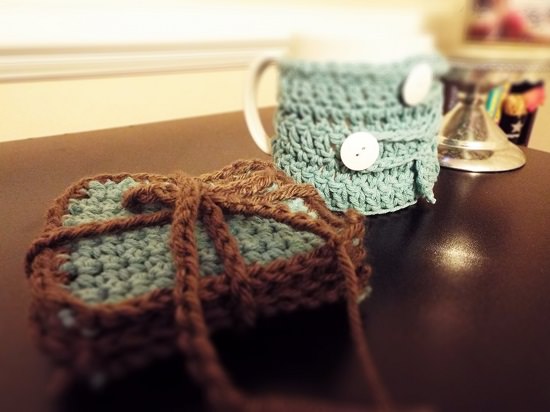 Crochet a comfy cover for your mug! You can even customize its size by adding or subtracting the chains according to the mug size.
5. Coaster for Beginners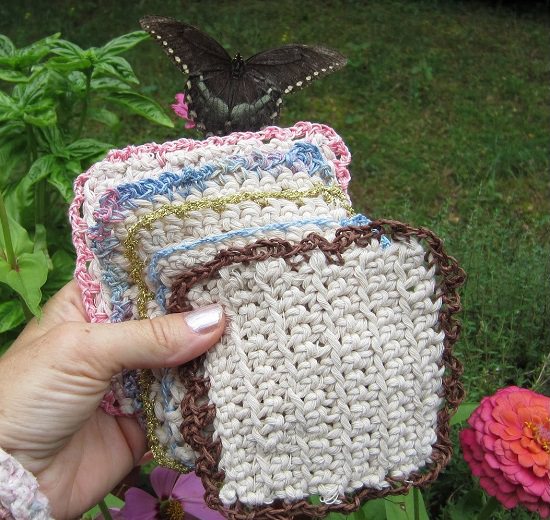 These intrigue textured coasters, scalloped with contrasting edging, can work as a stunning decor to your dining or tea table. Any novice crocheter who knows basic ch, sc, and slip stitches can prepare it.
6. Mug Rug Coaster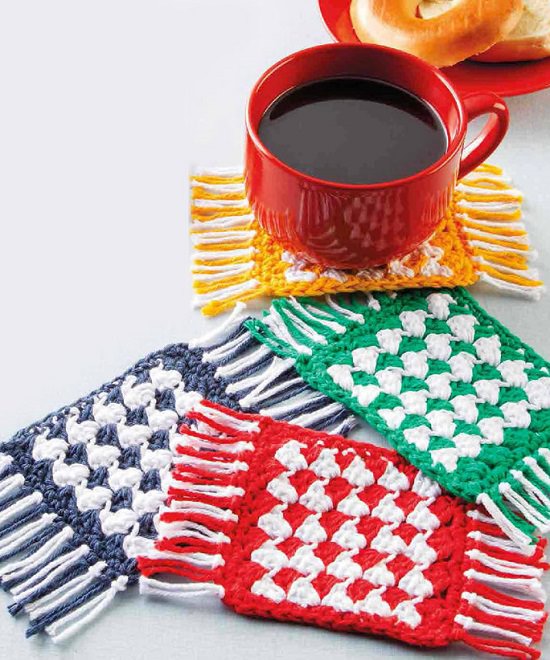 What makes this coaster pattern stuck out, is the wonderful fusion of contrast shades along with its side fringes. This coaster pattern crocheted with medium weight cotton yarn is worked in rows.
7. DIY Doily Coaster
Give your dining decor a floral touch by crocheting this doily coaster, prepared using basic stitching techniques. This is one of the best DIY crochet coasters on the list!
8. Knitted Coasters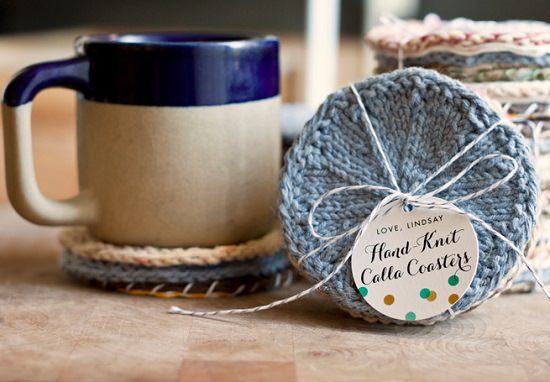 No gift can be as cheerful as this set of multi-colored handmade coasters! Since these mats require just a little fabric backing, so you can utilize leftover yarns from the stash to prepare this set!
9. Easy Crochet Coasters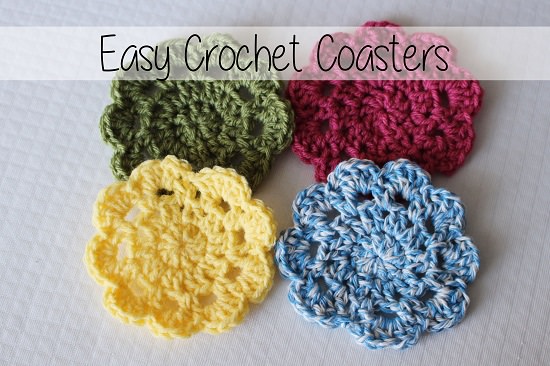 Give your crocheting skills a creative twist for preparing these flower motif coasters by watching this video tutorial.
10. Pretty Coaster Tutorial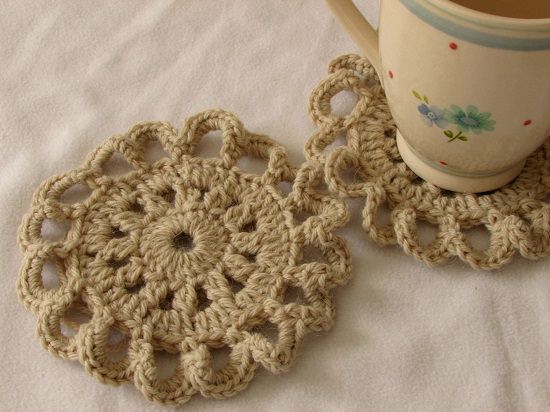 If your wardrobe is stacked with rustic accessories, then this crochet coaster video tutorial is for you!
11. Simple Flower Coaster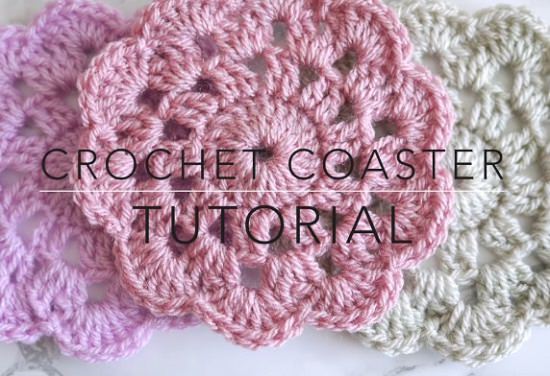 Coasters are great stash busters that help to clear the unused scraps within a short period of time. Just go through this vlog from Bella Coco for copying this craft.
12. Spiral Granny Square Coaster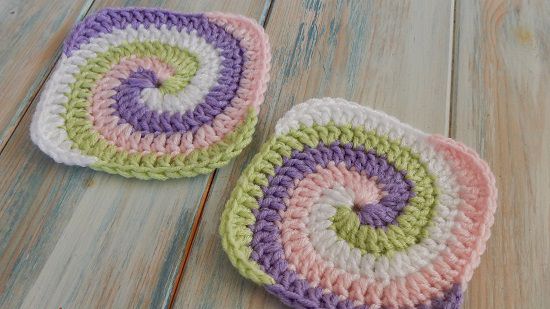 Thanks to the fusion of colors into a spiral motif, it adds a bit of drama to this coaster. This vlog from HappyBerry crochet explains how to crochet a spiral granny square using four-color tones.
13. Sheep Coasters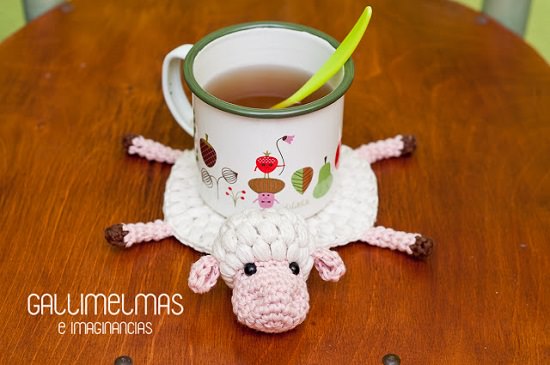 This coaster version accentuated with a sheep layout can become a funky addition to your treatable. The gallimelmas blog shares this design, which is one of the easy crochet Coasters.
14. Cat Butt Coaster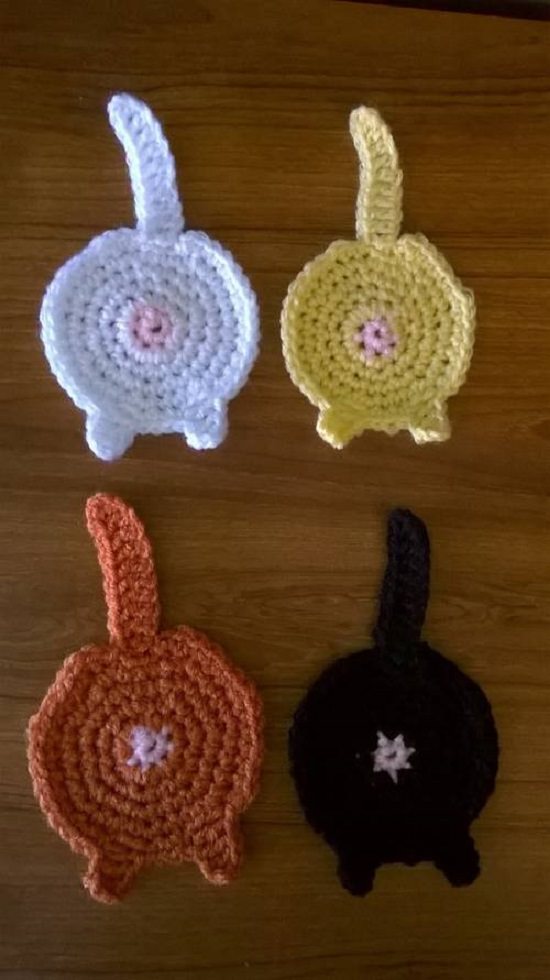 This cat butt coaster is the surest way to cheer up your guests! Crochet this coaster to give your tabletop a funky twist! This is one of the best DIY crochet coaster on the list!
15. Colorful Coasters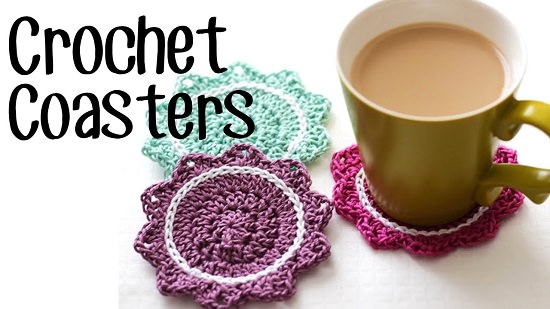 Infuse the beautiful motif with some eye-catchy colors for preparing these stunning coasters, accentuated with a contrasting circled border.
16. Farmhouse Style Coasters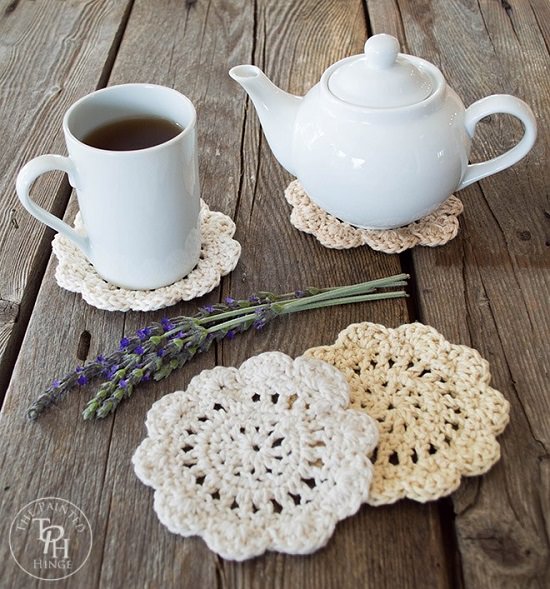 These cozy coasters, with a floral layout, are a win any day, over the old wooden coasters! They are super easy to crochet and work up quickly!
17. Round Coasters Pattern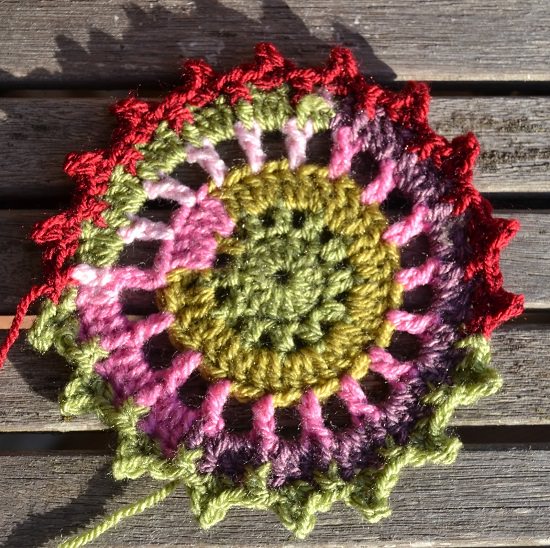 The wonderful mix of colors on this coaster makes it stand out from the rest! This pattern is worked in rounds, and you can prepare it using some oddments from your previous crochet projects.
18. Sun Coasters for Summer Parties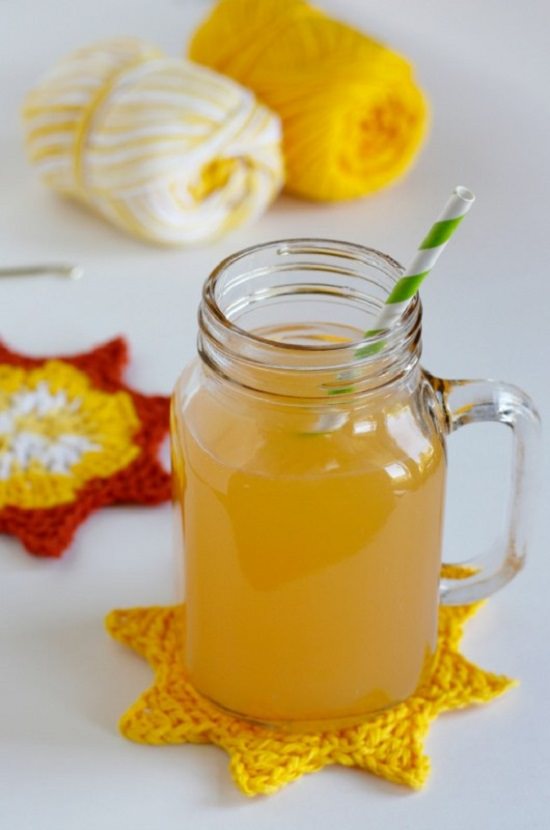 How about crocheting a sun motif coasters to bring charm in the upcoming summer parties? This radiant coaster with a summery flare is stitched using the chain, treble, dc, hdc, sc, and slip stitches.
19. Sea Shell Coasters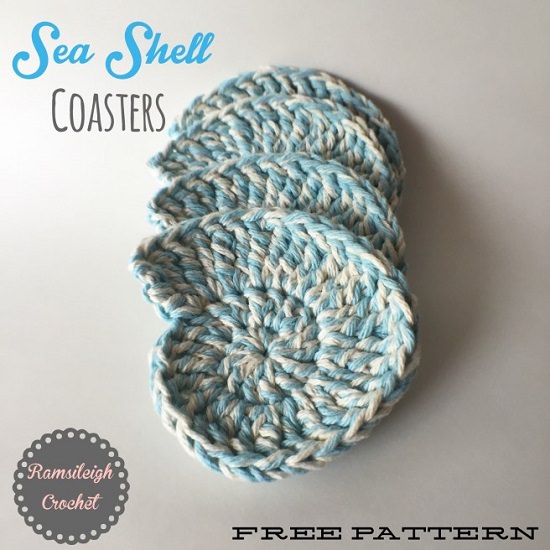 Prepared using a mixing of complementary shades, this coaster is going to add a beachy accent to your dining. It is crocheted by holding two strands of yarn together for making it extra absorbent.
20. Heart-Shaped Coasters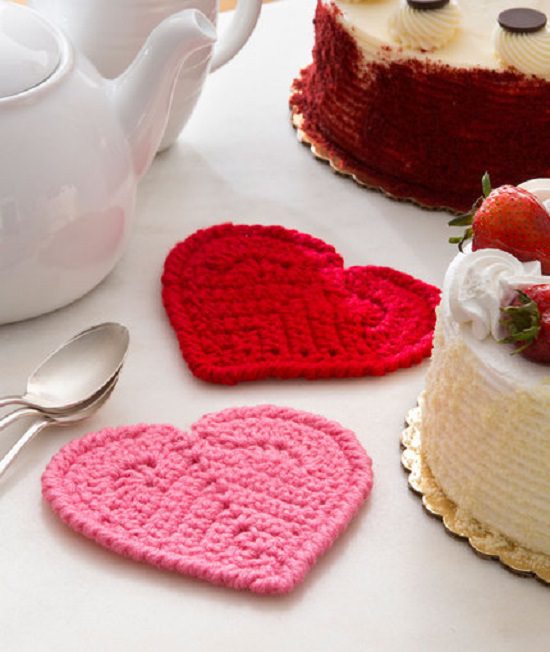 These hearts-shaped coasters, with cheerful colors, can steal anyone's heart! This intricate-looking motif is beginner friendly and is completed in six rounds. This is one of the best DIY crochet coaster on the list!
21. Starfish Coasters
Spice up your dining decor with the addition of starfish coasters. These are prepared with beachy shades, engages special stitches like double treble and treble crochet, apart from the basic ones.
22. Tea Cup Appliques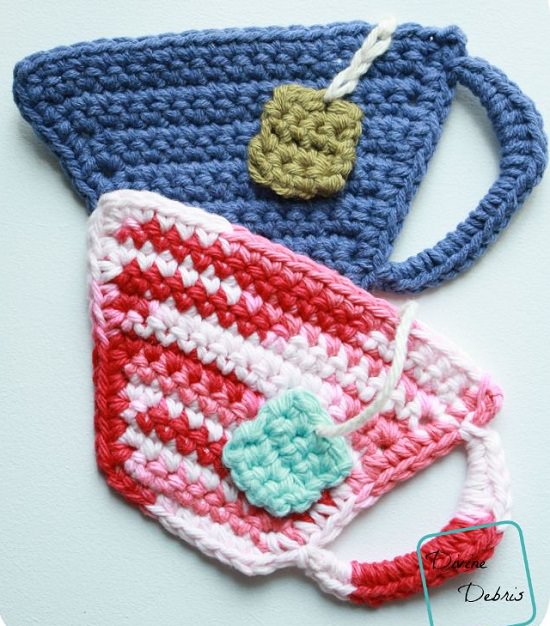 Apart from serving as coasters during tea time, they can be a great addition to bags, purses, or pillows as well. This applique is worked in rows using simple sc, ch, and hdc stitches.
23. Roller Coasters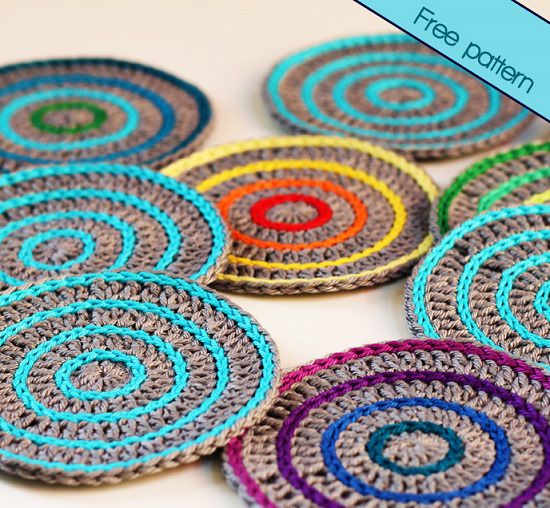 These appliques, highlighting a charismatic blend of multiple hues, can be a great gift to any decor enthusiast! Any novice crocheter can confidently weave it using the basic chain, double crochet, and slip stitches.
24. Crochet Cup Coaster Pattern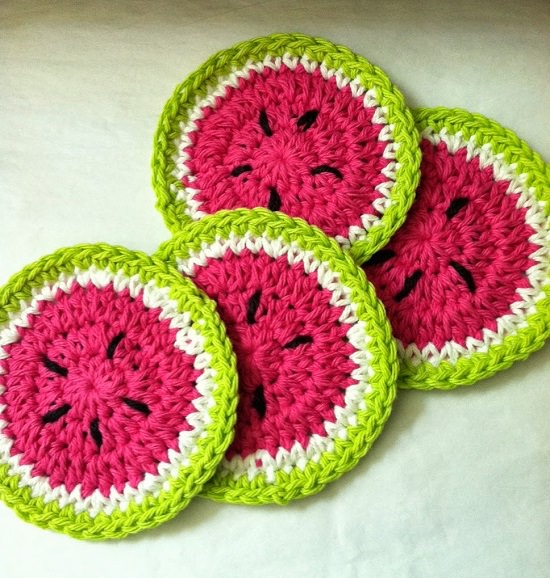 Cover your dining table with a refreshing essence of watermelon by crocheting these coasters. This motif engages a thematize combination of pink, white, and lime green colors.
25. Fall Maple Leaves Free Crochet Patterns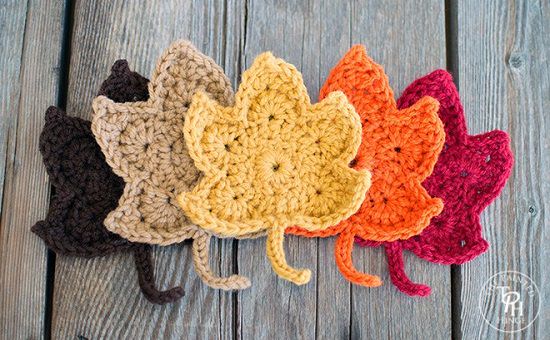 Bring the quintessence of nature indoors by crocheting these maple leaf coasters. You can stitch these leaves in an array of colors to give your dining a fall theme decor.