Work up these beautiful DIY Crochet Chick patterns for Easter and add an array of a colorful twist to the home decorations!
Nothing like crocheting something on your own for your children, which they are going to cherish for a long time to come. If you are a parent looking for new ways to gift something to your kids, then these DIY Crochet Chick patterns are going to come handy!
---
1. DIY Crochet Free Chicken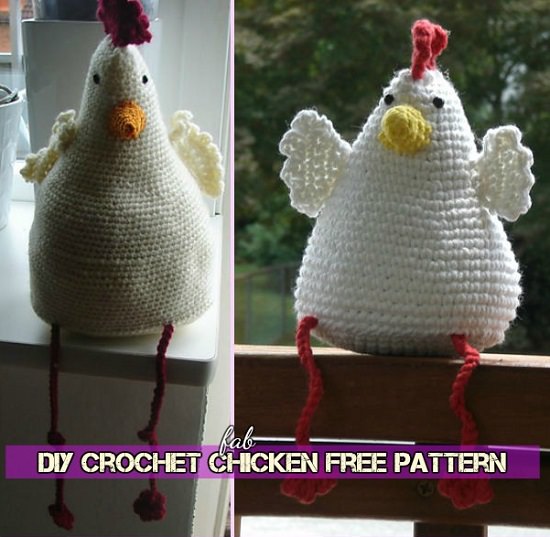 Surprise your kids by weaving this crochet chicken. Here, beaks, wings, legs, and comb are all individually stitched and then assembled to make this easy DIY Crochet Chick!
2. Little Crochet Chick Bean Bag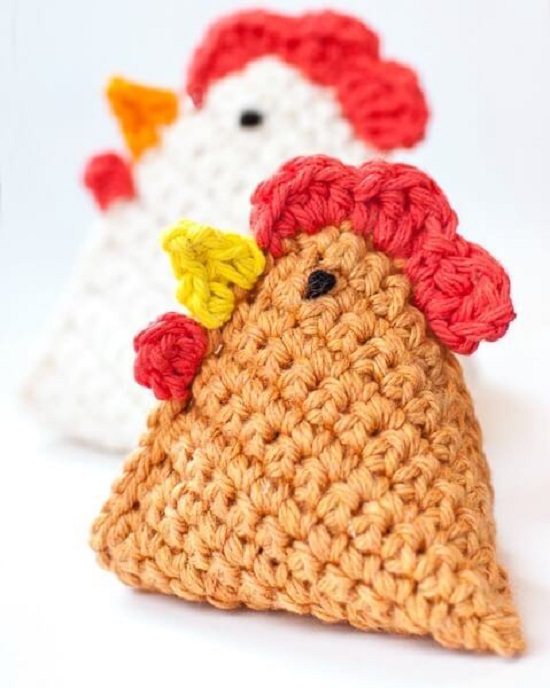 This DIY uses a worsted weight cotton yarn in three colors with a small black thread to crochet the eyes. The best part, you can use this DIY Crochet Chick as a bean bag as well!
3. Cozy Chicks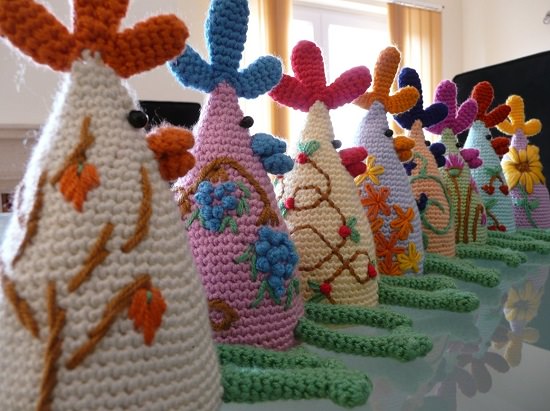 The beauty of this DIY Crochet Chick is it allows you to customize the crafts according to your taste! Head on to this blog to surprise your child with a chick toys!
4. Cheep Cheep the Crochet Chick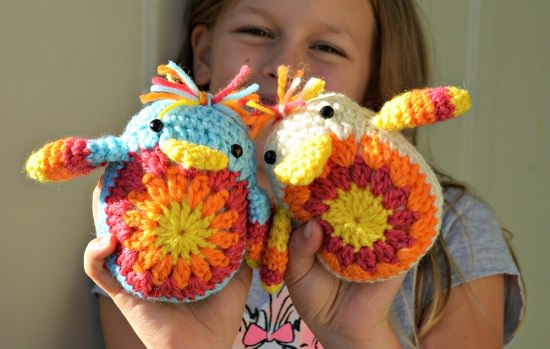 Worked in rounds, this vivid chick pattern is super easy to crochet, involving various scraps of yarn with corresponding hooks to work upon.  More details on GreenDragonFly blog.
5. Rooster Crochet Valera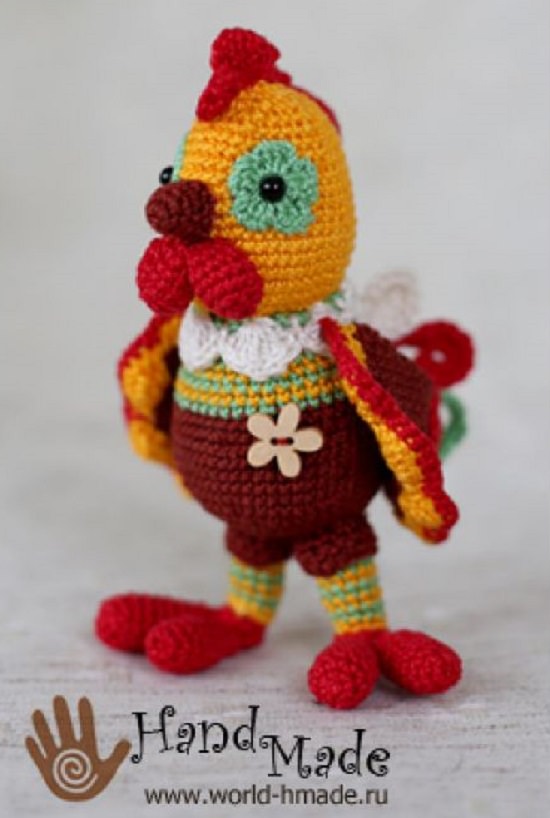 Though this craft takes little time and effort, the result is absolutely worth it and offers a pocket full of cuteness! Read this article for copying this idea.
6. Golden Chicken and Egg Amigurumi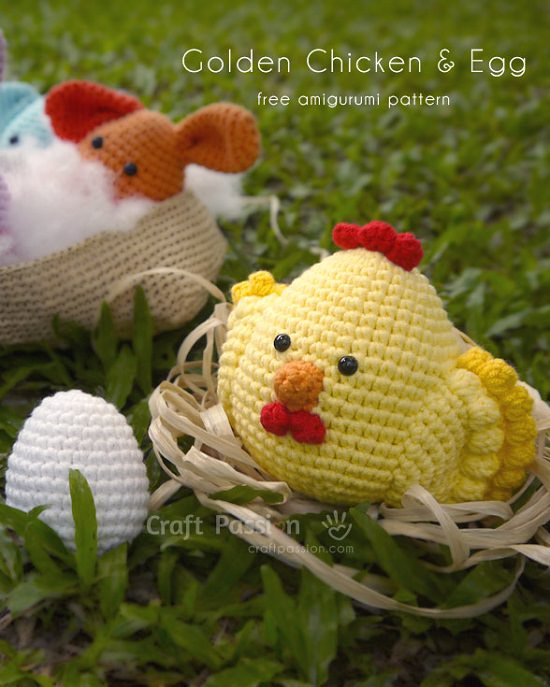 This egg and a golden chicken amigurumi pattern can work as an excellent easter decor, keyring, or even as an Easter basket stuffers! This idea is inspired by the CraftPassion blog.
7. Easter Chicken Crochet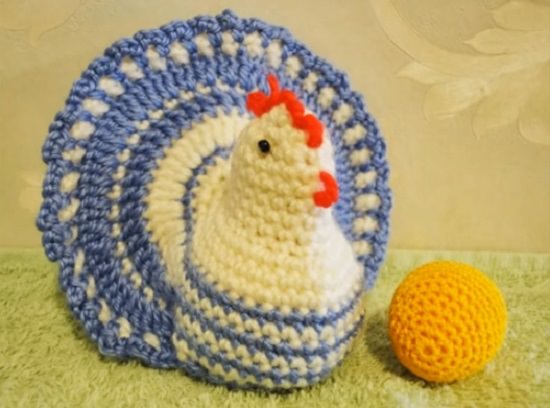 Check out this video tutorial for copying this easter chick crochet pattern.
8. Crochet Peep Chick Pattern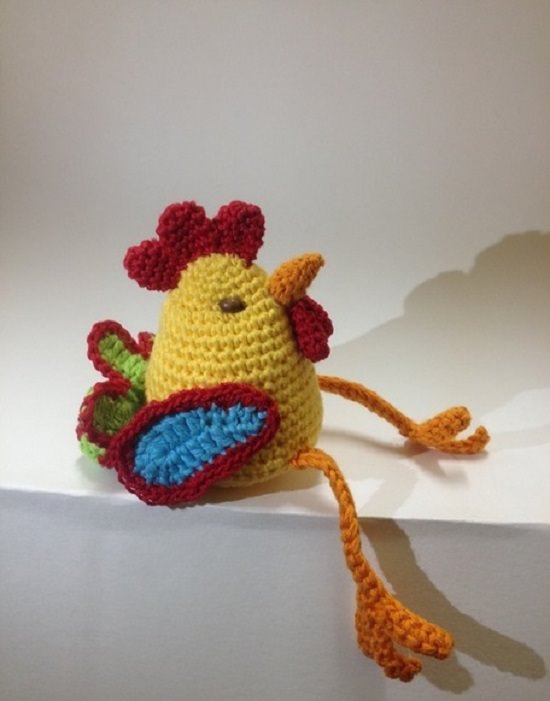 This crochet chicken, in a beautiful color mix, is going to look great while gracefully sitting in your kitchen windowsills. More details here!
9. Amigurumi Rooster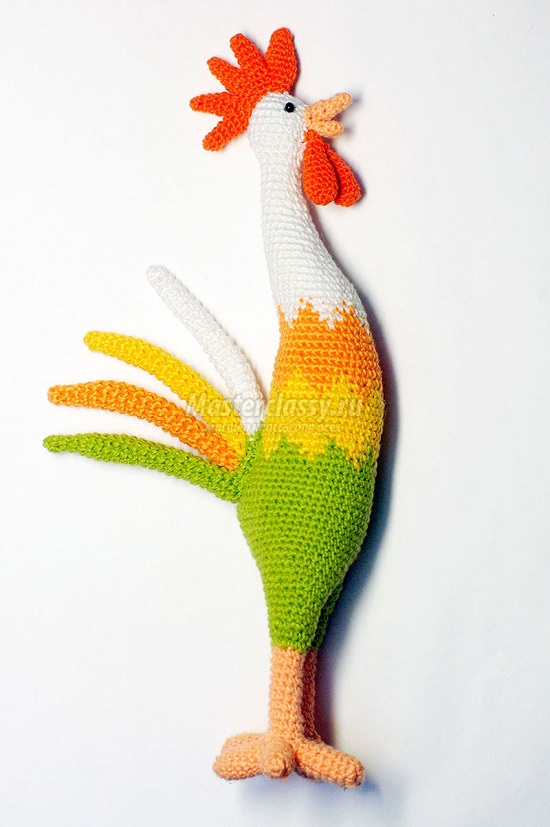 Children are unlikely to refuse such heart-pleasing hand made gifts. This pattern is perfect for people with basic crocheting skills.
10. Baby Chick Pattern

This motif, comprising boy and chick faces, can bring a smile on anyone's face!. Copy this DIY Crochet Chick available on Ravelry.
11. Stuffed Easter Chickens
If you are among the crocheters who love doing experiments, then you are going to surely admire this crocheted chicken family design, accentuated with a wavy body.
12. Spring Chicken with Egg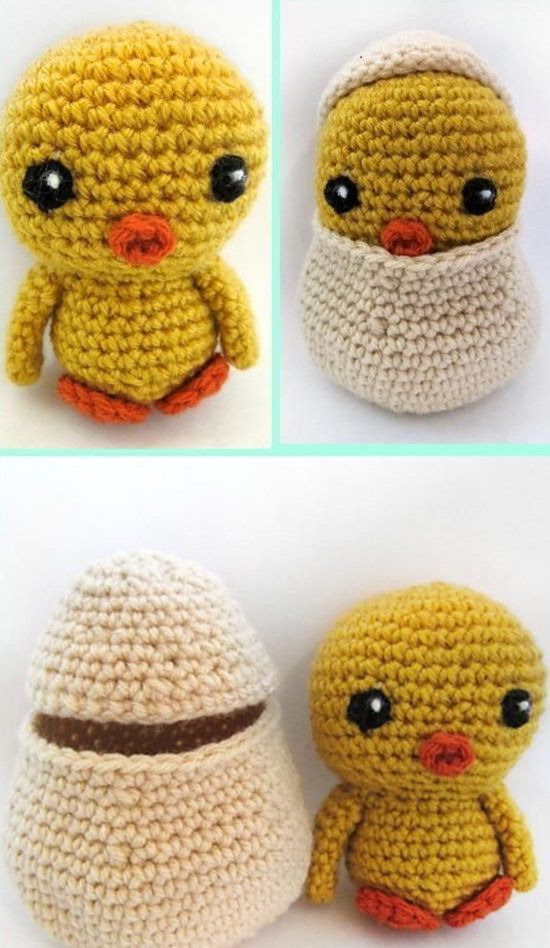 If your daughter's dollhouse is missing something cute, this crocheted egg and chicken is perfect for filling in space! Crocheter advises using safety eyes instead of the crocheted ones for obtaining a similar look.
13. Chicken Welcome Door Hanger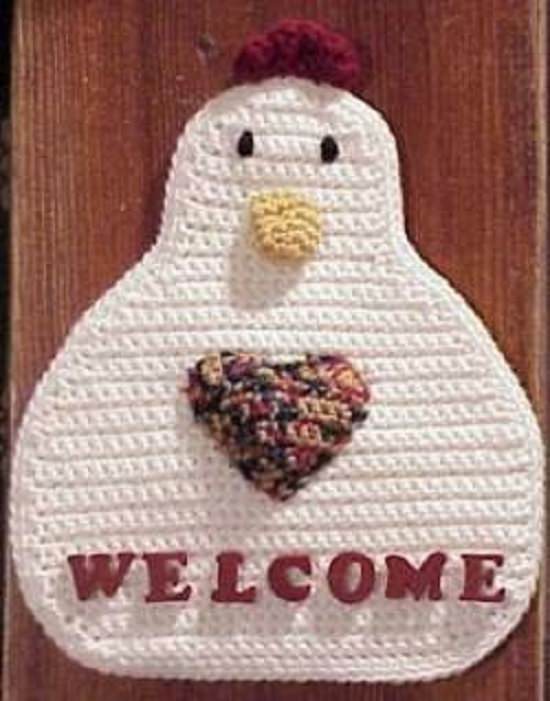 Hang it up on your main door as a welcome sight for guests or create a funky wall display; this chicken pattern is surely going to come in handy in a multitude of ways for decor purposes.
14. Crochet Chicken Potholder Tutorial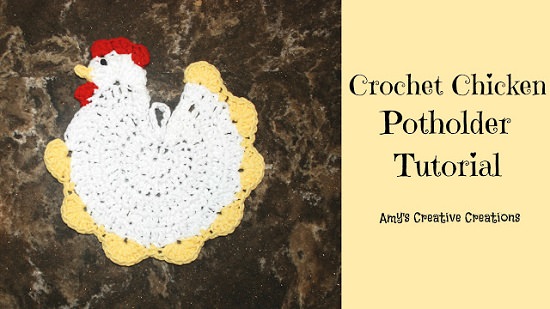 If you were planning to crochet a functional potholder, then this pattern is for you. This potholder is prepared with cotton yarn; otherwise, regular acrylic yarn may burn.
15. A Chicken for Every Pot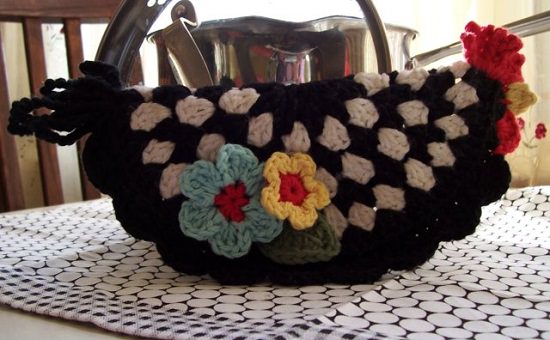 This black potholder is worked in the circle and then folded in half. For inserting new colors, the blogger uses a ch3 for the first stitch. Get all the details on CrochetAgain.
16. Easter Egg Covers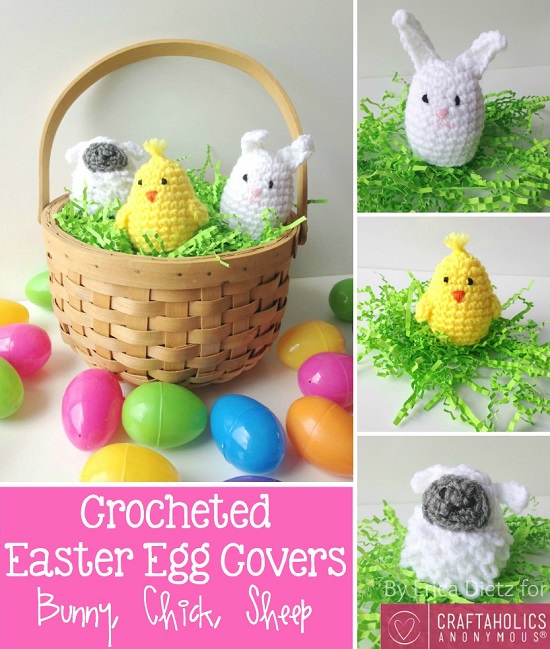 Bluebird, chick, and white sheep egg covers can be a fun addition to any Easter basket and it's one of the best DIY Crochet Chick patterns on the list!
17. Baby Chick Amigurumi Pattern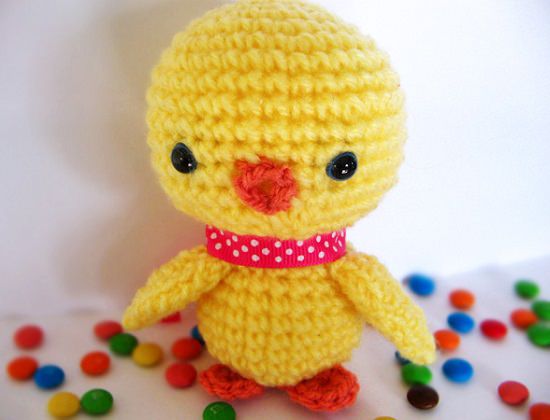 This DIY Crochet Chick is crocheted with orange and yellow-colored acrylic yarn and worked in a continuous round pattern. Grab the full information on the CraftPassion blog.
18. Hatching Easter Chick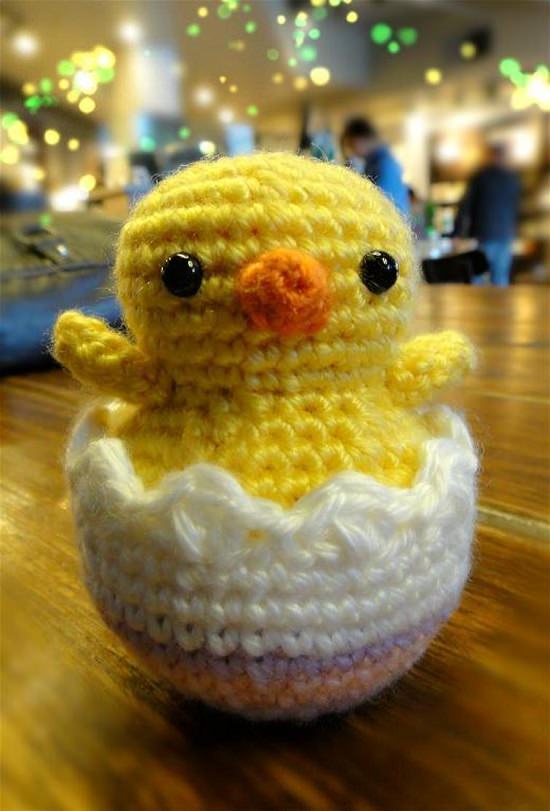 This version of DIY crochet hatching easter chick is really fun to craft, requiring just the basic level crocheting skills, including single, half double, treble crochet stitches.
19. Cozy Easter Chick Egg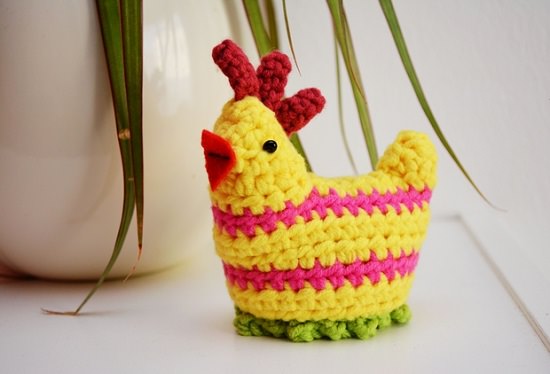 This DIY Crochet Chick pattern, with a green grass base, is prepared with green, yellow, pink, red-hued yarns. Here, red felt and black beads make the beak and eyes, respectively.