Elegant and beautiful armlets never go out of style! Here are some amazing ones that you can easily prepare using these DIY Crochet Bracelet patterns!
Bracelets are the must-have jewelry for any woman. They go well with every outfit and always stay in fashion! Take a break from metal ones and redefine your fashion statement by taking help from these DIY Crochet Bracelet patterns!
---
1. Flower Bracelet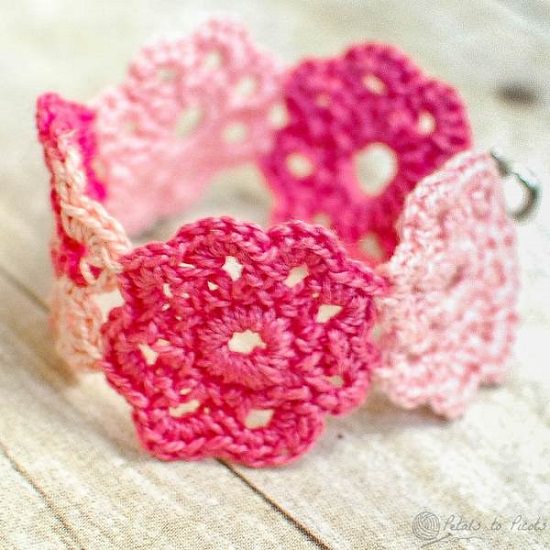 Crochet a floral motif with the help of this tutorial from PetalsToPicots. This bracelet is worked in rounds and engages only five flower motif.
2. Dead Skull Bracelet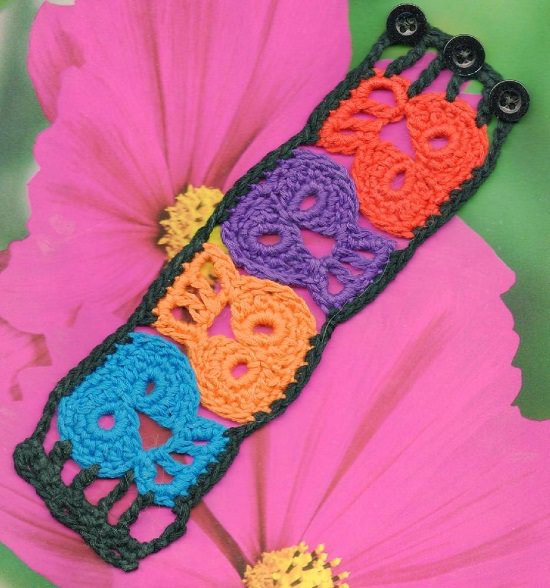 This bracelet is accentuated with colorful skull motifs. Copy this pattern available on Ravelry. It is surely one of the best DIY Crochet Bracelet on the list!
3. Broomstick Bracelet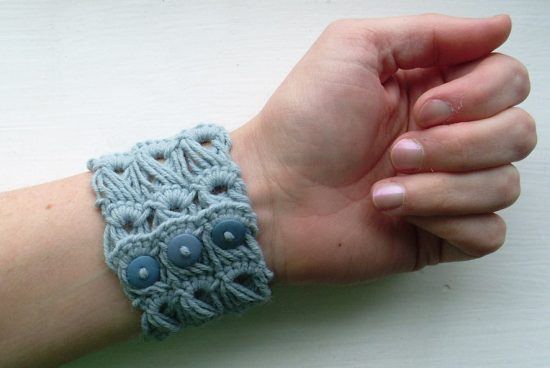 This crochet bracelet, in the neutral shade, is going to pair well with any outfit. For giving it a bit more dramatic look, you can crochet it in black and white tones.
4. Wrap Bracelet with Button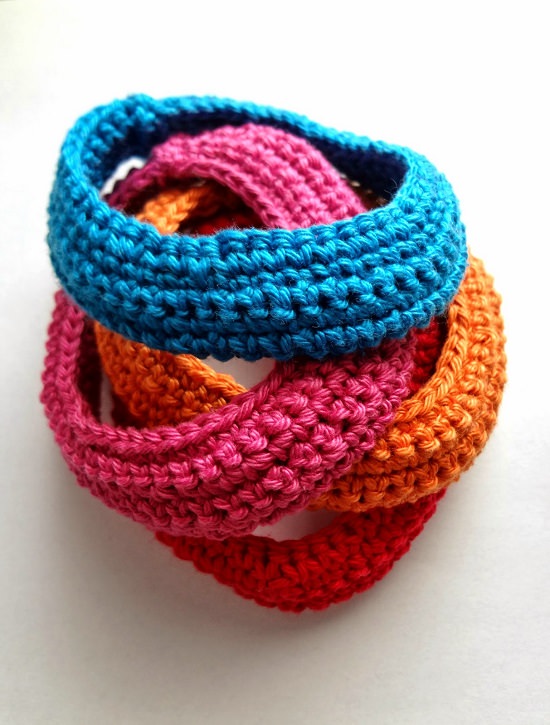 If you are fond of bangles, then you can crochet a light bracelet using this tutorial from 1dogwoof.
5. Summer Cotton Bracelet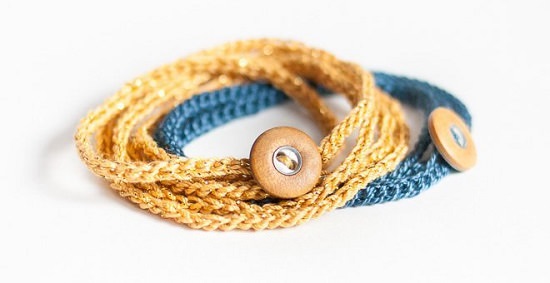 This ablaze colored bracelet, accentuated with the vintage-styled button,  is giving off a summery feel. You can customize the size of this cotton bracelet by increasing or decreasing the beaded chains by 4.
6. Bracelet with Heart Buttons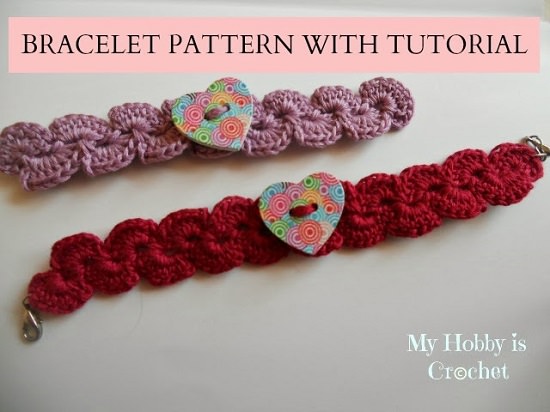 The look of this stylish bracelet enhances even more with the addition of the heart-shaped wooden button. This quick to crochet bracelet is prepared using ch, dc, shell, and slip stitches. 
7. Strings Bracelet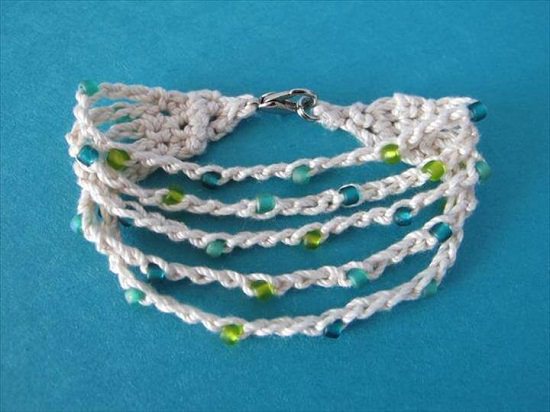 This beaded bracelet looks beautiful with colorful glass beads that prettify it further. It is one of the cutest DIY Crochet Bracelet on the list!
8. Flower Bracelet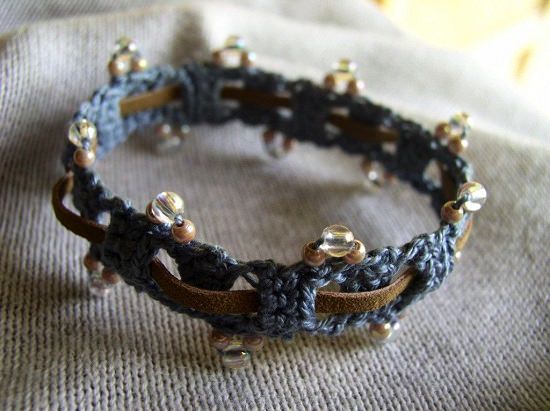 This bracelet, surmounted with antique pearl beads, is a striking style statement! Its pattern is prepared with blue-gray cotton yarn and is available on Ravelry.
9. Circular Flower Bracelet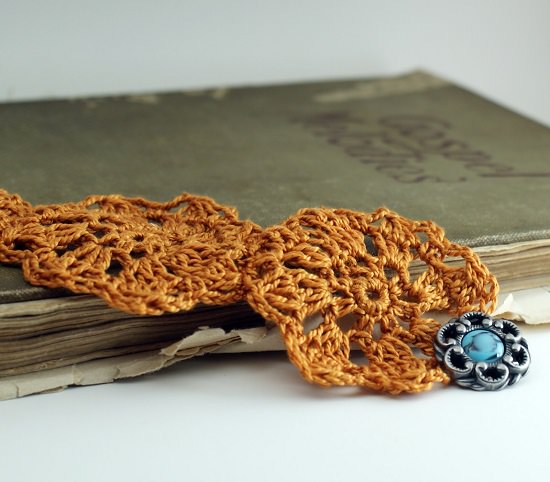 This lacy bracelet, with a flower motif, is worked in rounds and created by joining three flowers together.
10. Knit Cable Bracelet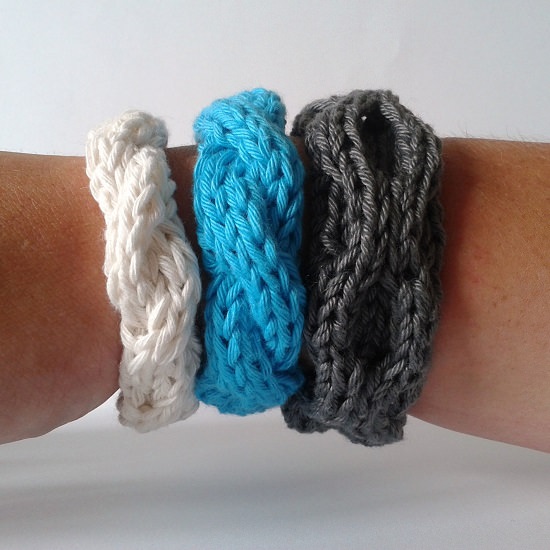 Girls who love accessories are going to love this plain colored bracelet pattern. This bracelet motif is easy to crochet and works up fast, making it an absolute beginner-friendly.
11. Bangel Motif Bracelet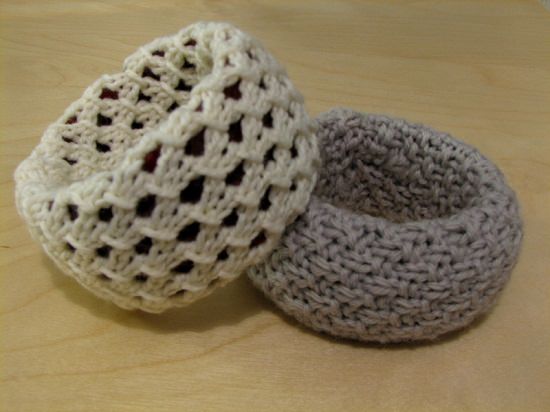 Improvize your style by wearing this stretchy, bangle looking bracelet. Since it is crocheted in a neutral gray shade, hence it can complement any outfit.
12. Zigzag Bracelets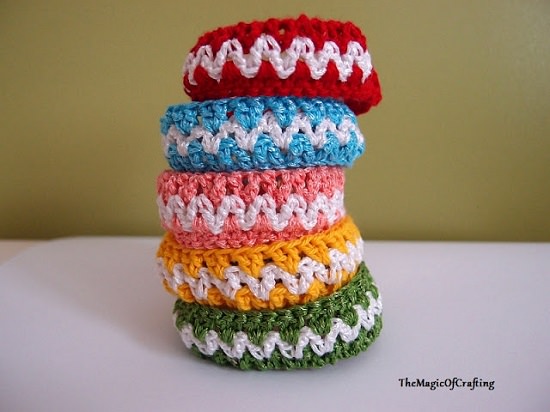 You can prepare these zigzag layout bracelets in any of your favorite colors to match your particular outfit. These are soft and allergy-free, making it suitable for all style loving ladies.
13. Metal Bead Scalloped Bracelet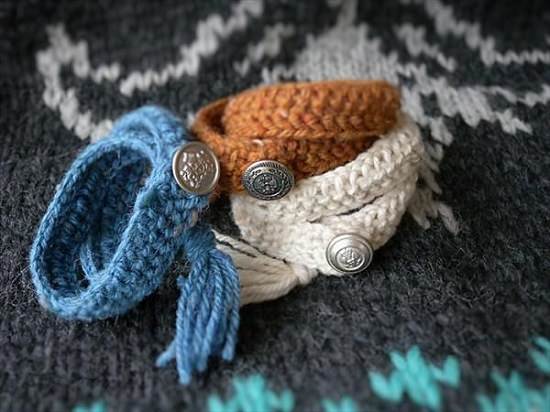 This plain hue bracelet, with a classy hint of metal buttons, is surely going to attract anyone! Head on to Ravelry for further details.
14. Friendship Bracelet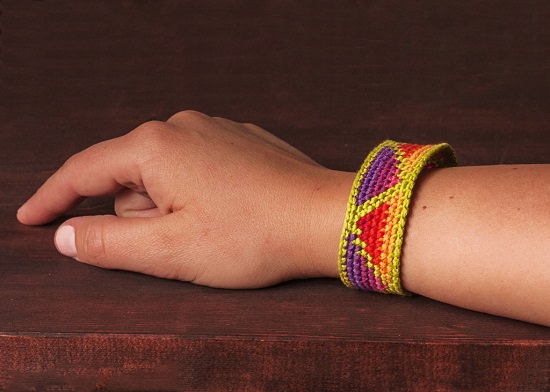 This beautiful bracelet motif infuses geometrical shapes with some amazing neon colors, making it a cheerful gift for the friendship day like occasion. Prepared using tapestry crochet technique, its motif is worked in rounds.
15. Blue Bracelet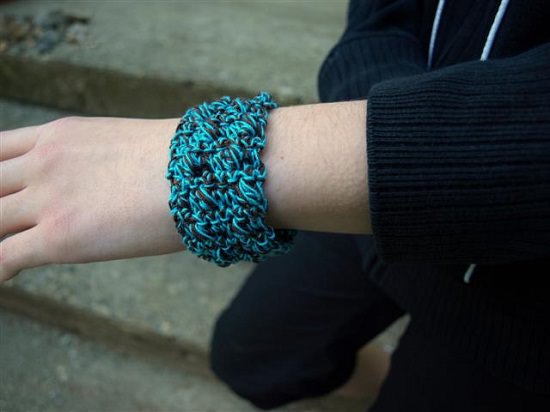 This bracelet, featuring a fantastic mash-up of contrasting shades, can be a heart-pleasing gift to your friend.
16. Multicolored Bracelet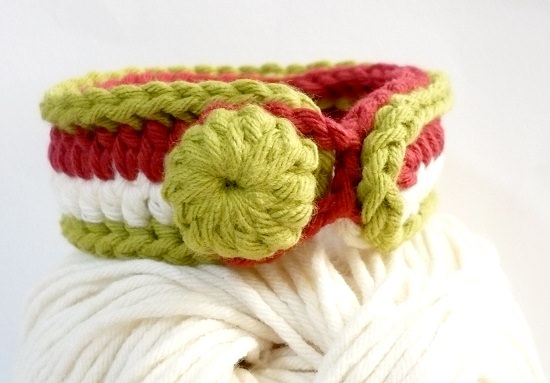 The wonderful mix of cream, maroon, and olive green colors make this pattern stand out from the rest! This bracelet craft is crocheted using the chain, double crochet, and single crochet stitches.
17. Winding Lane Bracelet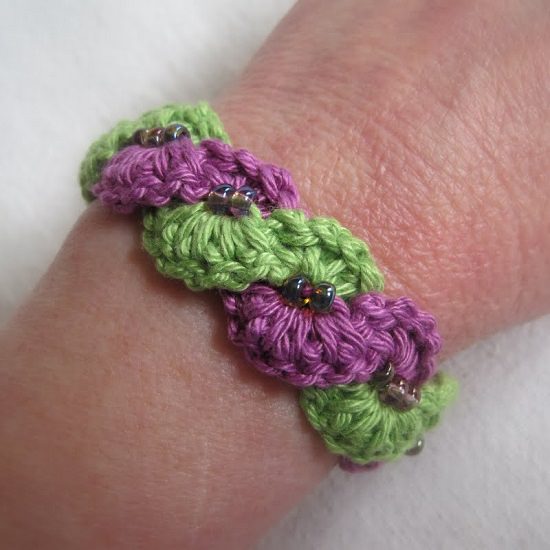 This winding lane bracelet is perfect for novice bead crocheters. It is made using Forward Loop Chain, which gives its wavy scallops an exciting texture.
18. Two-Toned Bracelet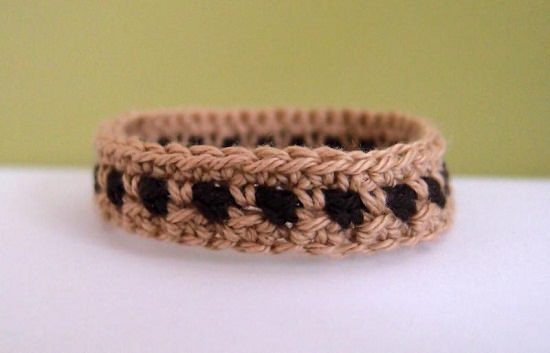 This two-toned bracelet is a combination of basic single crochet and chain stitches. The selection of color and the unique texture carves out a rustic look on it.
19. Shell Bracelet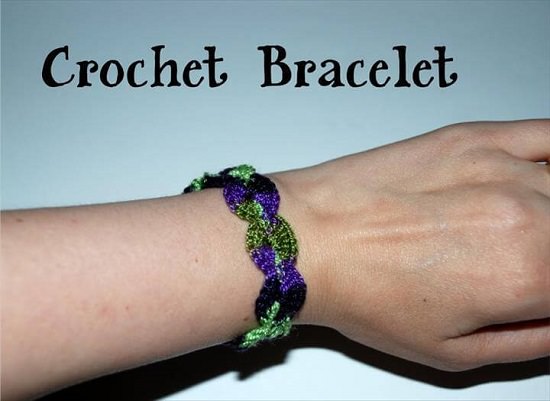 Head on to this vlog from Crochet Jewel for imitating the same bracelet craft whose shell layout draped in bold colors gives it a nifty look.
20. Lacy Cuff Bracelet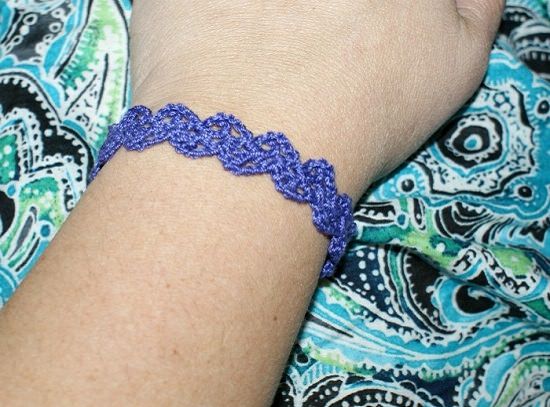 This lightweight cuff bracelet has a fair bit of stretch, making it super easy to wear. You can enhance its look further by adding some metal clasp or bead closures.
21. Survival Bracelet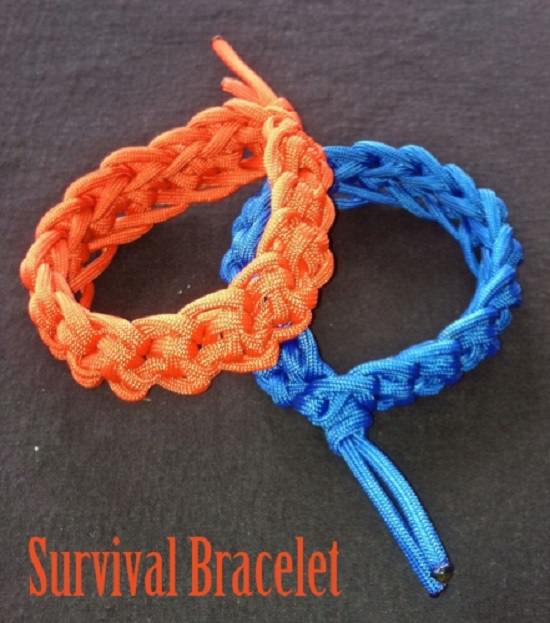 Any newbie crocheter with basic stitching knowledge can prepare this bracelet with the help of colored paracord, chain and single crochet stitching techniques.
22. Nautical Rope Bracelet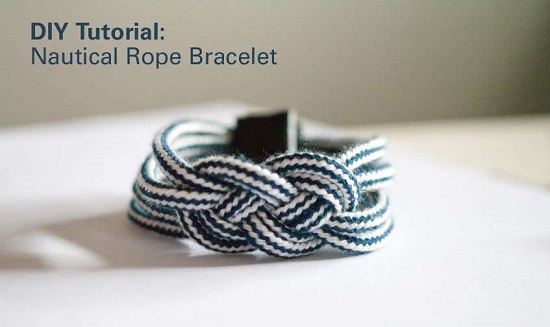 If you are fond of the striped look, then you are going to love this nautical rope bracelet pattern. This bracelet prepared with tying knots is one of the easy crochet button bracelet pattern.
23. Turkish Delight Cuff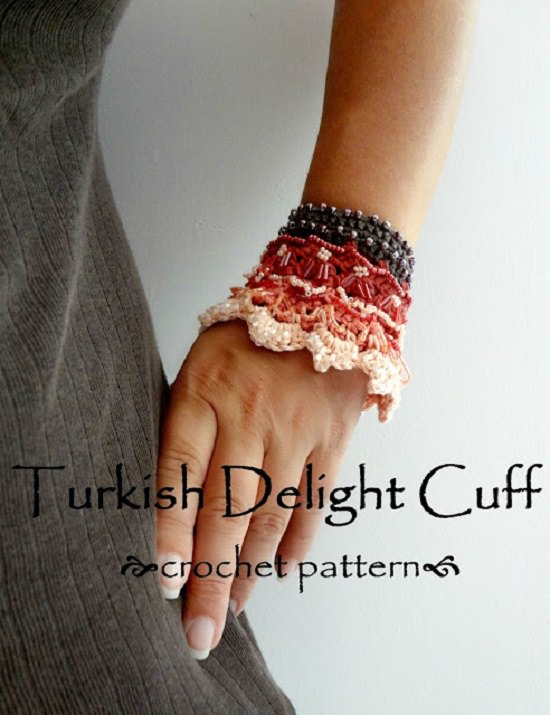 The multiple layers of this bracelet feature Turkish delight shades, carve an artistic impression on it. This cuff engages a variety of beads to accentuate its layered look.
24. Bobble Ripple Necklace Bracelet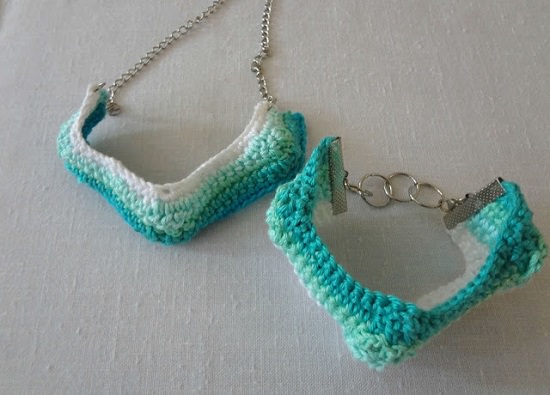 This beautiful set of bracelet and necklace pairs, accentuated with ripple patterns and a bobble stitching, gives it a beachy feel.
25. Quick Scarp Yarn Slip Stitch Bracelet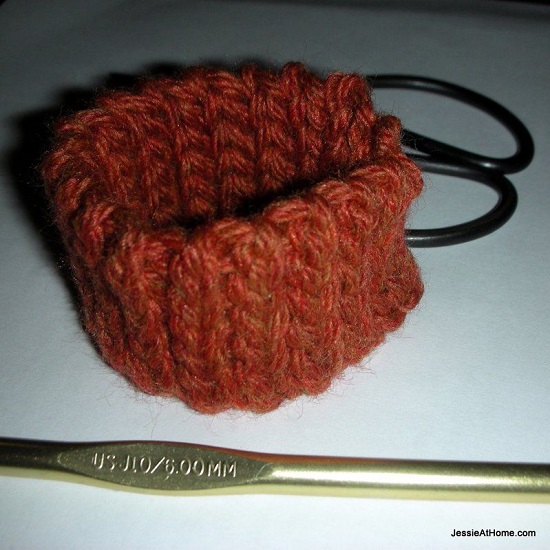 Apart from working as a stylish accessory, this bracelet works as a wrist warmer as well. Any crocheter with intermediate skills can make it using slip and chain stitches.