Use these great Crochet Triangle Scarf Pattern ideas to stitch one for yourself and wrap around your neck like a stylish accessory!
Triangular scarves add a bit of glam to your appearance while protecting you from chilly, winter breeze. This winter, crochet a beautiful scarf using these Crochet Triangle Scarf Pattern and keep your style statement pointing north!
---
1. Madeline Triangle Scarf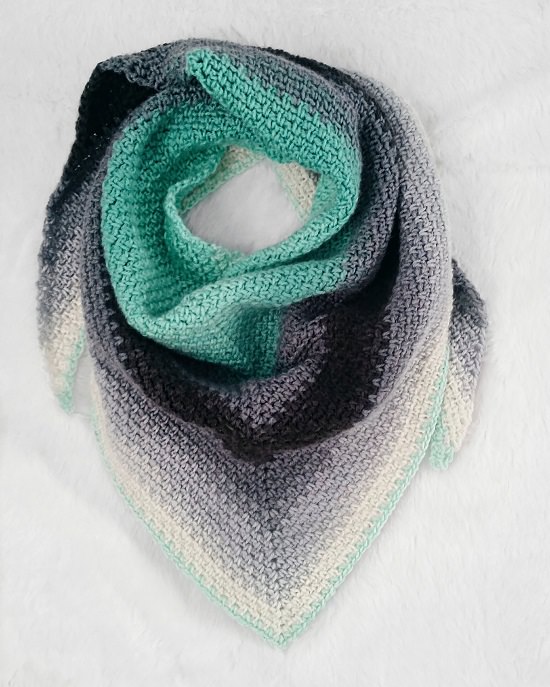 Triangle scarves are like a cozy hug of wool that keeps the neck warm during harsh winter. This beginner-level tutorial featuring moss stitch will surely inspire you to crochet triangle scarf pattern.
2. Desert Winds Scarf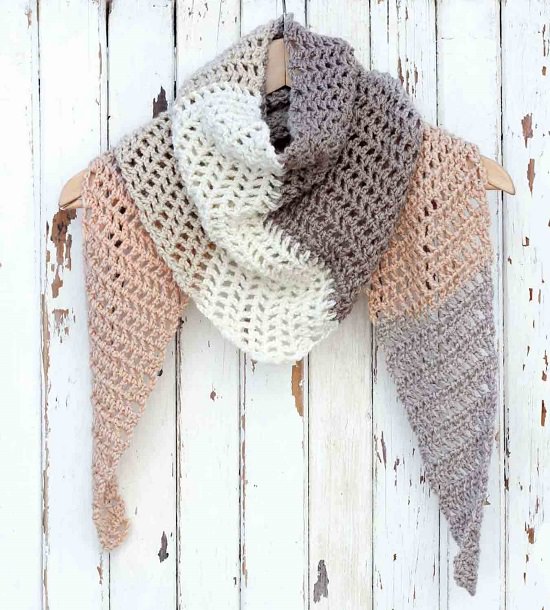 This scarf pattern comprises some fantastic shades. You have to increase and then decrease a bunch of rows for crocheting it.
3. Triangle Shawl Scarf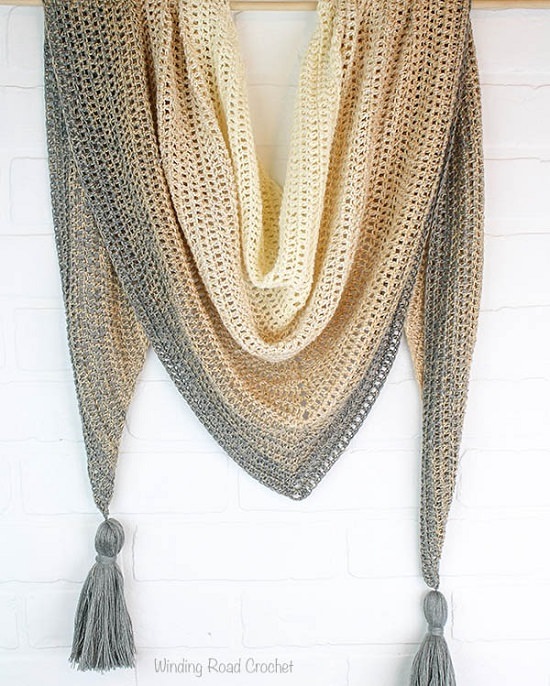 This piece is quite easy to crochet as it engages just one-row repeat. You can even add tassels or lace yarn for adding a fancy touch to this crochet triangle scarf pattern.
4. Triangle Scarf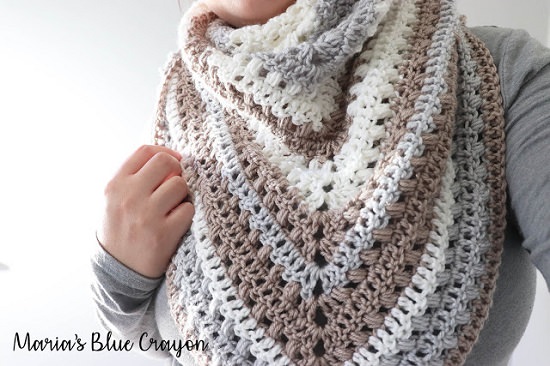 Prepared with 3DK yarn, this crochet triangle scarf is a bonus for neutral shade lovers. It features a two-row repeat pattern with colors in an arbitrary fashion.
5. Candy Kisses Triangle Scarf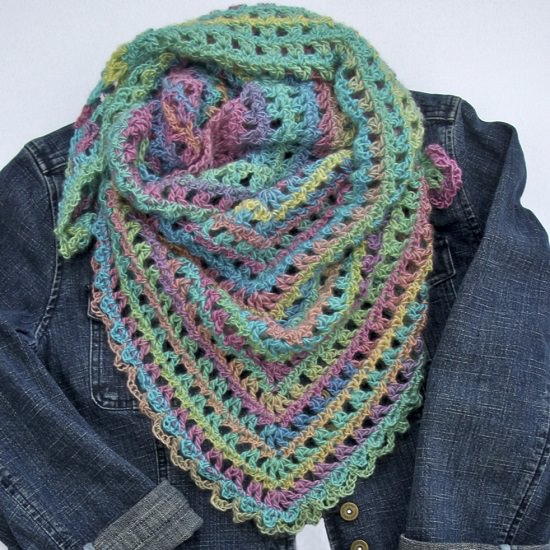 If you want to give your winter dressing a touch of vibrancy, then this frilly and feminine scarf with single crochet and chain stitches is the best bet!
6. Revival Triangle Scarf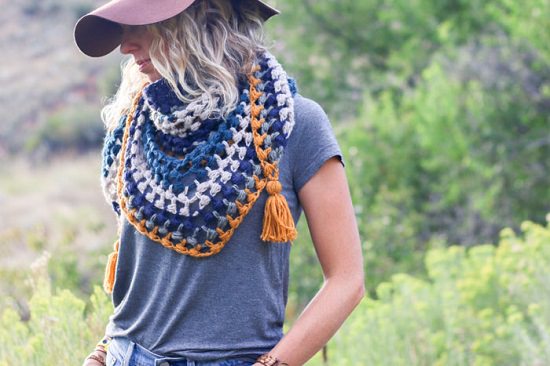 Worked in a muted, vintage-inspired color palettes, this easy crochet triangle scarf is a versatile piece. Also, the bead stitch imparts enough squishiness and toastiness to it.
7. Dragonfly Bandana Cowl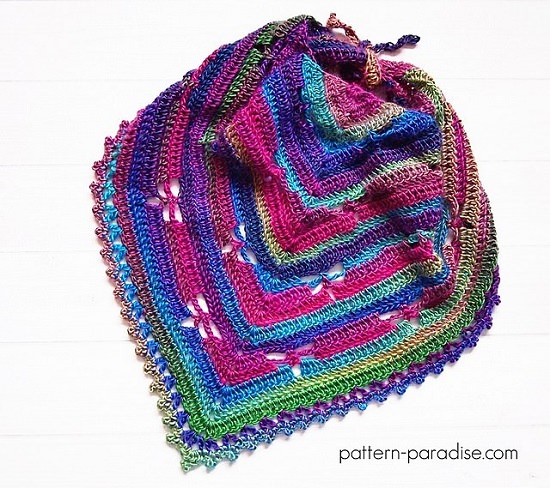 This rainbow-hued cowl, accentuated with dragonfly design, uses picot, split, and v-stitches. 
8. Plaid Triangle Cowl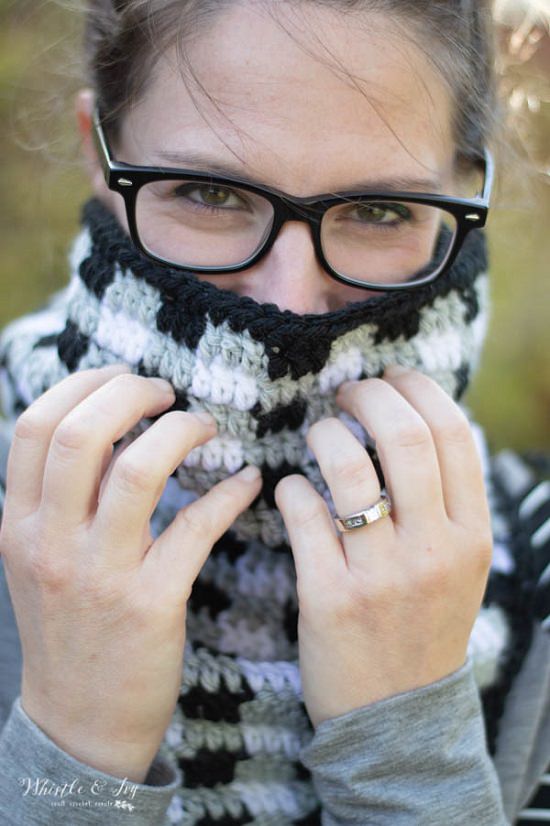 This crochet triangle cowl, featuring black and white plaids, can work as a fabulous addition to your fall wardrobe. Head on to this tutorial from WhistleAndIvy for further details.
9. HoneyBird Triangle Scarf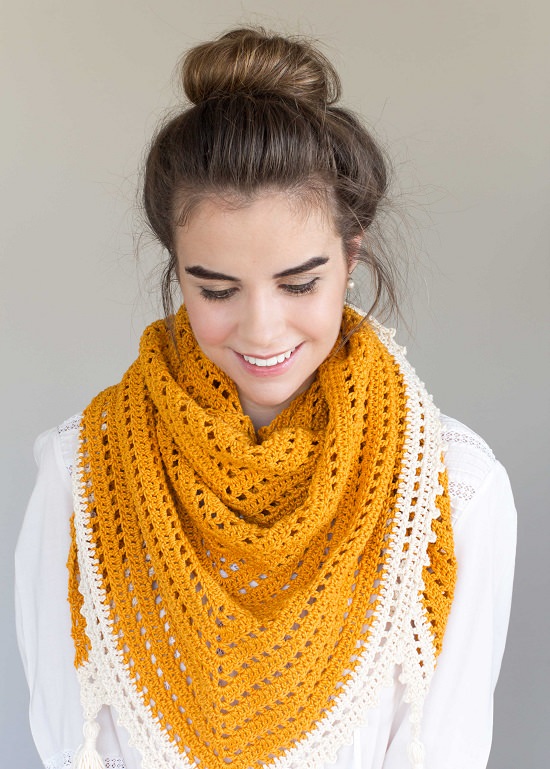 This radiant piece can be used as a normal shawl. The picot detailing across the border coupled with swishy tassels makes it one of the best crochet triangle scarf pattern on the list.
10. Blustery Day Cowl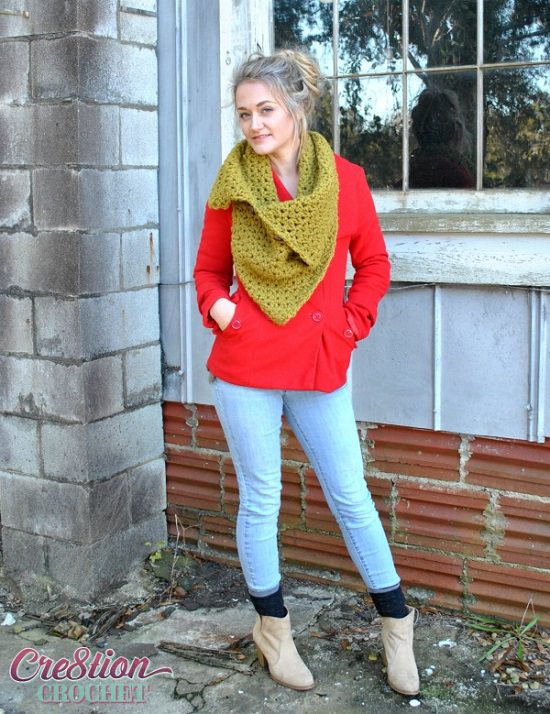 The pattern of this scarf is worked from the tip to top with increasing rows. Special stitches are here gives a twist to this pattern, creating a look similar to a V-stitch.
11. Triangle Scarf with Tassels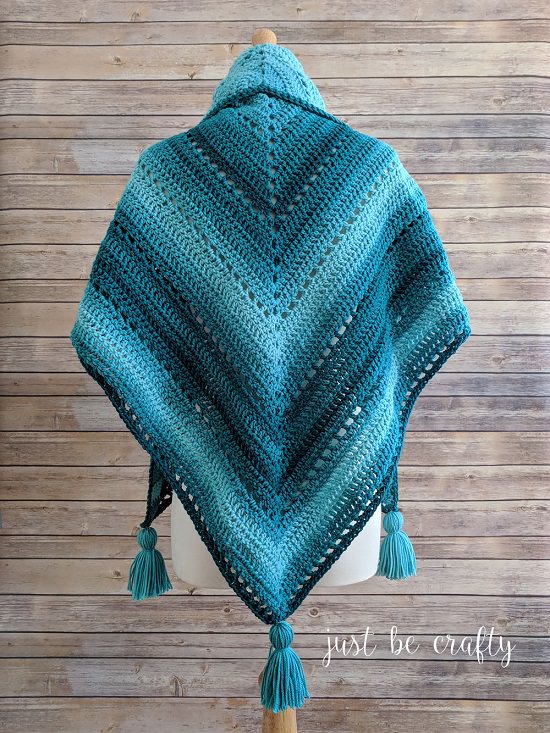 As you will make the transition from winter to spring, this monochromatic striping intrigue is going to be your favorite wardrobe staple. Its design is inspired by the JustBCrafty.
12. HDC All Day Triangle Scarf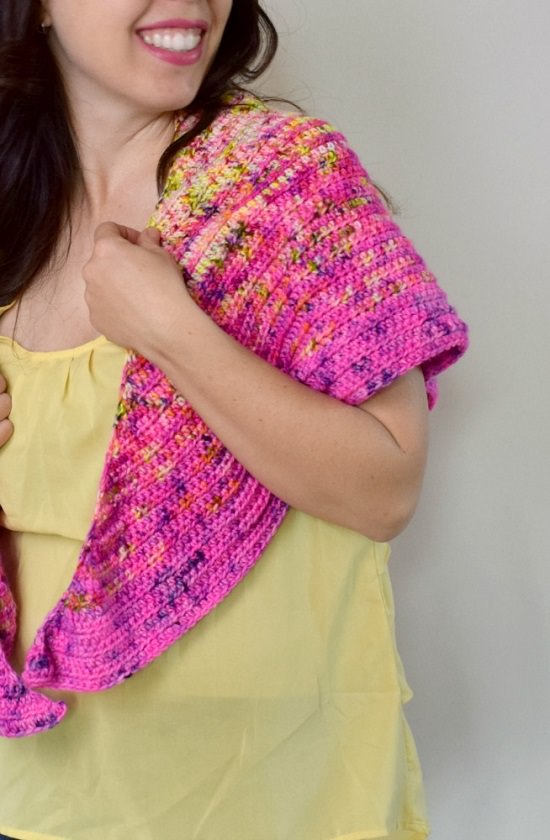 Just one-row repeat and hdc stitch; that's all it takes to crochet this easy crochet triangular scarf. This pattern works great with a fade or a solid color both.
13. Spring Fling Triangle Shawl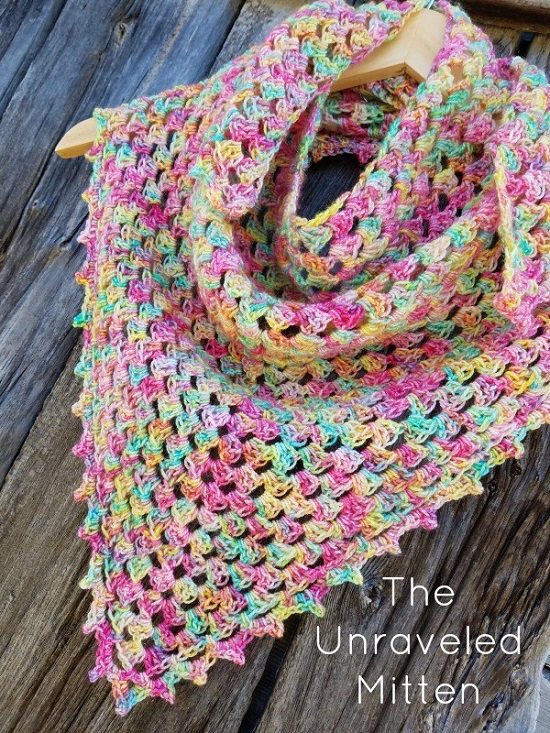 If any hand-dyed, squishy sock yarn is waiting in your stash to get reused, its time to transform them into a triangular shawl that you can wrap around your neck like a bandanna scarf or a shawlette.
14. One Skein Triangle Scarf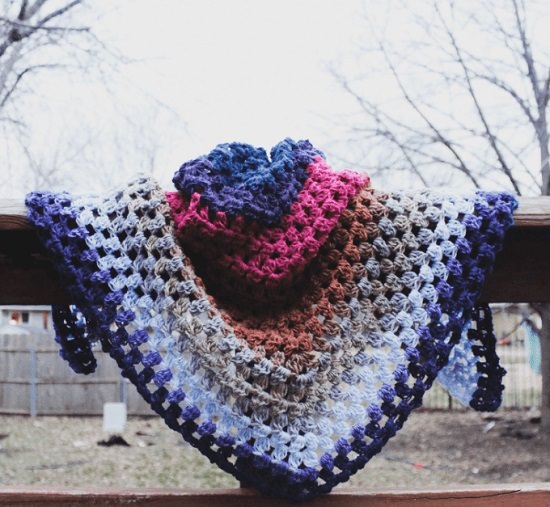 This scarf presents a beautiful color mix. The picot edging is prepared with just one mandala cake yarn making it one of the best crochet triangle scarf pattern on the list.
15. Knit-Look Scarf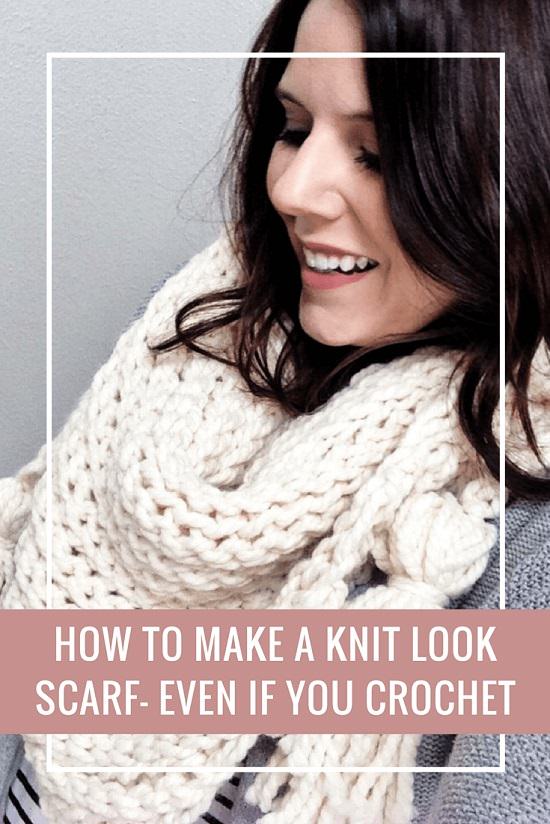 Give your winter look a trendy twist by draping this knit looking scarf around your neck. Here, the use of a slip stitch in the back loop stitch creates a ridged look on it.