Use your crocheting skills to design these beautiful DIY Crochet Blanket Patterns to keep warm during winter!
Below is the list of fabulous DIY Crochet Blanket Patterns stitched with intricate style and fused with multiple colors. They can also be used as a fashion statement on chilly mornings, as decor accents, or gifted to your loved ones!
---
1. Mermaid Tail Blanket
Single and double crochet are all you need to know for stitching this mermaid blanket wrapped in aquatic tones.
2. Striped Blanket
Stripes motifs never go out of fashion, and this blanket showcasing turquoise, snow, pigeon, and navy stripes is worth discerning.
3. Mod Heirloom

The granite stitch used in this blanket has a woven look, but the designer changed the stitch for a crochet feel for the thicker grey stripes.
4. Wild Daisy Flower Blanket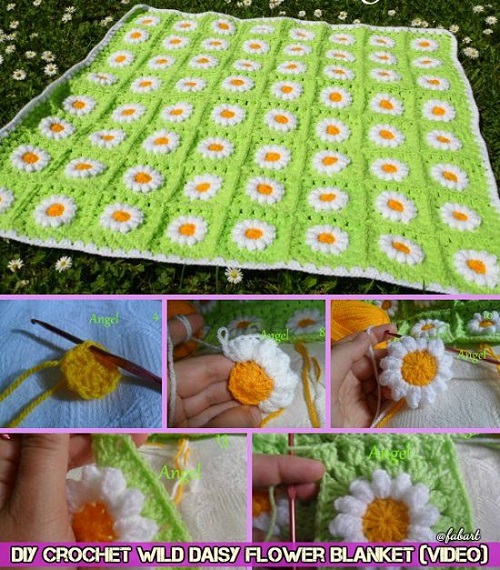 Wrap yourself under the cover of flowers by crocheting this wild daisy flower blanket.
5. Vintage Style Blanket
This vintage-style blanket pattern is one of the best crochet blanket patterns to try!
6. Wavy Blanket
This wavy blanket pattern has three parts the wavy body, the border preparation, and the shell border.
7. Happy Hexagons Afghan Pattern
This blanket pattern showcasing colorful hexagons is prepared using sc, dc, slip, and chain stitches.
8. Blanket Squares
This blanket pattern consists of 12 Charlotte squares in 12 different hues, with a profound border prepared with popcorn stitches.
9. Sunburst Granny Square Blanket
You can use this colorful blanket as a heartwarming gift for the baby shower occasion or as a throw on the couch or bed.
10. Granny Stripe Afghan Throw Blanket
Any stripe aficionado would not resist cropping this throw blanket that represents a mesmerizing combination of contrasting colors.
11. Pittsburgh Throw Blanket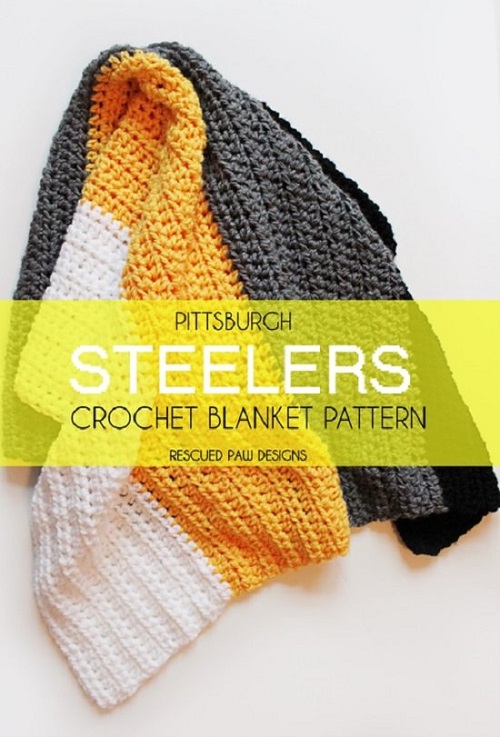 This Pittsburgh throw blanket is a quick project as it uses only half a double crochet stitch.
12. Clamshell Blanket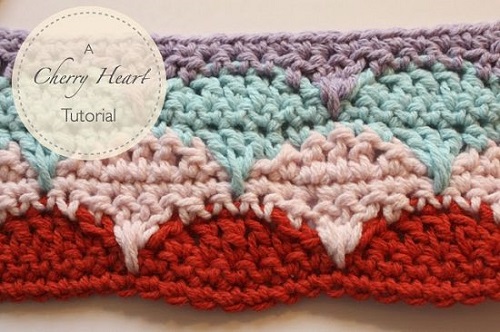 The fantastic fusion of colors and unique clamshell stitching creates pretty bumps of color that set this blanket apart.
13. Puff Flower Blanket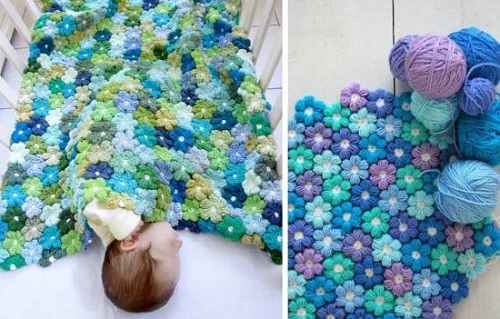 Thanks to the puff stitch that imparts a gradient look to the flowers of this blanket. Find all the details here.
14. Hogwarts House Scarves Blanket
The blanket engages double crochet stitching, where the colors are changed occasionally. Its ends are weaved, and the strips are sewn together.
15. Duchess Baby Blanket
The lacy look and the detailed texture on this blanket are carved using Duchess Lace Stitch. Its border uses a combination of dc, sc, and chain stitches.
16. Floral Baby Blanket
The crocheter played with pink, blue, and white colors and engaged shell stitching to complete this blanket.
17. The Loft Pom Baby Blanket

This plushy and lofty crocheted blanket is lined with playful pom-poms. The super bulky yarn and wattle stitch makes it one of the quickest crochet projects.
18. Chunky Feather and Fan Afghan

This blanket pattern calls for 85 stitches, which are five repeats. Crocheter suggested adding or subtracting multiples of 17 to customize the Afghan size.
19. Creative Blanket Crochet for Car Seat

The size of this thick and warm blanket suits best for a car seat. Also, the triangle-shaped edging adds more interest to its look.
20. Classic Baby Blanket
A Classic Baby Blanket is a timeless piece of warmth and comfort designed to keep your little one cozy and secure.
21. Hexa Puff Baby Quilt

The Hexa Puff Baby Quilt is a delightful, plush quilt featuring a unique hexagonal design, perfect for keeping your little one cozy and comfortable.
22. Colorful Striped Afghan
You can adjust the size of this striped afghan by adding or subtracting in the chain row by multiples of 4 stitches.
23. Sideways Shell Baby Afghan

This blanket pattern has an authentic fancy look with gorgeous edging. Its design uses simple chains, single-crochet, and double-crochet stitches.
24. Secret Garden Afghan

The floral posies and the special fpdc, bpdc, shell, and picot stitching impart an intriguing texture to this afghan.
25. Soft Granite Blanket
This blanket or throw pattern representing the combination of three solid colors will make a bold statement.
26. Pink and White Crochet Blanket Pattern
Immerse yourself in crafting with this pink and white Crochet Blanket Pattern, perfect for creating a cozy, stylish, and warm addition to your home decor.
27. Bavarian Square Crochet Blanket

A Bavarian Square Crochet Blanket is a colorful, intricately-patterned piece of handcrafted warmth, bringing coziness and style to your living space. Watch the tutorial here!
28. Mosaic Crochet Blanket Pattern

Put on your creative hat with this mosaic crochet blanket pattern, a unique design blends color and texture for a stunning handmade masterpiece. Watch the tutorial here!
29. Crochet Blanket Pattern with Starburst Motifs

An engaging crochet blanket pattern featuring vibrant Starburst motifs for a cozy, handcrafted addition to your home decor. Learn with the help of this tutorial.
30. Colorful Ripple Crochet Blanket

A classic and timeless ripple crochet blanket with a ripple or wave-like pattern, perfect for adding texture and coziness.
31. Simple and Stylish Herringbone Crochet Blanket Pattern

Immerse yourself in the art of crochet with this straightforward yet chic Herringbone Crochet Blanket Pattern, perfect for adding a touch of elegance to any room. Watch the tutorial here!