These DIY Crochet Butterfly patterns are perfect to go as a brooch, pin or a decorative accessory! Go through this article to make one for yourself!
Butterflies are such eye-catching beauties that inspire many crocheters to capture the marvelous look into their crafts. If you are also finding the ways to draw their beauty in your crocheting projects, these DIY Crochet butterfly patterns are going to come in handy!
---
1. DIY 3D Crochet Butterfly
Watch this video tutorial to learn crocheting a 3D butterfly using magic circle, chain, slip stitch and treble crochet stitches. These DIY crochet butterfly pattern can be added to greetings cards, brooches, or hair clips.
2. Butterfly Pattern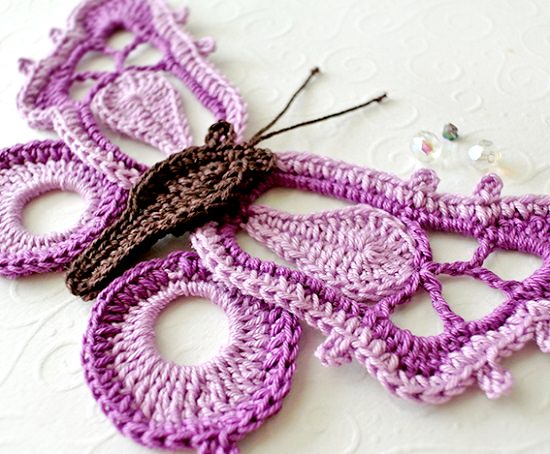 Use it as an embellishment for baby blankets, pillows or create a wonderful wall display. Read this MyPicot blog for imitating this DIY crochet butterfly craft.
3. Butterfly Applique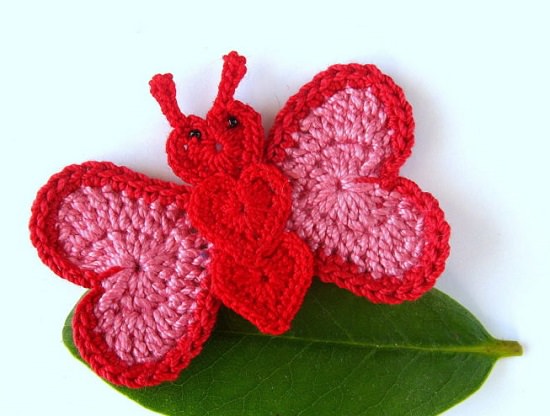 What an adorable idea to turn colorful hearts into a pleasing butterfly applique! In this craft, two hearts are crocheted and then sewn together.
4. Amigurumi Butterflies Pattern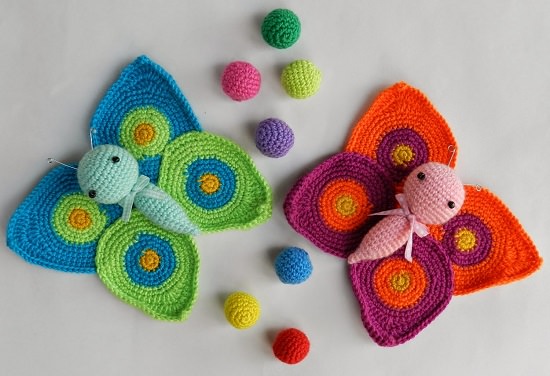 These multicolor butterflies can tempt any crocheter to craft the same. The magical blend of four colors in this pattern are engaged in body and weaving wings.
5. Delicate Butterfly Pattern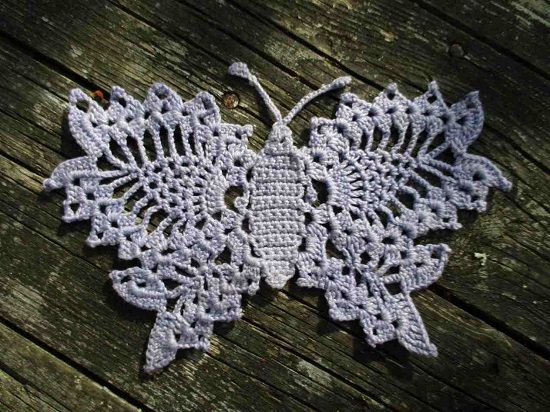 You can add this elegant butterfly applique on the hat of your teen for giving it a girlish flair. Crochet a similar pattern with the aid of this article from CrochetDoilies.
6. Rainbow Butterfly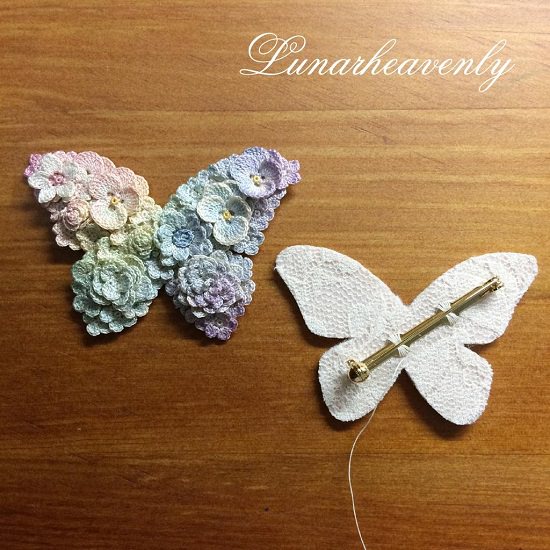 For making this rainbow butterfly brooch refer to the LunarHeavenly blog. This butterfly applique comprises knitted pansy, plumeria and dahlia flowers, draped in colors of the rainbow.
7. Butterfly Barefoot Sandals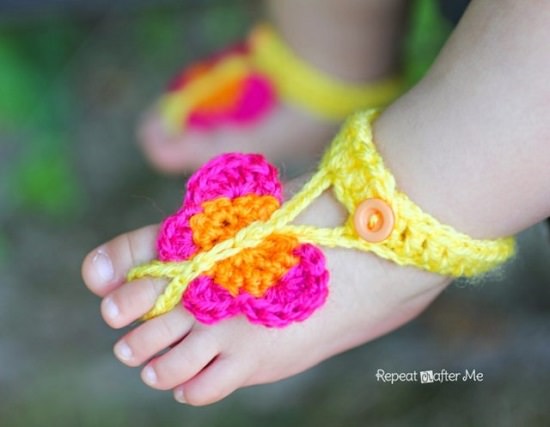 Crochet a cozy butterfly barefoot sandal using some hot pink, bright orange and yellow hues of crayon yarn. 
8. Regina Butterfly Tutorial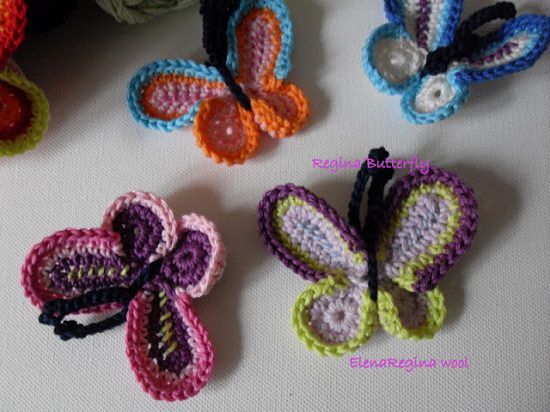 The wonderful mix of colors paired with the intricate texture carved on this butterfly motif is worth appreciating. More details on the ElenaReginaWool blog.
9. Butterfly Pin Pattern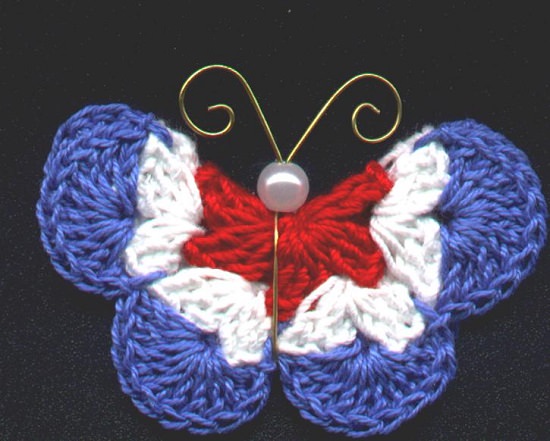 Butterflies are known for the unique color pallets on their wings. This motif is smattered with contrasting hues that can be used as a pin or brooch.
10. Crochet Butterfly Pattern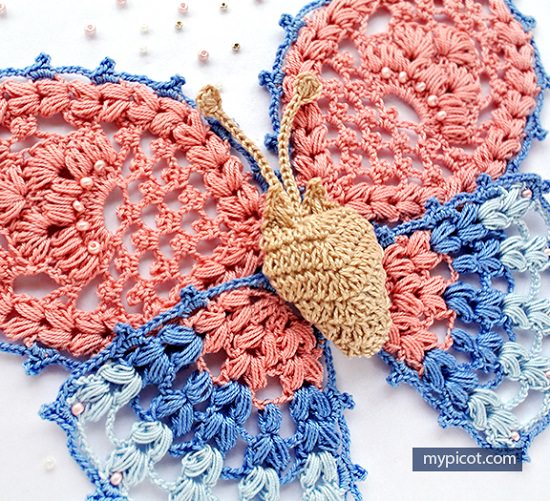 Salmon and blue colors on this crochet butterfly give it a springy feel. This DIY crochet butterfly pattern is the result of 4 and 3 half treble puff and picot stitches.
11. Bountiful Butterfly Pattern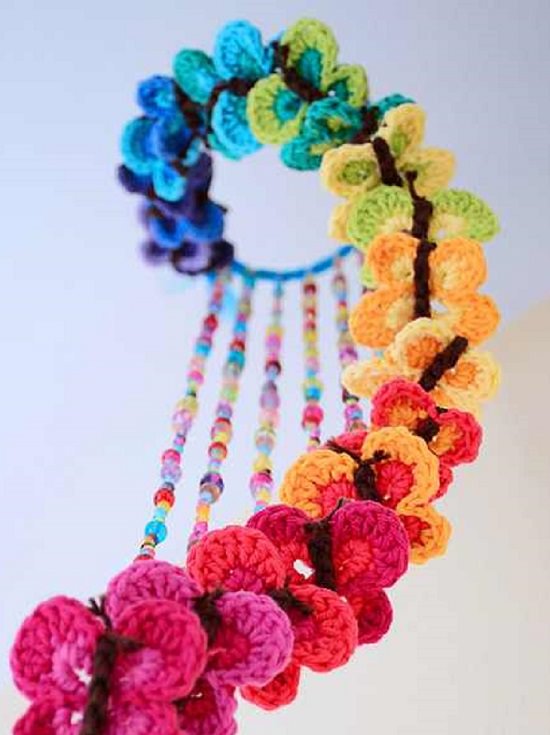 This DIY crochet butterfly on the Ravelry uses an embroidery hoop for the top circle and cover it with tulle. Use a fishing wire covered with beads to hang it as a chime.
12. Crocheted 3D Butterfly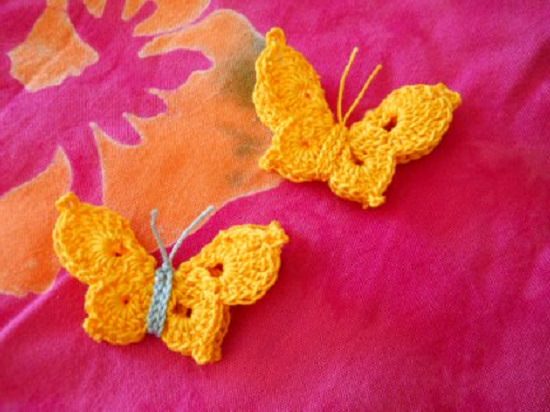 This one is crocheted using a shell and picot stitches and can add a bit of charm to any accessory.
13. Butterfly Applique Pattern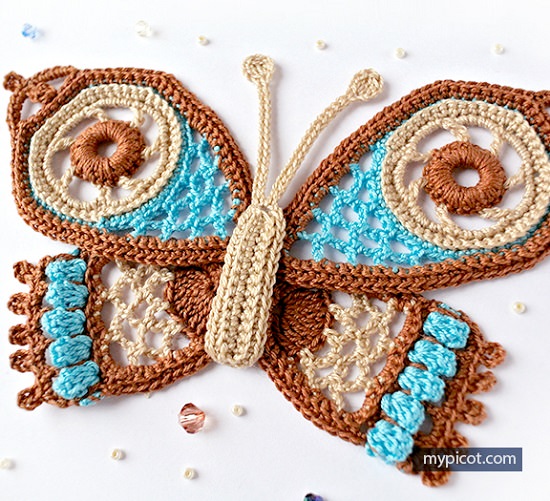 This butterfly applique features a complementary color display with Popcorn and picot stitches. It can be a dramatic add-on for a baby blanket, pillow or a mitten.
14. Butterfly Border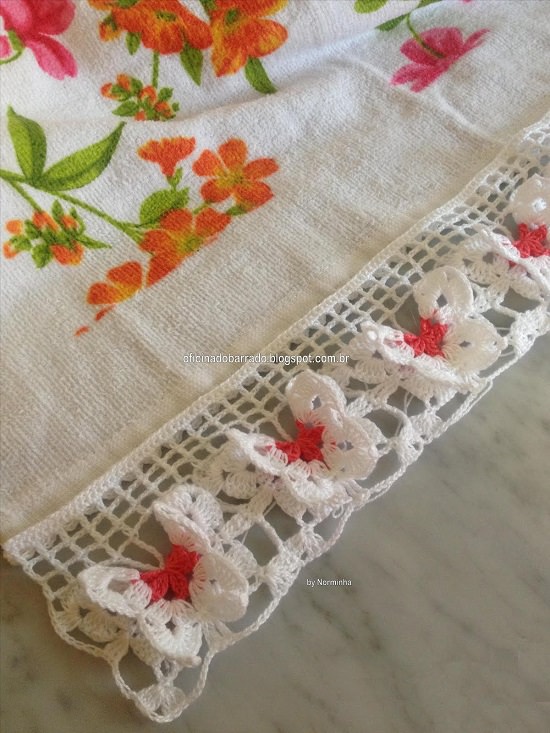 This version is accentuated with butterfly crochet edging. Read this tutorial for this DIY Crochet Butterfly pattern.
15. Puff Stitch Mini Butterflies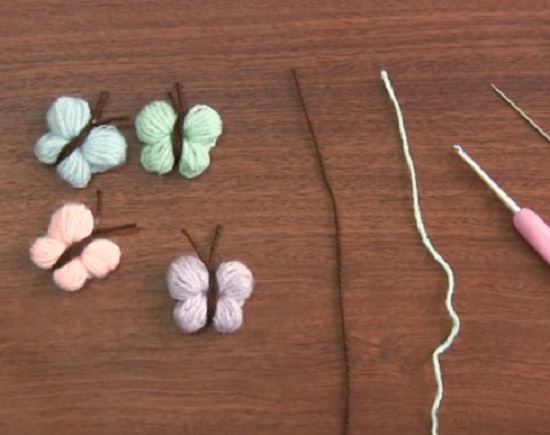 Watch this video tutorial for crocheting mini butterflies with the puff stitch, which is also one of the easiest crochet butterfly stitch patterns.
16. Crochet Butterfly Tutorial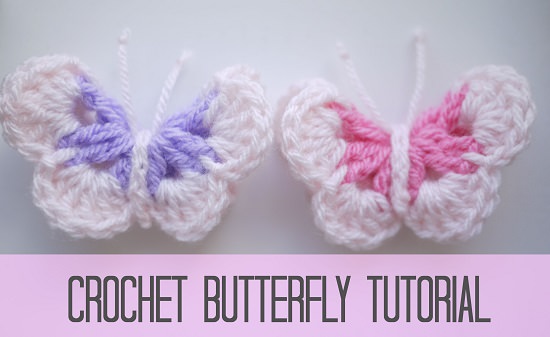 Fluttering butterflies resemble the beauty of the spring season. Crochet one for yourself, taking help from this video link.
17. Crochet Sweet Butterfly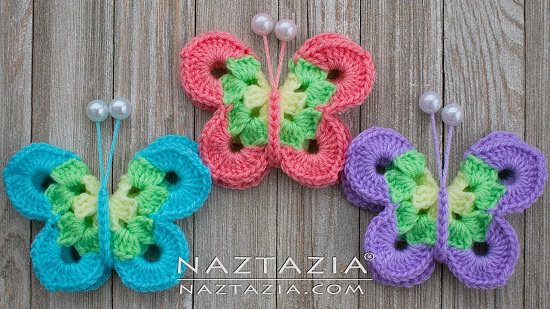 Crocheted butterfly motifs work great on hats, scarves, shawls, and handbags. You can make it in one color, or many, the choice is yours!
18. DIY Tutorial Butterflies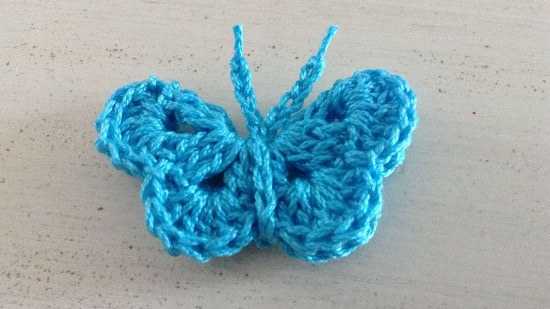 Stitching this plain-hued butterfly motif with the help of this tutorial is going to be a lot of fun!
19. Crochet Easy 3D butterfly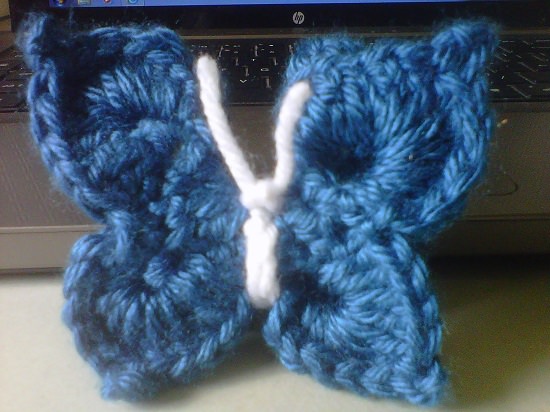 If you are bored with crocheting the same butterfly pattern and searching for something new, then this motif is for you! Its unique texture gives off a gradient effect, making it look like a 3D butterfly!
20. Butterfly Baby Rattle Crochet Pattern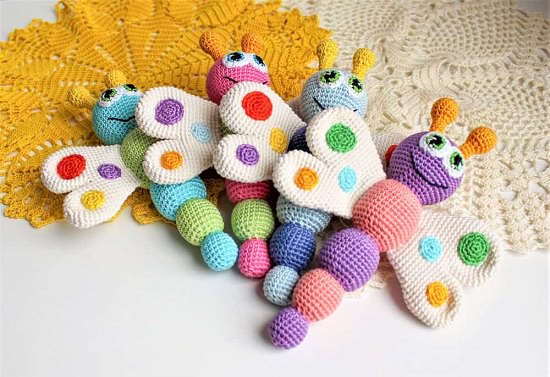 Crochet a butterfly rattle using this blog that can be a wonderful gift for a toddler. For a cozy texture, prefer organic yarn and work it in the continuous rounds pattern.
21. Butterfly Effect Granny Square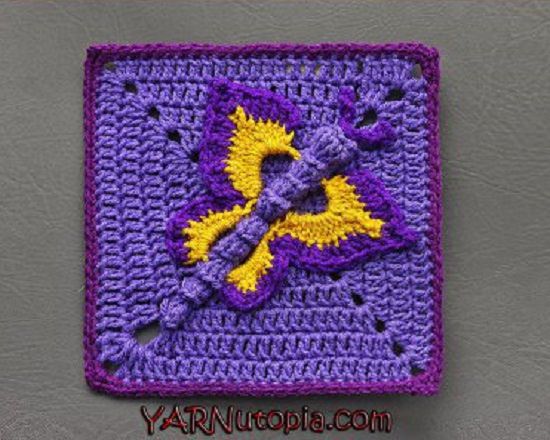 This granny square, with a contrast butterfly design, can be prepared with either two-toned wings or just using one colored wing.